Clara Mugnai realized her mare Minor Details wasn't her normal self when she noticed "Juno" dragging her toes slightly. On a normal day, Mugnai may have made note of it and moved on, but it was spring 2019 and her school, St. Lawrence University (New York), was amid an EHV-1 outbreak. The anomaly could be a sign her horse had contracted the virus.
Equine herpesvirus (EHV-1) is a contagious equine virus that can cause neurological disease, respiratory disease, newborn death and abortion. EHV-1 is easily spread through contact with contaminated objects such as grooming equipment, feed and water buckets or transmitted on people's hands.
In a matter of hours, Mugnai's junior hunter went from a subtle toe drag to leaning against the stall wall to support herself. The 14-year-old Appendix Quarter Horse was diagnosed with the neurological form of EHV, equine herpesvirus myeloencephalopathy (EHM).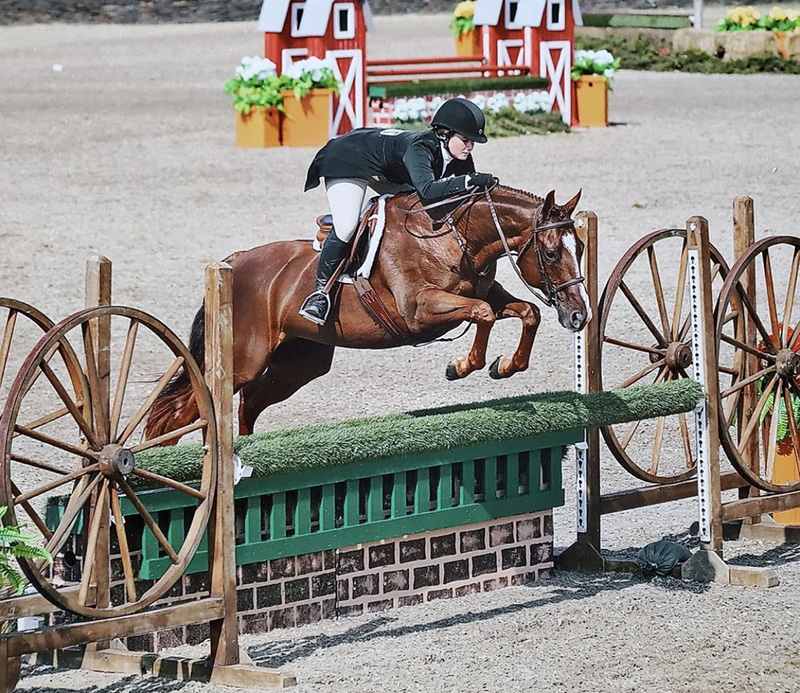 Watching her mare lose control of her hind end remains fresh in Mugnai's mind several years later, but she's grateful to the people who made the recovery possible.
"The school was fantastic," she said. "They got behind Juno's recovery in every way they could, including enlisting the maintenance team to fabricate a sling and hoist to get her standing when she first went down in the stall."
With the aplomb of engineering gurus, school employees used a few strong jump poles across the top of her stall, tow straps and an engine hoist connected into a stall mat with a series of snaps to get Juno to her feet after six hours of struggling.
People told Mugnai that recovery was unlikely and suggested euthanasia, but Mugnai believed Juno would be a good patient. So they continued on—feeding her meals raised on garbage cans, keeping her in a sling, and hoping for improvement each day. A team of veterinarians ensured she received aggressive medical care in addition to the supportive care provided by the university team.
Mugnai, her barn mates, and the now heavily invested school maintenance crew watched Juno carefully, hoping for any indication that her hind end would begin to function again. They celebrated that milestone two weeks later, when Juno took one tentative step forward and one back without losing balance and having to scramble upright again.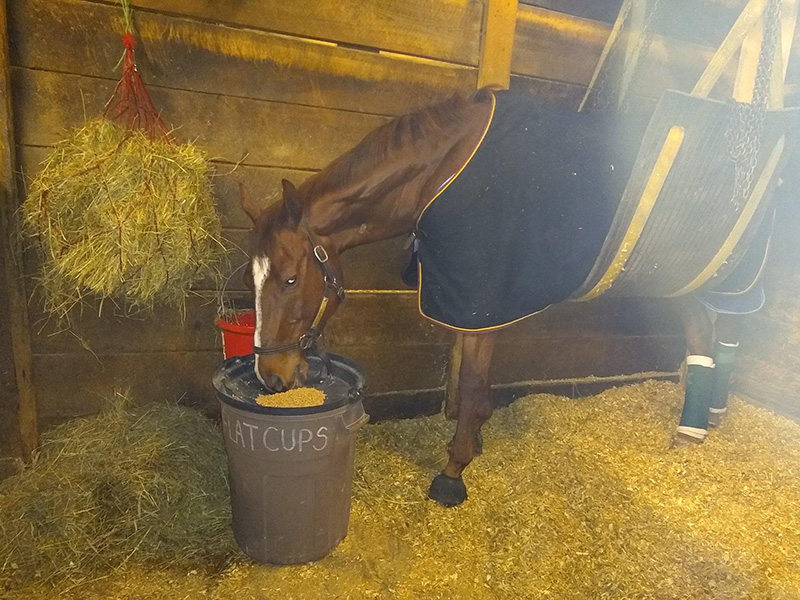 "That was a huge victory for us," Mugnai said.
Her local team of veterinarians and Cornell University (New York) experts hadn't seen a horse with such severe neurological symptoms fully recover, so while still optimistic, Mugnai continually re-evaluated whether the treatment was effective and if continuing was fair to Juno.
"Everyone agreed that if she stopped improving at any point before she could lay down and stand up again, getting out of the sling, she would have to be euthanized," Mugnai said.
Six weeks after the initial diagnosis Juno reached another major milestone: With the sling loosened, she laid down and got up all on her own. To enable Juno to walk around in her stall, the maintenance team assembled a second, more comfortable sling that allowed for increased movement while supporting her weight if necessary.
When the horse continued to progress, the sling dream team assembled a rolling walker sling where Juno was rigged up into a large metal cart designed by school engineers. It had heavy-duty casters that allowed the mare to walk assisted down the aisle. This physical therapy continued daily until Juno was strong enough to walk unassisted.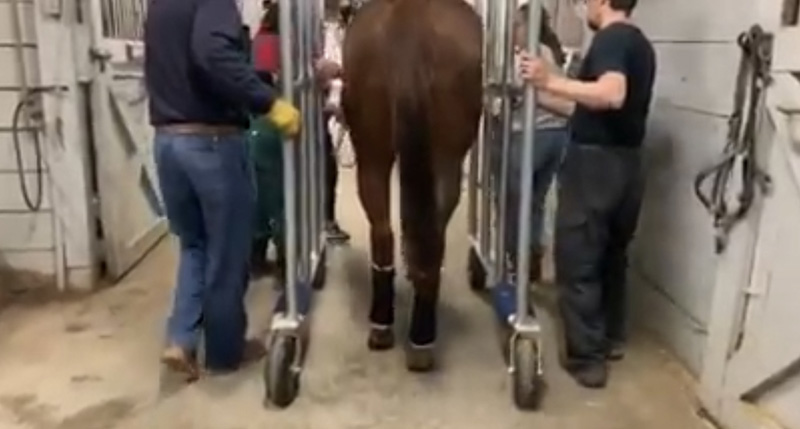 "I honestly couldn't have done it without the support of the university," Mugnai said. "They were absolutely incredible in the support they gave us. Because of this support, they didn't lose a single horse during the devastating outbreak."
Mugnai took Juno back home to Maine, where she retired the mare to a grassy field. Her muscle tone and hind-end weakness improved in retirement. The only issue was that nobody had consulted Juno about retiring, and the mare had some opinions about it.
"After a month of turnout at home she got very uncharacteristically aggressive and unhappy, so we started lightly riding again," Mugnai said.
Juno still exhibited a slight hitch in her right hind, which was recovering at a slower rate, but with the guidance of body workers, they agreed that Juno had no permanent neurological deficits and could resume jumping low fences.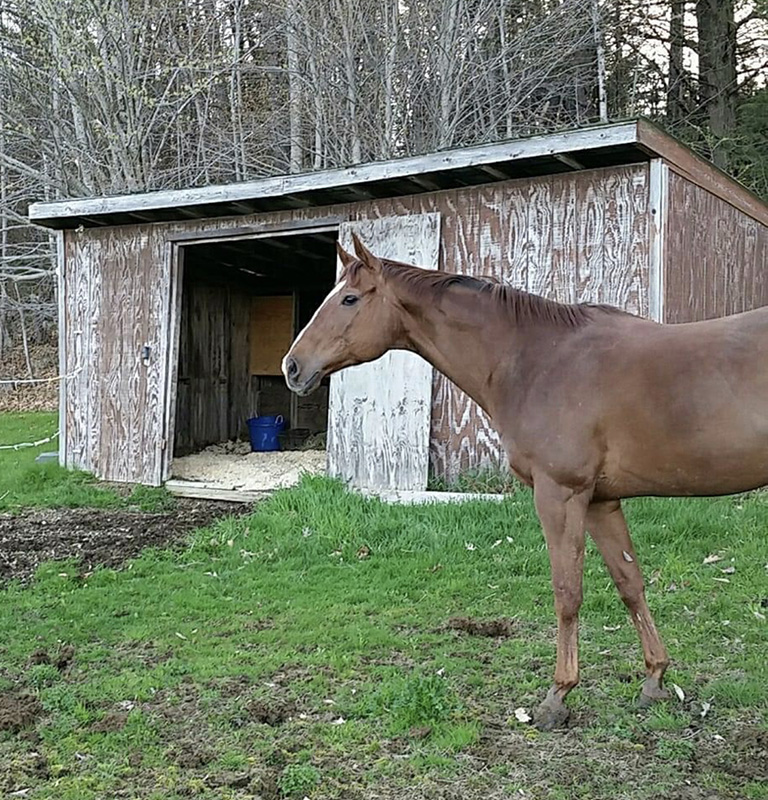 When Mugnai returned to college that fall, Juno joined her. Seven months after the initial diagnosis, Juno returned to the show ring. She jumped in the 2' division and had to do simple changes, but considering her ordeal, Mugnai was thrilled.
Today, Juno's life is much slower than in her junior hunter days, with lots of trail rides around St. Lawrence and their home in Maine.
"I think her story is one of truly believing in your horse and trusting your gut that if you know they can fight their way through something, you should give them the best chance possible," Mugnai said. "I feel Juno understood we were trying to help her and did everything she could do to assist in her own recovery."
---
Do you know a horse or rider who returned to the competition ring after what should have been a life-threatening or career-ending injury or illness? Email Kimberly at kloushin@coth.com with their story.