Long-held ambitions whispered in the back of Nora Battig-Leamer's mind as she planned her 2019 season. She'd spent the past four years training off-track Thoroughbred Dubai Storm, and she'd started to believe he might be the one to take her to her first five-star event.
Battig-Leamer started riding "Dubai" (E. Dubai—Lady Julia, Tobasco Cat) as a training project. When she moved to the farm she's based out of in Oxford, Pennsylvania, she helped the property owner's then-wife retrain horses off the track, and Dubai landed on Battig-Leamer's list.
"He just never sold because he doesn't have the best ankle X-rays," said Battig-Leamer. "It got to a point where she needed to move on from him. I actually loved him, and my trainers Bruce and Buck Davidson also very much loved him as a top-level prospect, so I bought him from her."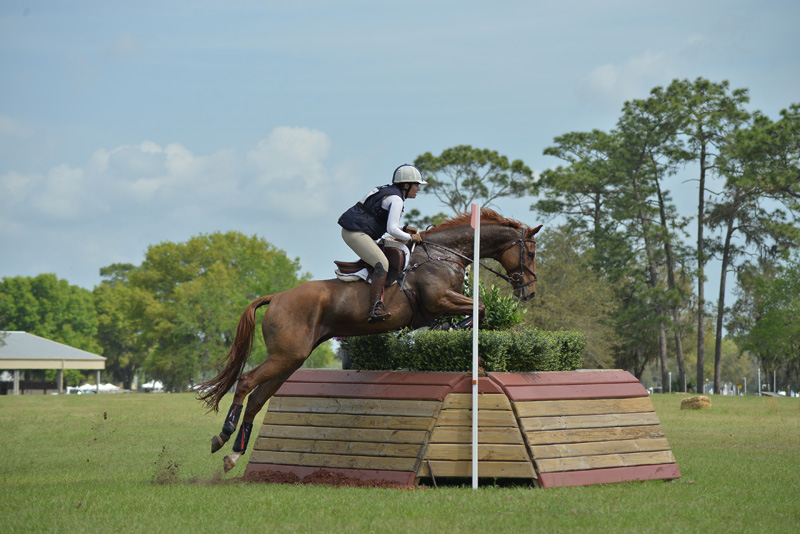 The chestnut gelding skipped up the levels and ran his first intermediate at the Horse Park of New Jersey in July 2018, so Battig-Leamer made a spring CCI3*-L her goal for the following year.
"He is the laziest Thoroughbred you've ever met," she said. "He's super lazy, super laidback and very game. He loves to work. He loves to jump. He's not really afraid of anything. If there's something he questions he's very smart and quick to figure it out, but he's super game. The easiest little event Thoroughbred ever."
But her plans came to a halt after a cross-country schooling accident in May of 2019. The question was a barrel suspended on its side a couple of strides before a bank, and Dubai hesitated, jumping low over the barrel. He hit it, and it somehow got caught underneath him. He lost his balance and fell sideways. Battig-Leamer was thrown clear, but Dubai landed on a post that supported the barrel and impaled himself. After the accident, Dubai took off toward the trailers, blood flowing from his side.
"I thought he had clipped an artery. It was that much blood," Battig-Leamer said.
Battig-Leamer's husband, Zachary Leamer, was waiting at the trailer, and they rushed Dubai to Kevin Keane, DVM, and Ashley Taylor, DVM, veterinarians at Sports Medicine Associates Of Chester County in Cochranville, Pennsylvania.
"We had thought that he had just had a broken rib or two, something that would heal up pretty quickly, and that the hole had not penetrated his abdominal wall," Battig-Leamer recalled. "At that point, we thought it was: Wrap it up, take care of it, and everything would be fine."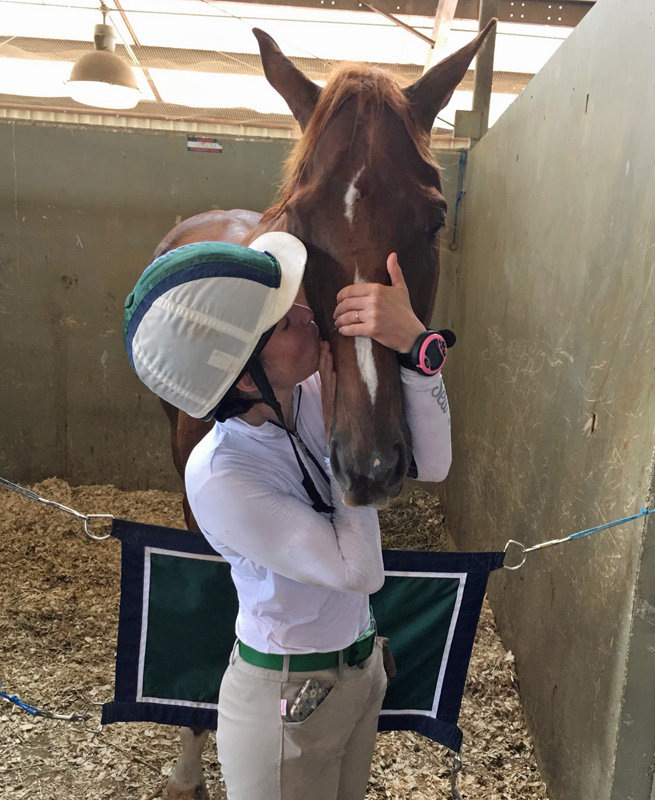 Taylor came out the next day to do a follow-up exam, and as soon as she removed Dubai's bandage, she could tell he'd developed an infection. Without hesitation, Taylor instructed Battig-Leamer to take the gelding to Penn Vet's New Bolton Center. There they discovered his injuries were more serious than they'd initially realized. The post had created a small hole in his chest cavity, and a life-threatening infection had settled in around his heart.
"It's always a fun question when the vets ask you if your horse is insured, so you know that it's a really big deal," said Battig-Leamer. "Thankfully they didn't really give me worst-case scenario or even best-case scenario. I think they were quite smart to refrain from doing so. They were just: This is what's happening right now; we need to get him on IV medication as soon as possible. He needs to stay here for observation; we need to see how this infection reacts and potentially do a belly tap to see if any of this has penetrated into his abdomen."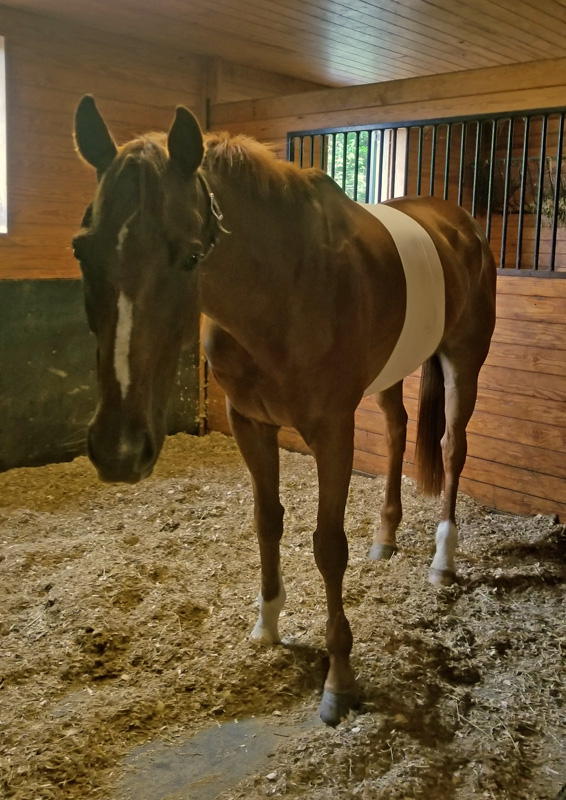 Initially, Dubai didn't respond to the antibiotics, and veterinarians worried he wouldn't recover. They switched him to an antibiotic designed to treat anaerobic bacteria, and after that, he started to improve.
"They ended up doing a belly tap to confirm [the infection] had not penetrated into his abdomen because if the infection had, it would've been kind of over," Battig-Leamer said. "The belly tap was clean. It took a while for his numbers to come down, and it took a while for the infection to clear. He had to stay there on the IV antibiotics for probably two weeks."
Even after Dubai returned home, Battig-Leamer brought him back every few days so he could undergo an ultrasound to monitor his progress.
"I would have to change his wrap every two days, which went around his entire abdomen," she said. "You certainly get creative trying to figure out, 'How do I make this safe and clean but not have to use six rolls of Elastikon and pull that off his skin every other day?' I'm pretty sure my vet was getting pictures every single time I changed it. 'This is still OK, right?' And it probably took, oh gosh, maybe six weeks if not more for the hole in his side to finally close up."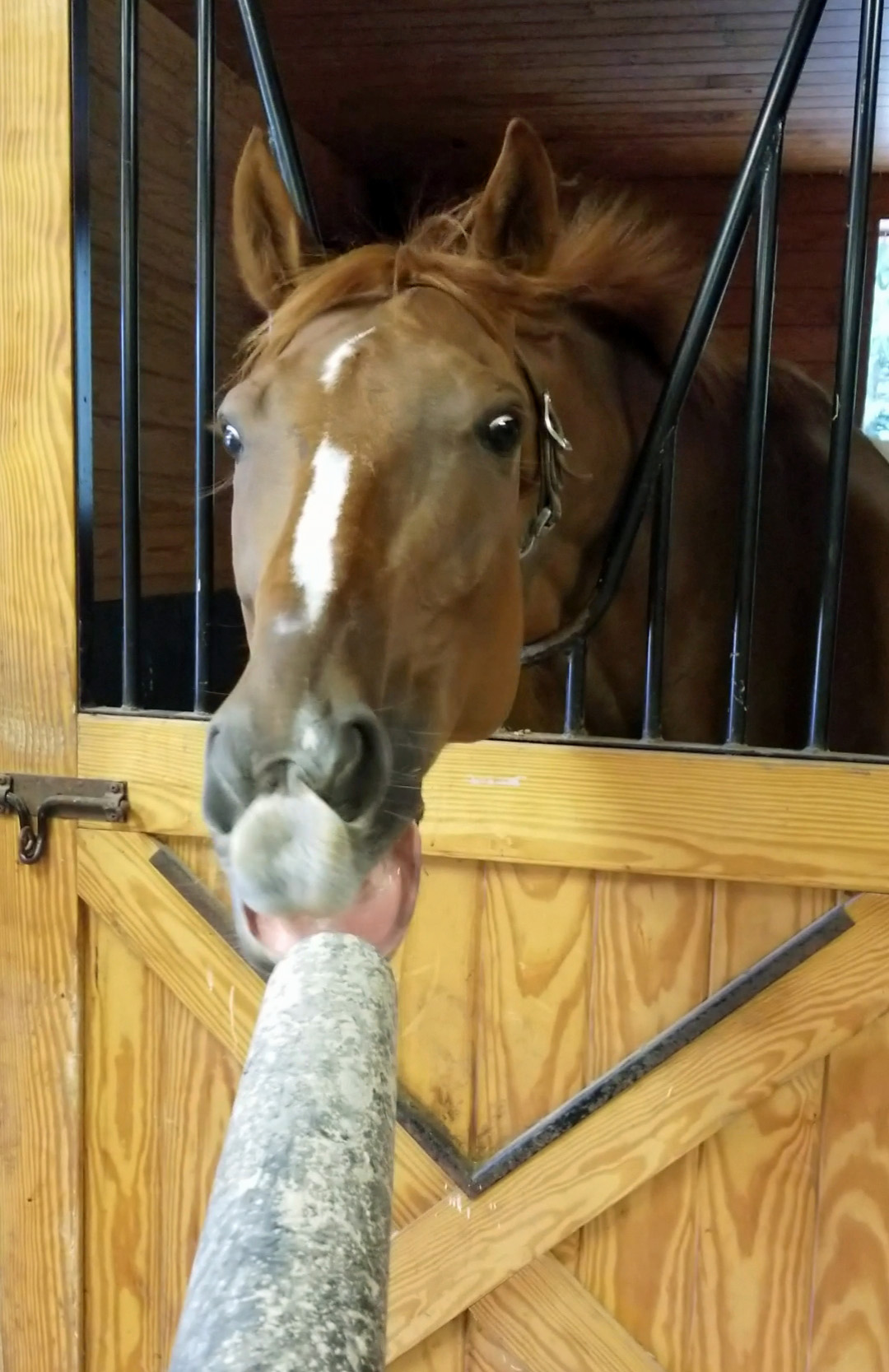 The veterinarians' next concerns were Dubai's rib fractures and his lung function. One of the broken ribs was a displaced fracture, and they weren't sure if it would become necrotic and require removal, but that healed on its own.
After surviving the injury and subsequent infection, Dubai's path back to sport was still in question. His future career was going to depend on his lung function. The fall had collapsed a portion of his lungs, and they'd filled with fluid, which affected his respiration capacity. While his lung function didn't return to 100 percent, the veterinarians felt the remaining damage was negligible.
"They made the comparison that it would've been like a pinprick in your vision that you couldn't see, so it would not affect him in any way," Battig-Leamer said. "They said, 'This horse should not have any limitations. His ribs are healed; the infection's gone; the lungs are healed, so it should never be an issue."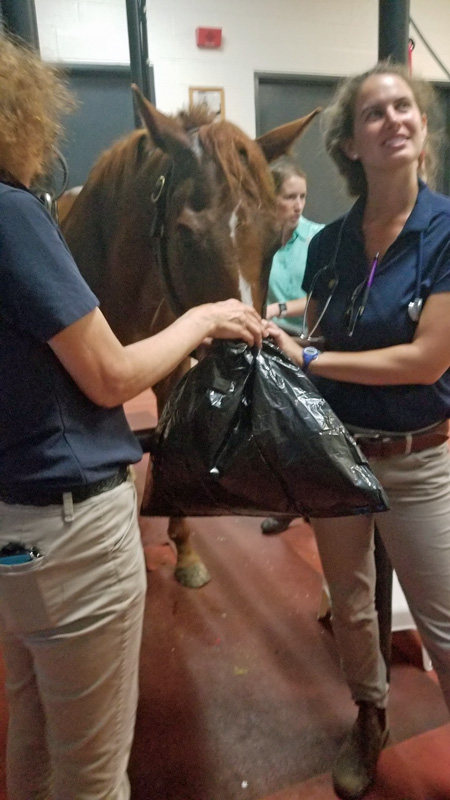 Due to the tenderness of his broken ribs, Dubai was on stall rest until those were no longer painful. Once he was cleared for work, Battig-Leamer took it slow. Her veterinarians instructed her to monitor his breathing as she built up his fitness, but it never became labored, so they were able to keep moving forward. Wanting to end the year on a good note, she competed him in a preliminary-training division at Full Moon Farms Horse Trials (Maryland) in November, and they led from start to finish.
Battig-Leamer completed a preliminary horse trials with Dubai in February and did the intermediate dressage and show jumping at Rocking Horse Winter III Horse Trials (Florida) in 2020, but then the 8-year-old Thoroughbred cut himself on the trailer before cross-country and needed stitches, so she withdrew. That completed their season thanks to a combination of the COVID-19 pandemic and the birth of Battig-Leamer's first child, Wyatt Leamer, in October.
While Dubai enjoyed an extended vacation during Battig-Leamer's pregnancy, she's hoping 2021 will be his year, and they'll finally accomplish her goal of running that CCI3*-L and completing a couple of advanced horse trials.
"It was not until [well after he recovered] that I had the nerve to ask my vet just how bad this all was," Battig-Leamer said. "Either I was super naive, or the vets were very good at keeping me calm and just treating things as they came, but I did not think he was going to die. My vet told me, 'Nora, it was bad, really bad.' In all of this, he NEVER had a temperature, even with a raging, life-threatening infection. He is one super tough cookie, and I am so thankful to the team of vets that helped save his life."
---
Do you know a horse or rider who returned to the competition ring after what should have been a life-threatening or career-ending injury or illness? Email Kimberly at kloushin@coth.com with their story.
---