When her green dressage prospect shattered his shoulder in 2019, Ashley Pujol stayed up late, scouring the internet night after night.
"I was looking to see if anybody had any stories about comebacks—major comebacks," said Pujol. "I could never find anything exactly the same. A lot of stories were about nerve damage and arthritis of the shoulder, and most of them ended like, 'Well, we kind of got them pasture sound!' I thought, 'Oh God, is he even going to be OK?' "
Chase injured his shoulder while turned out over Thanksgiving weekend in 2019. They were never able to determine what happened, but he sustained a deep puncture. Pujol was out of state visiting family when the facility manager sent her a video that caused her to burst into tears.
"Chase was dragging his front right, unable to bear weight," Pujol said. "We made an emergency vet call, and I started packing up to head home. For the entirety of the 11-hour drive, I was devastated and thinking the worst."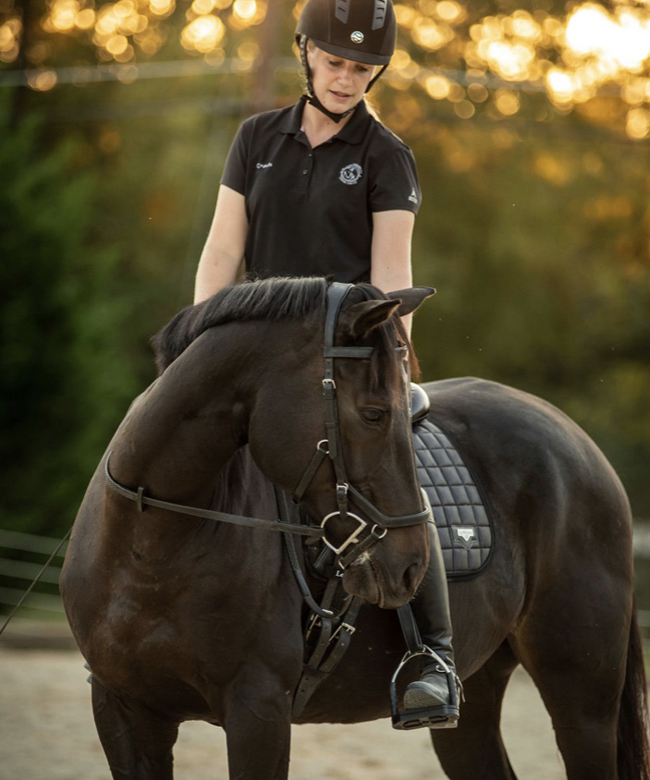 Pujol, 30, bought the Percheron-Thoroughbred gelding on something of a whim. A few weeks postpartum after an emergency C-section, she was suffering from extensive nerve damage. Her newborn son, Killian Pujol, demanded most of her attention, but she missed her work as the program director at the Tri-State Therapeutic Riding Center in McDonald, Tennessee, where she'd doggedly managed to finish chores as she went into labor.
She had no plans to buy a horse. But ever since switching to dressage from hunter/jumper a few years prior, Ashley had envisioned learning alongside a young horse as she progressed toward her U.S. Dressage Federation bronze medal. She liked the idea of a Thoroughbred-draft cross after decades of riding off-the-track Thoroughbreds.
"I stumbled upon Chase's ad, and he just looked like my ideal match," Ashley said. "He checked all the boxes: within the right age range, barefoot, easy keeper, take-him-anywhere, lives off air. I thought, 'Here is exactly what I need after becoming a mom: a confidence-building, low-maintenance kind of horse that I can bring along.' "
Ashley drove four hours from her home in Chattanooga, Tennessee, to Lexington, Kentucky, and returned with the 6-year-old gelding. He had loads of trail miles, but Chase only walked and trotted under saddle. Six months after Ashley bought him, he still wouldn't do much more. To make matters worse, as she introduced him to dressage, he became more reactive—to her aids, but also to his surroundings.
"At that point, I was full of anxiety," Ashley admitted. "In November 2019, we went to a schooling show and did Intro A and B. Not only did I struggle with my anxiety with his complicated and seemingly unpredictable behaviors at the show, but I was also starting to feel I made a hasty post-pregnancy hormonal decision in getting a horse that couldn't canter. I was like, 'Did I just buy this horse because he was pretty? Are we going to be stuck in Intro A and B forever?' "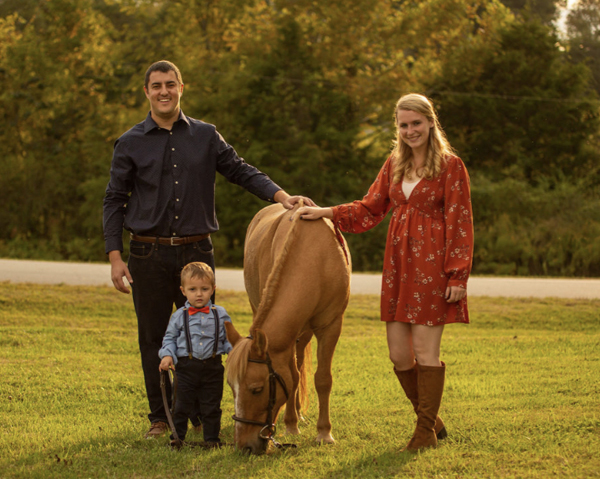 After their first show, Ashley's trainer, Anne Zaharias, counseled her to go back to basics with Chase—cavaletti, groundwork and longeing exercises. He started to relax, and so did she.
Then he got injured.
"It was a punch in the gut," Ashley said. "No one has a crystal ball. The vet can give a prognosis, but they can't tell you for sure, yes, he's going to be able to recover from this. I struggled because here I was just starting to really understand my horse and become a good team. If he was going to be pasture sound, that was fine. But he loves work, and he's so young and personable. I couldn't imagine him stuck in a pasture for the rest of his life."
At first, they hoped he'd just sustained a puncture wound, but after the swelling subsided, imaging revealed that Chase had fractured the spine of his scapula. Rather than head straight to surgery, veterinarians counseled Ashley to see if his body would eject the bone fragment on its own. The catch? The wound had to remain open. Ashley had to lavage it three times a day—plunging a fluid-filled syringe into the deepest part of the puncture without sedation. In days, Chase went from nuzzling her affectionately to balking at her approach.
"He could only associate me with pain," Ashley said. "I had a few friends who tried to help lavage him sometimes so it wouldn't be just me, but I was worried about people getting hurt, so most of them had to step back. Hand walking was just as bad. He was a kite on the end of my lead rope, despite having essentially three legs. It was really very dangerous for both of us."
The bone chip finally emerged, but the swelling remained. Additional imaging showed that he hadn't just broken off one fragment from the scapula spine. Behind the main chip, there were hundreds of small bone fragments. In March, Chase underwent standing surgery at the University of Tennessee's equine hospital to shave the bone and remove the fragments. Ashley's veterinarian performed a second minor chip removal surgery in April. Chase continued to display swelling and pain, and in May, they discovered he'd developed abscesses where the chips had been removed.
"By June 2020, we were back at the University of Tennessee for what we hoped would be the final surgery," Ashley said. "With COVID regulations, I wasn't able to go in with him, and I had no clue what I would see when we met again. Chase stayed for almost two weeks to get his abscess channels—there were four—flushed multiple times daily, as at this point it was impossible to do so without lidocaine. The poor horse had been lavaged three times a day for almost six months."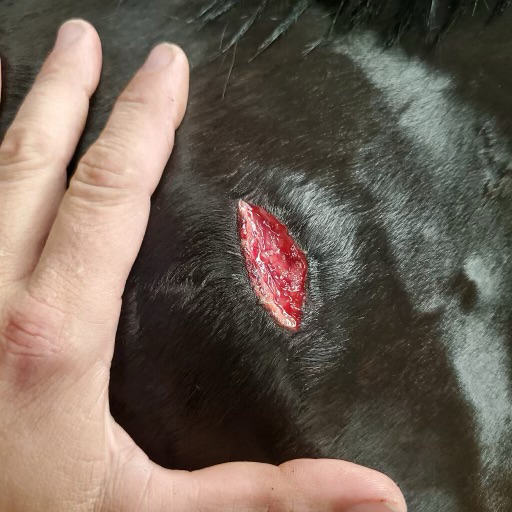 Even after his recovery time at UT, Ashley said she was shocked to see the size of the wound when she brought Chase home. She received instructions to stick her finger in the shoulder opening on a daily basis to measure his progress. With a shoulder guard, daily cold hoses and antibiotics, Chase's wound finally healed in July, just as Ashley was starting to wonder how long she could continue on this path.
"All along, there was the financial worry," Ashley said. "Can I afford to take care of my horse, or am I going to reach that unthinkable point where I have to put him down because I can't afford another surgery? I hate that my finances could be a determining factor on his life that way; it's not fair. Thankfully, it ended up being way more manageable than I would have imagined, in part because of the three steps forward, four steps back timeline. That spaced the bills out just enough."
Ashley increased Chase's workload slowly, ponying him around the farm where she boards him in Charleston, Tennessee, and practicing longeing and in-hand work. After weeks of walking and trotting, she asked for a canter, and it was there, better than before.
"We went to our first show since the injury almost exactly one year later," Ashley said. "Our first test was at 1:42 p.m. on Saturday, and by 1:39 p.m. I still hadn't been able to get on him because he was too fresh. I was ready to scratch, but then I thought, you know, we might as well get arena time. Let's at least go in there. So, we went down centerline, then we did the next piece, then the next, and before I know it, we were going back down centerline.
"We hit X, and I just burst into tears," Ashley continued. "Just what he worked through, the physical and the mental. He never ceases to surprise me."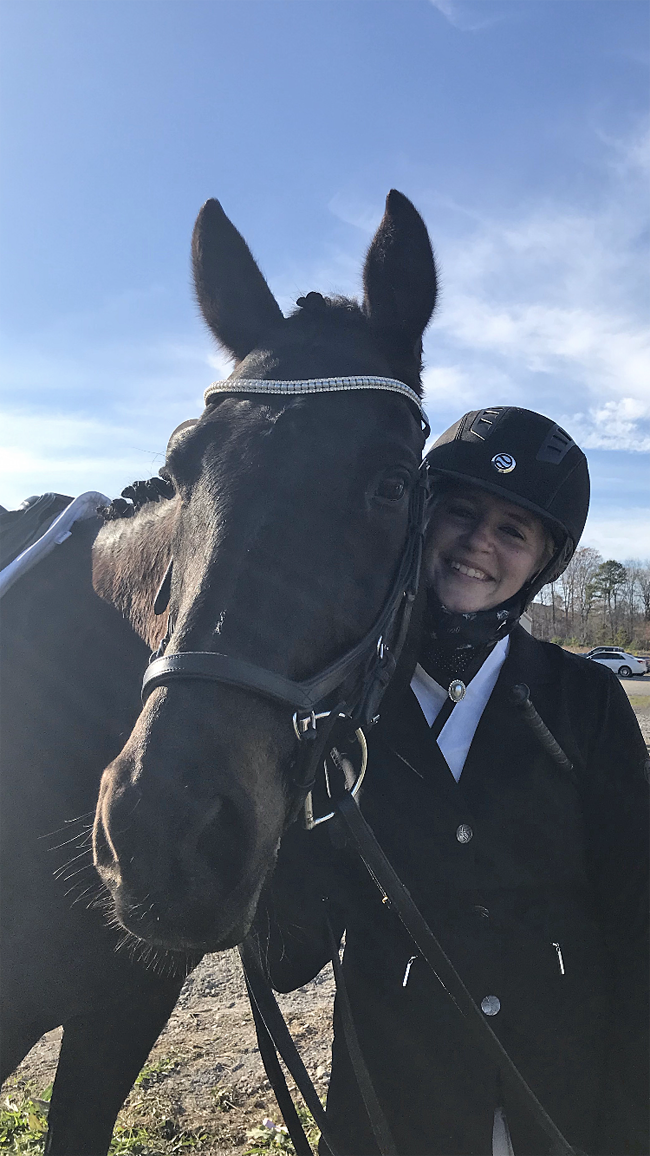 They did three training level tests, scoring in the 60s each time.
"I think there's hope in every situation," Ashley said. "Every individual situation is different, and one person's success won't look like another's, but there's always some sort of silver lining. I'm learning so much—about rehabbing horses and about how to mechanically help his movement. I guess, learn what you can from the situation and get what you can out of it, and focus on that instead of what you're losing—the time or the money, or even the functionality of your horse.
"With Chase, I want to do whatever is going to make him happy and whatever's going to make our partnership stronger," she added. "That's true no matter what happens."
---
Do you know a horse or rider who returned to the competition ring after what should have been a life-threatening or career-ending injury or illness? Email Kimberly at kloushin@coth.com with their story.
---