Few things could make bankruptcy attorney Lara Gardner run up credit card debt. Fortunately for her Thoroughbred, Well Spoken, he's one of them.
Two years ago, after a short romp in the pasture at Gardner's farm in Corvallis, Oregon, "Johann" came in with a small puncture just underneath his left hind fetlock. The next morning, he was dead lame and off his feed.
"I immediately called my vet [Kathy Connell, DVM, at Del Oeste Equine in Eugene, Oregon]," Gardner said. "As she was examining him, she told me she was very concerned that he had penetrated his tendon sheath."
A punctured tendon sheath is a life-threatening situation because it's difficult to resolve an infection, and tendon damage and adhesions may cause permanent lameness even if the infection is cured. To test her theory, Connell injected penicillin into the tendon sheath above Johann's fetlock. If the tendon sheath had been breached, the penicillin would run through the joint sheath and out the puncture wound under Johann's fetlock.
"I held my breath, wishing and hoping," Gardner said. "Our fears were confirmed when, after what felt like forever, a white stream gushed out of the tiny wound. My heart sank as my vet called [Oregon State University's Carlson College of Veterinary Medicine] where there is an emergency hospital about an hour from my home."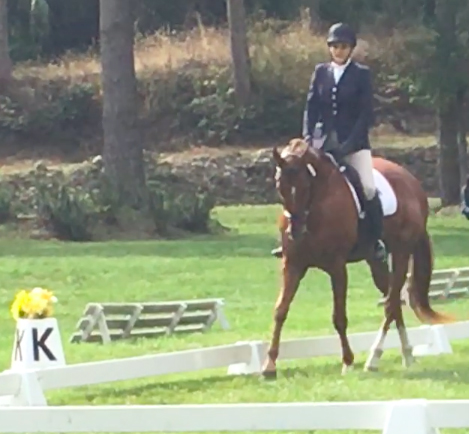 Before the injury, Johann and Gardner had evented through novice and were beginning to explore dressage. Gardner grew up riding hunter/jumpers on her parents' farm in Jefferson, Oregon. After a working student gig at Brawley Farms South in her hometown, she turned her attention to her studies, graduating from Lewis and Clark Law School (Oregon) in 2003.
Gardner helped found the Columbia River Law Group and practiced out of Portland, Oregon, and Eugene for 17 years. Between bankruptcy cases, teaching law classes and raising two daughters, she didn't have much time to ride. But in 2014 she purchased Johann (Seattle Shamus—La Delegada, Lac Ouimet) with the goal of returning to competition.
After five-star eventer Anna Collier introduced Gardner to eventing, she became intrigued with the discipline, purchased a farm in Eugene, and started taking lessons with a local trainer.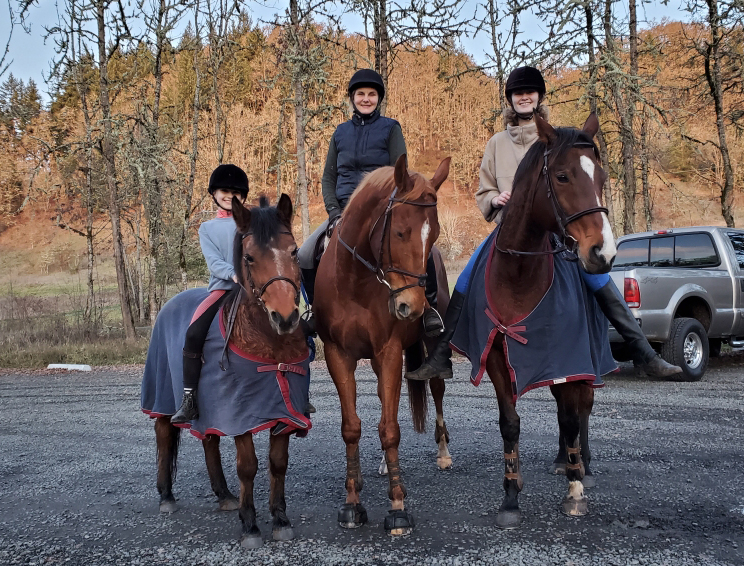 "Unfortunately, the coach wasn't the best match," Gardner said. "She really obliterated my confidence.
"After a year of that, I took a lesson with a dressage coach, Debbie Evans, who in one lesson fixed issues that we hadn't fixed in a year," continued Gardner. "Around the same time, I went to a clinic with a Grand Prix dressage rider who just raved about Johann. I actually cried at that clinic. After that, I was like, maybe I'll just do dressage and see how that goes."
Johann and Gardner blossomed under Evans' instruction, but a few months later his future was uncertain when he underwent emergency tendon sheath surgery. He spent three weeks at the hospital and then endured another six months of stall rest.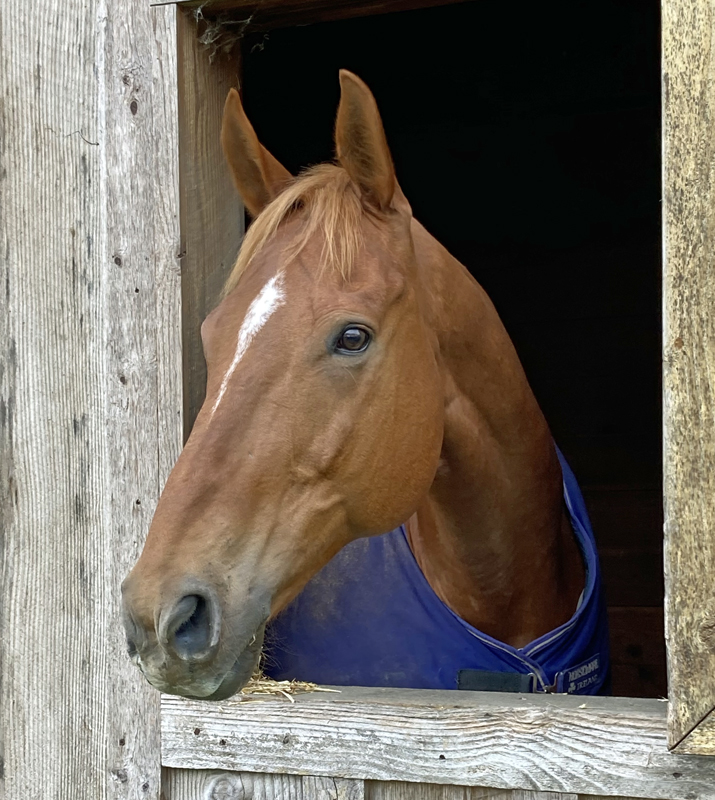 Gardner describes Johann as "a pretty chill dude," which helped during recovery, but even he had his limits.
"If he was a guy, he'd be the guy that sits in boxer shorts smoking weed all day, then goes for a run and sprints past everyone like it's nothing," Gardner joked. "For all our hand walks and stall rest, someone who didn't know him well would have thought that he was being normal. But I knew him well enough, for me it felt like taking a kite for a walk. He was clenching his teeth; his jaws were constantly [moving] side to side. I knew he wasn't happy."
Johann's injury showed improvement at each follow-up appointment, so after incremental increases in his hand walks, Connell cleared Johann for tack walks.
Gardner doubts she could have maintained her religious fervor over Johann's rehab routine without the luxury of keeping him in her own backyard. She also had help from her daughters: Milla, 21, who took shifts on break from university, and Isabelle, 11, who deftly learned to manage Johann's "hockey goalie" bandages.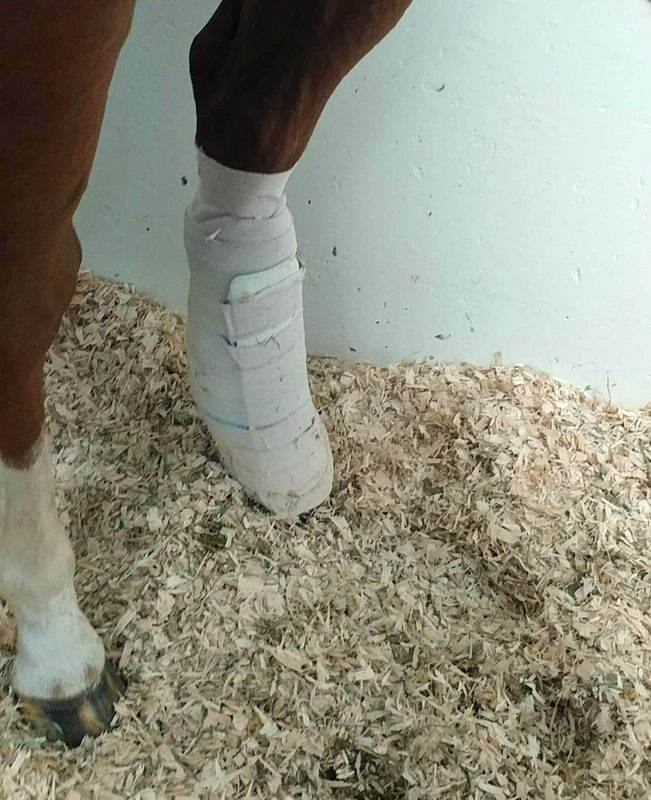 The biggest burden was financial. Burnt out on bankruptcy law, Gardner had just begun earning her teaching certificate and stepping back from her legal career.
"I'm usually extremely anti-credit. I say save for emergencies and use that," Gardner said. "In this case, my income had been declining, and I just didn't have it. The stay at the hospital ran around $8,000, and the follow-up visits and ultrasound were between $2,000-$3,000."
Credit cards helped her stay afloat, but it wasn't until she sold her farm a few months ago that she paid off her debt completely.
Back in work, Johann seemed determined to make good on Gardner's investment. He felt looser, more flexible and more through, so much so that Gardner wondered if some other undiagnosed source of pain had also healed during his downtime.
"He's better all around; it's just amazing what time off can do," Gardner said. "Another thing that might have helped is we spent a LOT of time at the walk, much more than we would have if he had not been forced to because of the rehab. I was able to train in certain things at the walk better, so when I moved up to trot and canter, Johann was stronger and more flexible. Working from back to front and over his topline was one of the biggest benefits. We also did a lot of lateral work at the walk, which improved him doing the same work at faster gaits."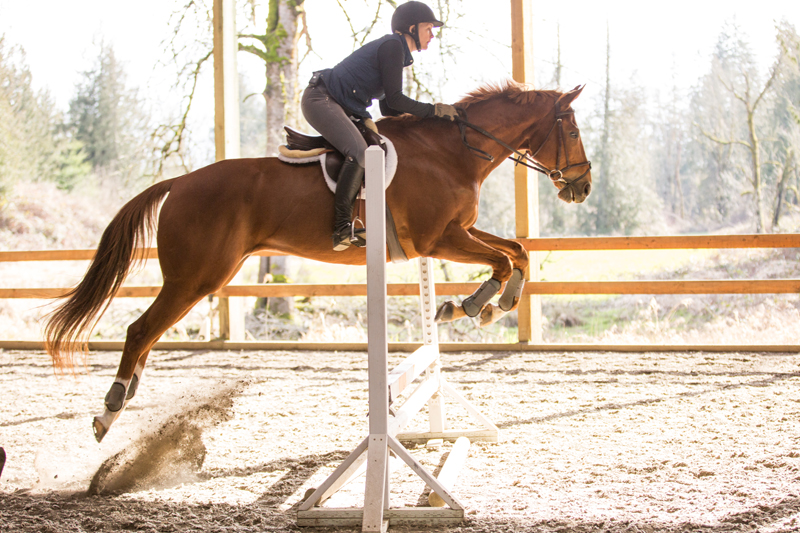 Gardner still toys with the idea of returning to eventing, but the stronger Johann gets in dressage the more excited she is to stick with the sport.
"I love the feeling when he really settles in at medium trot; when he's flinging his legs out, I could ride that all day," Gardner said. "With COVID last year, we still haven't been able to show much, but we're schooling fourth level stuff, and I can see the possibilities there. He's 13, so if we're going to try to ride up the levels, we need to make that choice.
"For now, he's stayed sound," she continued. "That has alone been great!"
---
Do you know a horse or rider who returned to the competition ring after what should have been a life-threatening or career-ending injury or illness? Email Kimberly at kloushin@coth.com with their story.