Whether at a fall indoor championship or a quiet summer show in Ocala, Florida, when Ariana Marnell approaches the in-gate on Babylon, there's a shift in the atmosphere ringside. People nearby take a few steps closer, and overheard snippets of conversations often include phrases like, "Oh, it's Babylon," or, "This is that really good horse that John French won on."
With a flaxen mane and tail and a distinctive spotted blaze, the 8-year-old gelding is instantly recognizable.
"At first, I was like, 'Oh, all these people are coming up to watch,' and it was a little bit nerve-wracking, but now I think it's really cool, especially the ring getting really quiet when you go in," said Marnell, 16. "It's kind of exciting."
Those who pause to watch are often rewarded with spectacular jumping efforts. In his debut season in the junior hunters, "Crumbles" took home championships from Devon (Pennsylvania), the Adequan/USEF Junior Hunter National Championships—East (Michigan), Capital Challenge (Maryland), Washington International (Maryland) and a grand championship at the National Horse Show (Kentucky) and the Hampton Classic (New York), among others. Marnell also rode him to second in the $100,000 WCHR Central Hunter Spectacular (Michigan), while her trainer John French piloted the gelding to his second consecutive win in the WCHR Pro Challenge held at Capital Challenge.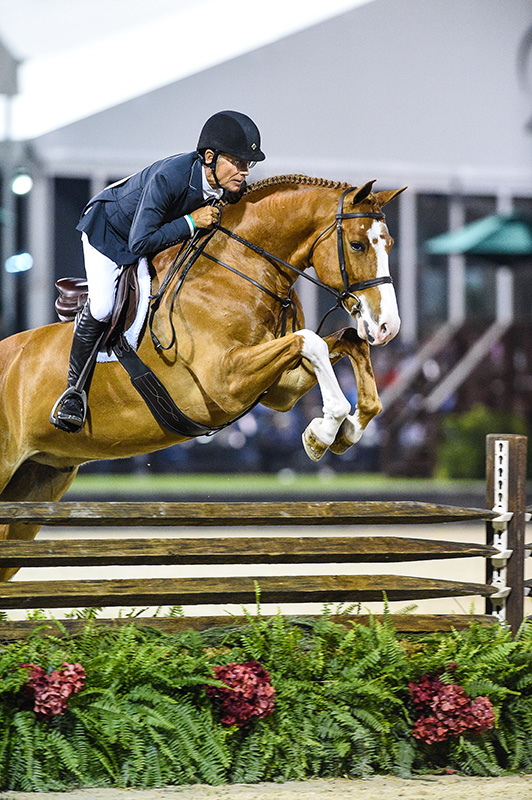 "That's just an amazing feat for a horse, particularly for a horse that just turned 7 years old [in 2022] and started doing the junior hunters for the first time with Ariana," said French. "His accomplishments, I can't be more proud of. [It's] just one of those things where as a trainer you always are trying to do the best thing for the horse, and sometimes you make mistakes, and you're like, 'I wish I hadn't done that or maybe I overfaced him.'
"So it's special when you know you did it the right way, and because of that the horse turned out what you hoped and what you thought he could be," he added. "You made all the right decisions. And that's what's so nice about this horse. I just feel like we did everything right. We made the right decisions. We did it the right way."
The Real Deal
In early 2020, French came to Wellington, Florida, to work for Olympic show jumper Kent Farrington, who presented him with a video of a young Crumbles. He had excellent form and was a flashy type, but his greenness showed in the way he overjumped even the simplest fence.
"I was sort of like, well, he looks nice, but I wasn't 100% sure without seeing the horse and trying it, but Kent's bold, and he went for it and took the risk," said French.
Farrington was positive the horse would shine under French's careful training. "It's a beautiful horse," Farrington said. "He jumped with an incredible style. He looked to be a good young jumper prospect, but he had a super calm mind, so he looked like he could be one of the best hunters. His natural style is impeccable."
That year French showed Crumbles in the 3- and 4-year-old pre-green hunters at the Winter Equestrian Festival (Florida), winning the circuit championship. (For that division the horse's age is counted by Jan. 9 of the show year.)
During the COVID-induced hiatus, French took Crumbles on adventures.
"I would ride him on the trails and take him different places all the time, riding around, just giving him the experience," he said. "I went slow with him, and I knew if I did it the right way that he would be a special horse. But I knew that I had to do it and keep him with his confidence and not overface him. I definitely felt from the beginning that he was a special horse."
They finished the year by dabbling in the 3′ greens, and in 2021 Babylon stepped into the 3'6″ green hunter division. He won the Platinum Performance USHJA 3'6″/3'9″ Green Hunter Incentive East Regional Championship at Brandywine Summer Series (Pennsylvania), and in October, he won his first WCHR Pro Challenge at Capital Challenge, against a field of far more experienced mounts. That show was Crumbles' first big test: competing indoors for the first time and without any warm-up classes. He started the week by winning the 3'6″ green division, also earning the grand hunter and grand green hunter titles. While it wasn't French's first choice to put the gelding in the Challenge, Crumbles was his only option.
"I thought, 'We'll give it a shot,' " he said. "For him to win that against all those other made horses when he was 6 years old, that's when I knew what a great horse he was and how much he's come along and grown up. He was the real deal."
Worth The Wait
As Marnell and her parents, Anthony and Lyndy, took a tour of Farrington's farm in late 2020, Crumbles was standing in his stall.
"My parents and I kind of stopped and said, 'This horse looks different. He's very unique,' " said Ariana. "He had his head out the whole time, and he didn't kick or make any noise, but he was just kind of hanging out, watching us, and we all thought, 'This horse is really smart.' "
Ariana didn't try the gelding until later, and while he was much greener than anything she'd ridden before, they got along well. The Marnells purchased him in August 2021, but both horse and rider had more to learn, so Ariana watched and absorbed everything she could for the remainder of the year. Since she was having a standout year with her other junior hunter, Ocean Road, it wasn't difficult to remain on the sidelines.
"John is a very unselfish person, and he's obviously had a huge career," she said. "I knew that as soon as he felt it was comfortable, he wasn't going to hold Crumbles [back from me]. He's just not that kind of person who would try to take the ride. They wanted me to be with him as soon as possible once we were both ready."
French points to the Marnells' patience as a key piece in the horse's development.
"When we did find the right people that we could keep the horse—I think that's also what [Farrington] was hoping would happen—he told them, 'Listen, it's your horse, but John's going to ride him for this year, and he's going to finish making him up before your daughter is going to finish doing any showing or riding on the horse,' and they were totally fine with that.
"Jack Towell, who I have the utmost respect for, he gave me the biggest compliment last year," French continued. "He said, 'John, I just want to tell you, you've done an amazing job with this horse.' He said, 'This horse could've gone either way, but the way you did it with him is why he has become what he is.' We all try to do that, but sometimes it doesn't work out that way, and with this horse I think it worked out that way. That's why he, at such an early age, has done so much. I don't think any horse at 7 years old is Chronicle of the Horse Horse of the Year."
Ariana showed Crumbles at the 2021 Middleburg Classic (Virginia) in the 3'3″ performance hunters, where they earned their first championship, before taking the reins regularly in 2022 during WEF.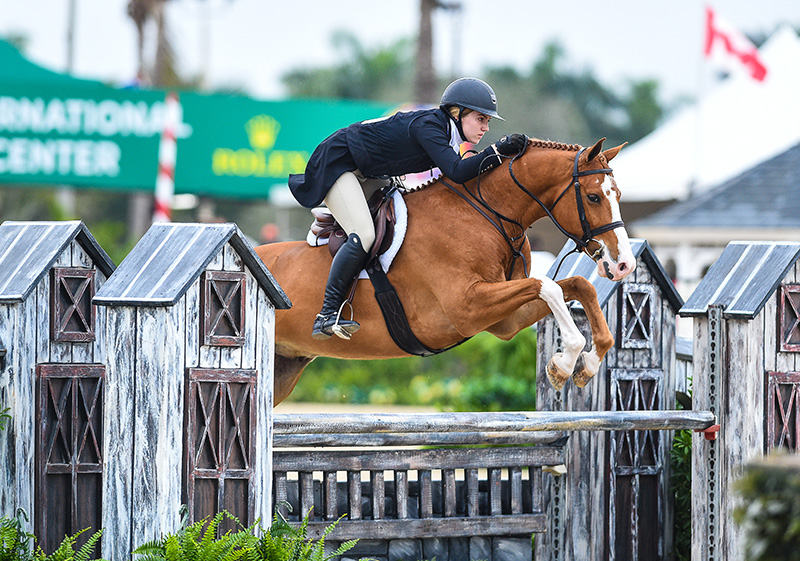 "Our first week in Florida I was pretty nervous, and I kind of realized quickly he's incredible, but I do need to ride him, and I need to do my part," Ariana said. "If I sit here and kind of try to step around him because he's so special, this isn't going to work. And within that first week of showing him, I think my mindset changing helped a lot. But it was definitely nerve-wracking at first. I don't want to mess up on him. After a couple shows together I was like, at the end of the day, he is a horse, as amazing as he is. I still need to ride, and I can't just tiptoe around him because he's so amazing."
Nothing To Lose Here
Competing at Devon had long been a goal for Ariana, and 2022 was her first opportunity. When the time came, however, she had to enter the famous Dixon Oval without French, who was laid up following hip surgery.
Before each class, they spoke on the phone, going over every aspect of her plan from warm-up to the final fence.
"I felt so nervous, him going off to Devon and me not being there," said French. "He went in and won the first class, so then I was like, oh my God, he's getting so grown up now; you don't have to baby him quite as much."
In the first over fences class, Ariana earned a class-leading score of 89 with Ocean Road, only to be overtaken halfway through by a 90. As she waited by the side-gate, she had a realization: If any horse could score in the 90s, it was Crumbles.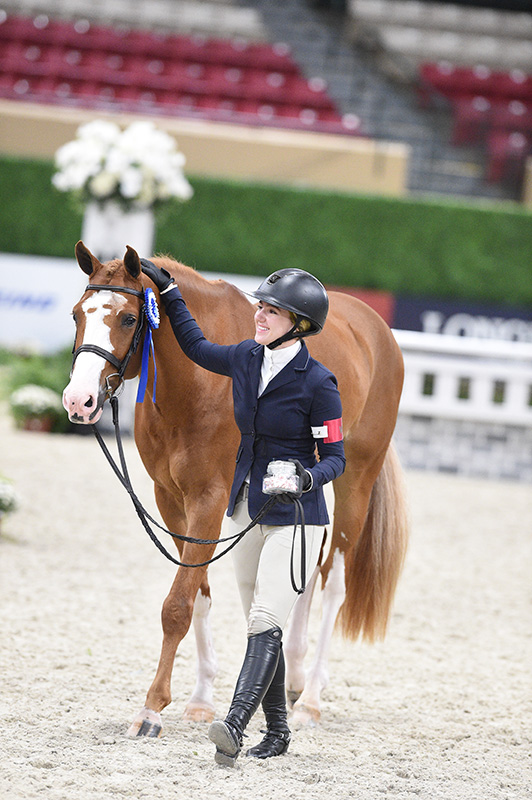 "In any class I just think he can be higher than that high score," she said. "Some horses you know, OK he's not going to get above a 90—he's not a good mover, whatever—but I feel like there's really no limit with [Crumbles], which is exciting."
At Devon, Ariana realized she could stand on her own with the young superstar.
"Devon was really the moment where it hit me: This is going to be something really cool," she said. "At the time we didn't have an established name together. It was Babylon and John, and he's won all of this with John, but it wasn't really confirmed if I could make him perform that way, if I could go on the big stage and win with him. But I think winning that together, that was a big week for me."
Since June, Crumbles only missed out on a championship once—at the Pennsylvania National, where they scratched him from the second day because he didn't seem quite himself. During the indoor season, where a month of horse showing can become a grind, French made sure Crumbles got some downtime.
"I'm pretty big on making sure they get time out, and they don't just live on the road," he said. "My horses, I would be running them back and forth if they have a couple days off. Or before a big away show we'll take them back to the farm and turn them out. [For Pennsylvania National,] we stayed in a lovely farm outside of Harrisburg, and I would just take him through the corn fields and trails and ride him cross-country and then bring him back to the show. I think it's important not to do with [just] him but with all horses."
Easy To Love
As Crumbles' fame grew, so did his personality. "[At] Capital Challenge, I went to get on, and some girls were taking some pictures with him, petting him," Ariana said. "He loves that. Everybody asks me, 'Can I go say hi to him? Can I give him food?' The more people the merrier. He wants to meet everybody. He wants to get treats from everybody. He loves people, which is really cool. He's obsessed with people."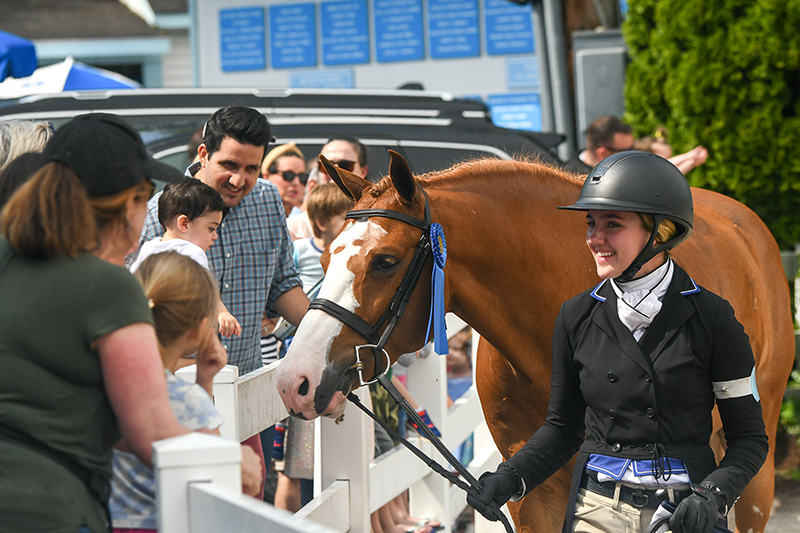 Crumbles, who is 15.3 hands, often stands on the bottom fence board to get a better view. He lies down to graze, and when he's ready for a new spot, he rolls over rather than standing up. He's the king of removing blankets and fly sheets—even managing to remove another horse's blanket at the National and pull it into his stall.
[Go Behind The Stall Door to learn more about Crumbles' personality at home.]
"Maybe one day he'll have his own show in Las Vegas. He'll have his own residency. I'll have to teach him more tricks," French joked.
Despite his troublemaking tendencies, he's a favorite amongst everyone in French's barn.
"He's got tons of personality," said French. "The fact that he loves what he's doing—he never pins his ears back or gets cranky. He's just a horse who loves his job, and I think he loves competitions. When you really need him to win that class or whatever, he'll step up to the plate, because he loves what he's doing."
Even among French's many famous mounts—Rumba, Small Affair, Center Court, Boss, to name a few—Crumbles has earned a starring role.
"Knowing that I started him as a 4-year-old, and him coming to the scene so quickly, and everybody loving him, it makes me feel good that I happened to be part of it and developing him," he said. "I've never had a horse like that. He's the kind of horse that when the time comes, and he needs to retire, if the Marnells aren't taking him, I'm taking him."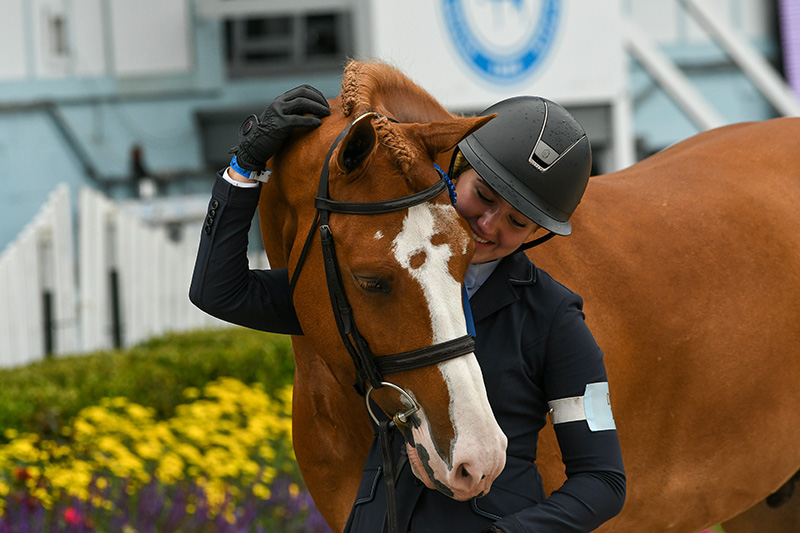 Babylon At A Glance
Stats: Ch. g., 15.3 5⁄8 hands, 8 years, German-bred Oldenburg (L.B. Crumble—Die Cera, Balou Du Rouet), bred by Harm Thormaehlen, owned by Marnell Sport Horses.
Lots To Say: "The funny thing about him is he's a real talker," said John French. "When you first get on him, he'll usually whinny. There'll be times in the middle of the ride, he'll be kind of under his breath doing these little whinnies like he's talking to himself."
Cocky In The Best Way: "I've had some horses who are cocky and can be a little rude and a little stubborn, but he's not really like that," said Ariana Marnell. "He's like, 'I'm amazing; let's go compete,' not, 'I'm amazing; don't tell me what to do.' He wants to use his greatness, and he's a huge team player. He's really up for anything, which is interesting. Even when he was green and really spooky and some things would be a little scary to him, he was always down to try."
2022 Highlights:
• Grand champion junior hunter, grand champion small junior hunter and champion small junior hunter, 15 and under—National Horse Show (Kentucky) with Ariana Marnell
• Grand champion small junior hunter and champion small junior hunter, 15 and under—Devon Horse Show (Pennsylvania) with Ariana Marnell
• Grand champion junior hunter and champion junior hunter, 15 and under—Hampton Classic (New York) with Ariana Marnell
• 1st—WCHR Professional Challenge at Capital Challenge (Maryland) with John French
• 2nd—$100,000 WCHR Central Hunter Spectacular at Traverse City Spring Horse Show (Michigan) with Ariana Marnell
• Champion small junior hunter, 15 and under—Capital Challenge Horse Show (Maryland) with Ariana Marnell
• Champion small junior hunter, 15 and under—Washington International Horse Show (Maryland) with Ariana Marnell
• 2nd—WCHR Junior Challenge at Capital Challenge (Maryland) with Ariana Marnell
• Champion small junior hunter, 15 and under—Adequan/USEF Junior Hunter National Championships—East (Michigan) with Ariana Marnell
• 8th—$100,000 WCHR Peter Wetherill Palm Beach Hunter Spectacular (Florida) with John French
• Champion 3'6″ performance hunter—Winter Equestrian Festival (Florida) Week 1 with John French
• Champion small junior hunter, 15 and under—Winter Equestrian Festival Weeks 7, 11 and 12 with Ariana Marnell
• Champion junior hunter—WEC Ocala Summer #7 and #8 with Ariana Marnell
• Champion 3'6″ performance hunter—Hampton Classic (New York) with John French
• USEF Horse Of The Year—small junior hunter, 15 and under with Ariana Marnell
---
This article first appeared in the January 2023 issue of The Chronicle of the Horse. Subscribers may choose online access to a digital version or a print subscription or both, and they will also receive our lifestyle publication, Untacked. 
If you're just following COTH online, you're missing so much great unique content. Each print issue of the Chronicle is full of in-depth competition news, fascinating features, probing looks at issues within the sports of hunter/jumper, eventing and dressage, and stunning photography.