I spent my whole very long drive home from the Kentucky Horse Park and the Retired Racehorse Project's Thoroughbred Makeover trying to think of how to write this without sounding like a sixth grader who is writing about her awesome summer vacation in an essay for school.
This is my first blog for the Chronicle, so I really wanted to write something sophisticated and with a touch of humor about what an inspiring event this weekend was. Unfortunately my inner sixth-grader totally won out and all I could think of is, "OMG That was so cool!!!" Because it was!
Ten completely different divisions, all with off-the-track Thoroughbreds as the only contestants, riders and trainers from all over the country and Canada (I met a wonderful Aussie who was entered but had to scratch) all with the sole passion of showing off an OTTB with 10 or less months retraining in one of the biggest venues we have in the United States, not to mention Thoroughbred Mecca!
It was really moving to see first-hand how versatile the breed is when you watch them barrel race and work cattle, then be elegant show hunters who could win anywhere in the country.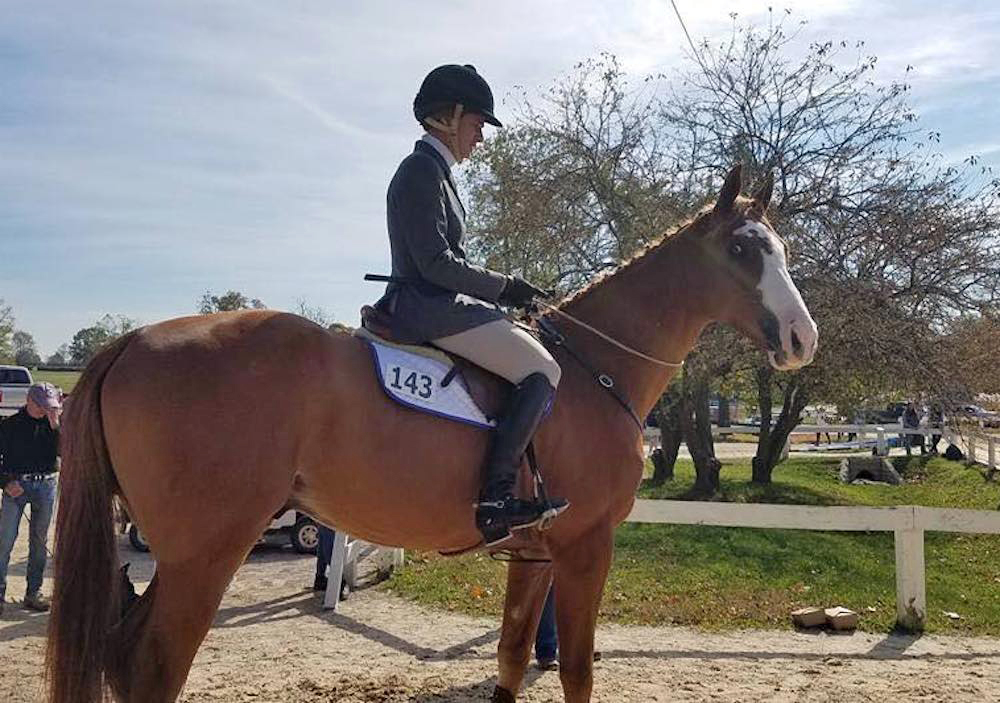 YouMightBeARedneck and I standing at the ingate at the Thoroughbred Makeover. Photo by Carolyn Mains
And the shopping… I was supposed to leave at 8 a.m., on Sunday. I didn't leave until after 1 p.m. because of the shopping. I spent a lot of time at Clever with Leather (she's a master saddler who makes the most amazing belts, halters, dog collars/leashes, all with free engraved plates) and bought the coolest belt made of the elastic used in the old eventing overgirths and leather.
Not to mention the embroidery mother-and-daughter duo (Stitch Factory) who are so nice and I found out how fast embroidery is addictive. I had several pads done, and then moved on to wanting everything from ear bonnets to underwear with initials on them. OK, maybe not the undies, but I heard someone has requested that before! But really 80 vendors and something for everyone, it was pretty fabulous.
On to my experience—I think many people know and have followed my horse YouMightBeARedneck's journey since we were t-boned by a UHaul in April while headed to an RRP Demo at the Virginia Horse Festival.
The accident also totaled the trailer and my 5-year-old son was in the truck with me. We both had minor injuries and the truck sustained a lot of damage. "Rory" suffered a displaced upper jaw fracture and needed his jaw wired and wasn't allowed to have a bridle or hackamore or anything on his face until this fall. So, that was the start to our bridleless journey.
I have to say I always believed in Rory and always said, it's all about being on the same page—if we aren't, things don't go well. We both have off days and I've learned on those days to call it and not work through anything, because it only gets us both bothered and it's non productive.
This horse is truly a once-in-a-lifetime horse but not because he's the most talented or fanciest horse I've ever sat on, but because of his trust in me.
He allows me to go along for a ride on him that I've never experienced in 40 years. I'm not training, working, or in charge while on his back. I just suggest we go a certain way and jump some jumps and have some fun while we are at it, and he allows me to do this. He trusts I won't put us in a bad situation and I trust that he will continue to allow me to sit there and smile, enjoying the freedom of not thinking about training, just going along with him and having a darn good time at it!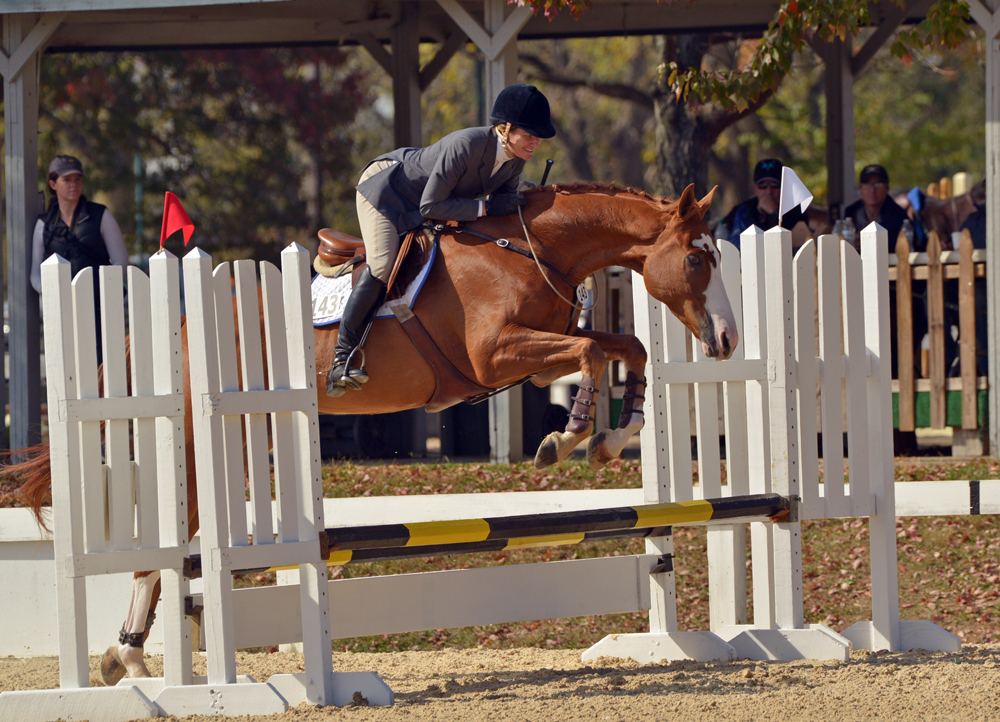 Competing in the show jumper division. Photo by XPress Photo
I chose to do the show jumper division without a bridle. In hindsight I wish I'd jumped the 3' division because he wasn't impressive jumping the smaller 2'6", but going into it I felt it was better to be safe then possibly overface him.
People asked if I was nervous. I wasn't, he wasn't. I think we both just were there in the moment. As small of a moment in the grand scheme of things as it was, it was our moment. And he shined! He was foot-perfect, one rub in a gymnastic which was because I over-anticipated the turn after it.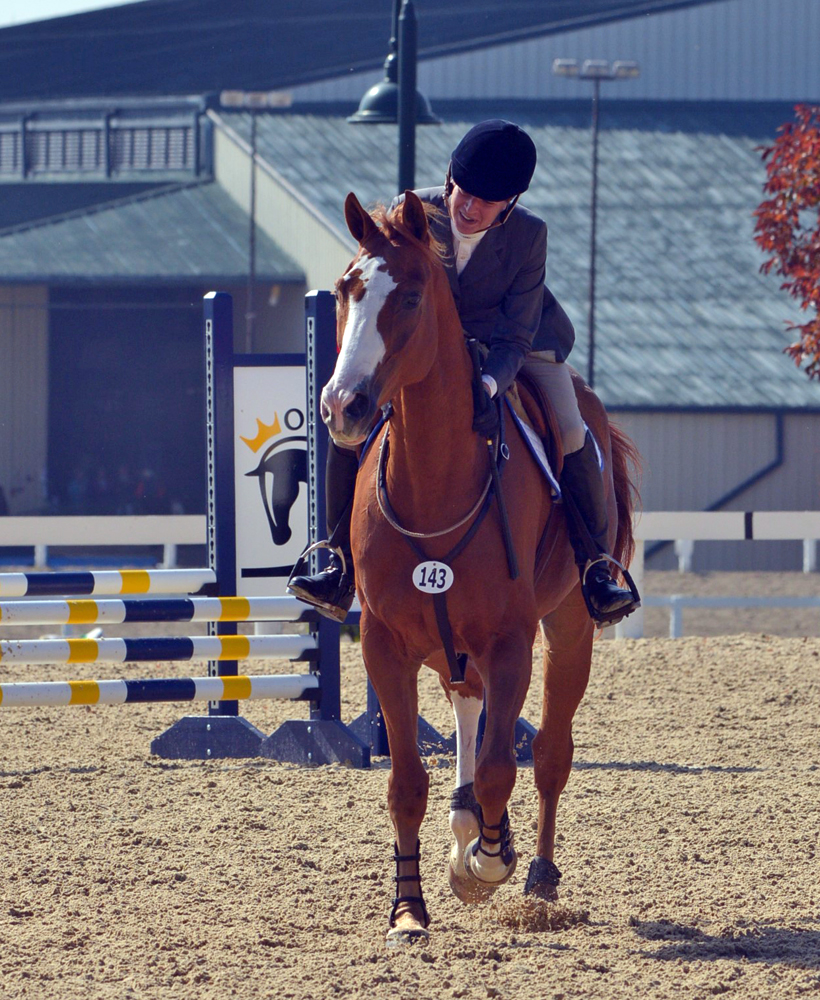 Thank you, Rory. Photo by Xpress Photo
I'm not an emotional person, but as we jumped the last fence I was grinning like that sixth grade girl on the best vacation of her life, and after that jump I just let him gallop around the ring once while I hugged him and tried not to cry.
He did it, and he did it really, really well! He jumped around at the Kentucky Horse Park, in the 2016 Retired Racehorse Project's Thoroughbred Makeover without any faults, got his changes and did it all without a bridle.
To quote someone who helped me along this journey, "Atta boy Rory!"
Michelle Craig and her husband Dustin operate WestWind Farms out of Upperville, Va. They have a son, Carter, and a daughter, Ellie. Read more about her journey with YouMightBeARedneck in the COTH story "Michelle Craig Is Finding The Bright Side By Going Bridleless."
Michelle grew up riding and showing hunters/jumpers and was introduced to eventing while living in Colorado. She made the switch to eventing on her old high amateur-owner jumper, Aberdeen and they competed through preliminary together. She has competed to the intermediate and preliminary levels on the OTTBs Nap For Sycamore and Something Wicked.
Michelle's passion for racehorses has extended beyond retraining them—she has worked as an exercise rider for many trainers on the flat track as well as for steeplechase trainer Mrs. Dot Smithwick. She has also worked as a veterinary technician and in large and small animal rescue.