Riders at the Pan American Games have 45 seconds to trot around the outside of the ring once the judge rings the bell and we wanted to know how they prepared their horses to enter at A.
Check out answers from five of the top U.S. and Canadian riders.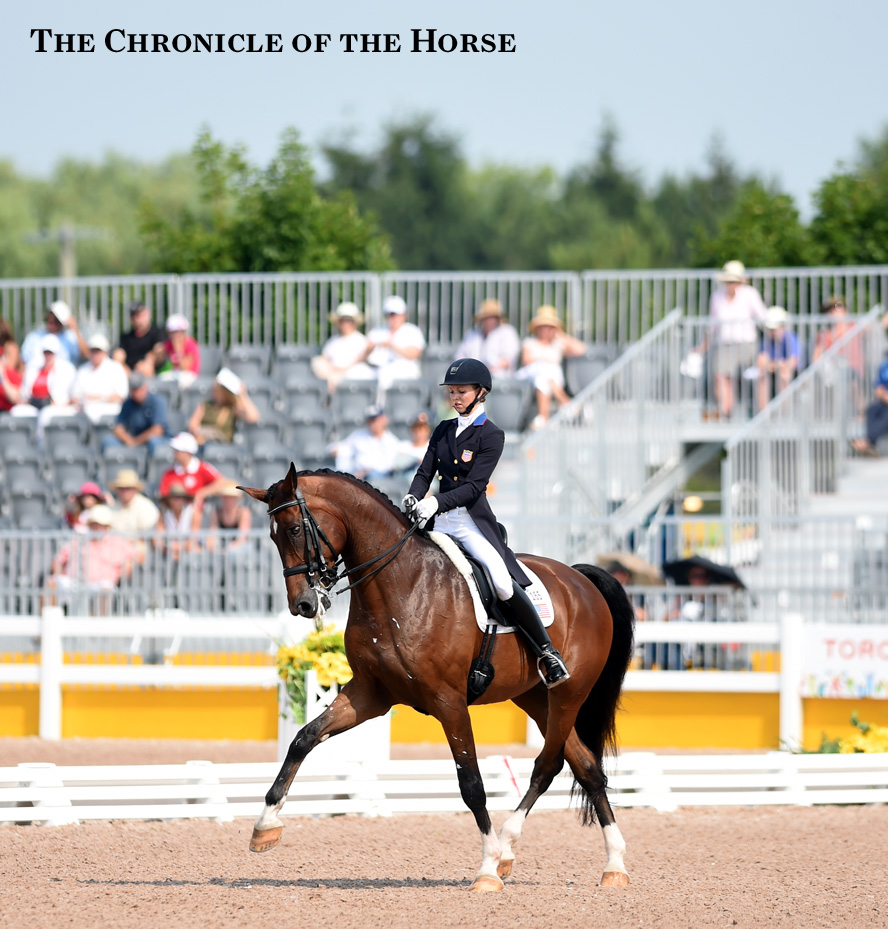 Photo by Lisa Slade.
Laura Graves and Verdades
Graves walked "Diddy" around the outside of the ring before both of her team tests at the Pan Ams.
"The very first thing I do when I enter an arena is do a quick roll call—is he here or is he not? Then I can go from there. In places where we're really comfortable, [like the Adequan Global Dressage Festival] in Wellington [Fla.] where we show a lot, I know we can trot or canter around the outside of the ring. He's comfortable there. Sometimes when it's a new arena, I know that him getting rid of that excited energy is not such a good thing for the rest of our test, so I like him to keep his steam inside and control it in the walk so when I pick up the canter, we can slowly let that exhaust out through the test, as opposed to sort of cantering it out of him in the beginning. He likes that. Sometimes it can make him more nervous going fast—that sounds silly, but that's what works for him when he's nervous. In an event like this where there's for sure still some applause going on, I have to deal with that nervous energy."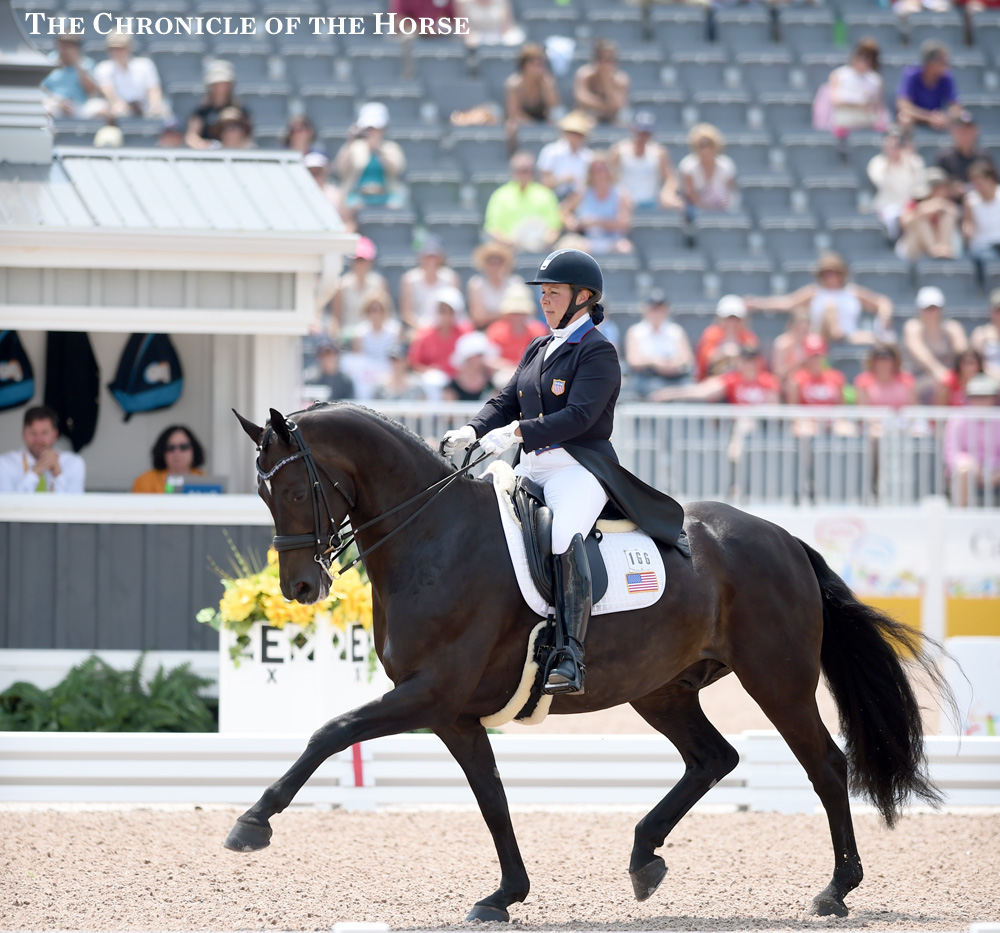 Photo by Lindsay Berreth.
Kimberly Herslow and Rosmarin
"I'm waiting for that bell to ring so I can get going. I don't like to waste time! I want to get in there and do it and so does he. Now I know if I can kind of just say, 'Hey, let's do a little extended canter down the longside going into that ring, and he's like, 'OK, let's do this,' then I'm good to go. It's been more and more and more, he's got the energy, he's got the fitness, he's got the mental attitude that he wants to do it, and to have a horse like that, he's the first horse I've had that really, really gets it and goes in the ring and knows every step matters."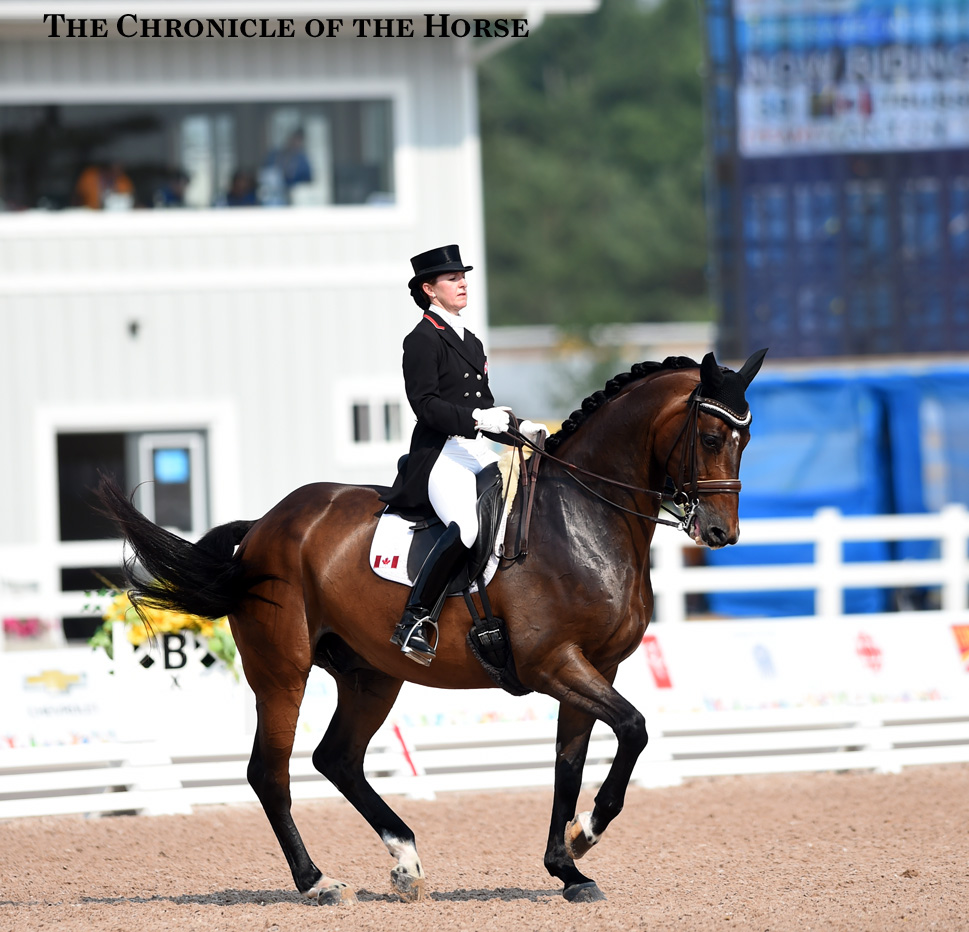 Photo by Lisa Slade.
Belinda Trussell and Anton
Trussell said she did several extended canters in her warmup for her Grand Prix Special test with Anton to let him get rid of some of his nervous energy. Once she heads into the ring though, it's all about managing the gelding, who can get quite hot.
"My plan was basically try to keep him a little bit occupied. I do a little shoulder-in, a little half pass, just to keep his mind on me and not focused on worrying about the crowd. Sometimes that works and sometimes it doesn't!"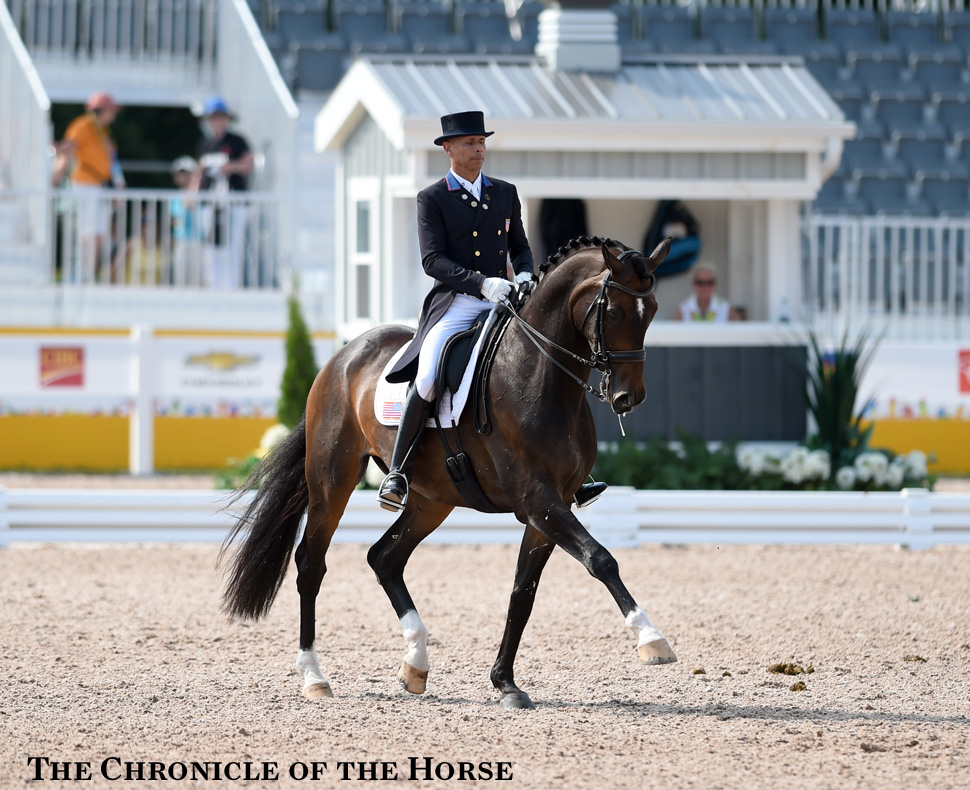 Photo by Lindsay Berreth.
Steffen Peters and Legolas 92
Peters posted the trot and asked Legolas to come a little deeper and to stretch his back as he trotted around the ring before both of his team tests.
"He usually comes in very fired up and the environment can get him a little bit excited. I've practiced this at home—anytime we pick up the noise; the music—we recorded some clapping and yelling at home [to practice with]—that's the moment I pick up the posting trot, so he associates that with relaxation and that's been working for quite some time."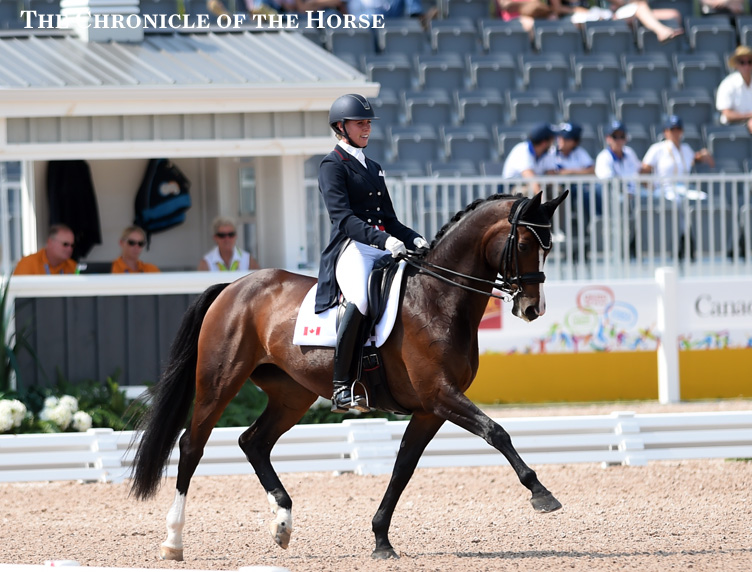 Photo by Lindsay Berreth.
Megan Lane and Caravella
Lane trotted Caravella around the ring as the Canadian crowd welcomed her with a roar.
"I let my horse feed off the crowd a little bit. I like her to enjoy it. The more pumped she gets, the better she feels I think. Whatever I feel, [trot or canter,] the warm up is the leadup to that idea for me. Today it was the trot."
Want more from the Pan American Games? Click here!