We asked several top horsemen who excelled at the discipline in their younger years and are still involved today to weigh in on its evolution over the past few decades.
---
PETER WYLDE
Peter Wylde, Millbrook, New York, won team gold at the 2004 Athens Olympic Games, individual bronze at the 2002 Jerez World Equestrian Games (Spain) and double silver at the 1999 Winnipeg Pan American Games, among other accolades. He got his start in the equitation ring, winning the 1982 ASPCA Maclay Finals aboard Native Surf and finishing fifth in the AHSA Medal Finals the next year. His former equitation students include Kelli Cruciotti VanderVeen, who won the Pessoa/USEF Hunter Seat Medal Finals in 2015. He is also deeply involved with the U.S. Hunter Jumper Association's Emerging Athletes Program, where he has served as a clinician, course designer and finals judge. He recently concluded a tenure as the show jumping coach for the U.S. eventing team.
When I won [ASPCA Maclay Finals in 1982] it was at Madison Square Garden [New York], which was a really narrow, tight ring. You sort of felt like you went in a pinball machine when you came out. The rings we have now have a little more space. Of course [the USEF Hunter Seat Medal Finals at the Pennsylvania National Horse Show] was always the same ring, but I don't think our rounds at Harrisburg felt nearly as quick as the rounds at the Maclay Finals at the Garden. Now we have the Kentucky Horse Park's Alltech Arena, which is such a beautifully sized ring, and they can have really lovely courses.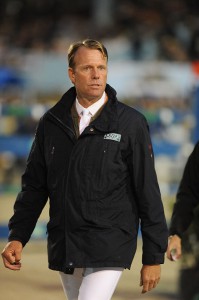 We all rode Thoroughbreds, of course. When I was a kid, and we thought of a warmblood, I used to think, 'I don't want to ride a warmblood, that big jughead.' We used that word, jughead. That's just so foreign right now to European breeding. European breeding is breeding quality, light, what we think of as Thoroughbred-y type but with exceptional movement and a trainable brain.
The quality of the horses today far exceeds when I was a kid. Sure, there were a handful of really good ones, but now you see 60, 70, 80 spectacular horses, any one of which could win the finals. Sure, there's a handful of ones that have won a lot of finals—you think of Cent 15 or Charisma, for example. Those two are lovely, lovely animals that are scopey, beautiful movers, beautiful jumpers, beautifully trained and broke and behave themselves well. The focus of going out and getting a great equitation horse is an important asset to have when you're doing the division.
These are all positive developments that come from interest in the division, the competitive nature of the division, and the skill level of the trainers. There are so many good trainers now that know what they're doing and have done this. People travel all over Europe and North America to find top equitation horses. I think that's helped improve quality of the performances at our national finals.
The quality of horse shows and quality of footing has gotten way better in our country than it used to be. We showed a lot on grass and never thought twice about bad footing. We all became snobs about having perfect footing, and I'm one of the biggest proponents of excellent footing. I think our horses show more than they used to.
There's a lot more to offer in the equitation world now than there used to be. Now we have the Gladstone Cup at [USEF Junior Hunter National Championships], which is such a lovely class. Now we have the [USEF Show Jumping Talent Search Finals] and the [WIHS Equitation Final]. I'm from the East Coast, and when I was competing in the equitation we had the Medal and Maclay, and every once in a while a [special] equitation class— Saratoga [New York] had one, Old Salem [New York] would have one that was called the Governor's Cup, and the Hampton Classic [New York] did an equitation class, but it's nothing like the classic we have now. So much more is offered now than there was back then, which is why you used to be able to do both equitation and hunters on the same horse. But now there's no way you could do that much.
---
SCOTT HOFFSTETTER
Back in 1986, Scott Hofstetter enjoyed a fantastic tour of the major equitation finals. He finished third at the USET Talent Search Medal Final—East, second at the AHSA Medal Finals, then won the ASPCA Maclay Finals. Hofstetter went on to a decorated hunter career, with many leading hunter rider titles to his name including twice at Devon (Pennsylvania) and the National Horse Show (New York) and once at the Washington International Horse Show (Maryland). He also become a sought-after judge, and the Ocala, Florida, horseman has officiated over USEF Medal Finals twice and the ASPCA Maclay Finals once.
One major change is that it was so difficult and expensive to get videos then, so we studied still photos. I remember at the end of the day everyone running to the photo place to see how they looked and how they were judged. That made the training a little different. Photos made it easier to pick out the rider's position and be very specific; it's a lot different than the videos now. The training was about that perfect pose in the air, [working at things like your] heels and release. That still photo made us pay attention to the details a bit more and made us teach differently back then.
Our horses, being more Thoroughbred types, felt much faster and quicker, so the teaching was more about sitting still and letting the horse do it rather than being so controlling now in the deeper seat. Our Thoroughbred horses were much more sensitive and required much more of a softer ride than they do now. That's the major difference. We were about sitting still back then. Now it's more about directing and controlling the horse. Riders go with much more control now.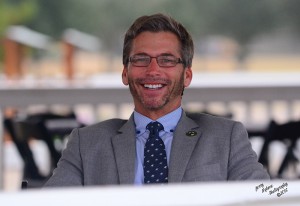 Horses now go with much more flexion. I go back to people that won it in my age, horses went much more with their noses out in front of them moving forward rather than behind the bit with more flexion and control that I see these days. It was much looser, freer riding, always thinking about the horses' sensitivity, because they were much more like a Ferrari than an SUV: You better watch what you press.
Horse shows were different back when I was a junior. Devon [Pennsylvania] was the first show that the best of the best got together. There were two sections, not [three] of the two classes: the [USEF Hunter Seat Medal] and the [ASPCA Maclay]. By the time the Chronicle got out—there was no social media, so you waited for the Chronicle—you read those four winners of the Medal and Maclay. They were a shoo-in for who to watch for the finals; that was the check-in point.
Back then, in the 15 to 17 age group equitation, there were two judges sitting in the booth. One judged your hunter round, and one did your equitation. In my opinion this made riding even better, because you had to get the horse jumping in good style, but you had to look good as well. Usually the best hunter round was the best equitation round; they usually went hand in hand. I still think we should go back to that and save time and make people ride better.
Back then after the Medal Finals you went home and had two weeks off to go back to training. You didn't go lease another horse if yours didn't work out; you went home and started working toward the Maclay, which was the grand finale at Madison Square Garden [New York]. That was a whole new scenario where the horse might not like the crowd or the black wall—there was a famous black wall there. It was a whole different ball game. [Maclay Finals] didn't feel like a marathon like it does now; it felt luxurious and special. There was a lunch break between the first and second round, and there was enough time to get your thoughts together.
Everybody who didn't qualify put their horse away and was able to watch the second round. The stands were full for 40 minutes; for 40 minutes there were the best of the best.
---
CYNTHIA HANKINS
In 1975, Cynthia Hankins won the small junior hunter, grand junior hunter and Best Child Rider on a Horse titles on Nissen at the Pennsylvania National before riding that horse to the top of the AHSA Medal Finals the next day. These days she splits her time between Normandy, France, and Wellington, Florida, and she rides in both places. Her former equitation students include Megan Johnstone, who won the APSCA Maclay Finals (New Jersey) in 1995. She has judged the USEF Medal Finals five times, the Maclay Finals once, the USEF Show Jumping Talent Search Final—East (New Jersey) three times and the USEF Show Jumping Talent Search Final—West (California) twice.
Since I was competing, the courses have for sure changed. They've become more sophisticated. But [in the '70s] we had bounces in the courses and jumps set two steps out of the corner [for the ASPCA Maclay Finals] because they had no choice [because the ring at Madison Square Garden (New York) was so small]. At [the USEF Medal Finals] the biggest thing was the end jump. They used to have an enormous 3'6″ round log there; I remember that being the last jump.
While we were aware of strides, I don't think we were as obsessed with the number of steps. You certainly didn't say, 'OK you're going to do eight [strides] around the end of the ring.' Counting strides is certainly a necessary evil. You still need to have numbers, but it's more for how you want to shape it to make it work. The technicality of the courses today is much greater.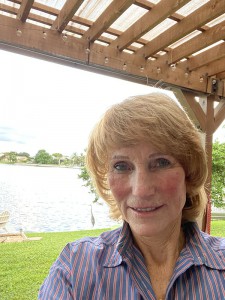 No matter what era you're talking about, there's always a top group. I think the past couple of years, having had an opportunity to judge [the Medal Finals] in 2019, that top group rides really well. They're drilled to know about line, pace, balance and track. Riders today have many more opportunities with the classes that are available to know these lines, to know the difference between bending versus a broken line. They're prepared to ride the tracks today.
Could someone from the '70s ride today's course? The top ones could get on a horse and ride anything. The depth of feeling and riding was still there.
There have been different waves of affectations while riding over the years. We went through a phase where stirrups were longer. We went through a phase where a crest release was above the crest itself. We went through a phase where everyone was more bolt upright. We went through a phase when no one could get out of the saddle. There are some still that haven't awakened to that fact that the hunter seat medal you're supposed to lighten up your seat sometimes.
Today's riders, again, the top, all have a good base. The very best, they're top drawer. They have beautiful position; their leg is in place; the stirrup is perpendicular to the girth; they have a short release, and some have an automatic release. While judging, first of all we ask: Is the position offering them stability, keeping them in balance and keeping their horse in balance, and are their aids effectively communicating what they're asking that horse to do? That's at the crux of the whole thing: efficacy.
One of the big changes that has evolved particularly in the last few years is the number of equitation classes. Now we have a lot of classes at 3′ and at 3'3″. Back in the day you went from doing ponies, boom, to 3'6″ equitation, period, end of story, sink or swim. And you did it, and you were fine. You didn't think twice about it because there wasn't any other option. Now you can inch your way up and hope you don't age out before you get to 3'6″.
By adding all these classes, you can create an industry where people only do equitation; maybe they can't afford to have a nice hunter, because buying a top-of-the-line hunter is like buying a Ferrari. Top equitation horses are expensive too, but you can make up an equitation horse that has some nice basics, and it has a nice lead change and can do this and do that. It's harder to make up a fancy junior hunter.
The tests were different, too. Even at the one-day horse shows, you used to switch horses a lot. Nowadays horses are worth so much darn money that you can't afford it. It's six figures to lease one, and litigation that would be involved if so-and-so ruined your horse switching at a one-day horse show [would be outrageous].
We also did much more work without stirrups, and for the test we'd often see riders jumping the same course again without stirrups. I asked a group a few years ago to jump a couple of jumps without stirrups, and I thought they were going to fall off.
Back then you did more mounting and dismounting, and I've never been a fan of that. Whilst it makes sense to [be able to do it for when] you need to take down the wire atop the chicken coop in the hunt field—I did hunt back in the day—it's not good for the horse's withers, and it's not good for the saddle.
---
This article first appeared in The Chronicle of the Horse in our Nov. 22 & 29, 2021, issue.
Subscribers may choose online access to a digital version or a print subscription or both, and they will also receive our lifestyle publication, Untacked. 
If you're just following COTH online, you're missing so much great unique content. Each print issue of the Chronicle is full of in-depth competition news, fascinating features, probing looks at issues within the sports of hunter/jumper, eventing and dressage, and stunning photography.