This practiced pair led from start to finish in the advanced division.
As thunder boomed and lightning lit up the horizon, Mother Nature, not Chris Barnard's imposing course, worried the 17 advanced division riders waiting to contest their show jumping round at the Millbrook Horse Trials, Aug. 7-10 in Millbrook, N.Y.
The organizers, crew and judges hurried competitors through in reverse order of placing, hoping to beat the impending storm.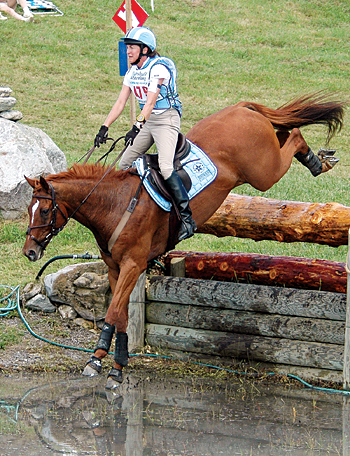 But neither weather nor schedule-induced tension bothered the unflappable Dobbin, who, along with his loyal owner/rider Corinne Ashton, waited patiently to jump last. In fact, Dobbin's relaxed demeanor almost got him into trouble, as he loped into the arena and jumped the first three jumps casually, dropping one rail at the third.
"I thought with the storm about to let loose he would get a little revved up, but instead we went to the first jump under-paced and messed up the striding between [fences] 2 and 3," said Ashton, Princeton, Mass. "I had two rails in-hand, but I knew I'd better get into gear after that."
Fortunately, Dobbin jumped the rest of the course flawlessly and went on to win by 6 points over second-placed Leslie Law on Beatrice and Guy Rey-Herme's Fleeceworks Mystere Du Val.
That Ashton's 14-year-old, Thoroughbred gelding would win the dressage was no surprise. But at Millbrook he won more convincingly than usual, scoring a 25.8 and beating Law's mount by 5 points.
Ashton, who just turned pro last winter, credited her friend Marcia Kulak, who schooled Dobbin for Ashton while she took a family vacation to Malaysia. Ashton returned home only a few days before Millbrook.
"Marcia really sharpened him up for me, then she helped me warm him up for the test here," said Ashton. "Now I want to build on all the good training she's given us."
Dobbin needed no such fine-tuning for the cross-country test, however, as he jumped around Tremaine Cooper's imposing track like a working hunter.
"It's what we all dream of, why we all do this sport," said Ashton. "Every jump was perfect. It wasn't a job for him, it was fun."
Dobbin and Ashton are familiar winners at Millbrook's U.S. Eventing Association Gold Cup venue, having won the advanced in 2007 and 2005 and finished third in 2006.
"Everyone keeps asking me, 'Why are you here doing this again?' " said Ashton. "My answer is, 'Why shouldn't I be?' [Dobbin is] the most consistent creature, he's sound as a bell and the best he's ever been. Isn't this what it's all about, having a horse that's sound and happy and able to compete for years?"
Ashton will aim her venerable partner for the Fair Hill CCI*** (Md.) in the fall—"Unless," she said, "someone wants to come along and give me the $20,000 I need to go to England and compete there."

He Won't Touch A Rail
Buck Davidson didn't waste any time bemoaning his narrow miss of a berth on the U.S. Olympic team with Ballynoecastle RM, owned by Carl and Cassie Segal.
Millbrook Tidbits
• After sitting out the 2007 season due to injury, Twizzel, 12, a Westphalian gelding, is back in form for Will Coleman. They placed third in the advanced division.
"Twizzel was on his game, and there wasn't a single question he didn't figure out and jump perfectly. I'm just so happy to have the horse back and going so well," said Coleman.
• On the advanced course, a massive corner fence at 5AB was the trouble spot, resulting in five refusals.
• As of Millbrook, the U.S. Eventing Association Gold Cup Advanced Series leaders are: 1) Arthur/Allison Springer, 450 points; 2) Up Spirit/Clark Montgomery, 425; 3) Bantry Bay V/Tory Smith, 390. With their victory at Millbrook in their only Gold Cup series outing, Corinne Ashton and Dobbin stand ninth with 250 points.
He returned from training in England just in time to ride for a few days and then win Millbrook's open intermediate section on another Segal-owned mount, My Boy Bobby, a 12-year-old Irish Sport Horse gelding.
The horse's usual rider, Jessica Kiener, works for the Segals, but she passed the reins over to Buck when she suffered a few rough moments at spring competitions.
"I've trained Jessica and this horse for years, and the Segals are wonderful friend and supporters," said Davidson. "I'm just here to give the horse a little confidence, as he's a bit green at this level. Jessica has done a great job with the horse, bringing him up through intermediate.
"He's just about unbeatable on the flat," continued Davidson of his 24.5 dressage score, which was the division's best. "This is the horse everybody wants to ride."
The 33-competitor field encountered more difficulty with Tremaine Cooper's intermediate track than did their advanced counterparts. Only five finished without time or jumping penalties, while nine jumped clear but late on the clock. Four riders retired, one was eliminated, and the remaining 14 picked up jumping penalties.
"He's a super careful horse that sometimes wants to add a step when he maybe shouldn't," said Davidson of My Boy Bobby. "He threw in an extra one at the angled rails [7AB], so I didn't leave anything up to him after that. He jumped beautifully, but he just needs a little more confidence before he'll jump out of stride a little more easily. I was just a little concerned, not knowing him and maybe thinking we would get our wires crossed."
Davidson's careful riding accrued 4 time faults but easily left the pair in the overnight lead ahead of Will Coleman and Nanki Doubleday's Nevada Bay, a 9-year-old Dutch gelding whose extravagant jumping brought them home double-clear and moved them from fifth after dressage to second after cross-country.
Barnard's show jumping course proved especially influential in the intermediate section, and only two riders jumped double clear before the leaders entered the ring. Nevada Bay didn't touch a rail but gave Davidson a little breathing room with 2 time faults.
My Boy Bobby followed with a composed, careful round that would have impressed anyone watching from the jumper world. His lofty jumping efforts earned him 4 time faults, but he had enough breathing room for the win.
"I couldn't get him to touch a rail in the warm-up," said Davidson. "He's just amazing. I'd have to make an incredible mistake to get him to pull a rail."
Davidson will guide My Boy Bobby through the rest of the season with the eventual goal of the Fair Hill CCI*** in October, before returning the ride to Kiener.
Big Win In The Wrong Division
Annie Chatel, Durham, N.H., entered her 9-year-old Thoroughbred mare Ain't Misbehavin' in the young rider open preliminary division at Millbrook, but she opted to remain in the preliminary rider division when an organizational glitch placed her there.
"I'd ridden against most of this group [and finished fifth] at the CIC* at Fitch's Corner [N.Y.] two weeks ago, so I thought it would be a good comparison to see how I did this time," the 20-year-old sophomore at the University of New Hampshire explained.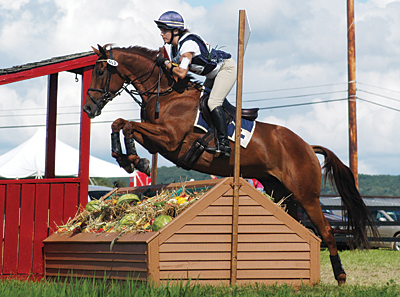 Her seventh-placed dressage test at Millbrook thrilled her. "My score was close to a lot of the good horses above me, and I was so happy to ride a correct, accurate test," she said. "If I push her too hard she unravels. We're working slowly to build her gaits."
Chatel and her diminutive, 15.3-hand mare rocketed around cross-country, moving into a second-placed tie by posting one of five double-clear rounds among 24 riders in her division.
"I was just along for the ride," she said of her fiery chestnut mare. "She just said, 'Leave me alone, I know what I'm doing.' "
Rails fell with abandon among the competitors in the division, all of which heightened Chatel's concern going into the ring.
"I was so nervous, having seen all the trouble, and I totally botched the distance to the vertical before the triple," she said. "But 'Ruby' somehow jumped it, and I pushed her up for the five strides before the triple, and she got us through it. She is just amazing!"
The mare's clear round gave her the win when the two remaining leaders pulled rails.
Chatel, who trains with Stephie Bear, found the mare as a 5-year-old who had never been in a dressage ring or jumped a cross-country fence. She's brought her up through the ranks herself, and this year marks the pair's second preliminary season. They won the junior/ young rider open preliminary division at GMHA (Vt.) in June, and Chatel plans to contest their first long-format one-star at Morven Park (Va.) in October.
Annie Eldridge