Washington, D.C.—Oct. 26
A wall of horses met Ashley Vogel and Legacy as they exited stage left at the Capital One Arena. Vogel, 17, had just been named small junior hunter, 16-17, champion, grand champion junior hunter, and Best Child Rider on a Horse, but the swarm of surrounding faces only resembled an entourage in spirit.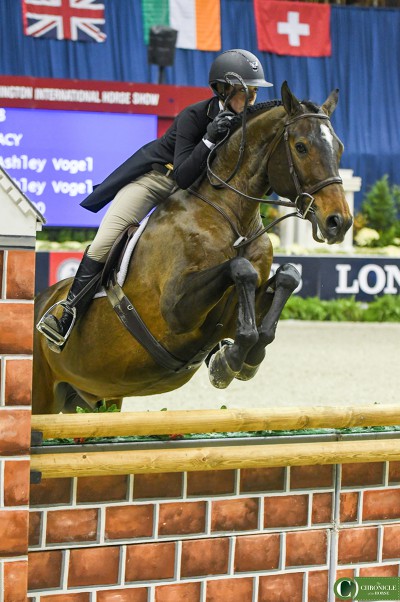 It was only last season that Vogel learned the language of the Washington International Horse Show's infamous warm-up ring, a miniscule space where in-gate meets stabling, and where Olympians and young riders school together in synchrony.
"The first year coming here I was a little nervous because it was something I wasn't used to—with all the horses," said Vogel. "This year it didn't really faze him, and it didn't faze me; it really worked out as best it could."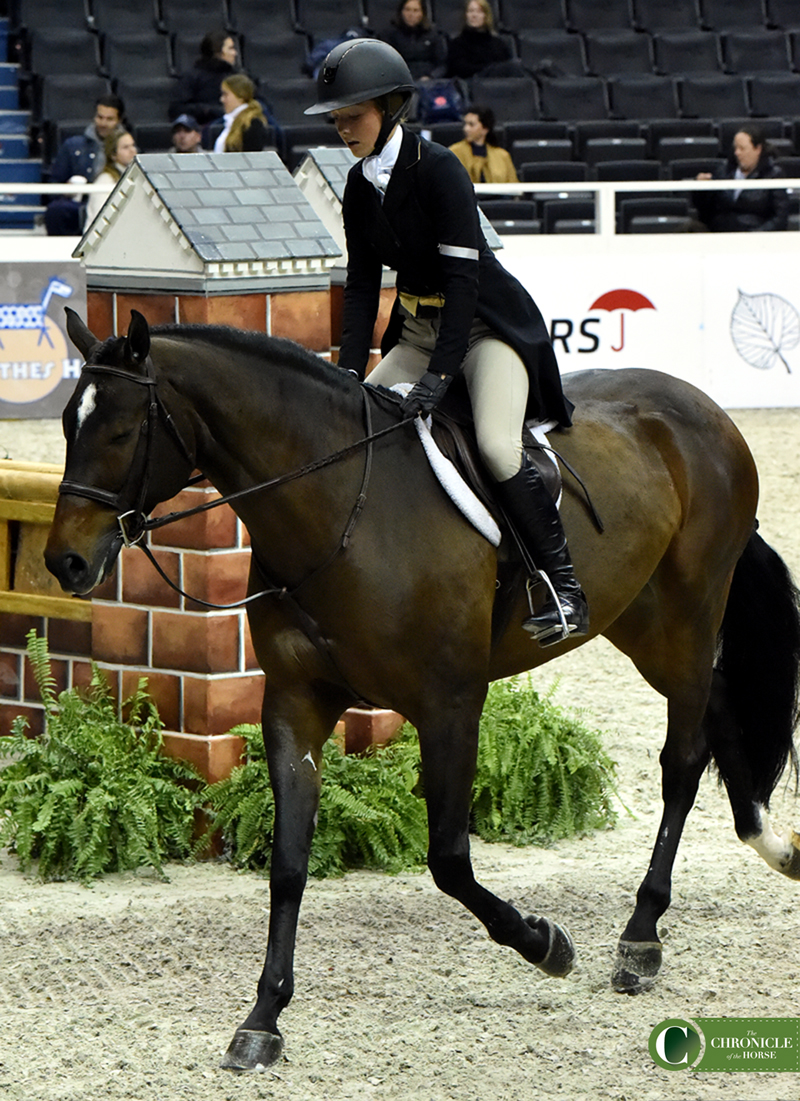 Vogel's growing partnership with the 10-year-old warmblood gelding has helped her find her tune.
"He gives me the feeling that I could jump anything. He has such a big loopy stride that it really gives me the comfort I need in this ring as well," said Vogel.
"It's a little different than the other indoors. It's a little busier with the city, and we joke around at the barn that the shows are super important because he acts to the best of his abilities," she continued. "He really loves Washington, so I'm really glad everything worked out. I connect with him very well; we're always on the same page."
Wasserman And Boss Continue Streak Of Success
Stella Wasserman and Boss added yet another championship to their rapidly growing list of accomplishments during WIHS. Fresh off their win at the Pennsylvania National, this is one partnership that shows no signs of slowing down. The chilly temperatures didn't seem to faze the Beverly Hills, California, pair, and they put down a stellar round in the small junior hunter, 15 and under, stake as well as earning the blue ribbon in the hack, putting them into the championship spot.
Wasserman has a unique relationship with the 12-year-old Dutch Warmblood gelding (Samba Hit II—Vulana D). Before she began competing Boss in 2017, he had been shown by Laura Wasserman, Stella's mother, along with some of the top names in the sport, including John French, Nick Haness and Archie Cox.
"This is my third year [competing at WIHS]. I love it here; it's one of my favorite shows," said Stella.
Stella also rode Skyhawk (Quick Lauro Z—Aevita) in the large junior division, earning reserve.
Iwasaki And Small Occasion Show Finesse 
Augusta Iwasaki and Small Occasion (Cosido—T-Cosmea) claimed the champion tricolor in the large junior hunter, 15 and under.
"She goes the best when you just try and make everything the same," said Iwasaki, 14. "She just jumps so beautifully. It's easy to just let her do it."
WIHS is familiar turf for Iwasaki, who has been showing here since she was on ponies. But she admitted she hasn't always had the style and poise that now carries her to tricolors.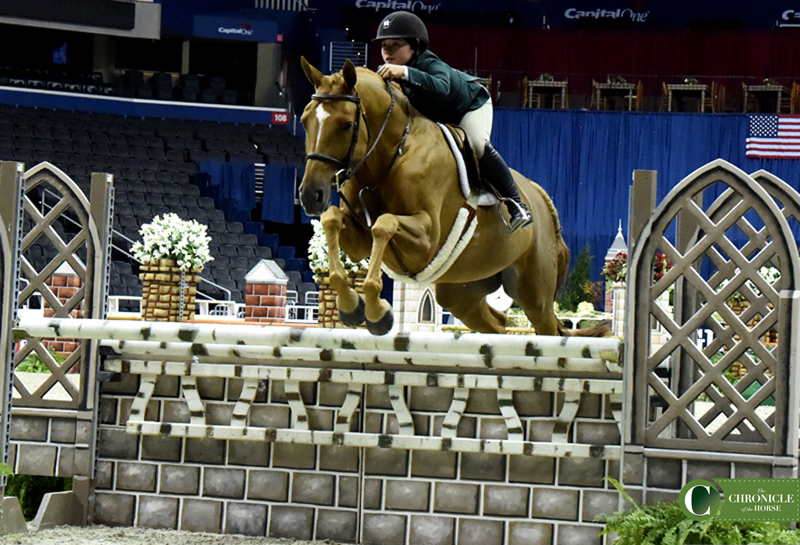 "In the beginning, the ponies were kind of a mess," said Iwasaki. "In the beginning, the horses were kind of a mess [too]. But [WIHS] is just a really fun experience. It's a lot different than anything else. You don't ever get to show a horse in a city!"
Iwasaki also earned a score of 85 in the Lindsay Maxwell Charitable Fund WIHS Equitation Finals hunter round, putting her in 14th going into the jumper phase on Saturday.
Stearns And Cartello Z Earn Top Scores All Around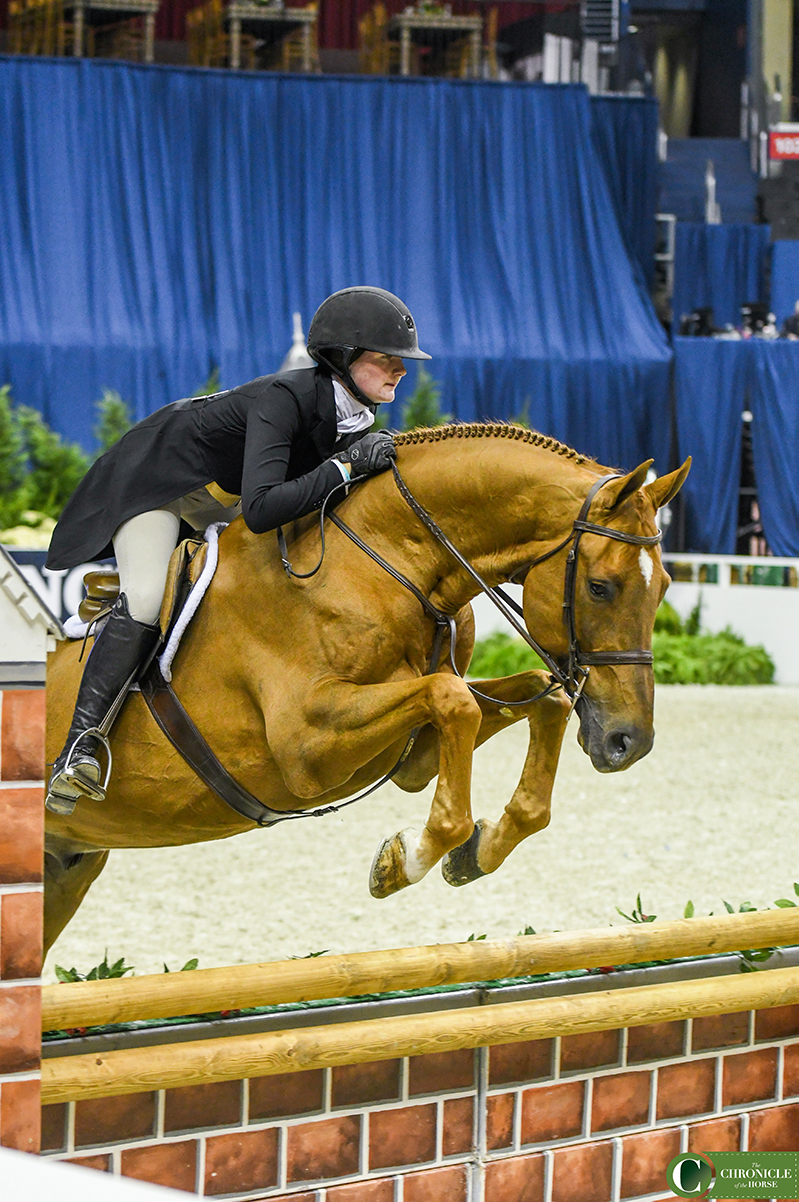 Cartello Z knew he had done well as Ava Stearns led him out of the arena wearing the large junior hunter, 16-17, championship cooler and tricolor ribbon. He nosed Stearns' hands for treats, hoping the box of cupcakes was for him. Every passerby was met with the same pricked ears and extended nose in a hello. Stearns explained that this is normal behavior for the 10-year-old Zangersheide (Caretano Z—Jarratelle Z).
"He's so spoiled. For sure, [he's always in your pocket]," said Stearns.
This is Stearns' second year riding Cartello, and she believes their strong bond is what helps them shine in the ring.
"I just know him so well, and he knows me," said Stearns, Chilmark, Massachusetts. "We have a really strong connection."
Stearns currently sits in second place after the hunter round of the Lindsay Maxwell Charitable Fund WIHS Equitation Finals and will return on Saturday to battle it out in the jumper phase.
IMPORTANT LINKS:  All the COTH Washington International  coverage  |  What You Need To Know  |  live results/order of go  |  live streaming  |  show website
More in-depth coverage of WIHS will run in the Nov. 22 print issue. Subscribe today!