Omaha, Neb.—March 31  
After McLain Ward's amazing victory in Round 1 of the Longines FEI World Cup Final, the speed leg, we're on to Round 2, which is run in a grand prix (one round then jump-off) format.  You can read all about Ward's victory in Round 1 in the Chronicle's coverage, but winning the World Cup Final is a war, not a battle, and there's a lot of jumping left to go. CLICK here for What You Need To Know with more information about the scoring and how the competition runs.
There are 34 riders on the order of go, and they compete in reverse order of their placings from the speed leg, so Ward and HH Azur go last. There are five other U.S. riders jumping tonight—the first horse goes at 7:15 p.m. Central time/8:15 Eastern time.
U.S. riders' approximate times of go:
1st—Jenni McAllister/Legis Touch The Sun (7:15 p.m. CT/8:15 p.m. ET)
3rd—Todd Minikus/Babalou (7:21 p.m. CT/8:21 p.m. ET)
4th—Jamie Barge/Luebbo (7:24 p.m. CT/8:24 p.m. ET)
20th—Laura Kraut/Zeremonie (8:22 p.m. CT/9:22 p.m. ET)
21st—Charlie Jacobs/Cassinja S (8:25 p.m. CT/9:25 p.m. ET)
34th—McLain Ward/HH Azur (9:04 p.m. CT/10:04 p.m. ET)
Chronicle reporters will be doing a round-by-round live blog reporting in real-time what happens with each rider, and after the end of the day will also post in-depth coverage and a gallery full of great photos. Follow along at www.coth.com and on COTH's Facebook and Twitter.
IMPORTANT LINKS: The order of go / live streaming / live results / course map / COTH's What You Need To Know / All COTH's World Cup Finals coverage
10:21: McLain is in the ring, and he's going for it. 36.87 seconds! The crowd was cheering him down the last line! Amazing. McLain will be the winner tonight.
10:19: Gregory Wathelet and Forlap next. He's really slicing the turns, and it's so smooth and balanced. He really gallops the last and does it! 39.39 seconds to take over the lead.
10:17: Romain Duguet is next. He flys the last oxer and shaves some time off Fuchs'. 40.46 seconds into the lead!
10:14: Now for Martin Fuchs and Clooney. Martin is just 24. Clooney soars over the first, a triple bar. That was a sensible ride, and it was clear! 44.01 seconds.
10:13: Guido Klatte Jr. is next with Qinghai, and he has a stop at the second oxer when he took a risky turn. They're clear on the second attempt. The have the oxer in the double down. Bummer, but he's so young, he'll have many more chances!
10:10: OK, we're back with Marcus Ehning in the ring first. Ack, he has the third down and the penultimate vertical. 39.56 is his time.
9:58: Six will jump-off in just a bit.
9:55: OK, here's our leader, McLain Ward and HH Azur. "Annie" gets way up over the line down the center, 3, 4 and 5. She's clever to six and rubs the last part of the triple, but it stays up. And she's clear!!! A small smile from McLain. He'll move on to the jump-off. After Annie gets a pat, he hops off and gets a fist bump from Todd Minikus.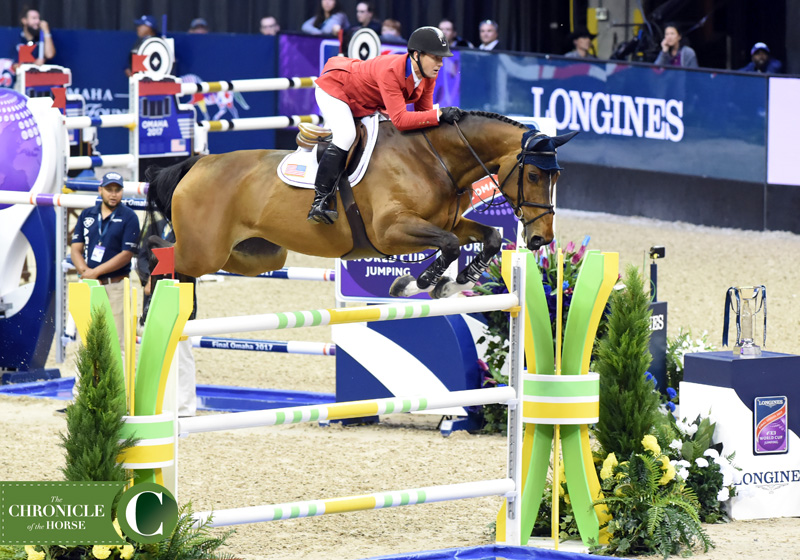 9:53: The sole competitor from Sweden, Henrik Von Eckermann on Mary Loud. Holy moly, they scrambled over the orange oxer but kept it up! She unfortunately has the Sovaro vertical down but finishes well.
9:50: Reigning World Cup champion Steve Guedat is next up on Bianca. He's won the last two World Cups, but this is the first championship for Bianca. She's not a simple ride, and Steve has had her since she was 7. She's a little fussy in the contact to the jumps, but man is she getting over the jumps. She's got quite a hind end. Ah! The panel comes down! But she's clear otherwise. 4 faults for them.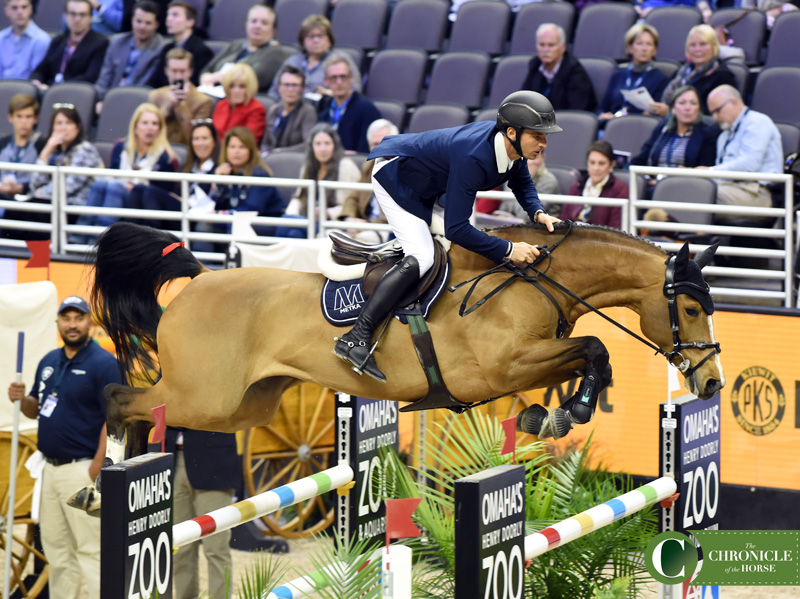 9:47: Gregory Wathelet and Forlap are next for Belgium. They're making this look so easy. They rub the panel after the triple pretty hard, but it stays up, and they're clear and inside the time!
9:46: Now the top five! Leopold Van Asten and VDL Groep Zidane N.O.P. for the Netherlands. They have the vertical at 6 down when Zidane gets flat. They have the penultimate vertical down too. Darn. One down would have kept them in a decent position.
9:42: Romain Duguet is up now on Twentytwo des Biches for Switzerland. She's only 10, so this is a big step up for her. She has a lot of scope for sure. She gets the 6 strides to the triple and rubs the penultimate, but she's clear to go to the jump-off!
9:40: Now Martin Fuchs and Clooney for Switzerland. The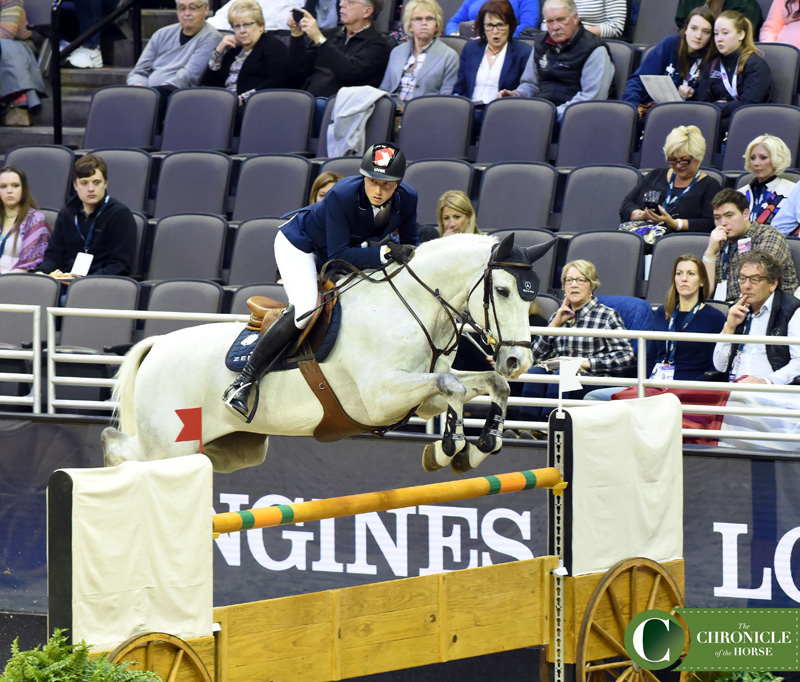 commentators say Clooney has a will of his own! He was one of my favorites at the Olympics. So clever and careful. Martin is definitely moving along. And they're into the jump-off with a fist pump through the finish flags!
9:38: Now for Spain, Sergio Alvarez Moya and Arrayan. He's a scopey, blood horse but has the second to last down!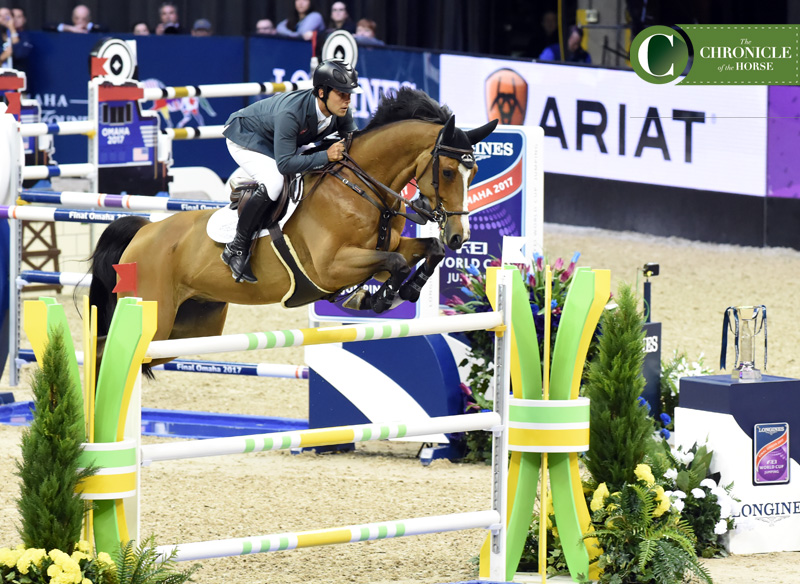 9:35: The leading German rider now, 21-year-old Guido Klatte on Qinghai. He's really impressed this week. Wow, he barely made it over the B oxer in the triple, but Qinghai really tried his heart out and it stayed up. And he's clear and absolutely thrilled! We will have a jump-off.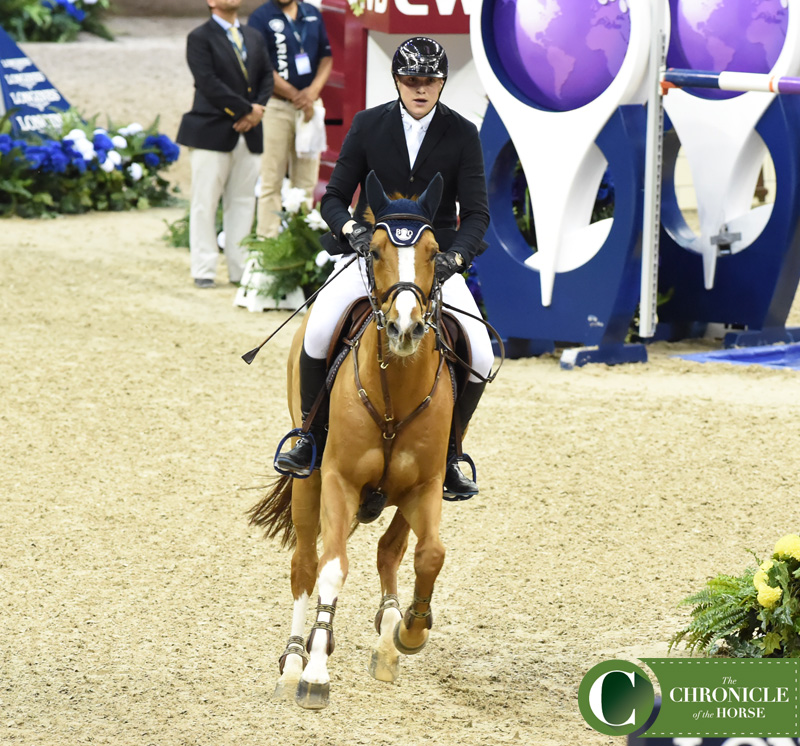 9:33: Simon Delestre has an early rail at 2 on Chadino and adds one more at 11a, the first part of the yellow double.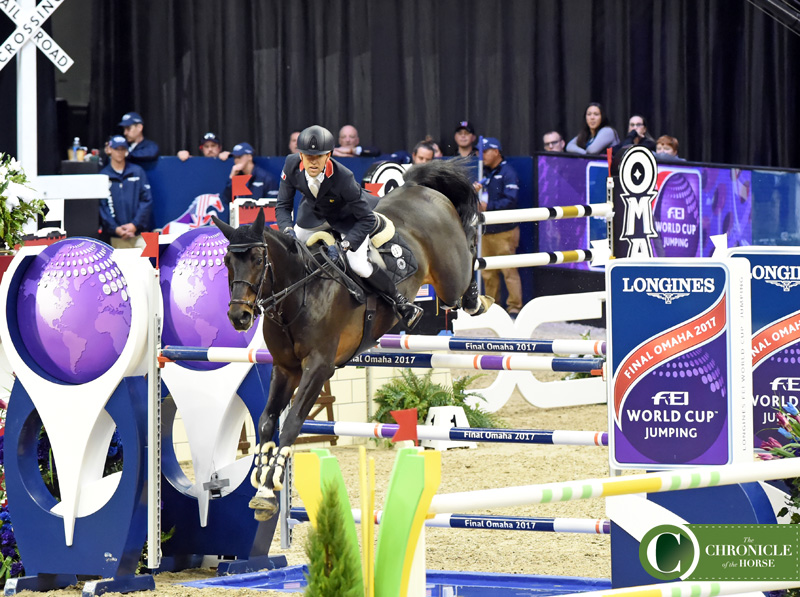 9:30: Marcus Ehning is our only clear so far. Now for Belgium, Nicola Nicola Philippaerts on H&M Harley vd Bisschop. This is a lovely gray. They have the orange oxer at 5 down and stretches way out over the B of the triple and has it down. But he really jumps up around the panels. But then has the liverpool down. 12 faults.
9:28: Next is Kevin Staut for France on Reveur de Hurtebise H D C. He whacks the wall at the 3 but it stays up. Unfortunately his luck runs out with one down in the triple and the front rail of the B oxer at the double. Bummer. He would have been looking to move up today.
9:26: Sheik Ali Al Thani and Carolina  impressed yesterday.  You can hear him whoa-ing to this bay. He has 8 faults, including the penultimate liverpool vertical.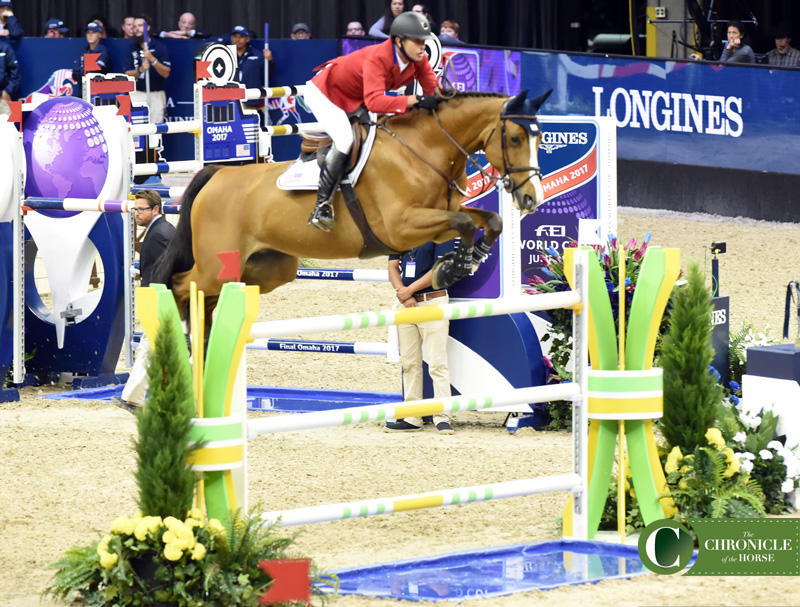 9:23: Charlie Jacobs for the U.S. and Cassinja S. This lovely chestnut has a super dark tail. Love it! He has the front rail of the Sovaro oxer down at 8 and takes out the planks. Total of 8 faults.
9:22: Wow, Zeremonie is jumping out of her skin for Laura Kraut! Ah, but she has the penultimate liverpool down.  Such a shame in an otherwise awesome round.
9:19: Marcus Ehning for Germany is on deck with the lovely chestnut Pret A Tout. He is well aware of the time and is moving along. And he's clear inside the time with room to spare!
9:16: Next up is Maikel Van der Vleuten for the Netherlands and his Olympic partner VDL Groep Verdi Tn N.O.P. Let's just call him "Verdi!" Maikel's not wearing his orange coat! I hardly recognized him. This is a really strong partnership who've represented the Dutch team at multiple championships. He's a premium stallion in the Netherlands.  Scope is no problem for Verdi and he gets a round of applause after the triple. He goes for the 6 to the double and has a rub at the planks but they stay up. Clear, but a fourth pair on one time penalty!
9:14: Welcome back! Alan Wade has really built a tough track. 14 jumps, 17 jumping efforts. The wall at fence 3 had been causing problems, as well as the yellow double combination. We have yet to see anyone make the 73-second time allowed. We're jumping in reverse order of standing.
8:55: For Hungary, Gabor Szabó Jr. is the last to go before the break on the chestnut Timpex Bolcsesz. He's over the troublesome wall at 3 and the huge oxer at 5, but has the vertical down at 6. He's nicely clear through the triple, but kicks out the planks and the liverpool, but clears the final fence. 12 faults for them.
Drag break time! Lorenzo De Luca is leading on one fault.
8:54: Markus Brinkmann of Germany ends with 12 faults on Pikeur Dylon. He got deep to a vertical and had the first part of the double down too. Unfortunate since the horse makes such a nice shape over the fences.
8:52: Nayal Nassar and Lordan unfortunately have a tough round, with the wall down. Lordan stretched way over the red oxer and had that down too unfortunately, so he retires.
8:49: Irishman Denis Lynch and All Star are popping way over everything, wow! All Star is really kicking out over the back rails, and they're clear to go into the lead!
8:45: Chris Surbey of Canada has one rail down with Chalacorada. Ludger Beerbaum and Chiara ended their day with 12 faults.
8:41: Lorenzo De Luca from Italy is in the ring now, and he and Ensor De Litrange LXII also have one fault and slip just ahead of Keean!
8:40: Keean White from Canada and For Freedom Z jump a great round with just one fault! to go into the lead!
8:36: Eric Navet is next on Catypso. And he's our first clear! A lovely round and big smile from Eric.
8:33: In the ring now is Rein Pill and A Brok. This horse has an unusual front end style, but he's keeping the rails up. Spoke too soon, he has a panel down, but just that.
8:28: Next up is Christian Heineking and NKH Caruso. They have the brick down on the wall and ends with 21 faults.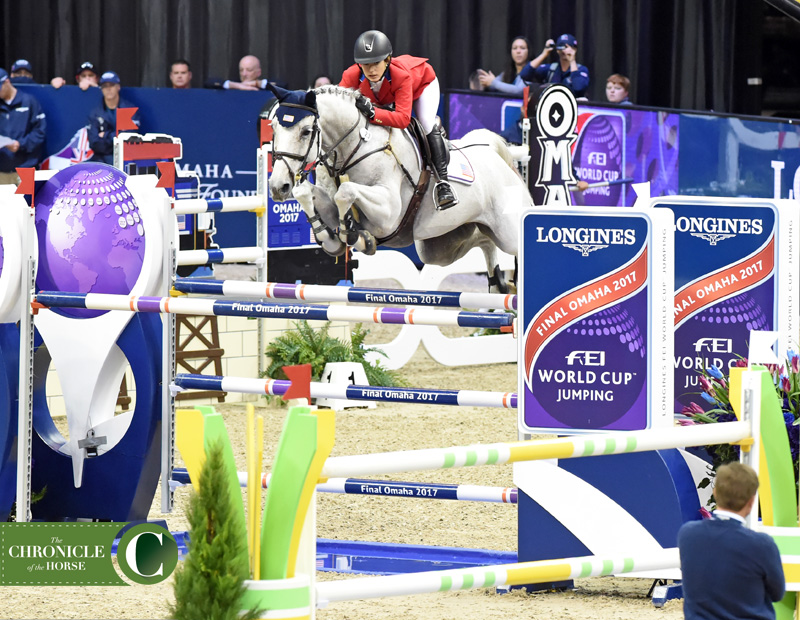 8:25: Next for the U.S. is Jamie Barge, and she has a stop at the wall with Luebbo. They're successful on the second try though. She has another vertical down too and the first part of the double. But Luebbo gets a pat at the end.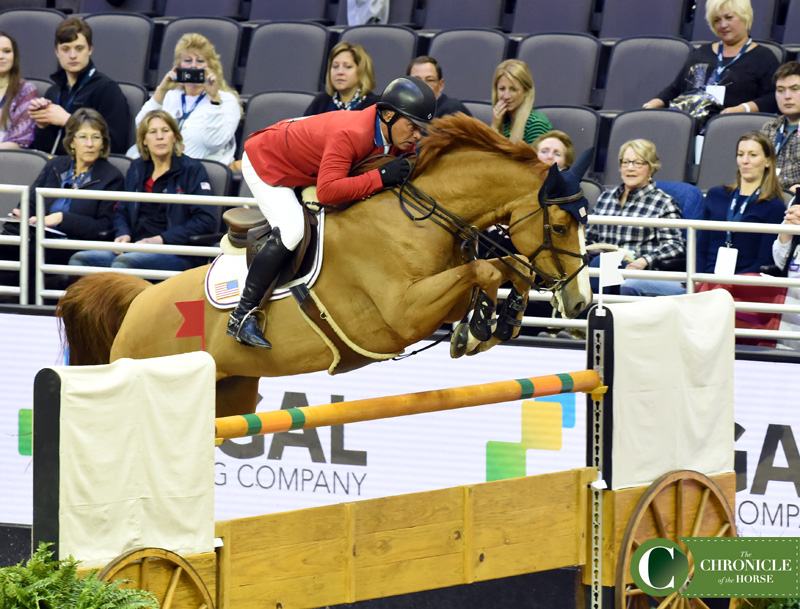 8:23: Todd Minikus is next on Babalou. They had a disappointing round yesterday and are well down the order, but she's jumping better today.  She has 4 penalties.
8:19: Next is Martin Rodriguez Vanni and Liborious for Uruguay.  This course has a lot of decisions for riders, including a five and half stride to a double, then five strides to a vertical at the end. Martin has a several rails down, thens stops out at the last jump. He's going to jump it to finish on 28 total penalties.
 8:11: Welcome to day 2 of the World Cup Jumping Final! This is COTH staffer Lindsay Berreth here to keep you up to date on round 2. We're just about to get under way. A few of the U.S. riders are a bit down the leaderboard, but we've still got McLain Ward leading!
First up in the ring is Jenni McAllister and Legis Touch The Sun. Ugh, she has the first down! She has the brick down on the wall too. More down means she ends on 22 faults.