Omaha, Neb.—March 30  
The show jumpers get underway in their bid for the Longines FEI World Cup Final title with a speed round on Day 1. There are 37 riders on the order of go, with eight U.S. riders on the list. The first horse heads out on course at 7:15 p.m. Central time, or 8:15 p.m. Eastern time.
CLICK here for What You Need To Know with more information about the scoring and how the competition runs.
Chronicle reporters will be doing a round-by-round live blog reporting in real-time what happens with each rider, and after the end of the day will also post in-depth coverage and a gallery full of great photos. Follow along at www.coth.com and on COTH's Facebook and Twitter.
U.S. riders go (with estimated time of round):
7th—Luebbo/Jaime Barge (7:30 p.m. CT/8:30 p.m. ET)
8th—LEGIS Touch The Sun/Jenni McAllister (7:32 p.m. CT/8:32 p.m. ET)
11th—Bablou 41/Todd Minikus (7:40 p.m. CT/8:40 p.m. ET)
19th—Cassinja S/Charlie Jacobs (8:00 p.m. CT/9:00 p.m. ET)
21st—HH Azur/McLain Ward (8:05 p.m. CT/9:05 p.m. ET)
31st—Zeremonie/Laura Kraut (8:30 p.m. CT/9:30 p.m. ET)
35th—Capital Colnardo/Audrey Coulter (8:40 p.m. CT/9:40 p.m. ET)
37th—Tembla/Karl Cook (8:45 p.m. CT/9:45 p.m. ET)
IMPORTANT LINKS: The order of go / live streaming / live results / course map / COTH's What You Need To Know / All COTH's World Cup Finals coverage
9:54: Last to go is Karl Cook and Tembla for the United States. Karl is based in California. They have a bad ride to 7b and take it out. He takes a big circle to get to the next fence, and now it's just coming apart unfortunately. He's going to retire.
That's it! McLain is our leader, Henrik von Eckermann second and Steve Guerdat third! Stay tuned to coth.com for a full report.
9:52: Henrik Von Eckermann and Mary Lou are in the ring next riding for Sweden. Another cute little mare! Henrik recently had a crazy incident where his stirrup broke during a round, but they were both OK. He's clear! 59.58 seconds puts him in second now!
9:50: Audrey Coulter is in the ring now for the U.S. on Capital Colnardo.  Close to 7a, but it stays up. And she comes off at 12 after two down earlier on course! Capital Colnardo just reaches across the oxer and clears it, but they were both too unbalanced to catch it and she comes off to the right. Audrey is up though and appears OK.
9:47: Now for Qatar, Sheikh Ali Al Thani on Carolina. This is his fourth Final. He made it to the individual jump-off at the Olympics last year and really impressed. He's clear! Not the fastest, but he goes into 12th place.
9:45: Now Ludger Beerbaum for Germany in his 21st World Cup Final appearance, this time on Chiara. He's retired from team competition after the Olympics, but he's still going for individual glory! They have two down, including the liverpool at the second to last.
9:43: Next up, reigning World Cup champion Steve Guerdat and Bianca. This mare is a real athlete. She takes a bit of a long one to the oxer across the ring. Steve has the pedal to the metal, and they're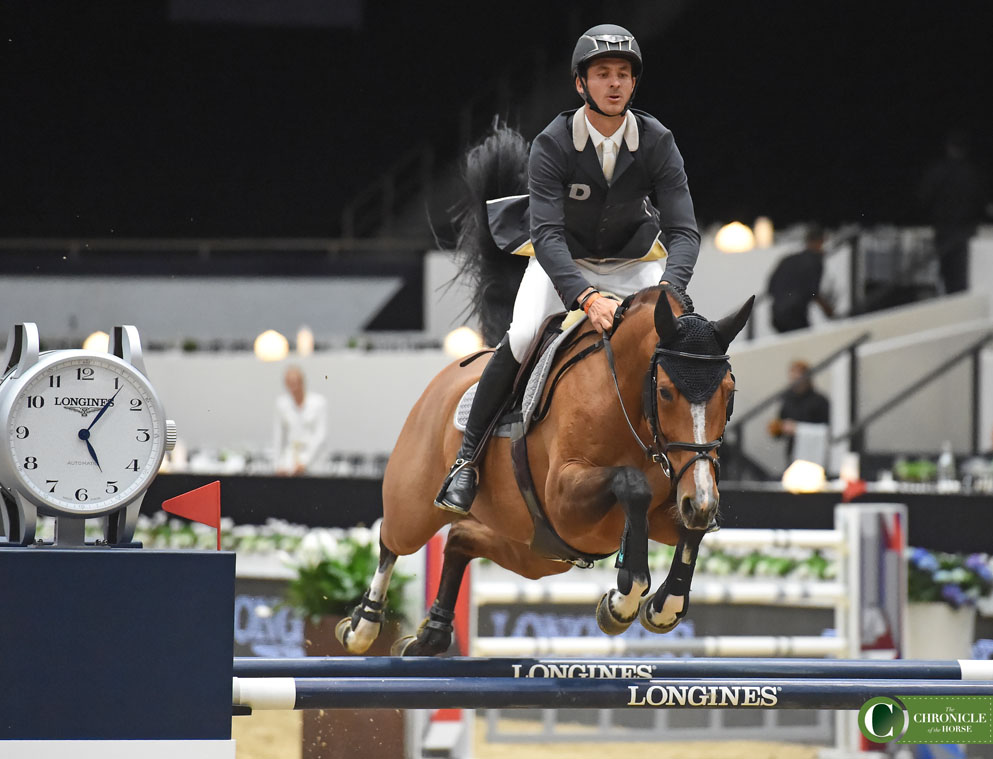 clear to go into second place! That will put the pressure on McLain.
9:42: Spotted in the stands! McLain Ward and George Morris!
9:40: Laura Kraut and Zeremonie are next for the U.S.! This is a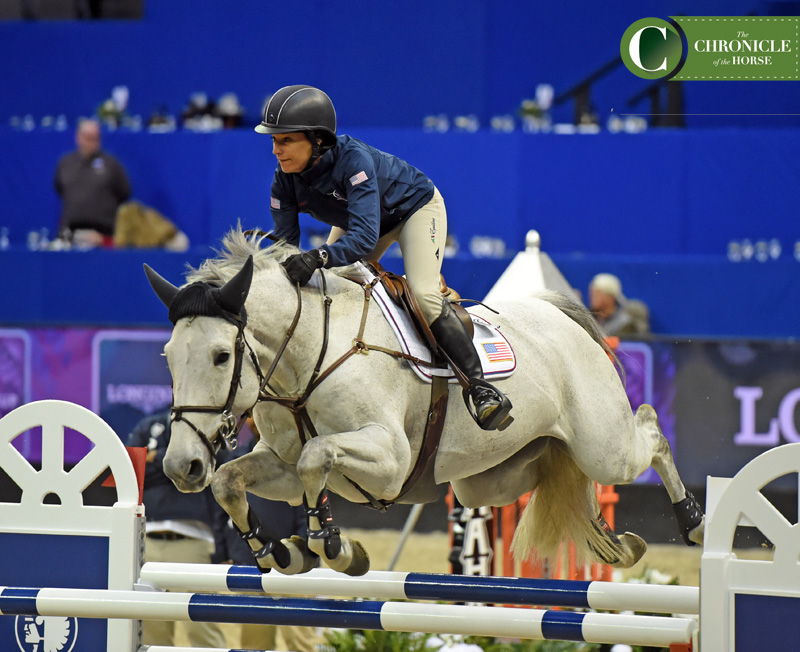 lovely gray mare. She's rubbing a few, but she gets up nicely over the troublesome 7a. Unfortunately fence 8 comes down in front, and the final planks rock, but stay up. 12th place for now.
9:38: Yee haw! Lorenzo De Luca from Italy is on the excited Ensor de Litrange LXII. These two have been having a great season, but they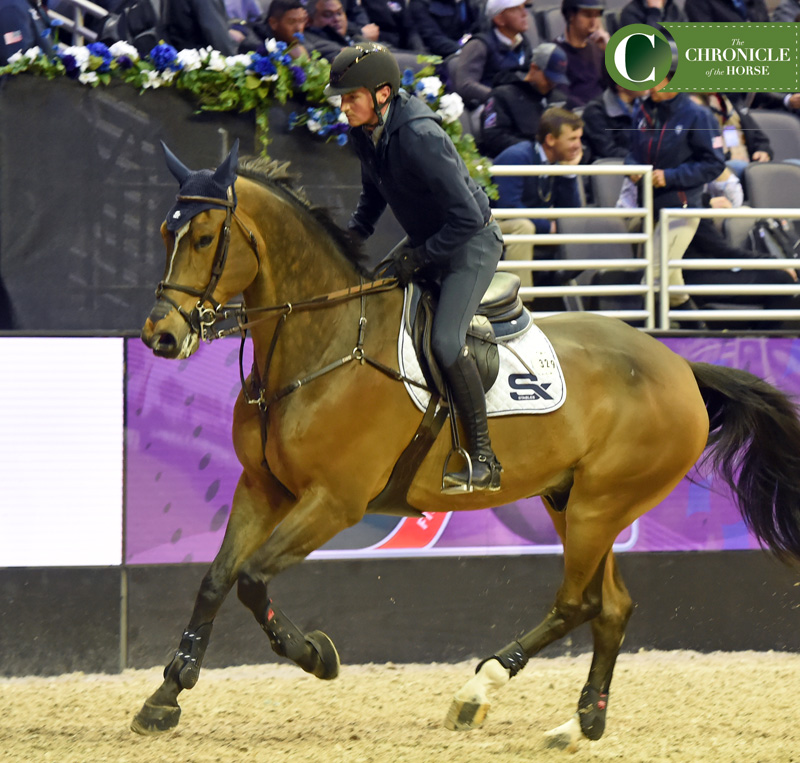 have two down in the triple. They jump the last well though. The last fence is a skinny vertical of planks, meaning riders have to be careful right to the very end.
9:35: U.S.-based Egyptian rider Nayel Nassar on the great Lordan are up next. They won the Palm Beach Masters CSI-W this year. They've also won the HITS Saugerties $1 Million. Lordan is small and Nayel is tall. Unfortunately it's coming apart with one down in the triple and the oxer right after. It was a quick round though.
9:34: Martín Rodríguez Vanni and Liborious from Uruguay are in the ring and they're not having the smoothest round. They had fences 8 and 12 down and the last jump, but Liborious still gets a pat.
9:32: Kevin Staut and his 2016 Olympic partner Reveur de Hurtebise H D C are in the ring now, and he's out to win. They jump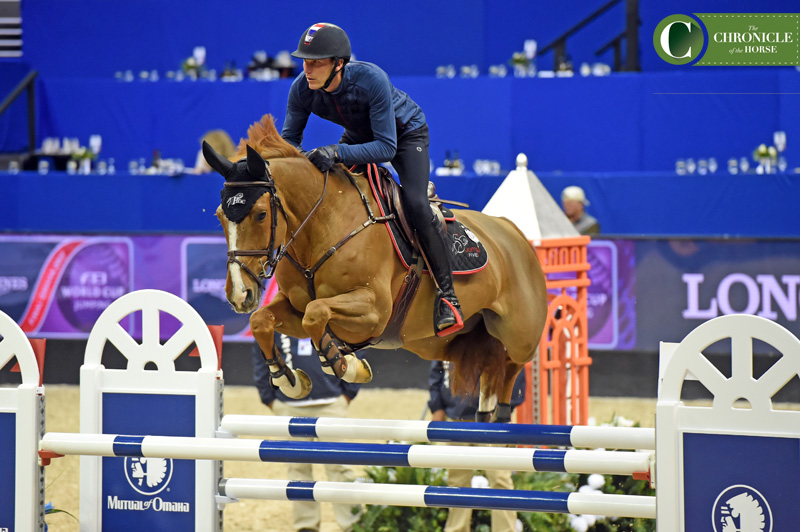 so easily through the triple and just have one down at the Longines vertical. He won't be happy with that, which leaves him down the order a bit too far.
9:29: Denis Lynch for Ireland is next on All Star. This stallion is playing a bit in the corners and loving his job. Denis is expecting a child. Congrats! They take a flyer to the oxer across the middle of the ring, but kick out 7a pretty hard. They finish with just the one.
9:27: Dawid Kubiak from Poland is riding the spicy mare Bagazza M. He has the oxer down at 11 after the triple when she gets away from him a bit. His hat seemed to fall into his eyes a bit unfortunately.
9:26: Gabor Szabo Jr. is a second generation show jumper from Hungary. He had one down with Timpex Bolcsesz. A good first showing at the World Cup.
9:23: Gregory Wathelet and Forlap in the ring now for Belgium. This horse was sold after Gregory had him, and as fate would have it, he came back to his barn. They're jumping this course easily, and they finish in 60.36 seconds to go into second place!
9:21: Ok, my heart's stopped pounding and I'm ready for the next pair! Guido Klatte jun from Germany is in the ring now with the chestnut Qinghai. There was a bit of arm flapping through the triple, but he's clear in his first World Cup Final! And he's only 21. Into sixth place for now.
9:18: OK, guys…hold your breath, it's McLain Ward and HH Azur! This mare is amazing. Holy moly, she jumped way over the first fence.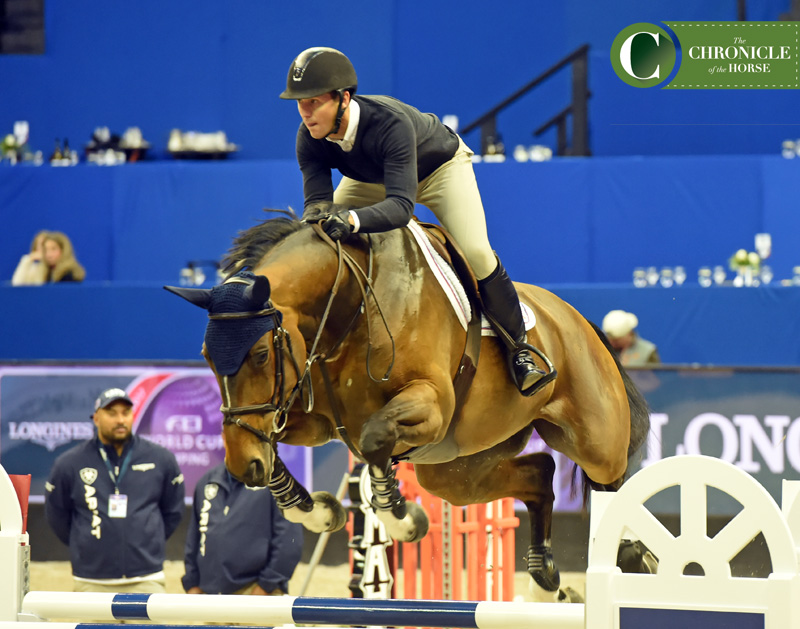 Oh my, the same over the double, and she's clever over the vertical after to keep it up. McLain just has perfect equitation. He's out for the win this week. And an easy clear and the fastest time yet! 59. 27 seconds and into first!!!!
9:15: And we're back! One of the most challenging things about the World Cup for U.S.-based riders is the fact that they've been jumping outdoors for most of the winter. Europeans have a distinct advantage there, but we've got home field advantage on our side!
Romain Duguet of Switzerland is in the ring now with Twentytwo des Biches. This is a lovely chestnut mare who Duguet has brought along from the start. She's recently moved into the spotlight of his string, and I can see why! She's a real trier. She wastes no time in the air. She stretches over 7a and keeps it up! She's had a few rubs along the way, but she's clear and moves into second place with 60.88 seconds!
8:58: Charlie Jacobs in the ring now for the U.S. on Cassinja S. They have the front rail of 7a down and really knock 12, but just the one down!
8:56: Two more to go before the break! Leopold Van Asten and VDL Groep Zidane N.O.P. are in the ring for the Netherlands. They qualified in Gothenburg, Sweden, at the last minute. What a gorgeous jumper! Leopold is going for the time, slicing and dicing the turns. He had a slight rub in the middle of the triple, but he's clear! A new leader on 60.71 seconds!
8:54: Now the top French rider in the world, Simon Delestre on the beautiful dark bay stallion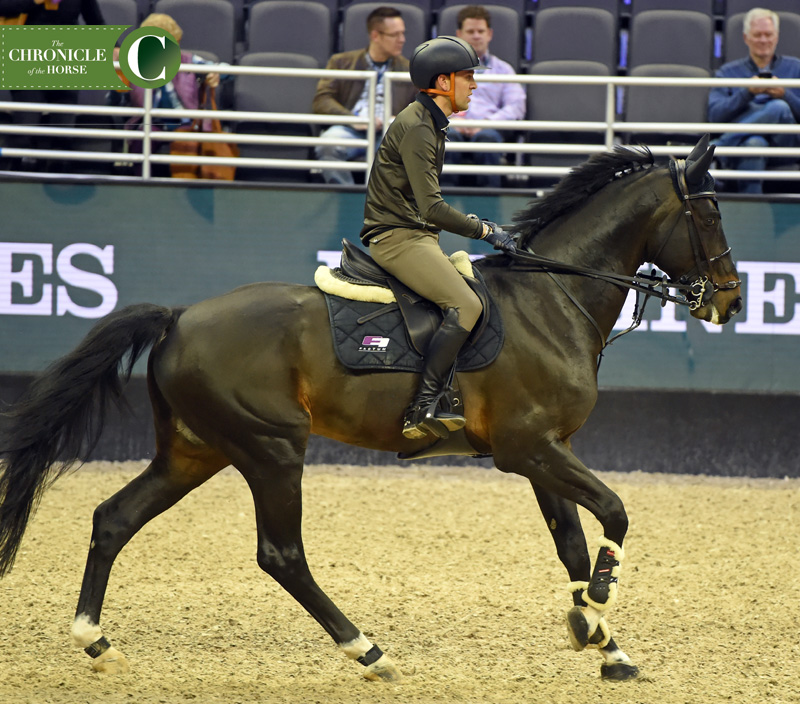 Chadino. This is very smooth round, and he's clear! 63.24 seconds leaves him in third place.
8:42: Next up is Christian Heineking on NKH Caruso. He's German but lives in the U.S. He knows this ring very well and has been victorious numerous times at the Omaha Horse Show, but this is not the round he would have wanted. Three rails down sadly.
8:49: Chris Surbey is the second rider for Canada on Chalacorada. This mare is really jumping well and not touching the rails. Ah, spoke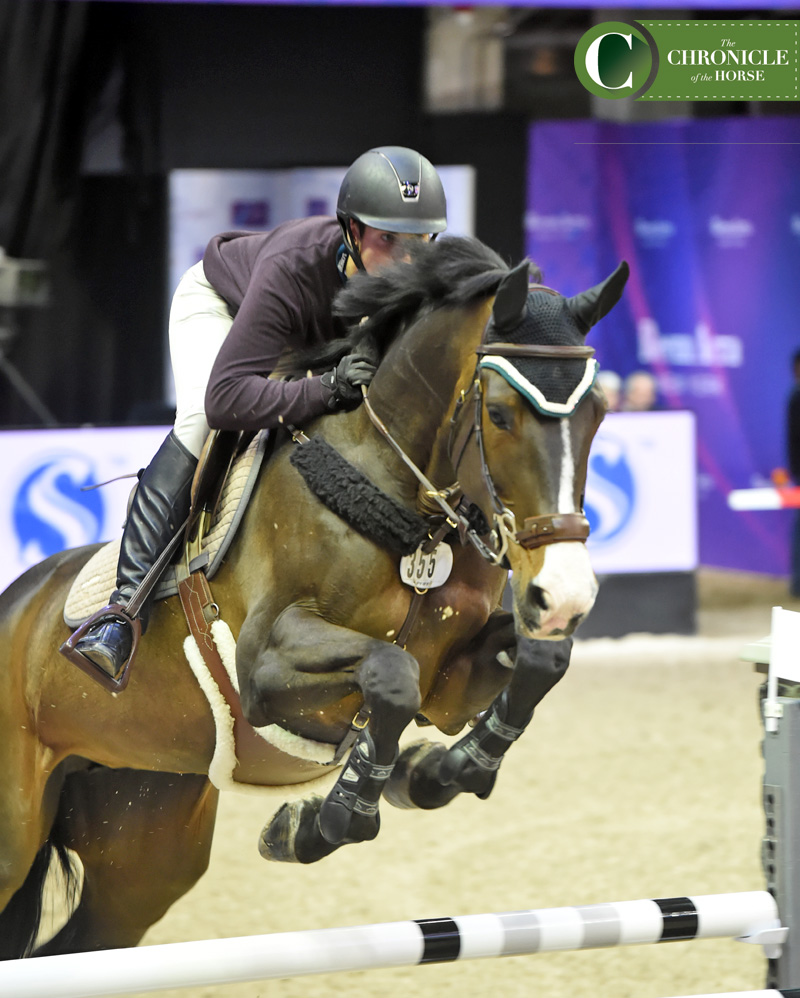 too soon! She comes down on the back rail of the second to last. He's not the fastest either, but most of that round was beautiful.
8:47: Marcus Ehning and the chestnut Pret A Tout are next for Germany. They do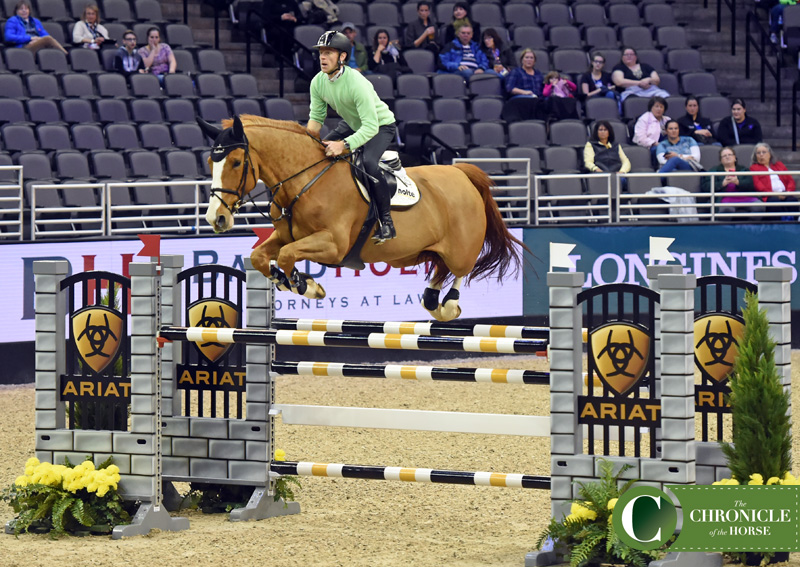 the tricky bending line towards the in gate beautifully, but have the first part of the triple down!
8:44: Nicola Philippaerts and H&M Harley vd Bisschop are next for Belgium. The 24-year-old has a super cool H&M striped coat with white trim on the arms! I'm feeling like I'm back in Wellington watching the dressage queens! His gorgeous gray isn't too shabby either! They have the second part of the triple down but they were very fast to go into third place.
8:43: Max Kuhner is in the ring next with Cornet Kalua, and he is eliminated because the horse was nappy in the corner! Bad horse! He's done this in the past, but has been jumping well recently. Heartbreaking.
8:41: Todd Minikus is up next with Bablou, and they had the first fence down! Shame, they've been on such a roll at WEF. They have 7a down, as well as 8 and the middle of the triple. Such a bummer!
8:38: Next up, the leading Spanish rider, Sergio Alvarez Maya and Arrayan. They won big recently in Wellington, Fla. Arrayan is quite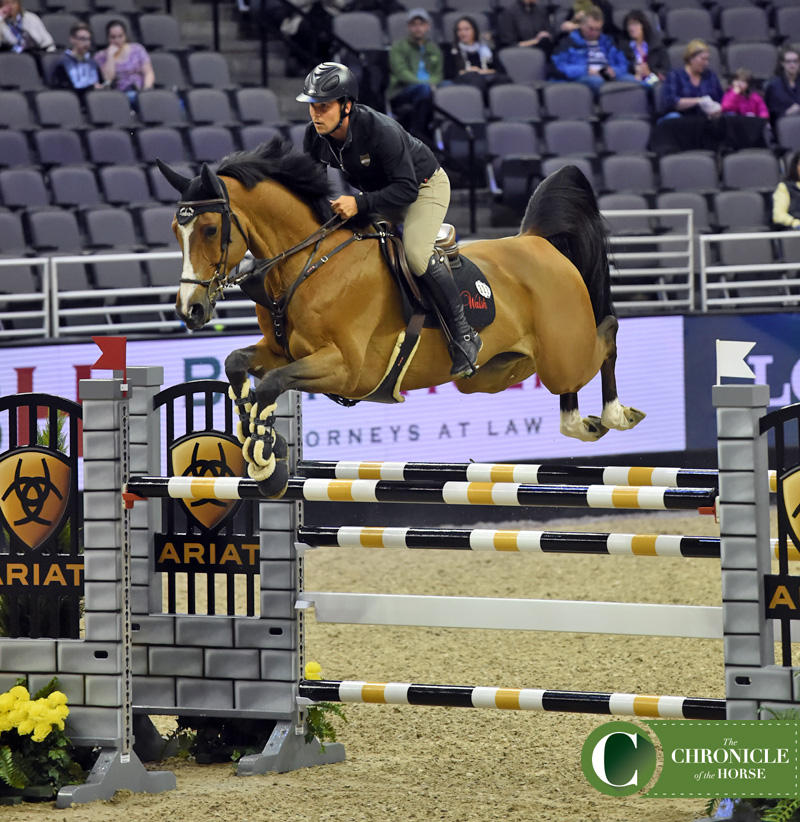 light and is really getting up over the fences. Sergio is all business. He takes a long one to the last but gets away with it, and he's clear to go into second place!
8:36: Wow, a rider from Estonia! Rein Bill and A Brok, who's named after his breeder. He's a cute chestnut who's eager to get on with it tonight! He gets super close to 12 and has it down, as well as one more to end on 8.
8:34: Next up is another U.S. rider, Jenni McAllister on Legis Touch The Sun. They have 6, 7a and 8 down, but jump through the triple neatly. Unfortunately another rail down after the triple. Tough ride with four down.
8:32: Next up is the first rider for the U.S., Jaime Barge. She has the first part of the western-themed double down with Luebbo. They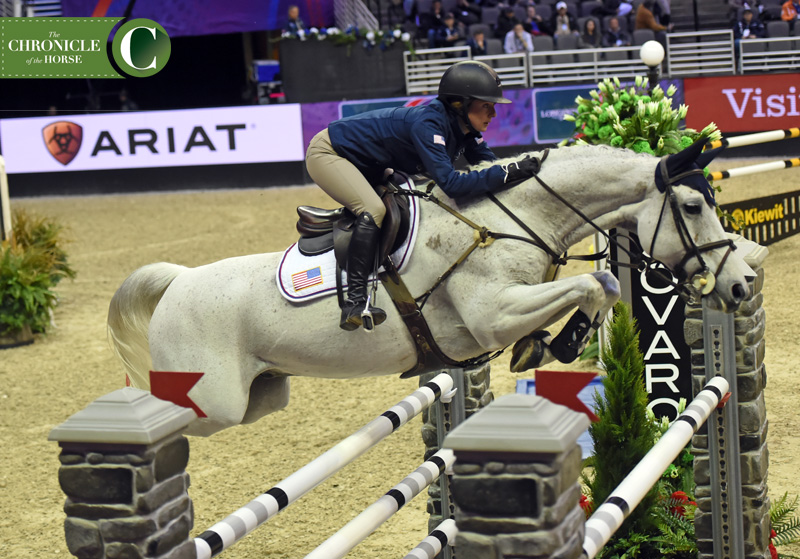 also get close to the neon green oxer and have it down. Not bad for her first trip to the World Cup!
8:29: Martin Fuchs and Clooney are up next. They finished 9th at the Olympics in Rio, and Clooney jumps like a hunter! Martin is our first clear! Lovely! And the fastest time too!
8:27: Eric Navet is up next for France with Catypso. He's based in California now training Karl Cook, who's also here to compete this week. This bay has a little bit of an interesting style up front and unfortunately has the vertical down near the in gate. He also ticks the last part of the triple and is rubbing a few up front, but finishes with just the two.
8:24: Next up for France is Olivier Robert and Quenelle du Py. He's making his World Cup Final debut. He took down the middle of the triple and the skinny panel unfortunately, but they look like they belong. He did have a quick round.
8:21: Maikel Van Der Vleuten is next with Verdi. This is his 2016 Olympic Games partner. He's riding for the Netherlands. He's been jumping sparingly at home in preparation for the Finals. Unfortunately one down for this pair.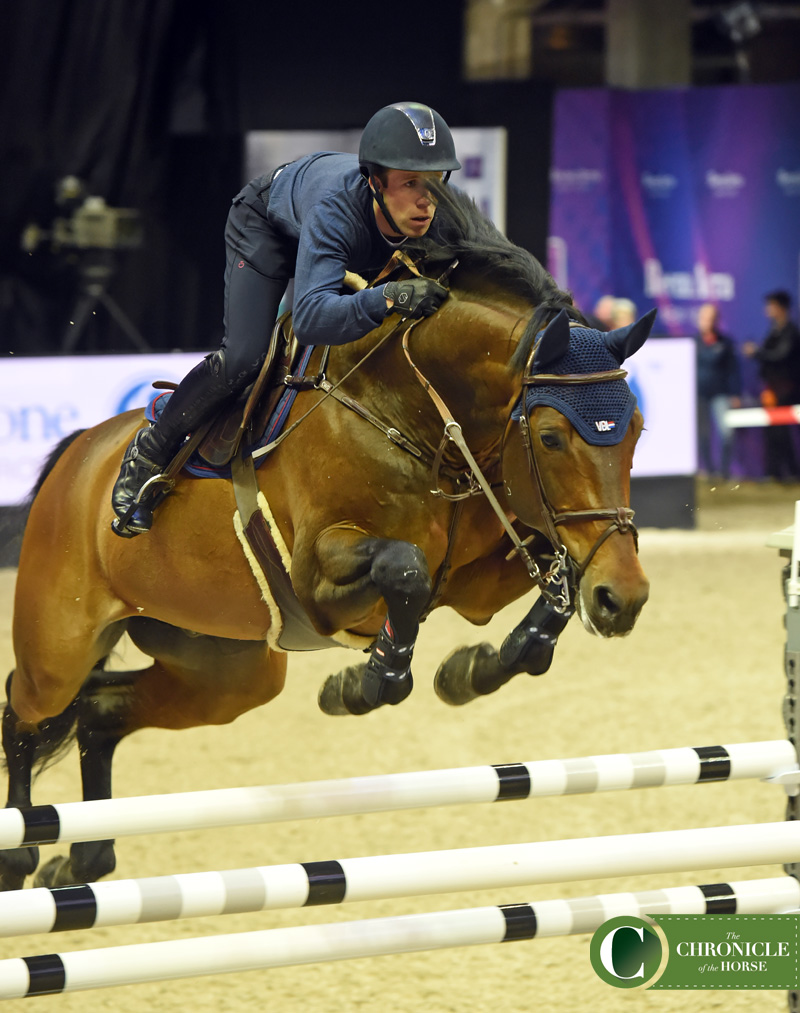 8:19: Next up is Keean White and For Freedom Z riding for Canada. We're loving the Wild West-themed double! He has the yellow oxer down and the first part of the triple. For Freedom is ticking a few fences along the way. The Longines skinny panel also comes dow for eight faults.
8:16: Here we go! Welcome all! This is a speed round, and while a rail down won't totally kill your chances, it helps to go clear! I'm adding photos from yesterday's schooling rounds as we go along. The course designer is Alan Wade.
The first combination is in the ring, and it's Markus Brinkmann and Pikeur Dylon. He's making his senior championship debut. He's had the first part of the triple down.