Raeford, N.C. – March 25
Allison Springer's Arthur is known to be spooky, but she thinks perhaps he's slightly mellowed in his older age.
Now 17, the gelding kept his focus more than usual today, delivering a double clear show jumping round over Marc Donovan's course at the Cloud 11-Gavilan North Carolina International CIC*** to inch into the lead.
Co-leaders Maya Black and Doesn't Play Fair dropped two rails to fall to 18th place, while Emily Beshear and Shame On The Moon added one pesky time fault to drop to second. Buck Davidson and his veteran partner Ballynoe Castle RM moved up from ninth to third with a double-clear.
With scores tightly packed in the CIC***, today's show jumping was bound to have an effect. Sixteen pairs jumped double-clear, while eight pairs jumped clear but had time faults.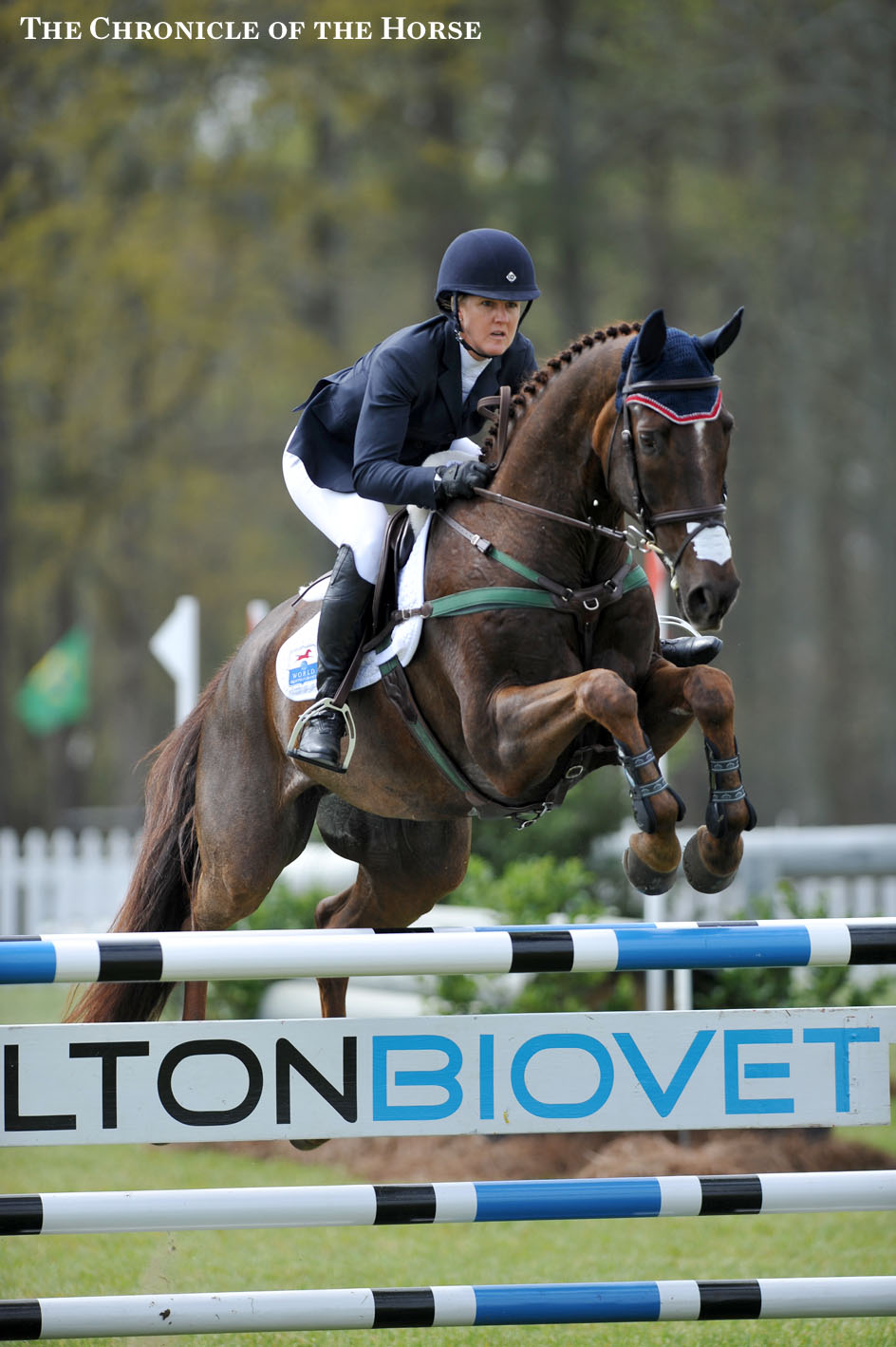 Allison Springer and Arthur. Photo by Lindsay Berreth.
"He was really wonderful. I was really pleased with him," said Springer. "I'm really feeling the pollen here! I felt pretty tired and groggy today, so I didn't feel like I gave my horses their best rides, but I was really pleased with all of them. I know what I have to do to warm him up, and then I have to ride him the best that I can and give him a smooth enough ride. I thought he tried really hard."
The trouble spot seemed to be the line from fence 10, a square oxer, to a left bending line to 11abc, a triple combination, then about six strides to the final oxer. Many rode the first part of the line in six and were too long to the triple combination. A good square turn seemed to make it ride the best.
"I thought it was a really good course. It was pretty challenging. It sucked you in to be organized, then a ton of people had time," said Springer. "There weren't a ton of places to make up time. The last line, the oxer to the triple combination back to the oxer, that was great. Cascani and Arthur both did the seven to the six to keep them organized. I thought it was a tough course, but I think our show jump courses should be tough. I think it's good for us. We've got to up our game. I saw a lot of really nice rounds."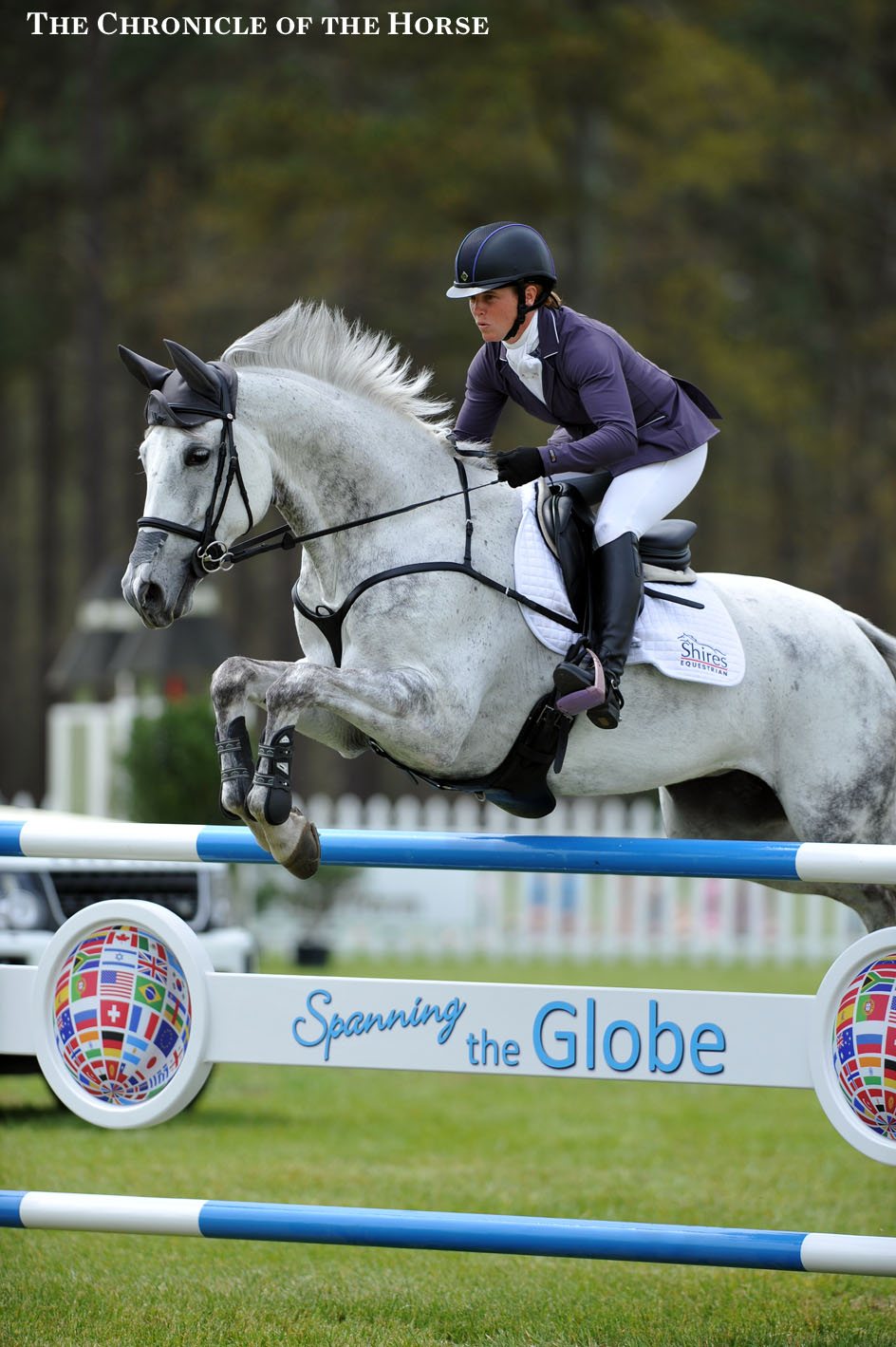 Emily Beshear and Shame On The Moon. Photo by Lindsay Berreth.
Beshear was thrilled with her ride on "Delta," who's aiming for her first Rolex Kentucky CCI**** in April. "I'm trying not to be too concerned about [the time fault," she said. "We've really changed. Finally this year I feel like I've got a good plan going. We've changed a lot in the last month as far as warm up and how I'm riding her in the ring. I was really focused on trying to keep that in perspective the whole way around. I was thrilled with her. She feels like she's really coming into her own in show jumping."
Ballynoe Castle, or "Reggie," is also a veteran at age 16, and came into the ring practically breathing fire. He bounded around the course clear with room to spare.
"He was fantastic," said Davidson. "He really likes jumping on grass. He came through like always."
All three riders agreed Ian Stark's brand new cross-county track is big, bold and gallopy, but they're prepared to take it on as they eye Rolex.
Springer has kept Arthur's season light, just competing at the Wellington Eventing Showcase (Fla.) so far.
"Because he's a spooky horse, it's good for him to see stuff and be out," she said. "It's just a very different preparation for Kentucky not doing very much at all. But really he's been around, he knows his job. I've certainly done a heck of a lot less with him. He's been in work, he's cantered, after Wellington he had an easy month. I didn't want to keep galloping and jumping and training because that wears down a horse throughout the year. I wanted to keep him healthy, strong and happy, and he is that. I think he's in as good of form as he's ever been. I think that comes from wisdom of years of doing it. I don't have to do every competition and go to every lesson. You can kind of gauge what the horse needs."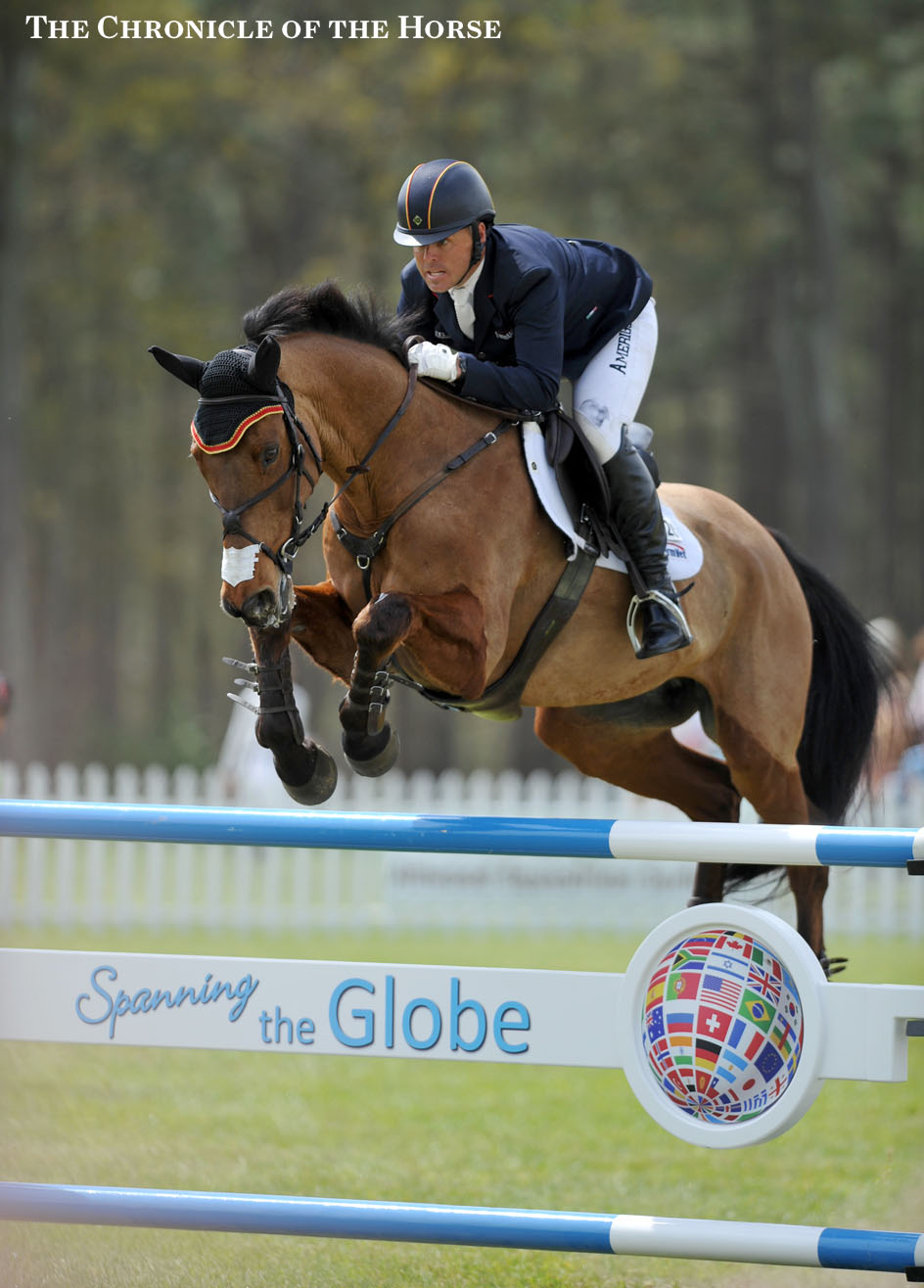 Buck Davidson and Ballynoe Castle RM. Photo by Lindsay Berreth.
Springer's last go around the Carolina International in 2015 was Arthur's last competition. She fell off on cross-country in a galloping lane when he spooked, then he was off for most of the rest of the year with an injury.
"I'm going to definitely try to stay on in the gallop lanes!" she said with a laugh. "This I'm hoping is our best prep for Kentucky, so I want to have a really good round. It would be great to go and win it and go fast and do all that, but most importantly, this is my shot to have my best lead up for Kentucky. A clean round and a smart ride and making him feel like a champ."
As Beshear eyes Kentucky, she feels she has a confident cross-country horse underneath her and will look to test herself tomorrow.
"The course is very impressive, but for a horse headed to Kentucky, I think it asks a lot of the questions we're going to need to answer," she said. "My plan is to go out and try to give it a nice, forward feel. She's gotten to be such a fabulous cross-country horse, and all the separate pieces are there, so it's just a matter of me riding one piece at a time; landing and trying to be more competitive getting away from the fences and going out there and really using it to test myself to be ready for Kentucky, not just to have a good, solid round, but put a little pressure on myself to go out and be as close to the time as I can."
"I really like how much galloping there is," said Davidson. "It feels like a fairly long course. I feel like it's not overly big or overly tricky, but there's plenty to do out there. It should be an exciting day."
Blackie Bests Them All
In the CIC**, Liz Halliday-Sharp and Fernhill By Night, or "Blackie," kept their lead with a double clear show jumping round. The pair dropped down a level at Phillip Dutton's suggestion after a run out on cross-country in the advanced at Red Hills (Fla.), and Halliday-Sharp has a specific plan for the weekend.
"He jumped one of the bests show jumping rounds he's jumped in awhile. He felt fantastic, which was nice," she said. "We're just getting the two of us in place and to feel like the controls are where we want them."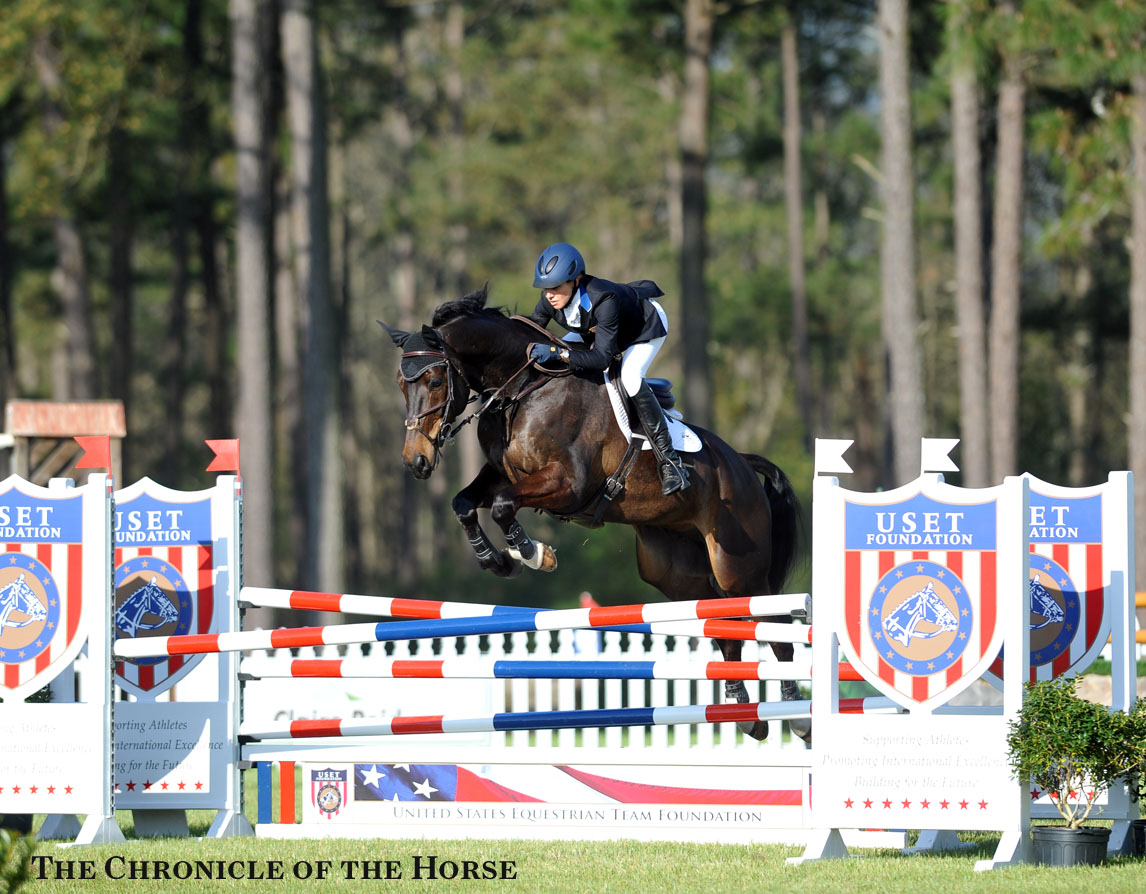 Liz Halliday-Sharp and Fernhill By Night. Photo by Lindsay Berreth.
Halliday-Sharp is happy the two-star course seems strong so she can test out a new bit and some new techniques with Blackie, who she says needs several runs to feel his most confident before a big three-day.
"I'll let him gallop along because he's in the lead. He does cover the ground well," she said. "But the main goal is to give him a good ride to every fence. I want to put him into a deeper distance that he's happier with and give the horse a super ride. If I come home with that and some time faults, and I don't win, I'm OK with that. The end goal is not winning the two-star but getting him to Rolex and making him happy."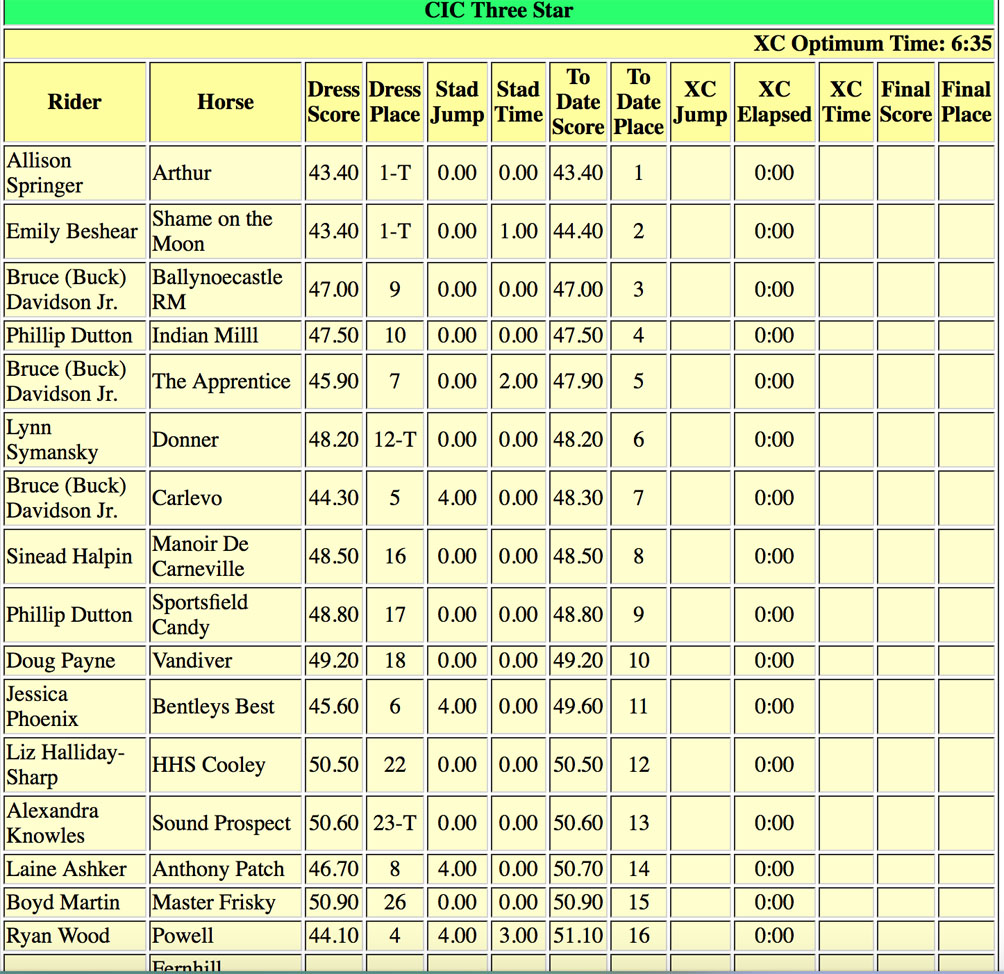 Full scores can be found here.
For more from the Carolina International, visit our hub page.