The highly anticipated World Championship Hunter Rider week at the Winter Equestrian Festival kicked off on Feb. 15, as top riders and horses vied for the division championship and reserve titles that will qualify them for the $100,000 WCHR Peter Wetherill Palm Beach Hunter Spectacular in the International Arena on Saturday night.
Havens Schatt of Georgetown, Ky., and Aristocrat, owned by Tracy Scheriff-Muser, were crowned champions of the 3'9″ green hunters with three wins. The pair topped two over-fences rounds, scoring a 90 in each, and the under saddle. Scott Stewart and Fashion Farm's Captivate settled for the reserve title with a win the handy class, second place under saddle, and fourth and fifth place finishes over fences.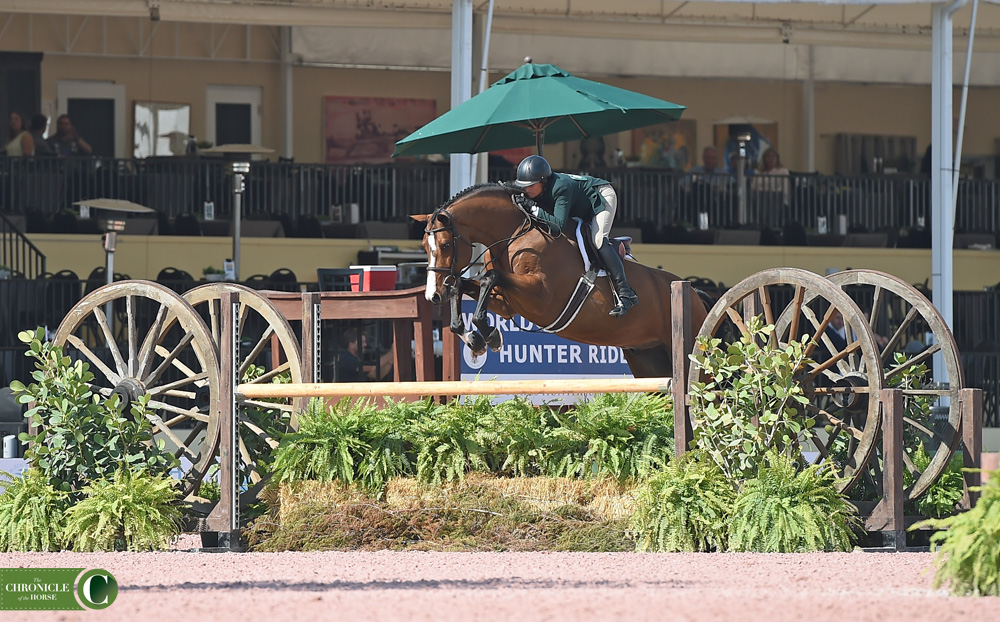 Schatt started riding the 9-year-old gelding by Balou du Rouet five years ago, right after he was first started under saddle. "He has so much ability," Schatt said. "This year, he's really coming into his own, consistency-wise. His father is Balou Du Rouet, whose offspring have the reputation that they need to trust you before they perform for you. He's a fun horse to have and a bit of a challenge in that he's slightly different every time you get on him."
Schatt's tricolor broke quite a streak for Stewart, who claimed the high performance championship and reserve on Catch Me and Cameo, the co-champions in the high performance conformation division on Lucador and Fun; the green conformation tricolor on Private Life; and the 3'6" green championship and reserve on Luster and Wonderly.
Stewart may have qualified a small barn full of horses for the $100,000 WCHR Peter Wetherill Palm Beach Hunter Spectacular, but the class specifications limits riders to two horses, so he'll chose which mounts to ride in it and his other spots will go to riders further down the qualifying list.
Stewart piloted Catch Me, owned by Gochman Sport Horses, LLC, to win the handy with an impressive score of 95, another over-fences class, and the under saddle. The coming 10-year-old gelding by Casiro has a long list of accolades to his name, including a win in last year's Hunter Spectacular.
"Catch Me is a horse of a lifetime," Becky Gochman praised. "He has surpassed any pre-conceived notion of what we had thought he might become. Everything is icing on the cake at this point. We've figured him out, and I think he's figured out that we want to do what is best for him. It's been a complete joy."
Lucador, just one of Betsee Parker's entries, was in his first week of showing in 2017, but Stewart was confident in the 9-year-old Oldenburg's ability to perform. The pair won the high performance conformation handy round, and an over-fences class, and placed second in the stake, model, and under saddle. Stewart also secured the reserve title aboard Fun, owned by Gochman Sport Horses, LLC, earning first place in the stake, model, and under saddle, and second and third place in the other two over fences classes.
"He was good today," Stewart said of Lucador. "He has so much experience—this is our fourth year together—that I don't worry about him. He's like a big pony; you have to do it his way a little bit, but he's great."
About his 3'6″" green champion, Luster, a 7-year-old Westphalian gelding by Coranado LL, Stewart said: "Luster is really fun to ride. He's such a good jumper. This [WCHR week] is his fourth horse show of the year, and he's been champion and reserve leading up to this."
Private Life, owned by Parker, swept the green conformation hunter division, winning all five classes with Stewart in the irons. Stewart had nothing but compliments for the Dutch Warmblood gelding by Verdi.
"He's awesome!" Stewart exclaimed. "He's actually the youngest, just turning 6 this year, and rides like a made horse even though he's green."
Jennifer Hannan of Wakefield, R.I., and Best Regards secured reserve honors in the green conformation Hdivision. Hannan piloted Patricia Fulchino's 9-year-old Holsteiner stallion to second place ribbons in the model, an over-fences class, and under saddle, and a third place ribbon in the stake round.
The 3'6″ performance division yielded 101 competitors on Thursday afternoon. Due to the number of entries, two championships were awarded—Liza Boyd of Camden, S.C., and Stella Styslinger's Cassanto captured the first championship ribbon. The pair earned the high score of the division with a 92 in the stake round. Tori Colvin of Loxahatchee, Fla., guided Koala, owned by John & Stephanie Ingram, LLC, to win the other championship ribbon.