Ariel Grald didn't intend to play Capture the Flag when she left the cross-country start box at the 2019 Land Rover Kentucky CCI5*, but midway through the course she did just that. As she cleared the first element of the infield water combination, she caught a fence flag under her right knee. She and Leamore Master Plan continued over the remaining two obstacles in the combination, dragging the flag alongside them. Grald and "Simon" took it in stride—literally—finishing the course with 6.4 time faults.
"It was a big jump in the water over a skinny," recalls Grald. "I sat up tall and shoved my heels down and in front of me. Somehow my foot hooked the flag, and it got stuck under my leg. I needed my right leg to be on the horse through the combination, so I couldn't shake the flag loose till we were done.
"I couldn't do that again if I tried," she adds, laughing. "Simon was a saint. The flag was whacking him on the butt with every stride, but he just kept going. It showed me what a good cross-country horse he is."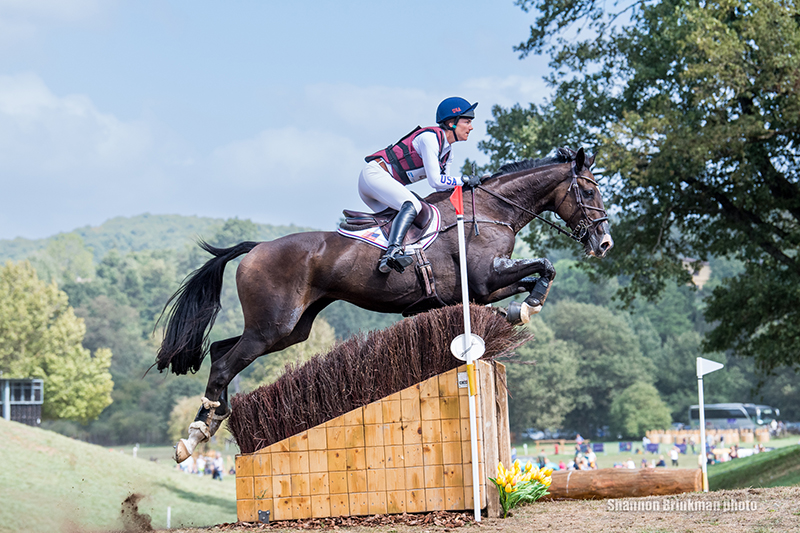 The pair finished the event, the first CCI5* for both of them, in 12th place.
This summer, Grald's determination was on display again at the FEI Eventing World Championship in Pratoni del Vivaro, Italy, where she finished 11th on her 32.5 dressage score.
"Ariel has an incredibly competitive mind," says Erik Duvander, her primary trainer. "She's a super athlete. She doesn't forget anything when she's under pressure, so she's successful in crucial moments."
Grald admits to having an intense personality. "I get quite focused on the job," she says. "You have to control your emotions. When I compete, I want to feel like I have ice water running through my veins."
Anything And Everything
Grald attributes her cross-country moxie to her childhood in rural Vermont, where she spent every spare moment on horseback blazing across the countryside.
"I've been riding basically since I was born," she says. "My mother competed at lower-level eventing, and we always had horses at home. We galloped through the woods jumping anything and everything we could find. That foundation made me brave and confident. That's where my cross-country comes from."
One of Grald's earliest riding instructors was Laurie Hudson, who runs Hitching Post Farm in South Royalton, Vermont. "She would ride any horse on the farm," says Hudson. "She was seriously hardworking. She had a true love of horses, not just riding, but the whole picture.
"Her family didn't have lots of money," adds Hudson. "So she didn't always have the best. But she always made the most of what she had at the time."
Grald started eventing at age 8 or 9 on her first pony, Pinocchio. "I always knew I wanted to event," she says. "I watched VHS tapes of Badminton, Kentucky and Burghley over and over. My family must have gotten sick of it. I knew I wanted to ride at that level, but I didn't know how to get there."
New Partnerships
Riding continued to be Grald's passion through high school and at the University of Vermont, where she earned a degree in microbiology. She knew she'd need a "real job" to pay for her horse habit and assumed that graduate school was in her future.
"I was on that track, but then I realized I just wanted to ride horses," she says.
In early January 2012 Grald moved with her two horses to Southern Pines, North Carolina.
Shortly after her arrival there, a fortuitous introduction changed the course of her life. She boarded her horses with Karen McCollum, a fellow Vermonter who winters in Southern Pines. McCollum let her work off her board by helping around the barn, but she knew that Grald needed to earn money. She introduced her to Annie Eldridge, who'd been an upper-level event rider until a stroke three years earlier left her unable to run her household.
At first, Grald did chores and errands for Eldridge at her Setters' Run Farm in Vass, North Carolina, where she spends the winter.
"From the very beginning, she was the kindest, most generous and compassionate person," says Eldridge. "I'll never forget it."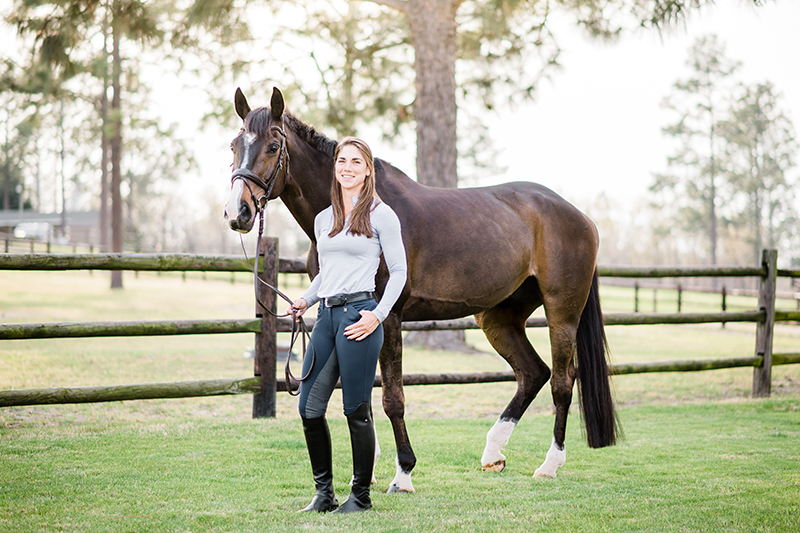 Grald's duties soon expanded to riding a young horse of Eldridge's. "It didn't take long to recognize her talent," says Eldridge. "Not just her talent but her dedication and willingness to work hard."
Eldridge invited Grald to board her horses at Setters' Run Farm, and Grald and her horses then spent the summer with Eldridge and her husband, Charles Cane, at their farm in Duxbury, Massachusetts. Grald competed successfully at Area I events.
"I realized that Ariel needed financial help to get to the top," says Eldridge. "She had no money. I decided to put all my money and energy into getting Ariel whatever she needed to succeed."
Back in North Carolina, Eldridge paid for Grald to take lessons with Bobby Costello, who had worked with Grald years before in Vermont.
"I got Ariel's personality from the start," he says. "We're both New Englanders who did not come from great means. Being showy, cocky or brash just isn't really a thing for us. She is so grounded in everything she does. There's not a lot of flash, just great horsemanship, dedication and attention to detail. She lets the results speak for themselves. Her success is kind of old-fashioned, which is a complete compliment. She is a young woman of few words but with great feel, concentration and a quiet determination."
The following winter, Eldridge brought her two event horses home from Beth Perkins, who had been keeping them since her stroke. "Both horses were moving up from preliminary to intermediate," says Eldridge. "Ariel competed them and did really well with them."
Aware that Grald needed better horses to reach the highest levels of the sport, Eldridge sent her to Ireland in 2014. One of the first horses she saw was Simon, a big, bay 5-year-old gelding.
"He was really gangly and not the most attractive horse," Grald says. "But he was such a good jumper. I loved the feeling he gave me when I jumped him."
Grald brought Simon along slowly. "He's such a big horse, it's taken him a while to mature," she said. "He's my first horse at this level, so it's been a big learning process for both of us."
One of Simon's challenges has been in the dressage ring, where his exuberance can get the better of him. "Sometimes his canter gets bouncier and bouncier, and he'll throw in a buck," says Grald. "He's not 'hot-hot,' but he's anxious because he's trying so hard, and he has so much energy when he's really fit."
Making the time on cross-country has been another challenge for the pair. "I've learned to ride him faster. With a really strong horse you have to control them so much you end up going slower," says Grald. "It's easier to have a horse you can just kick on."
Ariel first trained with Duvander as a member of the inaugural USEF/USET Foundation Futures Team Challenge program at the Carolina International (North Carolina) in March 2019. "I really liked Simon," he says. "He was odd and quirky. Ariel still had a lot to learn, but she showed her competitiveness."
A Burning Will
After their first schooling sessions in early 2019, Duvander told Grald that he'd be back in five or six weeks and that in the meantime she should continue with the work they'd been doing.
"When I came back, the horse was going remarkably better," he says. "I asked her who she'd been training with. She said, 'No one. I remember everything you told me, and I've just been working on my own.' It was clear that she had huge amounts of intelligence and a burning will to get really good. What impressed me the most about her was her ability to learn fast. All riders have different qualities, but I found that really intriguing."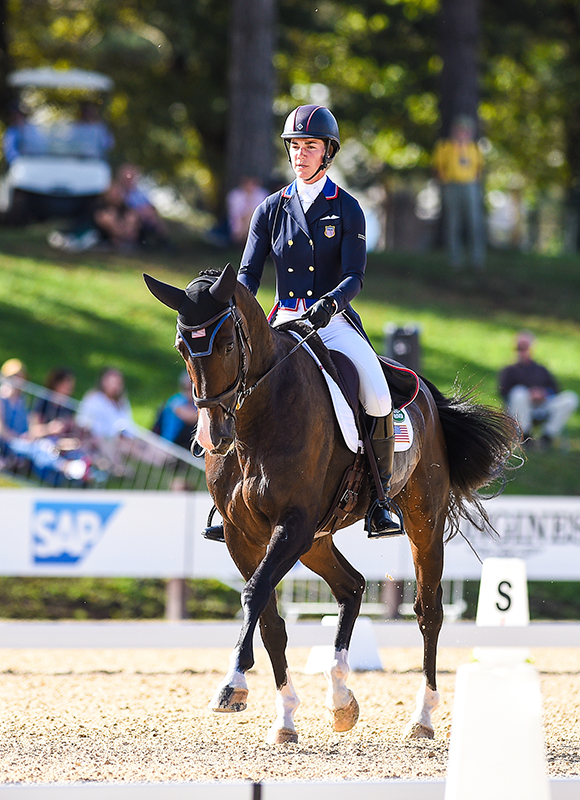 Grald has been training with Duvander regularly since then. "She's such a good student," he says. "She remembers all the details we talk about as we prepare for a competition. In the last warm-up, I see her apply those details in a highly stressful time."
And if Grald feels something isn't quite right, she lets Duvander know. "She'll tell me, 'I need to fix this,' " he said. "She doesn't internalize it. A lot of riders would just keep it to themselves. Instead of panicking, she asks a question, and we figure out an approach. We have a direct and honest relationship."
Grald and Simon's stellar five-star debut in Kentucky in 2019 was the first of their unbroken string of top finishes. At Badminton in 2022, where the pair finished in 15th place, Duvander was astonished when Grald told him that she'd competed at more five-stars than four-stars.
"I'd never heard a rider say that before," he says. "She's stepped up to the highest level so quickly. It's really extraordinary."
Prior to Badminton, the pair competed at Burghley (England), Aachen (Germany) and Luhmühlen (Germany), never finishing below 16th place. At Aachen, they were part of the silver medal-winning American team in the 2021 FEI Eventing Nations Cup.
In the spring of 2022, Grald applied to ride in the World Championship. After an extensive selection process, she received a phone call on Aug. 1 from Costello, the interim chef d'equipe, telling her she'd been chosen to compete as an individual.
"That was extra special for me to hear the news from Bobby because I'd ridden with him for such a long time," says Grald.
Duvander, who had been coaching Ariel throughout the summer, says he was relieved when she was picked. "She earned it. I was happy for her."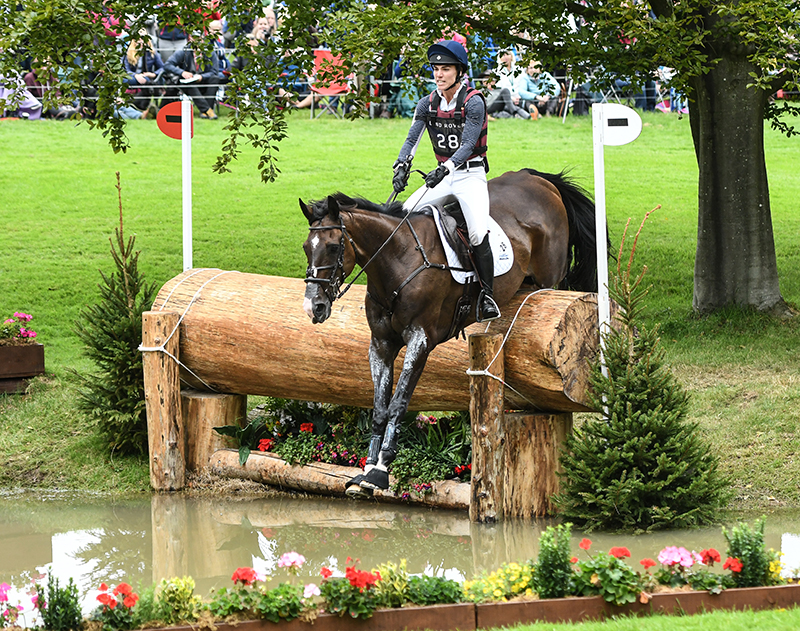 In Italy, where the U.S. team finished second to Germany, Grald was the only American rider to go double-clear in the jumping phases. She and Simon finished the cross-country course, a steep track with lots of tight turns, 10 seconds under the time, the fastest ride of the day. This was particularly impressive, says Duvander, because the course didn't suit Simon. "He's a big galloping horse who likes open spaces," he says.
In show jumping, Grald produced one of only 12 clear rounds. "You needed to have a plan and a line and be able to adjust instantly," says Grald. "I like that! He actually jumps better after cross-country because it settles him a little. My goal at Pratoni was to finish on my dressage score, and I did that."
This winter Grald plans to work more intensively on Simon's dressage. "Erik has been really helpful because he understands how Simon's brain works," she says. "Now he's ready to be put under more pressure."
For 2023, she has set her sights on a return to Badminton and Burghley.
Eldridge has purchased several other young horses for Grald that are moving up the levels.
"I really like buying them young and bringing them along myself," says Grald. "It's a better partnership. Horses have their own quirks and needs. I like knowing their whole career. Annie and I both enjoy the process of developing horses. My goal is to have several five-star horses."
Grald and Eldridge's partnership has brought both women enormous satisfaction and happiness. "It's been quite a journey for us," says Grald. "Annie and I are family. We have an amazing relationship I'm so grateful for. I'm so fortunate to have her support. She comes to all our shows. She had evented, so she understands when things go wrong."
Eldridge credits Ariel with all of the success. "I'm just along for the ride," she says. "We have an unusually close rider-owner relationship. She's brought me so much joy. We started out in 2012, and just 10 years later we're at the WEG! Who would have thought that was possible?"
---
This article first appeared in the December 2022 issue of The Chronicle of the Horse. Subscribers may choose online access to a digital version or a print subscription or both, and they will also receive our lifestyle publication, Untacked. 
If you're just following COTH online, you're missing so much great unique content. Each print issue of the Chronicle is full of in-depth competition news, fascinating features, probing looks at issues within the sports of hunter/jumper, eventing and dressage, and stunning photography.