Kalispell, Mont.—July 19
If such a thing as fantasy eventing existed, the dream team you'd compile for an Adequan FEI North American Youth Championships might go something like this: a group of super experienced horses, maybe even former Olympic and four-star mounts, now paired with some talented young riders.
Luckily for Area II, its CICOY** team here at NAYC is almost exactly that, and the group of four slotted into first after dressage on a score of 97.9 penalties.
The group's superstar equine lineup is anchored by Cambalda, 16, a horse Jennie Brannigan competed through the four-star level before Alexa Lapp took over the ride on him earlier this year. It also includes Mr. Medicott, 19, who had a lengthy and successful four-star career—including contesting the 2012 London Olympic Games and finishing fourth at the 2017 Rolex Kentucky CCI**** with Olivia Dutton's father Phillip Dutton aboard—before Olivia started riding him.
The team's trailblazer is Flintstar, now 18 and ridden by Ryan Keefe, who was on New Zealand team's with Jonelle Price at the 2012 Olympics. As for Ideal Contini, 15, he competed through the three-star level with Sally Cousins before Tayler Stewart started riding him in 2015.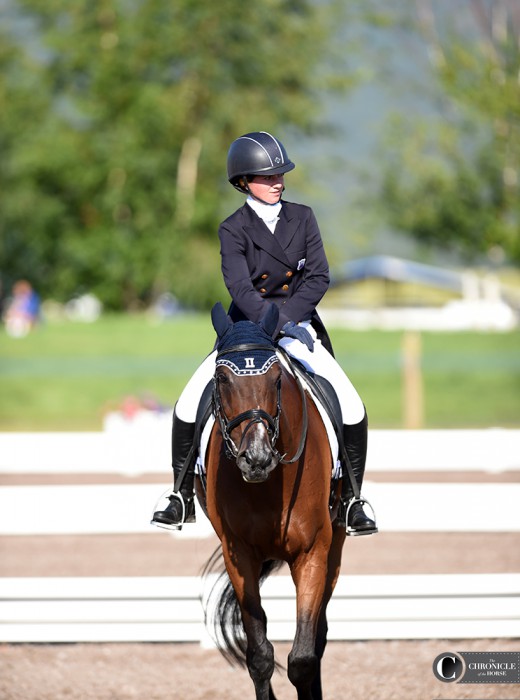 But, as all four of these Area II riders have learned, sitting on experienced horses might be fun, but it's not always simple.
"A lot of people think since they've done four-stars they're so easy to ride, but they're really hard!" said Olivia. "But they have experience, and they teach you so well."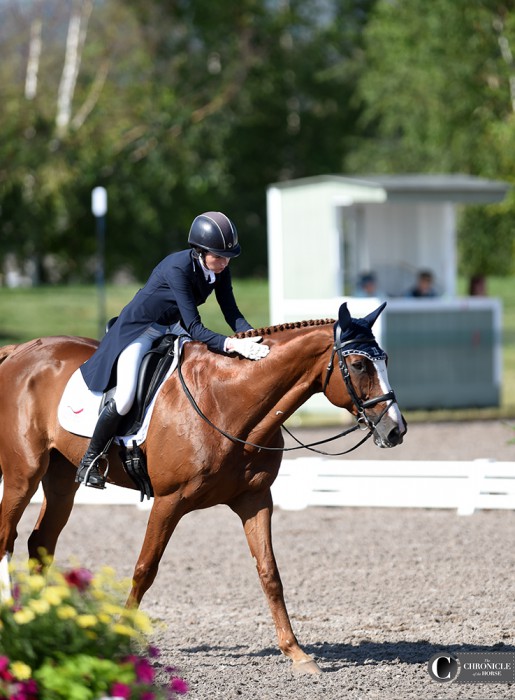 Lapp backed up that sentiment, pointing to a few small mistakes in her test today as examples.
"I ask too early for things because I'm used to greener horses, and he's really sharp," she said. "But I'm really lucky to ride him. I was a little bummed about the score, but I was really happy with him, and that's the most important thing."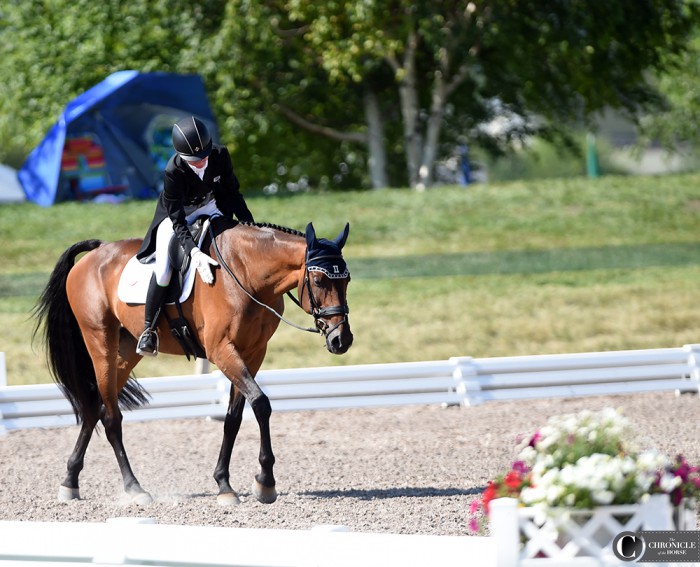 Of the group, Stewart's been riding her horse the longest, and she pointed to the strength of their relationship when talking about her test, which also has them sitting second individually (31.2).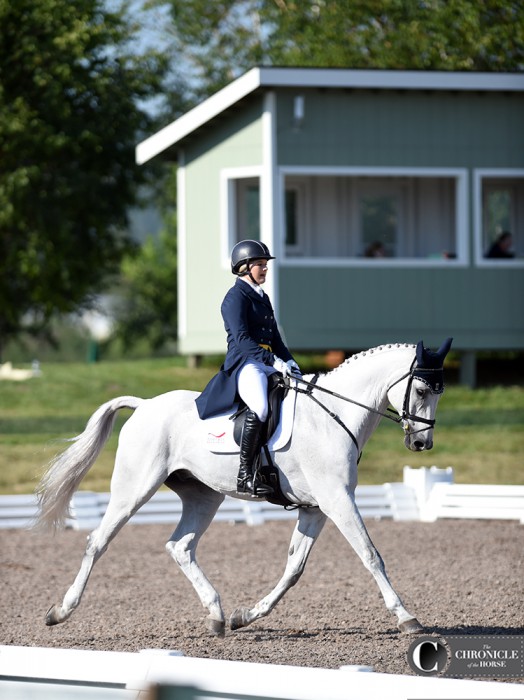 "I was really thrilled, especially after I saw the score," said Stewart. "I never quite know what I'm going to get going into the ring. He can lay down a good score or not-so-good score. I think I prepared as best as I could for this test. He was just really steady and really game today. I was proud of him and proud of myself to ride smart and not just kind of get through it.
"I think we're very lucky this year with Area II; we have such a strong support system behind us," she continued. "The horses are great, but they believe in us as riders too. It's a great group of people who think we can ride these horses—they're not easy horses to ride."
In the individual competition, Alexandra Baugh and Ballingowan Pizazz are topping the rankings with a score of 30.8 penalties. She's on the mixed Area I, IV and VIII team, which is sitting behind the Area II team after dressage.
" 'Mango' was perfect," she said. "That's one of our best tests to date. He's been a bit of a challenge; I've had him for two years, and I feel like we've finally gotten to know each other more and figured it all out. It was a little nerve-wracking being the first one [to go today], but I was glad it went well."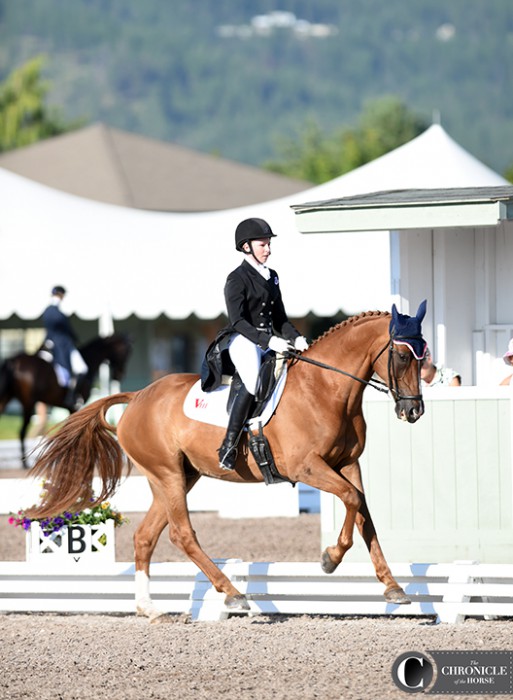 This is Baugh's first time doing the two-star at NAYC with Mango, another horse who'd competed at the three-star level before she got him. Last year the pair earned silver in the one-star division at this competition.
"Everyone's come here to go for gold, so I think that would be my main goal, and that would be my personal best," she said.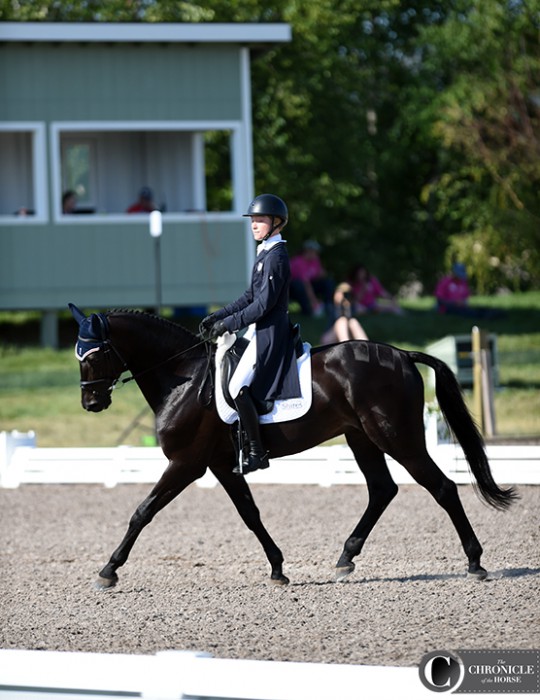 Tomorrow, the NAYC CCI* riders will go down centerline, in addition to riders in the CCI*** and CIC***s. Check out team and individual scores online.