Devon, Pa.—June 5
This morning someone pulled Richard Taylor aside and commented that he was in the pressure cooker today. After all, Taylor was presenting last year's Best Young Horse, Arbor Hill, in the 3-year-old stallions and geldings class, and his Venture Stables had already earned the Best Young Pony, Papillon, last weekend. But Taylor didn't look at it that way.
"You got a great horse," he said "What you really hope is that he shows great, and he showed great today."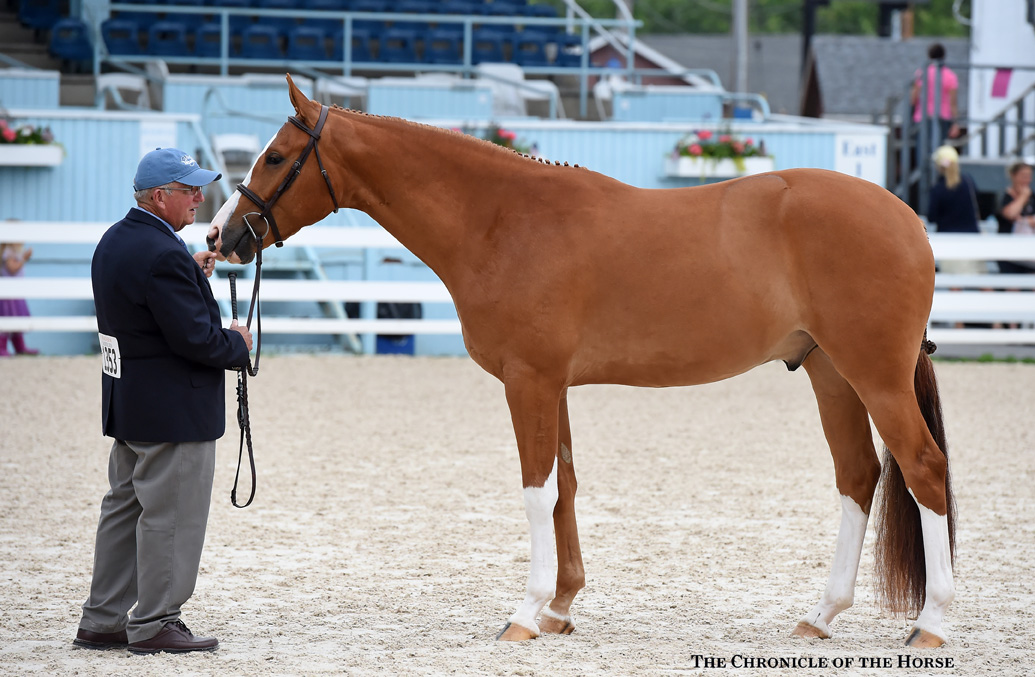 Arbor Hill earned the Best Young Horse title at Devon with Richard Taylor holding the line. Photo by Mollie Bailey.
Indeed Arbor Hill, bred by Grey Fox Farms (Aloha—Paisley)*, won his 3-year-old stallions and geldings class, and went on to win the Best Young Horse title for the second year in a row.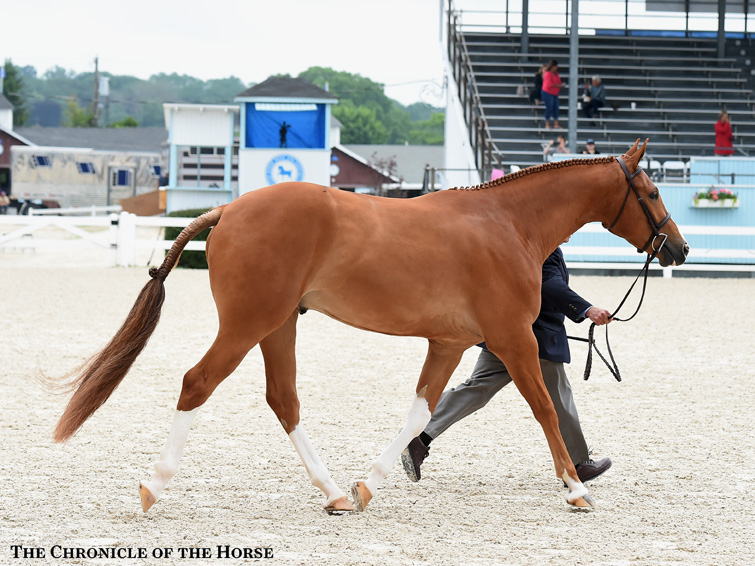 According to Richard Taylor, one of Arbor Hill's best features is his athleticism and movement. Photo by Mollie Bailey.
Arbor Hill was a birthday present for hunter breeding legend Kenny Wheeler Sr. from his son "Ken Ken" Wheeler Jr. as a yearling. Kenny came to Devon earlier this week to support his son Doug Wheeler, who had horses competing with Hunt Tosh in the performance divisions, and his granddaughter, Sallie-Mason Wheeler, who competed in the Saddlebred divisions, but he was at home in Keswick, Va., on breeding day. When Taylor called to congratulate him, Kenny started tearing up on the phone.
Taylor wasn't surprised that Arbor Hill, who goes by "Fluffy" in the barn, won the day.
"He's a beautifully balanced horse, conformation wise," he said. "He has good bone, good substance. He's well over 16 hands. He's very athletic, and in so doing, he's also a very good mover. He has always appeared to be an athlete."
At home in Montpelier Station, Va., Arbor Hill gets turned out every night with Papillon.
"Is he a special horse? Yes, but a horse is a horse," he said. "The night before last, he and the Devon champion pony were in their paddock from 8 p.m. to 8 a.m. [Arbor Hill] came in, had a bath, got on the trailer and went to Devon. Last night at home my wife was at home with the Devon champion pony, and the pony couldn't go out, because he didn't have his mate. So, I've got to get home, so the boys could go out tonight."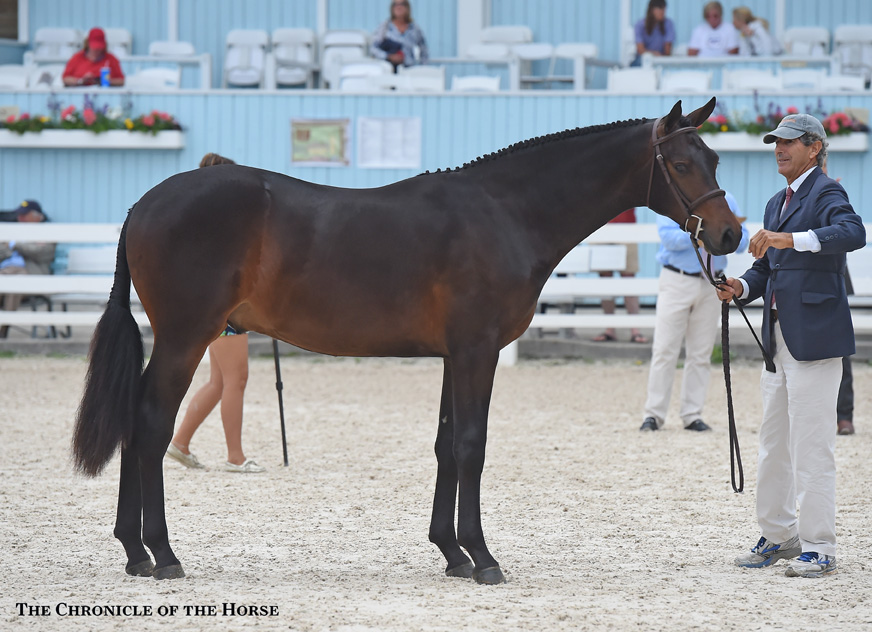 Reserve Best Young Horse, Renoir (Rosenthal—Parabol) was held by Jay Golding. Photo by Mollie Bailey.
Arbor Hill won out over the reserve best young horse, yearling Renoir (Rosenthal—Parabol), who's owned by Susan Tice-Grossman. That horse won his yearling, colts and geldings, other-than-Thoroughbred, class, and won the best yearling held by Jay Golding.
Emily Belin, who held the best Pennsylvania-bred horse, Port Royal, the yearling other-than-Thoroughbred fillies winner, Reflection, and the 3-year-old Thoroughbred winner, Rhapsody In Bay, among many others, earned the Devon leading Handler award.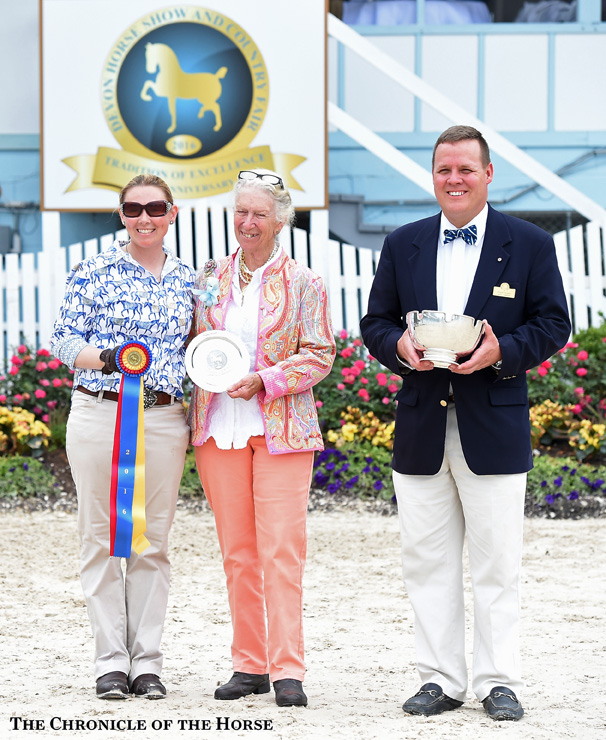 Emily Belin earned the leading handler award at Devon for the second time. Photo by Mollie Bailey.
* – The U.S. Equestrian Federation listing for Arbor Hill lists Redwine as the horse's sire, but Drew Taylor confirmed that Aloha is actually the sire of Arbor Hill.
We have more photos from the amateur classes at Devon, and photos and stories about the champions.
The Chronicle's Devon coverage continues all weekend with stories and photos from the amateur divisions and breeding day. Stay tuned to www.coth.com all week for coverage of the open and amateur hunters, the Sapphire Grand Prix of Devon, and so much more. Check out all the Chronicle's online coverage of Devon. Find full results from all of Devon at Ryegate and check out full analysis of the whole show in the June 20 issue of the magazine.