Laura Kraut isn't planning on a retirement fund for Anthem just yet, although she'll now have something more to contribute after winning the largest-paying class on this spring's show jumping circuit.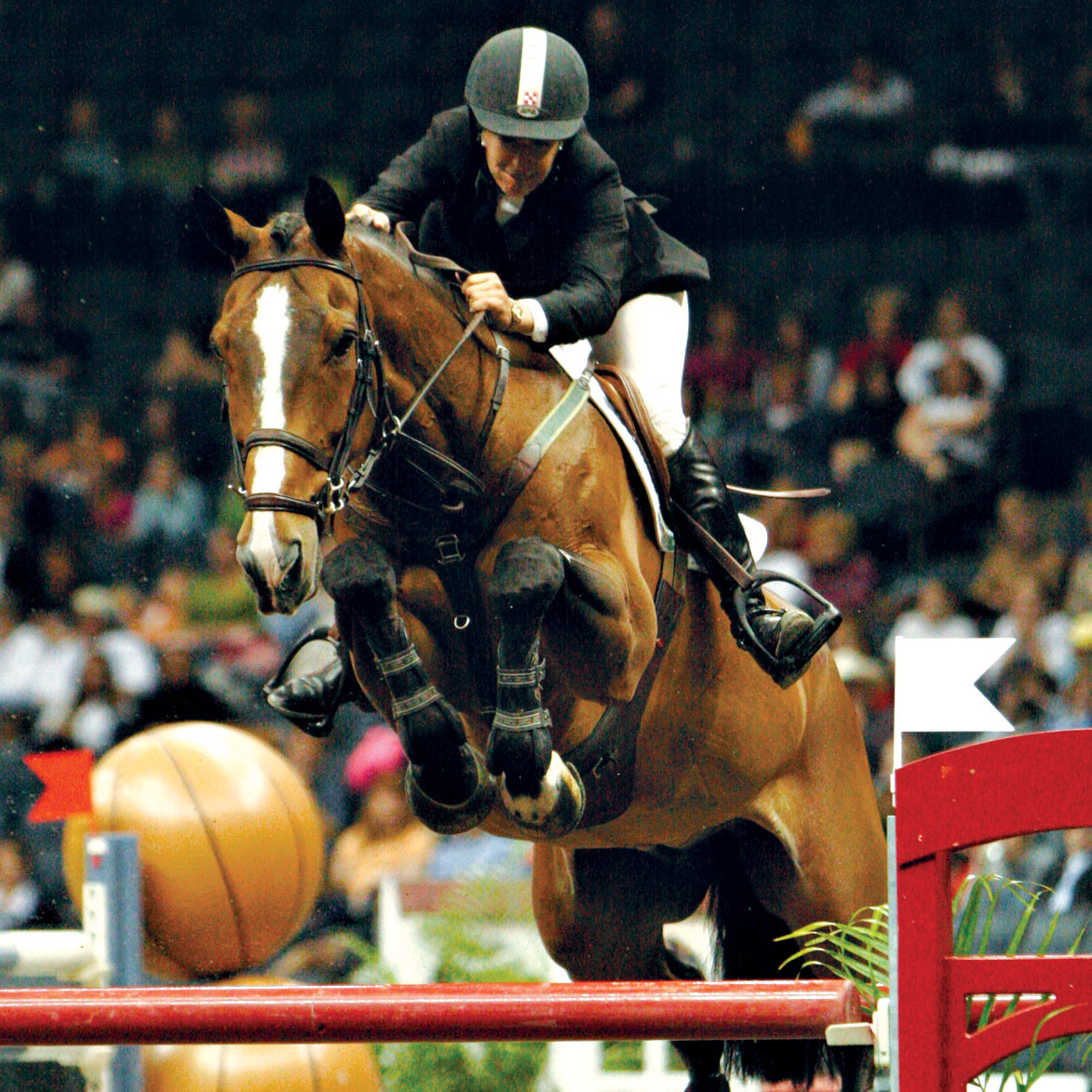 After three grueling rounds, the seasoned Anthem, now 17, and Kraut won the $500,000 Grand Prix of Charlotte CSI-*****, April 13, beating a starting field of 38 competitors and walking away with the top check of $125,000.
"I know his owners are going to be very happy. I could start an IRA account for him now," Kraut joked.
Course designer Steve Stephens mapped out fences that tested each competitor's ability to navigate the small space in the Time Warner Cable Arena in Charlotte, N.C. Fresh from the winter circuits, many riders had difficulties maneuvering their horses on the narrow track, especially through the short corners.
Stephens' first round included a pair of verticals that caused the most knockdowns.
"The verticals, 5AB, came out of a really short corner, that was a very difficult part of the course," Kraut explained. "You really had to be smart and careful."
While Canadian Eric Lamaze turned in the first clear round aboard Hickstead, his score was marred by 1 time fault.
"It's hard to ride in here, especially coming from Wellington [Fla.]; I wasn't aware that time was short, but I am now," he quipped.
Brazilian Rodrigo Pessoa, on Double H Farm's Rufus (Landaris—Imevina) and 15th in the order, stopped the timers with seconds to spare and was the first to post a double-clear round. Ten others followed his lead with clear rounds.
In the second phase, Stephens tested the riders with raised heights, and the track became tighter around the course, which included a triple combination and a tough bending final line.
Pessoa was first to tackle the second course and added an extra stride in the last line, nearly pulling a rail.
"I didn't have the chance to watch anybody go before me, so I did five strides. If I went back I would've done four," Pessoa explained. "I tried to give him the reins so he could stretch to the other side, and I got lucky."
Following Pessoa, Georgina Bloomberg and Curius produced a solid effort despite Bloomberg losing a stirrup in the beginning of the course. Without regaining her iron, Bloomberg galloped to the finish but pulled a rail at the final oxer, settling for 10th.
Richard Spooner, who had traveled from California to earn some money in the $200,000 Budweiser American Invitational (he was second) and in Charlotte, couldn't quite duplicate his effort from Tampa, Fla. He pulled Cristallo up before the plank vertical, circling back to try again and ended up tied for fifth place.
Kraut, Wellington, Fla., returned with Anthem (Dutchboy—Ecvalan) and tore around the course. The Dutch Warmblood showed no signs of waning energy. The challenging plank vertical and the triple combination didn't intimidate the duo, and Anthem made the forward final line look easy. Kraut even allowed him to leave out a stride for a long distance to the final oxer.
"The second round, the triple was difficult, and the last line was difficult. The horses really had to be on point," Kraut said.
A Tremendous Class
Four competitors qualified for the jump-off with double-clear performances over the two rounds. Kraut and Pessoa were joined by Chris Kappler on VDL Oranta and Great Britain's Ben Maher with Rolette.
Once again, Pessoa and Rufus set the pace, with a track difficult to follow. Landing from an airy oxer, Pessoa immediately turned before the pillars to head toward the Charlotte Bobcats vertical, a rollback nearly impossible to duplicate. "It's always difficult to go first and put in a good time," he said.
Even without room to open his stride, Rufus was up to the task and cleared the fence following the rollback. They saved time through each turn, and Pessoa established the time to catch in 36.74 seconds.
"He landed from the oxer kind of dead, so I looked to the side, and it was right there," Pessoa said of the rollback. "I ride him in a hackamore, so it's not really ideal to do short turns like that, but it's good to try and catch some space."
Kraut wasn't able to see Pessoa's ambitious turn and opted for a different, wider path to save time. "I didn't see the rollback, but I knew he [Pessoa] did something strange because of how he went to the third jump," she said.
Lamaze Lets Loose On Friday Night

When Eric Lamaze approached the final fence in the jump-off for the $50,000 Welcome Stakes Friday evening, April 11, his mount, Hickstead, looked more like a horse on its way to the Kentucky Derby than a show jumper.

In his turn to the last fence, Lamaze opened his horse's enormous stride and blazed to a fierce finish, delighting the crowd and leaving his competitors with little hope.

Steve Stephens' first course, which included airy verticals and a tight combination, left riders to accumulate faults easily. In a field of 41 starters, Lamaze joined nine riders for the jump-off, including Beezie Madden and Authentic, Will Simpson and Carlsson Vom Dach, and Todd Minikus with Pavarotti.

"Really, I didn't think there'd be that many clear," Lamaze noted.

As early contenders pulled rails or suffered time faults in the jump-off, such as fellow Canadian Erynn Ballard on Robin Van Roosendael, Lamaze was confident he could turn in a quick, clear round.

Stephens' second round included a close rollback after a one-stride combination, followed by a left turn to the finishing oxer.
Chris Kappler set the pace as the first in the order. Kappler and VDL Oranta completed a textbook-perfect round, but a slow time left them third. Ian Miller and In Style's time of 31.67 seconds was the fastest of the class, but a disappointing rail put the pair in fifth.

Third to last in the jump-off, Lamaze's precise eye complemented the course that demanded quick decisions. Hickstead's large stride ate up the distance.
Minikus, a speedster himself, and Pavarotti didn't pull any rails but couldn't replicate Hickstead's time, putting him in second place. And a rail for Simpson and Carlsson Vom Dach left
them sixth.

"There were a lot of good riders and horses, and a fast track for sure," Lamaze said. "I went toward the end, and I knew what I had to do. With riders such as Todd [Minikus] and Will [Simpson] behind me, I knew I was going to have to go fast."
Taking an inside turn after the Bobcats vertical, Kraut cleared the combination but didn't seem poised to catch Pessoa's time. It wasn't until the final turn to the last oxer that Kraut opened Anthem's stride, and the pair galloped to the finish in 34.83 seconds. The time was met with roars from the crowd, and even Kraut had difficulty containing her excitement as she reached down to pat Anthem.
"It's always hard to beat the likes of him [Pessoa]," Kraut said of the 2004 Olympic individual gold medalist. "Luckily, my horse had plenty of energy. I was on him for 11⁄2 hours this morning—he was horrible. He was so wild!"
Kappler's smooth turns and VDL Oranta's solid jumping put them clear, but, like two days earlier in the welcome stake (see sidebar), he finished third, in 36.84 seconds. Maher and Rolette were contenders for second place until they pulled a rail, ultimately ending up fourth.
Pessoa couldn't have been more pleased with Rufus' second-placed finish, as this marks the Dutch Warmblood's first year at the grand prix level.
"We started last year doing the 1.40 meters, and everything has come very quickly for him," Pessoa said. "I got lucky in the first round, because I had some rubs, but then he was perfect in the second and really good in the jump-off."
Kraut continued, "I knew I was going to have to gallop to that oxer, and I'm just lucky because he's [Anthem] fast and has so much experience."
The three-round format of the class appealed to Kraut and Pessoa, and both riders were thrilled with the interest from spectators over the weekend.
"I think it's tremendous for there to be a class like this anywhere in the world. It's showing how the sport is growing, and, hopefully, the trend will continue," Kraut said. "I think what Bob Johnson is doing will hopefully put the sport on the world wide map."
As for Anthem's retirement fund, Kraut laughed, saying, "I think he can dip into that next year."
Same Win, Different Sister
The Weeks name was once again atop the final results in the $50,000 Junior/ Amateur-Owner Classic on Sunday. Whitney Weeks pocketed a check for $15,000 and also picked up the championship honors two years after her older sister, Alexa, won the same class.
Alexa was a source of confidence over the three days for Whitney. "The jumps looked pretty big when I walked them today, but I felt pretty confident going in," Whitney said.
Like most of the riders, Whitney recognized the difficulties of a smaller ring but knew Subliem (Nabab De Reve—Prima Dona Van't Paradys) wouldn't be affected.
"It actually rode really well because my horse is small and fast. I knew it would be difficult going inside after a winter outdoors, but it was easier for me to take the small turns," she said.
The field of 29 starters was narrowed to seven for the jump-off, but few could leave the jumps in the cups. Riders such as Marley Goodman, who was the high amateur-owner circuit champion at the Winter Equestrian Festival (Fla.), posed the biggest threat to Whitney.
The shortened course included elements such as a water jump and a combination, as well as a line with an option of four or five strides. Stephens' biggest challenge was jumping the final oxer heading away from the in-gate.
"My horse doesn't turn left very well, so landing from the vertical I chose to ride for five strides because she [Subliem] is smaller. Watching others go before me, I had a false sense of how it would ride," Weeks said.
Landing from a two-stride combination, many riders tried to cut the turn and leave from a gap over the last oxer too, resulting in multiple knockdowns. Even Goodman ticked the rail, giving Weeks a shot at the win.
The speedy Subliem cleared each fence with room to spare.
"That last fence, that was all her—that's her specialty. She leaves the jumps up when she doesn't have to," Whitney said of her 13-year-old, Belgian Warmblood mare. "I was intimidated because of horses such as [Marley Goodman's] U-2 going before me. I'm lucky they pulled rails, otherwise I would've been smoke."
A 20-year-old sophomore at Boston University (Mass.) majoring in English, Whitney spent the winter commuting and competing at WEF, where she earned high ribbons each week. The win in Charlotte is one of her favorites, though.
"It's been so much fun, and the show was really nicely run. I was thinking about how much I wanted to win all week," she said.