Devon, Pa.–May 28
Maggie Jayne had better get her sister Haylie a nice baby shower gift. When Haylie found out she was pregnant this spring, she turned the reins of The Answer over to Maggie. And then Maggie promptly rode him to the win in the $25,000 USHJA International Hunter Derby at Devon.
"She was watching on the computer and was texting me. She was hysterical, she was so excited. She told me, 'It's the hormones!' She's very supportive," Maggie said of Haylie. "This is my fourth show with him. He's a blast! He tries really hard and he's a lot of fun."
The Answer is an 8-year-old warmblood of unrecorded breeding who usually shows in the second year green with Haylie and Maggie and the amateur-owner classes with owner Kelsey Thatcher.
Maggie and "Louie" were sitting in first after Round 1, with a five-point lead over Jen Alfano and Miss Lucy. So, Maggie knew she didn't have to play the hero and go all-out in the handy round. "I just wanted to be smooth and handy as I needed to be. I wanted to keep it smooth as possible because the inside turns we did do were so tight," she said. She chose to go inside to one option fence and jumped the low side of it, bypassing the 4'6" oxer option that she'd jumped in Round 1. "I wasn't planning that, but when I landed from Fence 2, I saw that option and took it. That's kind of how I do it; I do what feels right at the time," she said.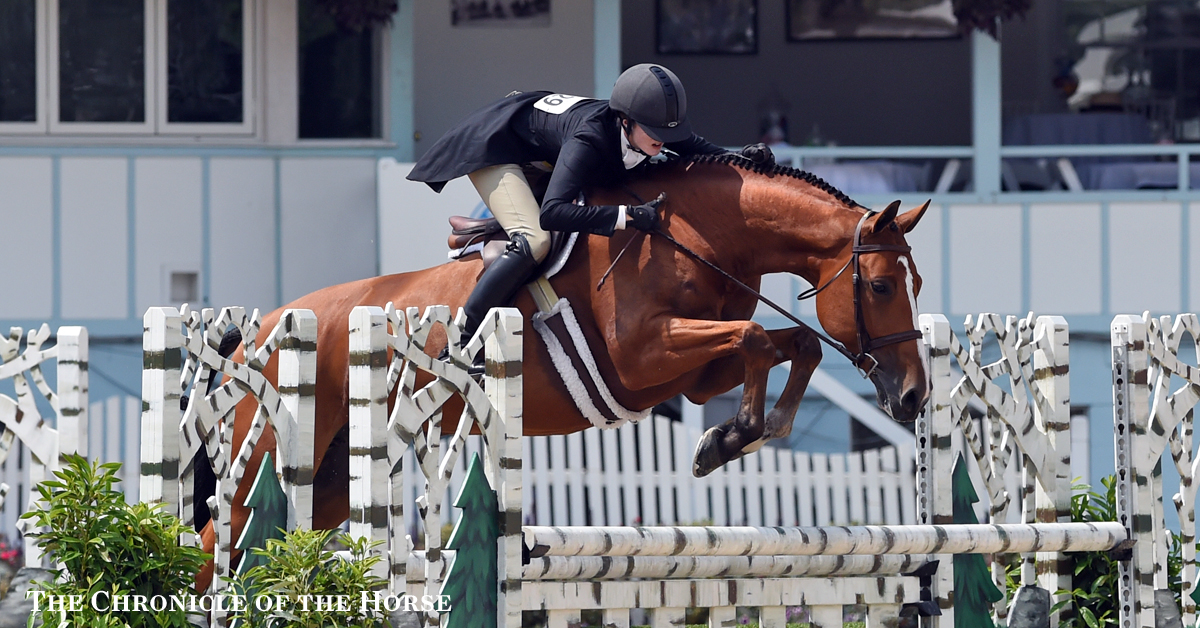 Maggie Jayne on The Answer. Photo by Molly Sorge
Maggie's scores—in the mid 80s with 3 added on for high options and 8 and 9 for handy bonuses—were just enough to hold onto the lead over derby master Alfano.
Alfano, however, took that high option with Miss Lucy again in Round 2. "There's no jump you wouldn't point her at, so I didn't give that a second thought," Alfano said.
She's just happy to have Miss Lucy back showing after the chestnut mare had a few years off due to colic surgery and then surgery to fix a keratoma in a hind foot. "She was awesome. It's so great to have her back in the ring and going again. She's a very special horse to me and having her back means a lot to me," Alfano said.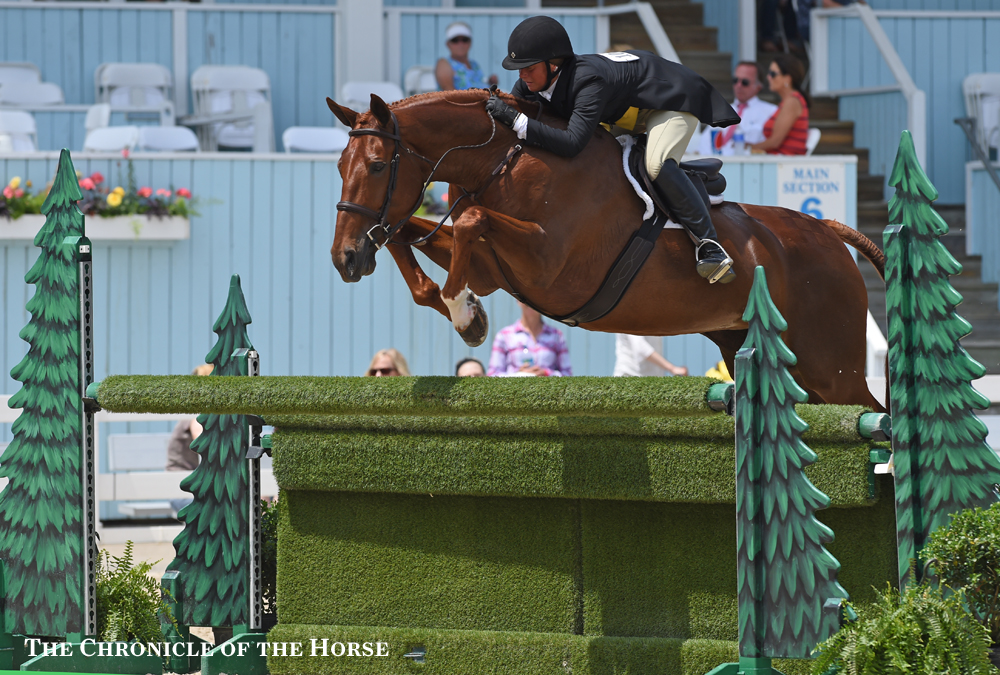 Jennifer Alfano on Miss Lucy. Photo by Molly Sorge
Liza Boyd made the biggest move of Round 2, putting in a handy round that vaulted her from 11th into third aboard Sterling. Boyd pulled off an inside turn that no one else even attempted. "I had nothing to lose! It seemed nearly impossible, but that horse is amazing," Boyd said.
"I don't know how he did it, and it honestly seemed easy. I don't think I would have tried it on [two-time USHJA International Hunter Derby Finals winner] Brunello. A few weeks ago in Tryon [Sterling] was second in the derby behind Mindful and did all the turns that Mindful did there, so he proved to me he can do it, so I took a shot. I knew I had to go for it. I was sitting in 11th and on a horse who I knew could do it, so I went for it."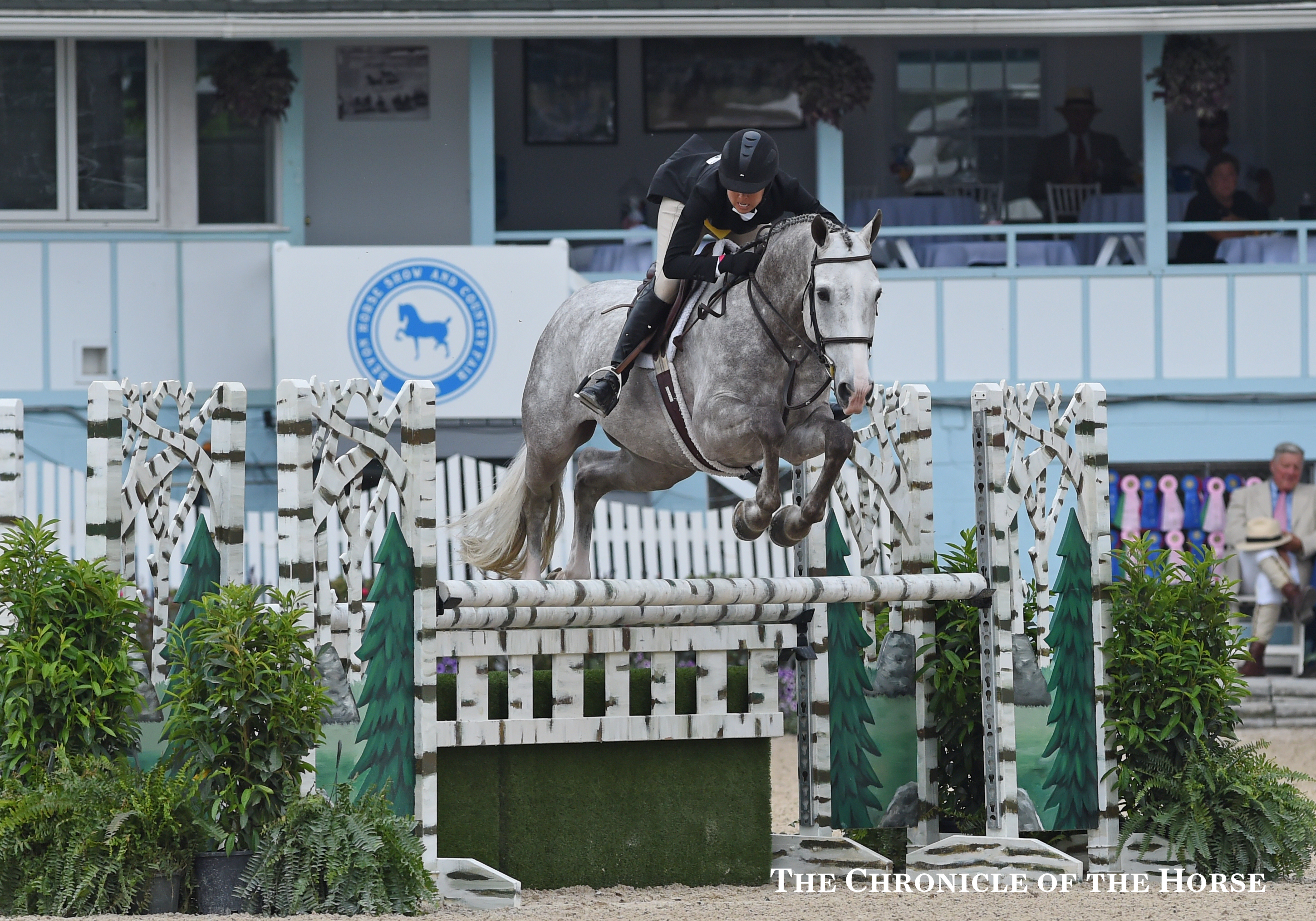 Liza Boyd's turn back to this oxer put her on quite an angle to the fence with Sterling. Photo by Molly Sorge
It was a derby full of surprises, as hot favorites Mindful and Kelley Farmer—fresh off their grand hunter championship and the winners of this class last year—didn't qualify for Round 2 after a sub-par Round 1 that scored in the 70s. Farmer did, however, take seventh and 10th with two newer rides, Dalliance and Symbolic.
In addition, derby superstar Jersey Boy was off his game in Round 1. Known for his mercurial temperament, Jersey Boy just barely qualified for Round 2, but then came back much improved and turned in a handy round that put him into fourth in the end. "He was better in the second round, but he was a bit of handful today. If I knew how to control him…" Alfano trailed off and shrugged, accepting that some days are better than others with the chestnut.
There are more great photos in the photo gallery from the class. See all of the Chronicle's coverage from Devon, and make sure to read more in-depth coverage (including how The Answer got his name) in the June 15 print issue of The Chronicle of the Horse.