If you walked into the Roth family's home in Sanger, California, chances are you'd find a puzzle spread out. Seventeen-year-old Andie Sue Roth loves the challenge of taking a jumbled pile of colors and shapes and working out how the pieces come together to form the complete picture.
She applies the same concepts to dressage, where she filters through her skills and selects which fits each situation, whether it's installing the basics on her own Thoroughbred Cape Royal ("Blue") or heading down centerline in a CPEDI with Aniko, a mount borrowed from Lisa Hellmer.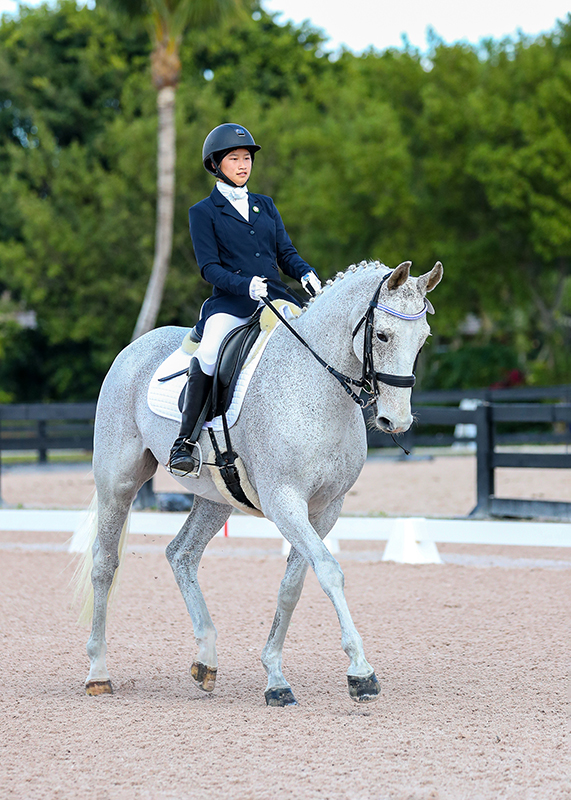 The methodical problem solving has served her well as she's developed Blue.
"It's taught me to really focus on each individual step and movement so that I can train him to do what I need him to do," she says. "Because I truly believe that it's important to not skip steps, because each level is kind of a process of learning."
And, sometimes, the most important problem solving she does takes place before she ever swings into the tack.
"We were struggling a lot with Blue for various reasons—stiffness, [and] he would get a lot of stress and anxiety at shows and [would] be pacing around," she says. "We figured out that if we did some groundwork with the lead rope, he was able to just calm down and figure out where he was and not focus on all the things around him and focus on me and what I'm doing. It was a game changer."
Roth thrives on the daily grind of training towards those improvements, and Hellmer believes that drive will aid her on the journey towards her goal of being a Paralympian.
"Andie Sue is an old soul," says Hellmer. "She's a serious competitor for sure. She really focuses on her ride. The thing that I like the most about her is through that drive she shows up; she's in the barn. When she's here, she grooms; she cleans stalls; she does tack. That kind of really genuine love for the sport is so fun to be around. She just loves doing this. She's always loved horses."
Breeches As Pajamas
Barbara "Barbie" Roth promised her daughter, "When you're 5, I'll start teaching you to ride." Until then the toddler's horseback experience consisted of trail riding while strapped in a buddy seat behind Barbie's saddle.
On her fifth birthday, keen to cash in on that promise, Andie Sue proclaimed she was ready to start lessons. Now.
She developed her skills on a menagerie of borrowed neighborhood ponies, and each night, she'd slip on clean breeches before bed. Without fail, she'd proclaim, "I'm ready to go," as soon as she was awake.
"It was never, 'If we go to the barn today,' or, 'If we ride today,' it was always when. 'When are we going? What time? When do I need to be ready?' " Barbie recalls.
As a former eventer, Barbie fostered Andie Sue's excitement, but she said participating in Pony Club was non-negotiable. Barbie felt the horsemanship lessons and social aspect were invaluable. The organization also gives Andie Sue the opportunity to experiment.
"My mom and I have a motto; it's, 'Just try all the things.' You never know what you'll like until you try it," says Andie Sue. "There's a lot of things I didn't think I was going to like, and I loved it."
Andie Sue sampled disciplines the way other teenage girls try on outfits at the mall, from games and western to polo and tetrathlon, and then, of course, eventing and dressage.
"I'm able to figure out how each type of discipline correlates to the one discipline you might be focusing on. So through games rally, I was like, 'OK, this will be fun, but I'm not exactly sure how it'll relate to what I'm doing with dressage and what I'm doing for eventing.' But after I was done, I was like, 'Wow, I really know where all of my body parts are.' Because you're hanging off the side of your horse with practically your pinky, so you have to know where your strengths and your weaknesses are, and so through all the different types of disciplines I was able to figure out from different trainers, from just doing the activity, how I can best relate that to what I'm doing now."
Though she joined Pony Club as an eventer, Andie Sue is working towards her C3 in dressage and H-B for horse management and is qualified for the USPC Championships West (California) in July in dressage. She also helps younger members.
"I think it's a great opportunity for me to get to talk to kids and teach them through all different stuff and for me to give back to the Pony Club community," she says.
Finding Opportunity
Andie Sue credits Pony Club for opening doors in her riding career, especially as she entered the para-dressage community.
The Roth family adopted Andie Sue from Guangzhou, China, when she was 15 months old. Her right foot was missing some bones and would be incapable of holding her weight as she grew. A medical team at Shriners Children's Northern California amputated below her knee, and Andie Sue was fitted for her first prosthetic at 2.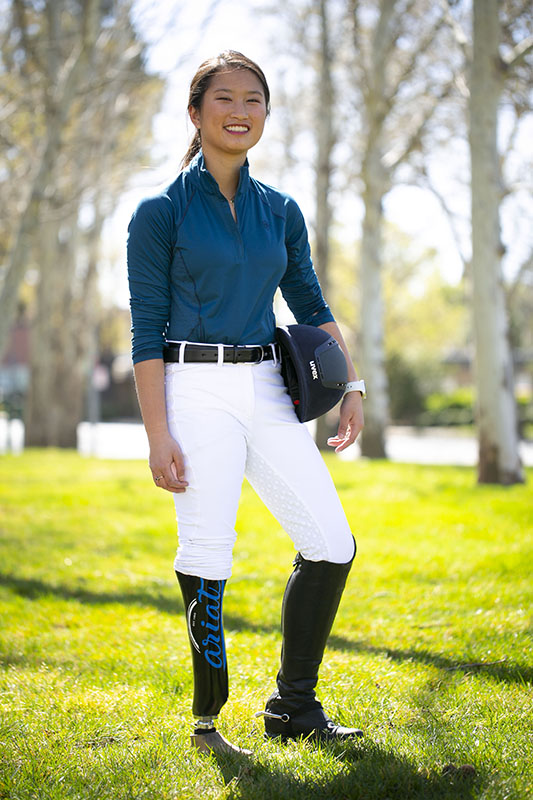 Andie Sue's first foray into para-dressage was at a camp led by Megan McQueeney, and she rode her first para tests in 2020 on borrowed horses. The Roths planned a trip to Wellington, Florida, in 2021, and Barbie made calls in search of something for her to ride. Hellmer, who is a U.S. Equestrian Federation-certified para-dressage coach based in Ocala, Florida, was recommended to the family, but Hellmer wasn't sure she had a horse to lend Andie Sue. Upon hearing the teen's background, she was willing to give it a shot with her own horse.
"At first I was like, 'I don't really know.' And then her mom told me a little bit about her and said, 'Well, she's a Pony Clubber; she does all of this,' and I said, 'You know what, let's try it,' " Hellmer says. "Because I had to borrow horses for almost all of my ratings. That was really the huge fundamental way to succeed is that you had to borrow horses. [Pony Club] was the selling point for me."
Hellmer lent Andie Sue her Grand Prix horse Aniko, a 16-year-old Oldenburg gelding by RS Endgame, for a competition at the 2021 Adequan Global Dressage Festival 3 (Florida). They paired up twice more that season, finishing with a pair of blues in the CPEDI2* at Tryon Fall Dressage 3 (North Carolina) in Grade V. Andie Sue spent a month training with Hellmer this April, and she earned the final scores for her U.S. Dressage Federation bronze medal. She hopes to attend another CPEDI this summer.
Andie Sue describes the para community as being welcoming and supportive.
"We are competitive, but it's not like we want to win, and you should lose. We're a team," she says. "It's really nice to see such a good community come together as one even though we're competing against each other. It's like our Pony Club rally team. We're competing against each other; we're going head-to-head, but we're helping each other out with water buckets, and sometimes you can't get your wheelchair in a place, but you have the person that can walk go grab you something or help tie your stock tie. Whatever it needs to be, they're right there, and they're watching and cheering, and they're like, 'Oh, what a great test you had,' and they'll talk to you about it."
In Search Of Connection
Barbie watched as her daughter took horse after horse on a test ride. All fit her goals in eventing. Some exceeded their budget. But each received the same response, "It's amazing. I don't feel any connection."
The pattern repeated for a year before Barbie got a tip from a friend. A woman had a Thoroughbred gelding she'd rescued from the kill pen the previous year. He hadn't had a real job since then, but he happily toted around young children on the leadline. He didn't fit their criteria, but Andie Sue had passed on those that had, so why not try him?
"I couldn't steer, couldn't stop, couldn't go over a pole actually, but I felt that connection and that partnership at the very beginning—that spark," says Andie Sue. "So I was like, 'Let's just bring him
home.' "
Initially Andie Sue hoped Blue would be her next event horse as her previous mount, a Morgan named Indiana Tamalpais, stepped down. But when the 11-year-old gelding (Anziyan Royalty—Princess Valentina, Cape Canaveral) made it clear he preferred flatwork to jumps, Andie Sue pursued dressage with him.
"We don't really have the ability to get that upper-level horse that I need to go do these international shows, but I'm able to ride some of these amazing horses like Aniko, and I ride with Karen Erickson who's also found a couple of horses I can ride and learn on," she says. "So I bring what I learn from those upper-level horses and then bring them to Blue. I can teach him while I'm also teaching myself how to do these things so that I have the tools that I need for when I do get that upper-level horse that I need, I'll be ready."
Though Andie Sue may have outgrown sleeping in her breeches, that passion remains.
"She puts in the time and gets [Blue] out there," Hellmer says. "It's very cool to see her doing that too. As a para rider that is getting seen, there's already a lot of people that are like, 'Well, this isn't the horse for you; you shouldn't have a Thoroughbred.' She realizes it isn't her international para-dressage horse, but she's so committed to doing right by that horse, and that's what she has."
---
This article ran in The Chronicle of the Horse in our June 27-July 18, 2022, Issue. Subscribers may choose online access to a digital version or a print subscription or both, and they will also receive our lifestyle publication, Untacked. 
If you're just following COTH online, you're missing so much great unique content. Each print issue of the Chronicle is full of in-depth competition news, fascinating features, probing looks at issues within the sports of hunter/jumper, eventing and dressage, and stunning photography.