I've been home from the U.S. Dressage Festival of Champions for a week, and this is the first time I've had five minutes to actually sit down and write about it. I am so grateful to my awesome team for letting me sneak away for a week, and for letting my head be 100 percent in the zone while I was there and for the week or two before. But the penance for that, of course, is now being screamingly behind in my office work, up to my eyeballs in lessons and riding, and generally being a bit insane.
But I'll pay that toll every time, because the big shows are where the magic is.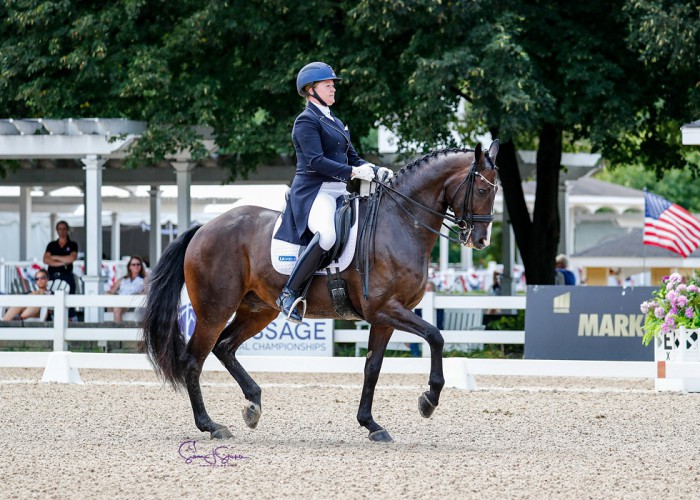 Observation No. 1: I know this, I preach this, and then I let it happen to me anyway: It's easy, when one is showing at local shows, to start thinking that one is Hot… Stuff. Going to the big-league shows is a flashing neon sign that one is more likely Tepid Stuff. I had no illusions of winning the Developing Grand Prix Championships on my wonderful friend Elvis, because six months ago I could not have put that test together for all the money in the world, and that's a pretty steep learning curve.
But watching the women who took top honors in that class reminded me that just getting through the movements, even in a correct and balanced and organized way, is not enough, because at the big level, everyone is doing that already. No one had disasters. No one had self-carriage failures, or didn't piaffe, or whatever; combinations with those issues have been weeded out by the time you get to the championship level, which means it's not just about mastery of the work, but about the power, expression and wow factor of that work.
That said, I don't know if I could have powered Elvis up any more than I did, because the mastery of the work is still a relatively new phenomenon in our world together. But after a perfectly presentable but blah test on Friday, I watched some of my peers and got fired up for Sunday's ride, and Elvis said, "Damn right, I can give you more! Let's go!" Huzzah, huzzah, huzzah.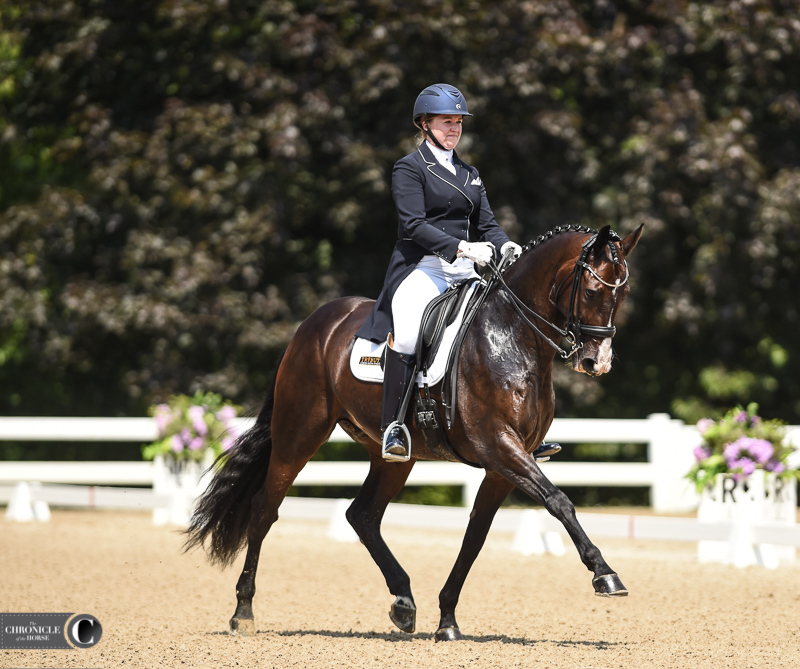 He's earned himself some down time, but then I'm coming back after his break with higher expectations. I know he can meet them, and that's how the scores get big at the big level.
Observation No. 2: We are making remarkable athletes. Of course it's cool to watch the high-performance classes, because that's the finished product, but the animals coming through the young-horse divisions are just so gifted by God. The gaits, the swing, the power, and all with beautiful connections from hind legs to bridle, piloted tactfully. How cool.
Of course, because I'm a trainer, I know that there are plenty of young horses out there who didn't make it to this year's Young Horse Championships because they were hurt, or too green, or not nearly ready for that level of work at that point in time, and they'll go on to be rockstars, just as many of the ones at the championships this year will fizzle out, or be small tour horses, or colic, or be sold to amateurs, or hurt themselves or whatever. Success at the young horse levels is just one of many paths horses can take to success at the Big Hairy Levels. It's still cool to see the country's best.
Observation No. 3: Timing is everything. Particularly with young and developing horses, who are learning and growing so fast, the timing of the shows is a major factor in who takes home the top prize. To qualify for these championships, riders compete at specific shows in their home regions, and then are ranked by average score. It means that most of these horses haven't competed against each other before—it's unrealistic to campaign Seattle-based horses against those from New Jersey before the championships themselves—and, as such, there's always the one who comes in ranked high in the standings who then gets beat, or the one who comes in 14th or 15th or 17th and takes home a big prize. If the show had been two weeks later, or two weeks earlier, some horses would have benefited and some would have been just a little less sharp.
All shows are just a moment in time, but it's always interesting to think about the peaks and valleys of training 4-, 5-, 6-, even 8-, 9- and 10-year-old horses. They can make sudden surges of improvement, just as they can suffer the inexplicable backslide. Some of those, for the young horses, are driven by physical growth spurts. I came home to my 4-year-old being suddenly and dramatically taller behind than in front. These things happen!
Observation No. 4: I love the national championships we host in this country for all of the reasons—a chance to see the best, a chance to learn and observe—but more than anything, it's a chance to be with my tribe. No one better understands the challenges unique to life as a trainer than other trainers, and over a lifetime of Championships and U.S. Dressage Federation and U.S. Equestrian Federation programs, I've met so many from all around the country. We tend to all come together for the big shows, and it's a joy—especially after a 2020 filled with loneliness and isolation—to be with the people that I love, all in one spot.
And nowhere is there more of a need for camaraderie than in a show filled with young horses and the trainers of young horses. I was catching up with a friend who did very well in the 4-year-old division, and I mentioned that my 4-year-old had decided to not turn right this week. She said, "Oh man, we have a whole field of those right now! This is the only one going well!" It's just good to know it happens to everyone!
My hat is off, as ever, to USEF for being such an excellent ringmaster to such a giant circus, and to Lamplight Equestrian Center (Illinois) for being the spectacularly wonderful facility it has been since even before I was a child showing there in the 1990s. Extra special kudos to all for doing all that they did to let this show go on even as COVID-19 continues to rage amongst the unvaccinated, and to all of the management and staff for letting us do what we love safely. And, of course, a huge personal thank you to everyone in my world who let Elvis and I come and learn: my crack team at home, my many sponsors and the incredible members of The Elvis Syndicate. I can't wait for the next big show!
---
Lauren Sprieser is a USDF gold, silver and bronze medalist making horses and riders to FEI from her farm in Marshall, Virginia. She's currently developing The Elvis Syndicate's Guernsey Elvis and her own string of young horses with hopes of one day representing the United States in team competition. Follow her on Facebook and Instagram.