You could say that Ammeretto jumps around the grand prixs like a hunter. And that'd be true since, well, he was a hunter.
Ammeretto, 9, spent his early years showing in both the hunters and the jumpers, jumping in the first year green division and in USHJA International Hunter Derbies at the same shows where he was doing the Young Jumper classes.
Starting him in the hunters absolutely helped develop him," said David Beisel, who has trained and shown the bay Dutch Warmblood stallion for six years. "I thought it was a lovely way to get him going and have a nice foundation of going smoothly and consistently. And then when you want to add a little pace to it in the jumpers, it wasn't frantic."
For Ammeretto and Beisel, all that experience came together on Feb. 23 when they won the $50,000 Strongid C 2X Grand Prix at HITS Ocala (Fla.).
"We've been knocking on the door all circuit, just haven't quite gotten it done," Beisel said. "Earlier in the circuit, there was a jump-off I was in and I just tried to go slow and clear and ended up with two really light rails down. I went last on Sunday and was fortunate because I knew what everybody else had done. I thought, 'Last time I tried to be careful and it didn't work,' so I went for it. And the faster I went, the better he got. The more you challenge him, the better he jumps. He just absolutely loves it."
Ammeretto and Beisel were 10th in the $50,000 HITS Grand Prix on Feb. 16 and sixth in the $50,000 HITS Grand Prix on Feb. 9. They were also second and fourth in the $25,000 SmartPak Grand Prixs on Feb. 6 and 13.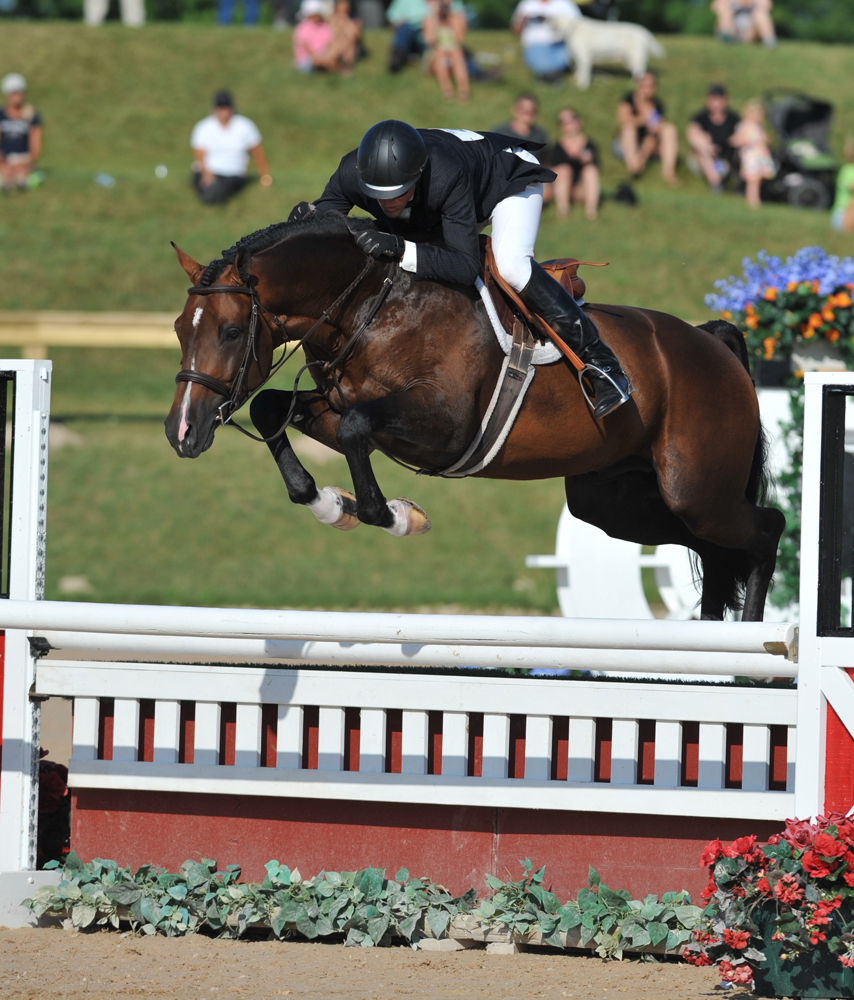 Ammaretto and David Beisel competing in
the 2012 USHJA International Hunter Derby
at Horse Shows By The Bay.
Photo by Molly Sorge
Owners Dale and Barbara Nielson imported Ammeretto (Numero Uno—Ranna, Goodtimes) as a weanling and sent him to Beisel at his Goshen, Ohio farm for training when he was 3 and green-broke. Beisel prepared him for the breed inspections in 2008, where he was approved first premium for the KWPN-NA. Beisel then started him in the first year green hunter division and the 5-year-old Young Jumper division in 2010.
Ammeretto spent 2010, 2011 and 2012 in both the Young Jumper divisions and the occasional hunter derby.
"He really is a laidback horse," Beisel said. "He'll walk all around the horse show on a loose rein and hang out. When he was fit enough to do the grand prix, it was a little more challenging to have him quiet enough for the hunters. But I think if someone had wanted to, he could easily have had a hunter career."
In 2012, Ammeretto qualified for the USHJA International Hunter Derby Finals, placing seventh at a derby at Horse Shows By The Bay (Mich.), seventh at Country Heir II (Ky.), and fifth at Kentucky Spring. "I ended up saying 'Let's just skip the derby finals and do some grand prixs instead because he's jumping great.' He was fifth in the [$25,000 Hagyard Lexington Classic Grand Prix] that weekend, so we went from there," Beisel said. "As an 8-year-old it was time to decide—he needed to do one or the other. I really enjoy doing the hunter derbies and I don't have too many hunters to ride, so I tried to let him do a bit of both, but I think the horse enjoys doing the jumpers even more. He loves it."
So, since then Ammeretto has been a grand prix horse. He's not a big horse—he stands just 16 hands. But Beisel says he rides like a big horse. "He's so powerful and he has a huge stride. I have yet to look at a jump that looks too big on him," he said.
Ammeretto won his first grand prix at Horse Shows By The Bay in July 2013 in the $30,000 D-Braider Cherry Capital Classic Grand Prix. "There was defintely a little more competition [at Ocala] and a little bigger venue, so it would be his biggest win to date," Beisel said.
While Ammeretto is a stallion, the Nielsons have not bred him at all. "I'm certainly appreciative of Dale and Barbara Nielson for giving me the opportunity to ride him; it's a real treat," Beisel said.
Ammaretto qualified to jump in the Zoetis $1 Million Grand Prix at Saugerties, N.Y., last year. "I thought maybe it wasn't quite time, so we didn't go, but I'd love to do the [Great American $1 Million Grand Prix] here in Ocala and then the one in Saugerties and then maybe try to do some World Cup-qualifiers next year," Beisel said.
"We'll at least try it out and see what we can do. I don't know if he can jump that big, but you don't know if you don't try!"