Paris—April 11
The show jumpers had their first opportunity to jump around a course at the AccorHotels Arena in preparation for the Longines FEI World Cup Show Jumping Final. Forty-one horses contested the 11-fence track that was split into two phases: they jumped five fences in the first phase before they continued onto the second half.
Nine horse-and-rider combinations were marked as eliminated after they jumped a portion of the course and skipped a fence or two and jumped another fence out of order before pulling up. Another six horses jumped the first phase of the class before retiring.
Three American riders, Jenni McAllister on LEGIS Touch The Sun, Alison Robitaille on Ace and Kristen VanderVeen on Bull Run's Faustino De Tili, elected not to enter the warm-up at all.
Defending World Cup champion McLain Ward's warm-up routine was very relaxed. He spent about 10 or 15 minutes simply walking HH Azur around the ring, alternating between asking her to stretch down and walking relaxed with one hand on the reins. Ward went straight to the canter and worked around the arena a couple of times working in a few halts and asking the mare to back up a few steps before changing direction and cantering off again, and he jumped one vertical in the warm-up paddock before heading in for the warm-up class.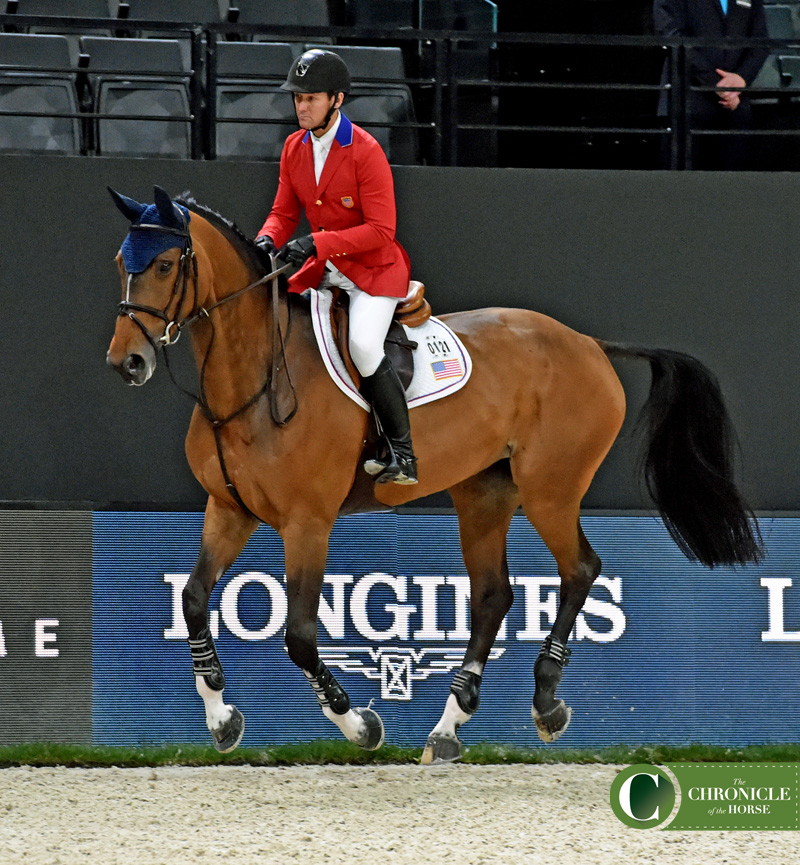 Once in the ring, Ward jumped the first three fences, which "Annie" cleared with room to spare, before bypassing the fourth fence, an oxer, to jump the first combination on course before pulling up.
"Our warm up strategy is exactly that; it's a warm up," Ward said. "It's to get Azur familiar with the arena and take a few fences as we did just to make sure everything feels good and loose, and she felt like she was in very good form."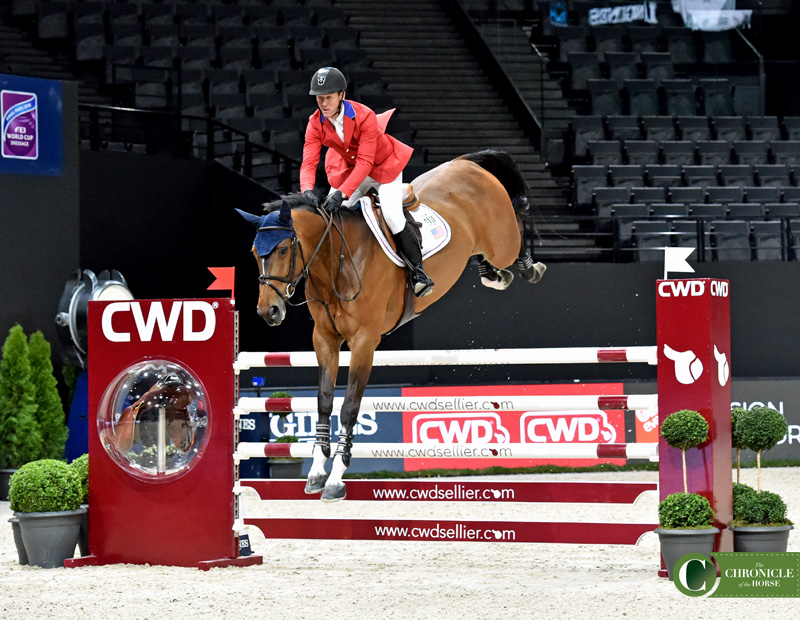 It's not the first time Ward went for a relaxed approach to his warm up. In the last year's warm up in Omaha, Nebraska, he chose to canter Annie around the ring a few times before exiting without jumping a single fence.
---
Beezie Madden chose the stallion Breitling LS from her string to bring to the World Cup Final.
"This is his first championship, but he's hot right now," Madden said. Breilting won a four-star grand prix in Wellington, Florida, a couple weeks prior to the World Cup Final. "He has the most experience, and he's handy and has been good indoors, and he's fast for the first day, and I know him the best. That's always nice when you're at a championship."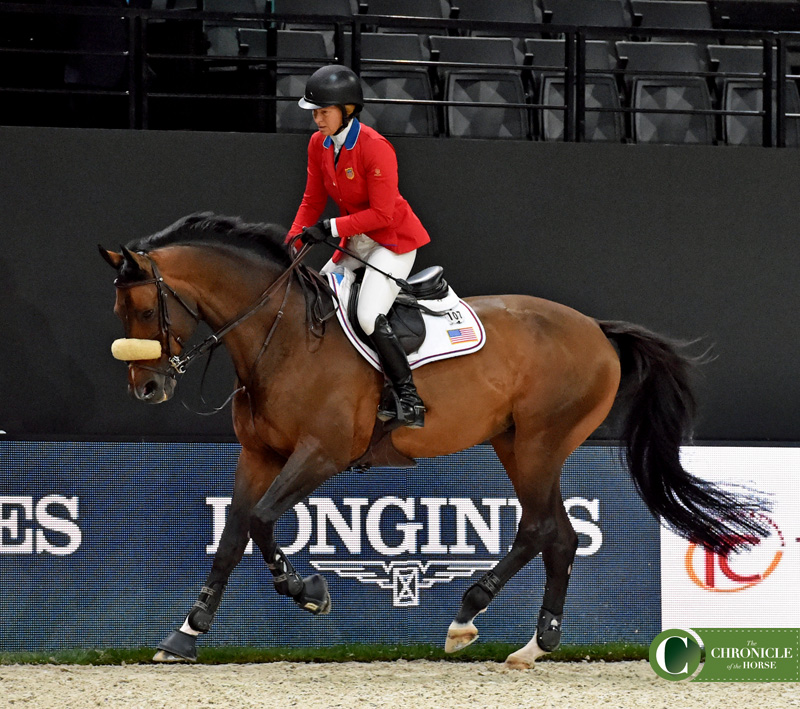 Despite being a stud Breitling was very quiet in the warm-up paddock.
"He takes everything in pretty good; he doesn't get affected by too much," Madden said. "Which is nice, because sometimes a stallion really can."
Madden jumped the whole warm -up course with Breitling at a fairly conservative clip, earning a time fault during phase one, and felt the horse got better as the course went on.
---
Richard Spooner chose to bring two horses to the World Cup Final, an option available to all riders but not very many chose. Spooner will compete Arthos R in the opening speed class and plans to ride Chatinus in the rest of the competition. Arthos was remarkably cool and collected in the busy warm-up paddock, especially for a large stallion—Spooner rides him in just a plain loose ring snaffle, no martingale.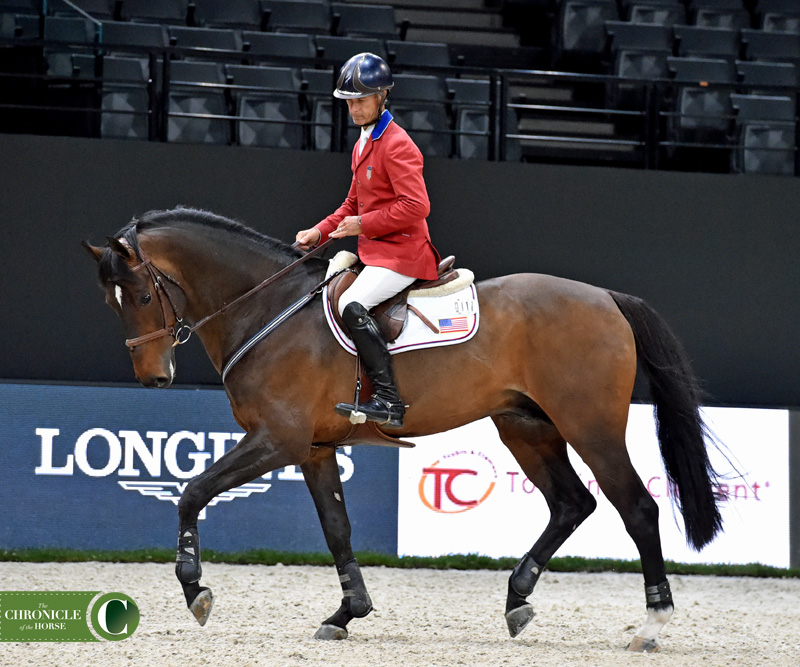 "Arthos is unbelievably simple; he's a wonderful horse," Spooner said. "He's like riding an equitation horse over 1.50 meters; he's really special like that."
Spooner has not shown at the World Cup since 2012, but he's been a team rider for a number of years, and his pinque coat shows it—it's a slightly different hue of red than the other riders.
"[U.S. chef d'equipe Robert Ridland] noticed that too!" Spooner said with a laugh. "I haven't ridden for the team in a while; I rode for them in Mexico a few years back [in a Nations Cup], but this isn't really an old coat; it's just a different material. It's more of a summer coat.
"Robert said it didn't look as different in the show ring as it did in the warm up," Spooner continued. "It's just like an actor right? It's the bad lighting!"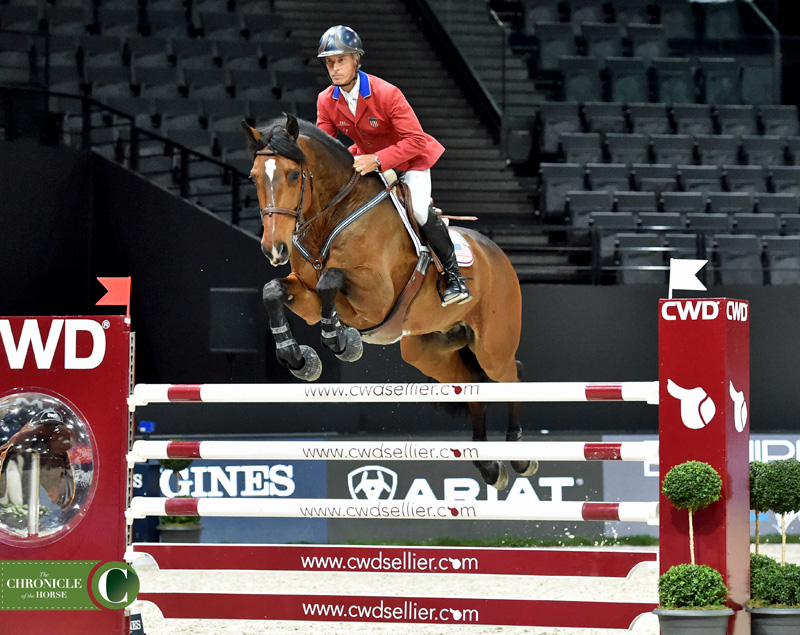 Spooner did not jump the whole warm-up course on either of his horses, pulling up to conserve their energy (hence the "retired" designation in the results).
---
This is U.S. rider Devin Ryan's first time competing in a World Cup Final and just his second time wearing the pinque team coat. Ryan popped over a few fences with his mount Eddie Blue before pulling up in the warm-up round. Ryan has been steadily working his way up the ranks and had a fantastic year with Eddie Blue last year. Now he's hoping it will show with a strong placing at the final.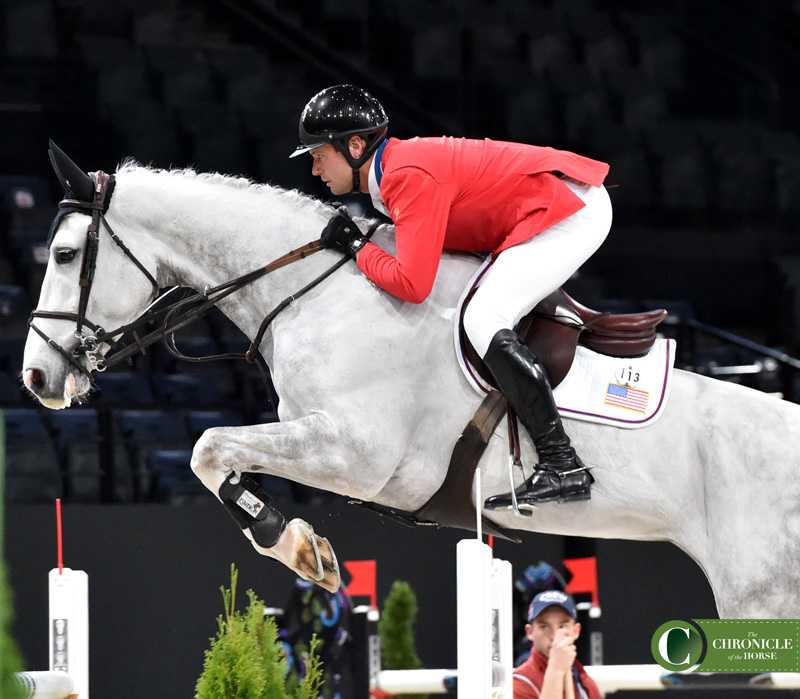 "It's funny, going into this Robert says I'm like the secret weapon, nobody knows it," Ryan said with a laugh. "It's cool because it's like who is Devin Ryan? Most of these guys had never heard of me. I never won an equitation final; I didn't show in the junior jumper stuff; I didn't have any name early on; I didn't come from a horse family, so I just worked my way up.
"I came to Paris last and jumped around the big indoor courses, and no one knew who I was. I was riding the Cooper horse, and his hackamore broke in the class; that was me," Ryan continued with a laugh. "And then we went in and won the speed class against Kevin Staut on his speed horse. He had to go after me and he didn't catch me, so then they went 'hmm, who is Devin Ryan?' "
Ryan's warm-up strategy is focused on conserving his 9-year-old gelding's energy for the long week ahead.
"I have to say he was very wiped out after traveling here," Ryan said. "He got off the plane and was wired, and once he got in the stall, he was wiped. He slept for like a day and a half. We would walk by, and only if he was up would we bother him with anything; he just slept and slept. We went back to do night check, and he would get up and eat and go back to sleep."
---
West Coast rider Jamie Barge returned with her 2017 World Cup mount Luebbo and was the top-ranked American in the scored warm-up class. The pair jumped clean in 36.65 seconds to finish seventh.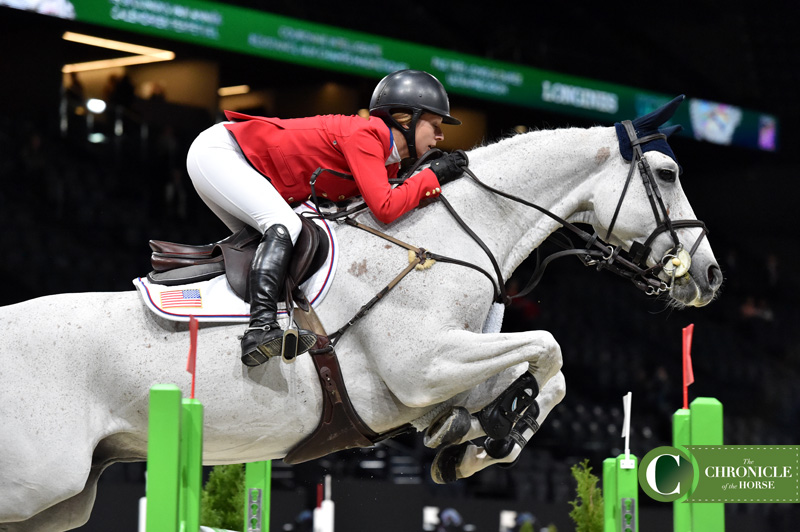 The only amateur representative for the United States, Charlie Jacobs, jumped a clear round aboard Cassinja S to finish 12th. This is Jacobs' fourth time showing at the World Cup Finals, and his second with this horse.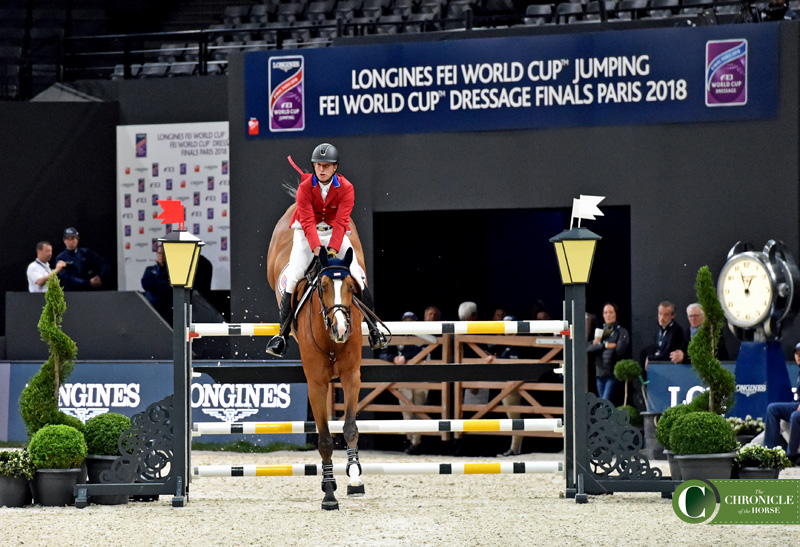 Sarah Scheiring, who wore an unusual bridle in yesterday's flatting warm-up session, also jumped a fence out of order with Dontez before calling it a day.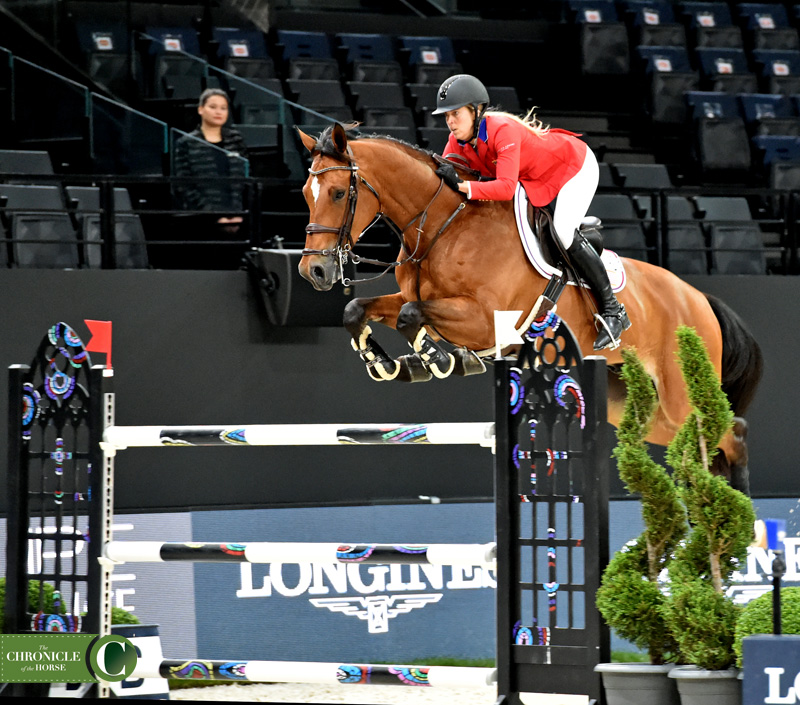 The final American first-time participant in the World Cup Final, Andy Kocher had a single rail on the 17-year-old Navalo De Poheton.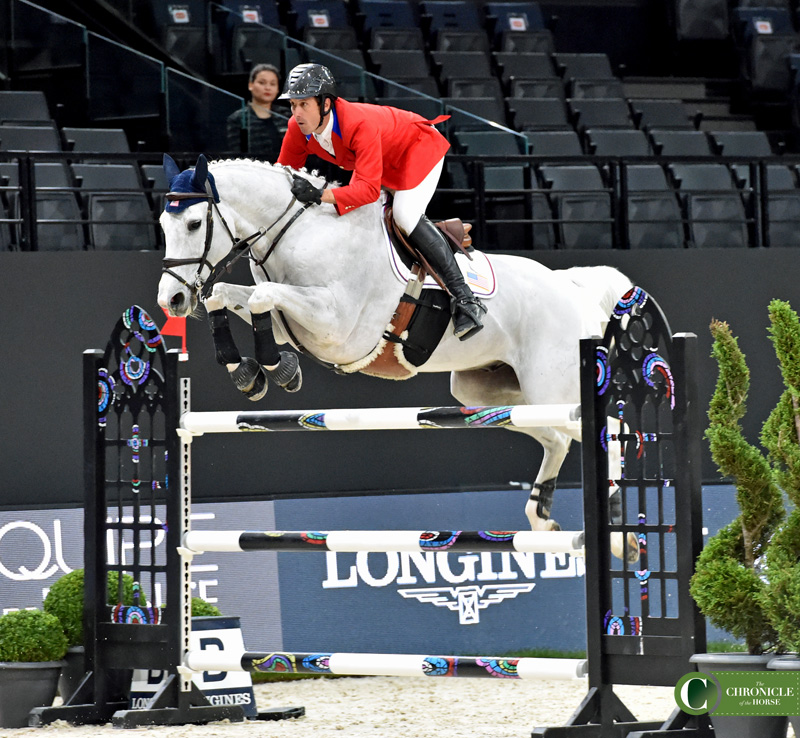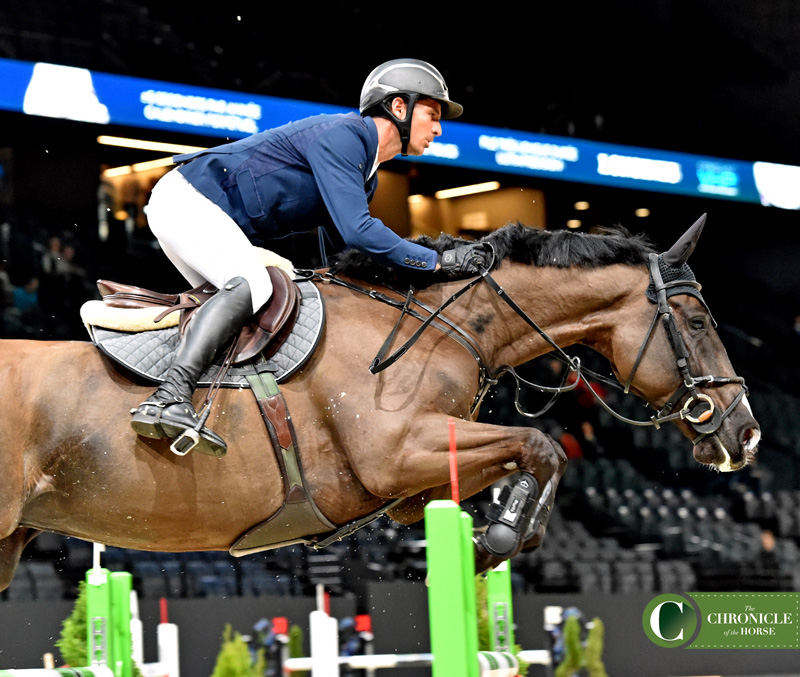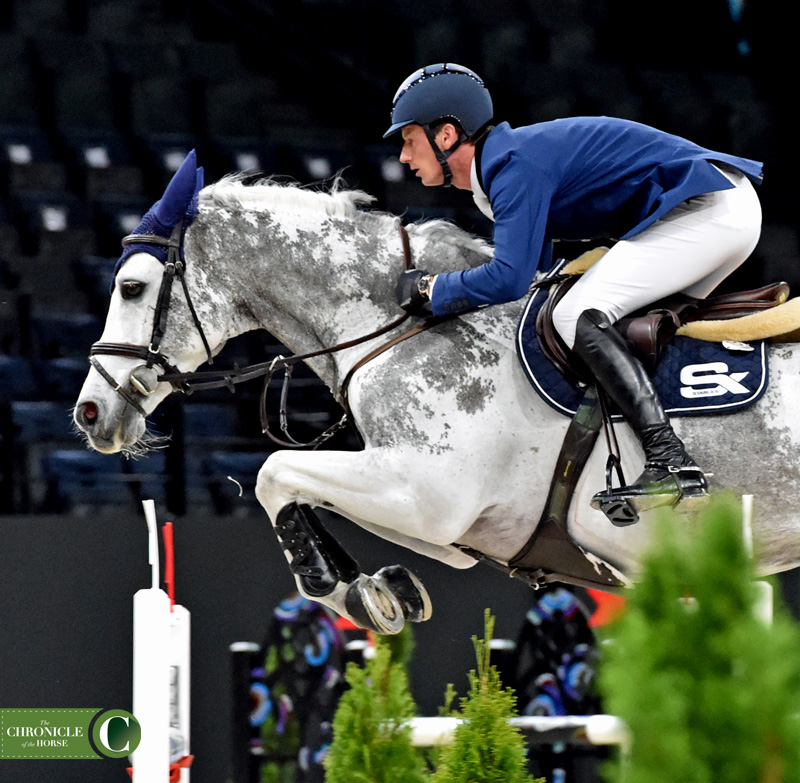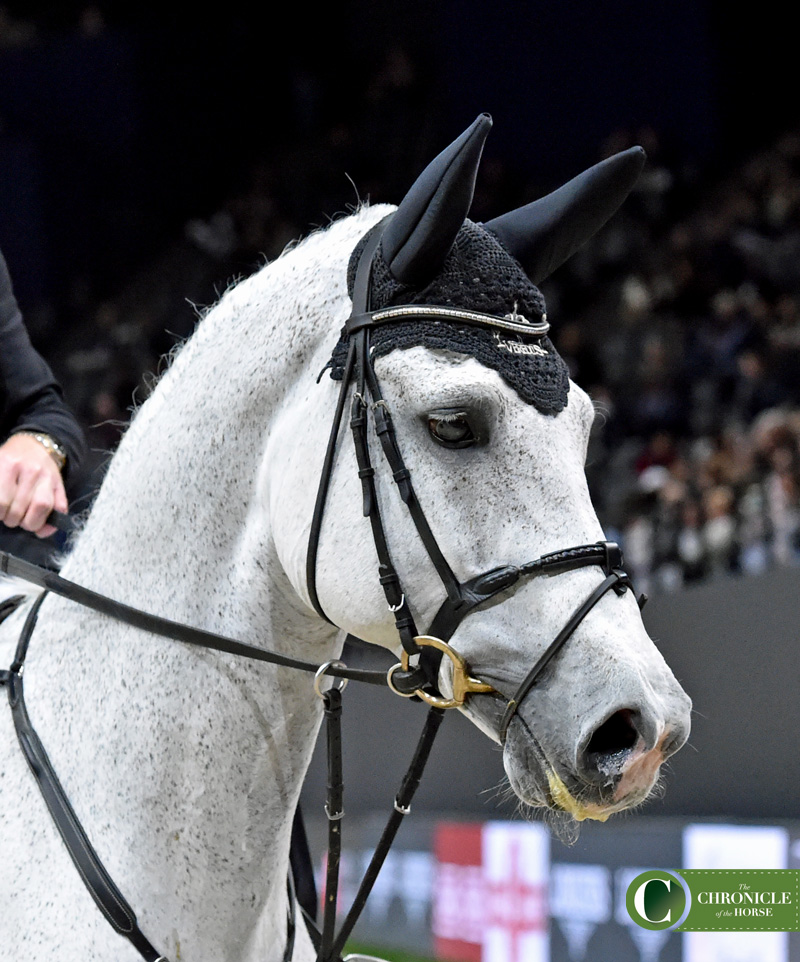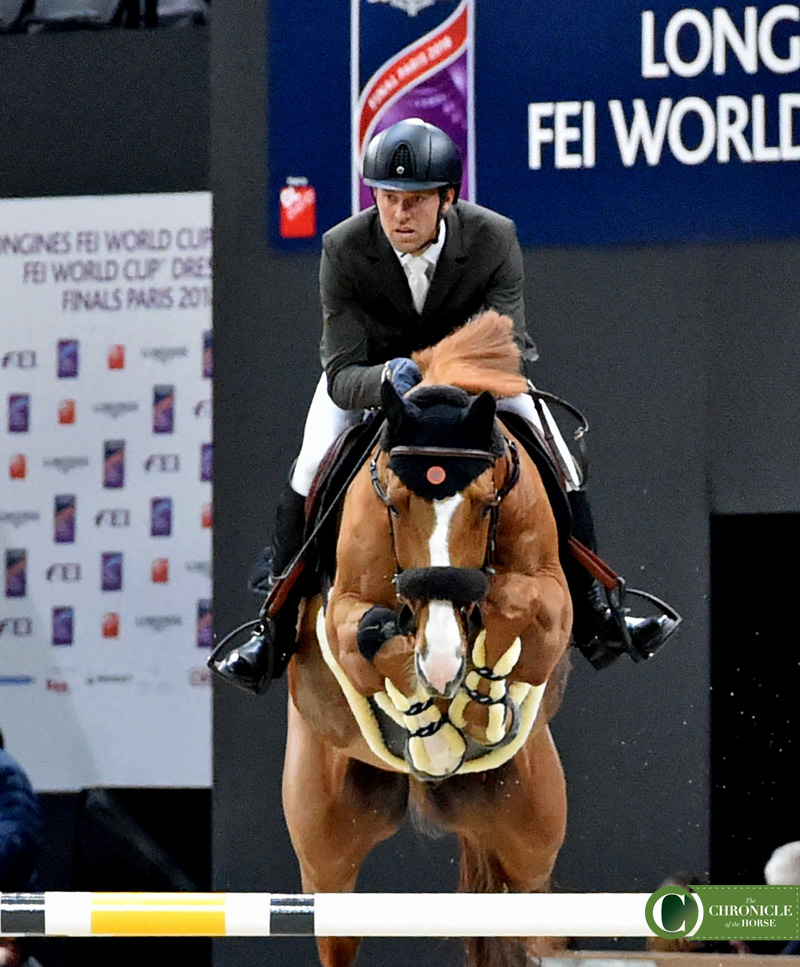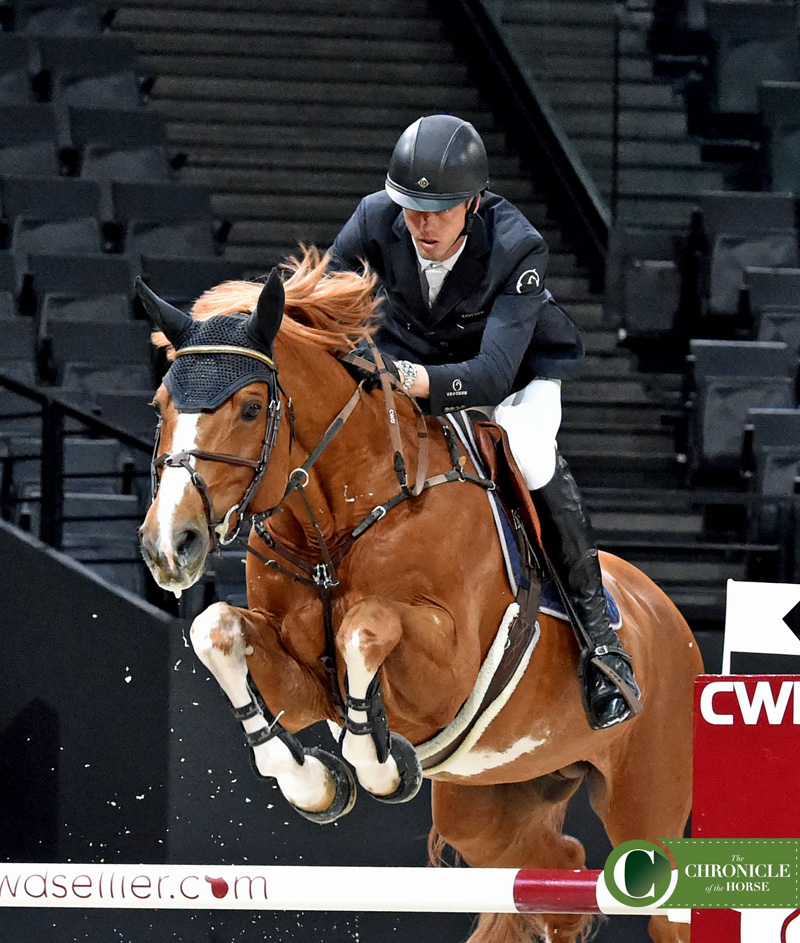 ---
The Chronicle of the Horse is onsite at the 2018 FEI World Cup Final. Keep an eye out at coth.com for all our coverage of the event in both show jumping and dressage.
Important Links: Paris World Cup website  ⁄  Orders of go and results /  Live streaming/ All of the Chronicle's coverage
Make sure to follow along on the Chronicle's social media outlets: Facebook, Twitter and Instagram.