Sheryl Ross, an equine photographer and amateur dressage rider from Menlo Park Calif., is the embodiment of the phrase "What doesn't kill you makes you stronger."
She's overcome some big obstacles over the years, from having to start over when her employee embezzled money from her hunter/jumper business, to working her way up the corporate ladder and battling cancer twice within two years. But she's met these and more challenges with a determined smile, and she credits her strong personality traits to her life with horses.
"I'm very goal-oriented, so that really helps because if something knocks you down, you're just like, 'Nope, I'm going this direction.' " said Ross, 57. "It's definitely part of my personality to pick myself up, shake myself off and keep going."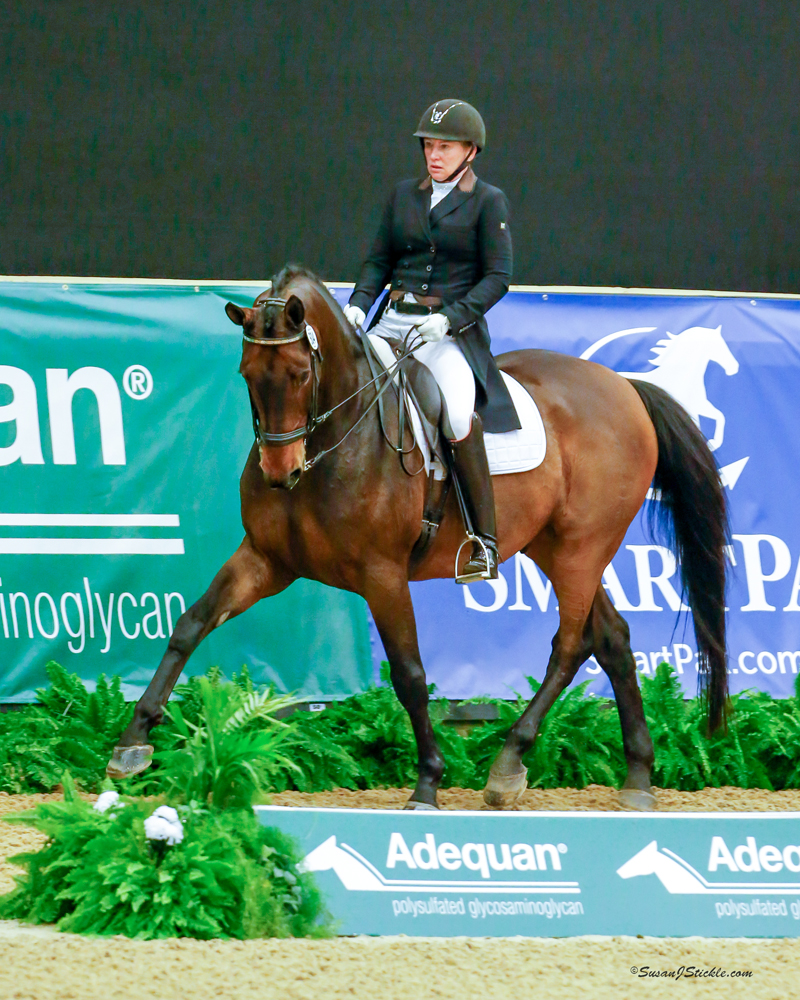 Sheryl Ross and Lancaster at the 2013 Adequan
U.S. Dressage Finals.
Photo by SusanJStickle.com
Ross rides her dressage horse Lancaster in the small tour, and the pair represented Region 7 at the 2013 Adequan U.S. Dressage Finals, where they were Intermediare I reserve champions. Ross and Lancaster also won in the Prix St. Georges at the GAIG/USDF Region 7 Championships in 2010, then moved on to Intermediaire I in the following years, placing in the top five in the region in 2011 and 2012. But her road to success in dressage has been a long one—and it began in a western saddle.
Barrels To Broken Business
Ross grew up barrel racing in Southern California aboard borrowed horses, working off lessons at a family friend's farm and soaking up all the horse knowledge she could.
"I just went down and cleaned stalls and rode other peoples' horses, and I would watch people take lessons and then practice what they were learning on the horse later," said Ross.
When she was 14, her parents moved to Torrance, Calif., where western farms were few and far between. Ross became a working student at a local hunter/jumper barn, competing occasionally at local shows. After graduating high school, Ross worked her way through the hunter/jumper program at Pacific Equestrian Center in Wilton, Calif., and began her own business as a young trainer out of Spindrift Farm.
"I was madly in love with horses, and I was sort of like, 'OK, I can teach this.' When you're young you don't know any better, you just think you can do things!" she continued. "I was a good rider but I was an even better instructor. I had a great group of kids on the A circuit, and we just cleaned up. We had a lot of fun."
But Ross' world was turned upside down one night in 1985, when she got a call telling her that an employee had stolen the money from her business, and she was penniless.
"I found out my bookkeeper had embezzled all of the money out of my business, and it just kind of broke me," said Ross. "I walked away from horses for years. I had worked so hard, and when you're young and running a business and on the road all the time, working constantly, to wake up one morning and find out you're bankrupt—it hurt. It's one of those things that knocks you down and you just kind of have to stand there for a second and think, 'Oh my gosh, what am I going to do?'
"I actually gave most of my business to [grand prix show jumper] Leslie Steele," she continued. "I walked into her office, told her she could have all my lesson horses, I introduced her to my students and made sure everything was taken care of, and I walked away."
Making A Change
Ross needed to build herself up and start over, and she couldn't think of a better place to start than with her education.
After majoring in psychology at San Francisco State University, she stayed to earn her master's degree in comparative literature. She finished both degrees within four years. To pay for school and keep her toe in the horse world, Ross began riding and schooling horses for friends whenever she had the time.
But she was serious about getting out of the horse business, and after finishing school in 1994, she accepted a job as the director of public relations at the computer technology company Inuit—something that was a bit out of her element as a former barn-dweller.
"When I quit horses [before going to school], a friend of mine gave me a job at her computer company, and the first day of work I was like, 'Oh my God, I've never even touched a computer, how am I going to survive?' " said Ross with a laugh. "I literally looked at the computer wondering, 'How the heck do I turn this thing on?' So clearly I wasn't going to be technical, but the marketing and the PR side of it all I was good at. So when I got the job at Inuit, I just jumped right in."
Ross only rode occasionally after transitioning to a career in marketing and public relations for corporations like Inuit and Sun Microsystems. But when her good friend KC Branscomb enlisted Ross to help ride her dressage horses in 2003, Ross jumped at the chance to get back in the saddle regularly.
"When I was doing hunter/jumpers, it was in an area where there were a lot of dressage people who are now fairly well known," said Ross. "Charlotte Bredahl was a barn manager around where I was; Leslie Morse was riding there; Robert Dover was in and out giving clinics; Hilda Gurney was there all the time—so I was always seeing dressage riders and I always admired them. I'd take a lot of things that I'd learned watching dressage lessons and I'd use it with my [students] on the flat, and I was always a real stickler about the kids really learning how to ride the horse rather than just the point-and-shoot style you see a lot of. So dressage had a huge influence on me."
Anxious to delve into the horse world again, Ross purchased an experienced Prix St. Georges horse named D'Artagnan, or "Doolittle," and began training for first level dressage out of Akiko Yamazaki's Four Winds Farm in Woodside, Calif.
"I always wanted to pursue dressage, so when I was finally in the position to do that, I jumped at the opportunity," she continued. "That's why I got Doolittle. He knew everything and I knew nothing, and anybody who's gone from hunter/jumpers to dressage knows it's a big wake-up call; it's different! It takes years to get out of that forward seat position—you think you're sitting and you're really not. But I love it. I love the relationship you can have with the horse, and that every day you're learning something new."
Just Keep Riding
Then disaster struck. Only a few months after Ross brought Doolittle home and began training with him, she was diagnosed with stage 3 colon cancer. When she heard the news, she quit her corporate job, deciding that she would rather spend her life doing something she was passionate about.
"When I got cancer I decided I didn't want to do the corporate thing anymore; I was really good at it but I absolutely hated it," said Ross. "I had great people who reported to me, but I just didn't like dealing with all of those egos. So I decided, 'You know, life's kind of short here!'
She endured chemotherapy treatment for about a year, fighting through the nausea and other symptoms to get out to the barn and ride Doolittle as often as she could. During that time, she found her calling as an equine, canine and wildlife photographer. She now owns Sheryl L. Ross Photography and specializes in custom portraits of horses and pets, among other services.
"Back when I was young and teaching riding, I would take lots of pictures and videos of my kids to help them see their positions and what they were doing on the back of a horse," said Ross. "And when I quit corporate, I said, 'I'm going to give this a shot. I don't know if I'm good enough, but it's worth a shot.'
"When I went through my first stage of cancer, the amount of bad news coming at me really sort of freaked me out, to be honest," she continued. "And the chemo was brutal, but I rode all the way through it. Doolittle was great; there were days I could barely get on him I was so sick, and he was just such a trooper to take care of me."
Toward the end of her first round of chemotherapy in 2003, Ross competed Doolittle in her very first dressage show, and the pair slowly began to compete in local shows as Ross recovered from treatment.
Her cancer returned in 2005, but instead of losing her enthusiasm for riding, Ross found the motivation to keep fighting her battle with cancer during her rides with Doolittle.
"I had two major abdominal surgeries and six months of chemo, so that really limited my riding in 2005 a lot," said Ross. "I would ride when I could, but it was a lot on my body. It's really hard, and some days you just think, 'I can't move, I don't want to get out of bed.' But I would go to the barn, and when I get on a horse, I sort of forget how I feel.
"And that was the beauty of it," she continued. "Everyday I'd go out and do what I could, and if I got sick I'd just stop and throw up. But I got out of the house and I had something that needed me and something that I could do when I wasn't thinking abut how sick I was."
Ross' partner Susan Thomas also helped remind Ross of the benefits of riding through her illness and the importance of her special bond with Doolittle.
"Susan was amazing. She was very supportive of my need to do it," said Ross. "She's not a horse person, but she's been very supportive of it. She knows that it really helped me, and there were times that she would say, 'Maybe you should go see Doolittle,' and I'd get up and go see him."
From Patient To Competitor
Ross is healthy once again, and in 2007 she retired then-19-year-old Doolittle and began looking for another experienced small tour horse with a similar feel to her old friend.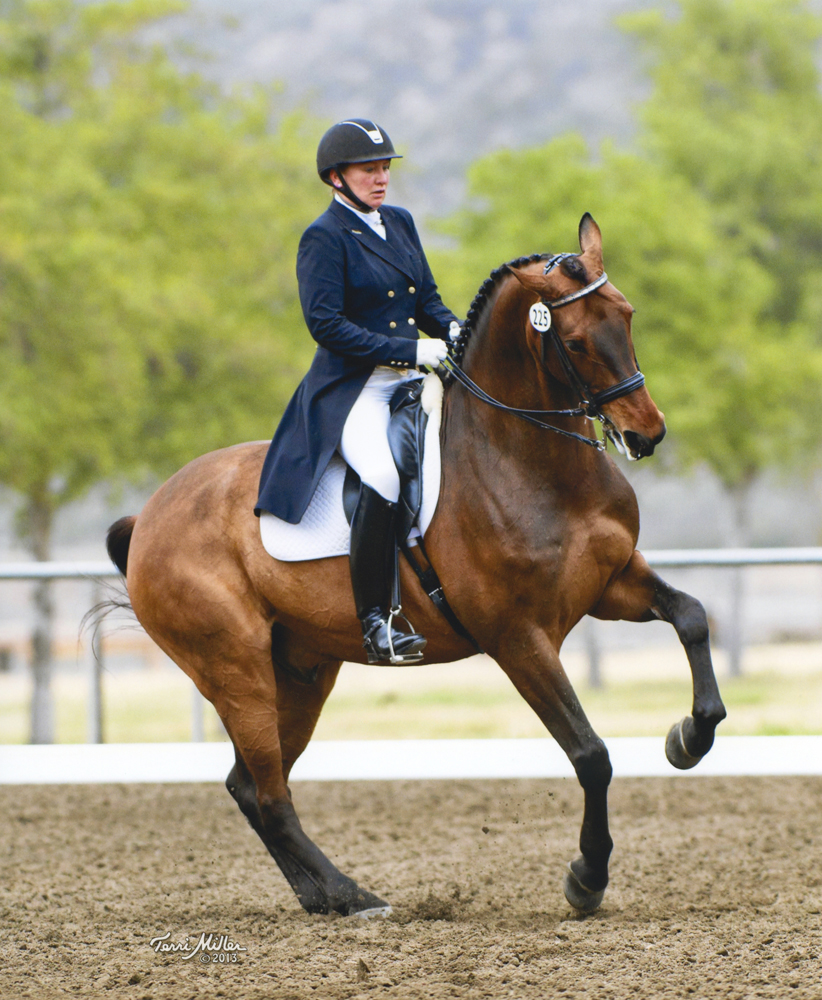 Sheryl Ross has developed Lancaster
from a spooky 7-year-old into a consistent
small-tour horse.
Photo by Terri Miller
But, while Ross tried more horses than she could count, she wasn't finding any that were the right fit. So while she was on vacation in Georgia, she happened by Karen Lipp's farm and couldn't resist going to look at a young horse that Lipp insisted Ross would love.
"I really wanted a horse that was at least doing Intermediaire I so I could learn, and I looked and looked and looked, but the ones that I really liked I couldn't afford, and the ones I could afford I didn't like!" said Ross. "Karen told me about a horse she had that she though was really special, but he was only 7 and didn't have that kind of experience."
It was Susan who gave Ross the extra push to try sitting on Lancaster, a now 14-year-old Danish Warmblood (Lobster—Aleksis), bred by Gunnar Mousten.
"Susan said, 'just get on the damn horse, we're here!' " said Ross. "I'm so happy she did, because 90 seconds after I got on him I knew he was my horse. I fell instantly in love. Have you ever sat on a horse and your body just spoke to you, saying, 'Yes, this is it,' ? I had that feeling and I never wanted to let go of it."
It was a process getting Lancaster up the levels. "My first year with him was about staying in the warm-up and in the arena," said Ross. "He was terrified of horses coming at him, and in a blink of an eye we could be going the opposite direction. We got our acts together eventually and I brought him to Prix St Georges. It took two years to win the Intermediaire I because we had a lot to learn!"
Ross and Lancaster have earned their fair share of ribbons in the small tour under the tutelage of their current trainer Christine Traurig and, according to Ross, their story together is just beginning.
"He's not an easy horse to ride, but he always works hard for you," said Ross. "He just has his quirky things, but he'll always show up for you; you just have to ask him correctly. He's very genuine."
In fact, Ross enjoyed working with and training Lancaster so much that she recently purchased E' Florencia, a 5-year-old Dutch Warmblood mare with whom Ross hopes to repeat the process, training and bringing the young horse up through the levels.
"[Florencia] is an exciting prospect for me," said Ross. "There was a time when I could barely ride one horse, and now I'm training with two! I'll hopefully bring her first level this year and we'll work our way to the Prix St Georges.
"I've kind of re-organized my life now where I allow myself to focus on my riding so I can do the best I can before I get old enough where I can't compete," she added. "The horses always come first and then everything else comes after that."
UPDATED 1/5/18: The Chronicle was informed on Jan. 5 that Sheryl L. Ross sadly died on Jan. 2, 2018. Her obituary included: "To say that Sheryl L. Ross was a fighter is a laughable understatement to the family and friends whose great love and respect she so deeply valued. When cancer called a third time, Sheryl redefined the fight, and with family and friends at her side, won this last battle on the terms she had set."
In June 2017, just days before her 60th birthday, she rode Lancaster to a decisive win in their first ever Grand Prix freestyle with a 71.65 percent.
"Sheryl curated a diverse and special community of people and animals, all of whom became family and are better for having known and loved her, most especially her partner, Susan Thomas, her step-daughter, Andrea Allen, and her beloved Finnigan, Lancaster, Blue, and Orlando," her obituary read.