"Be patient and work hard; set your career up so you can ride later. Luckily, you can ride for decades. Horses and riding will always be there." Those are the words of wisdom that veterinarian and amateur jumper rider Sarah Puchalski, DVM, DACVR, shares with younger riders.
It's advice Puchalski herself took to heart, as she spent many years prioritizing her education and career over her riding. Now, though? Now, Puchalski is reaping the rewards of that patience as she balances a thriving career as a radiologist and diagnostic imaging consultant with an international reputation with showing her mare, Lucia de Luxe, in amateur-owner and regional grand prix classes.
Think of a top show jumper or dressage star at random and chances are high that Puchalski has consulted on the horse's medical images. Although ethical standards and her own respect for horses' reputations would never allow for the disclosure of specifics, Puchalski, 40, counts many of the top sport horses from around the world as her clients, even if she has yet to meet them all in person. She consults with the horses' regular vets, studying diagnostic images from around the world and consulting on the best courses of action. "I often get the difficult or high profile cases," Puchalski said.
When she's not diagnosing injuries or conferring on time-sensitive pre-purchase exams or traveling to clinics around the world, she's in the saddle and riding her 13-year-old mare, Lucia de Luxe. In the last year, the horse-and-rider pair moved up into the regional standard grand prix classes in Northern California and reached a goal of being competitive in the medium amateur-owner jumper division at the Winter Equestrian Festival in Wellington, Fla., where she bases her radiology business in the winter months.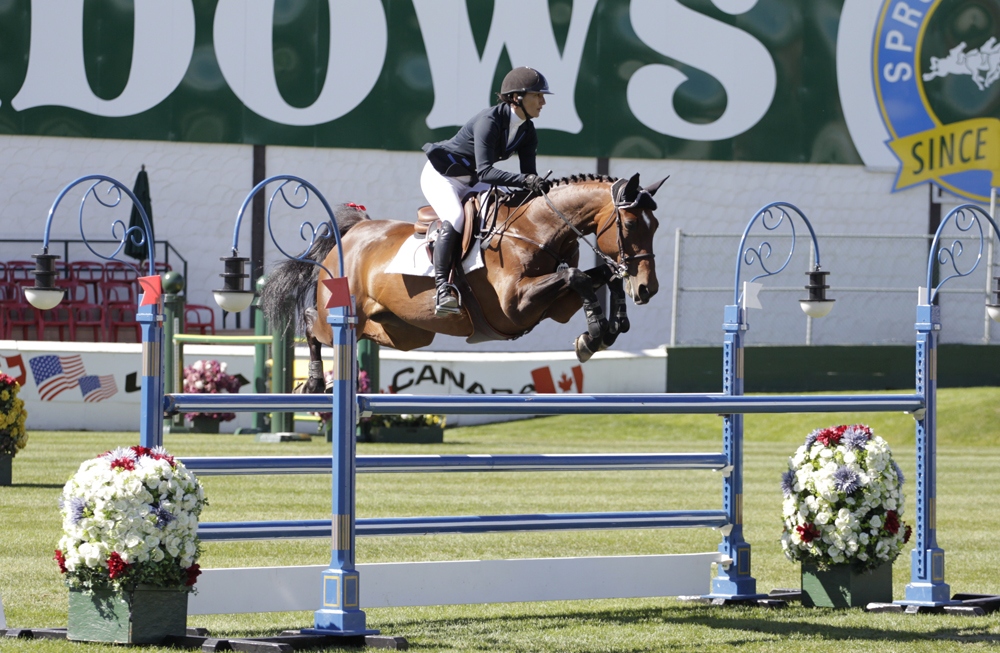 Sarah Puchalski fits showing Lucia de Luxe around her schedule as a world-reknowned radiologist.
Patient About The Possibilities
But Puchalski, who lives in Petaluma, Calif., didn't always live this fairytale of successfully balancing a show career with her veterinarian pursuits. Unable to afford keeping a horse during her undergrad years at Simon Fraser University in Vancouver, British Columbia, she bought an off-the-track Thoroughbred while in vet school at the University of Saskatchewan. But when he tragically passed away from colic, Puchalski didn't ride again for eight years.
"Riding was everything to me and then it was nothing," she said.
In that eight-year time frame, Puchalski finished vet school and landed at the New Bolton Center in Pennsylvania for a two-year internship. From there, she headed to the University of California-Davis for her residency and specialty training, ultimately deciding to stay on as a faculty member. Only then did she decide to try again and find herself a horse.
That horse wasn't actually Lucia. An OTTB and one European import later, Puchalski found her mare in Holland. "She's been a real surprise," she said. "At every turn, she's grown better and better. I originally thought it would be great to get her to the adult amateur and modified amateur-owner divisions, and now we're doing the local grand prix classes in Northern California. We're taking it pretty slow because I want her for the long run.
Pulchalski's very aware that a busy amateur needs just the right mount. "Wait for the right horse to fit your goals—to match you," Puchalski added.
Tough Love
Puchalski grew up riding at home in a small town in British Columbia, called Roberts Creek. Her parents have an acreage, and they've always had farm animals on the property. "That's how I knew I wanted to be a vet," Puchalski said. "From when I was very small, probably like 6 years old, I was sure I'd be a vet. The decision came from having animals around all the time."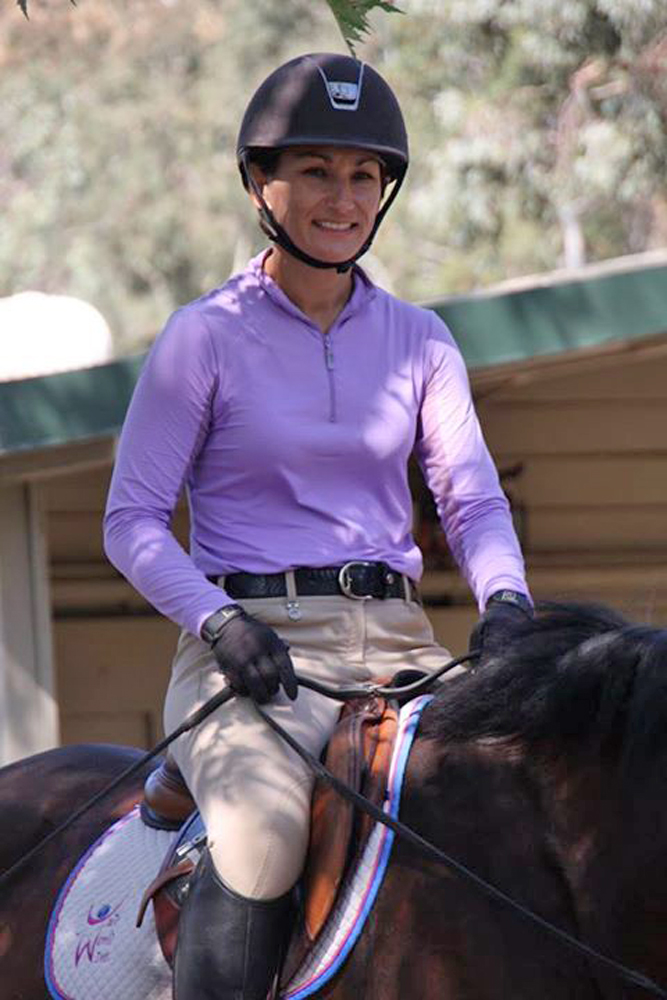 Horses have always been the focus of Sarah Puchaski's
life, both professionally and personally.
The neighboring horse farm originally belonged to rodeo people, but a jumper turned three-day eventer bought the place, and she taught Puchalski how to ride. "If it weren't for her, I would probably have been barrel racing," Puchalski noted, with a laugh.
Her father got her a pony when she was 5, and she grew up around the eventing barn, eventually reaching preliminary level. "I had greenies," she said. "I had one very good large pony, and he got me through to training level. But mostly I rode off-the-track Thoroughbreds and only had the young ones. We couldn't afford anything more than that."
"I can't even believe my parents did such a great job raising us," Puchalski said in wonderment about her and her brother's upbringing. "Always remember to thank your parents."
Although Puchalski tried to event in California with the OTTB she purchased following her leave of absence from riding, she soon realized that eventing in California wasn't the same as eventing in Canada, without the same open space. She then made the decision to switch to show jumping, landing at Windfall Farm in Green Valley, Calif. with trainer Gry McFarlane.
"Gry always reminds me that if I throw my leg across the saddle and decide to enter a class, I have a responsibility to my horse," Puchalski said about conquering her pre-show jitters. "When I make amateur mistakes, like freezing, I tell myself to stop putting my horse at risk. I have to have some tough love on myself and tell myself, 'Don't crash your nice mare.'"
Now, the low amateur-owner division feels comfortable for Puchalski. But for a time, it was a leap in height. "Every time I've moved up, the jumps have looked humongous," Puchalski said. "It takes a while to get comfortable."
The next challenge for Puchalski to conquer at shows is to overcome her intimidation in the warm-up ring before the grand prix classes. Thrown into a small space with professionals has proven to be an entirely different experience than warming up with fellow amateur riders. "I don't know if I'll ever get comfortable at the grand prix level," Puchalski mused. "For a long time, all I wanted to do was get into the amateur-owner division, but then I learned it and then I wanted to go higher."
Leaps And Bounds
In 2013, Puchalski left UC Davis to start her own consulting business. "I moved to Wellington to start," she said. "My business is international, and I have big clinics that I work for in Holland, Sweden, England, Australia, Canada near Spruce and many in the United States, including Palm Beach Equine and Circle Oak Equine."
As a radiologist, Puchalski only looks at diagnostic imaging—MRI, CAT scans, nuclear scans modalities—and only evaluates horses. "I'm specialized and then even more specialized," she explained.
A large portion of Puchalski's business continues to be in Wellington during the winter circuits, so she chooses to base her business and Lucia at the Wellington clinic for those months, juggling both her professional and horse show aspirations in one location.
"The factors of moving to Wellington for five months at the start of the 2013 season were initially to build a presence and to meet people," Puchalski said. "The other huge factor was, and is, to show in Wellington and to train with Darragh Kerins. It's a very special show, and I love it."
While the decision to start her own consulting company has demanded that Puchalski spend more hours on the road and away from home, it has also resulted in the ability to choose her own hours. "When I was at the university and young in my career, I was aggressive about working long hours," Sarah said. "But that made it really difficult to ride and to campaign a horse properly. That's one of the huge benefits of my job is the flexibility with time."
Insight As A Horseman
With the sheer quantity of elite-level injuries that come across Puchalski's desk, it wouldn't be surprising if she had fatalistic tendencies when it comes to approaching sport horses. And although she refuses to be the first eyes on Lucia's medical images, she largely thinks on the positive side of medical situations.
"I think I have a more grounded approach to injury assessments because I'm riding all the time," she said. "It doesn't freak me out with what could happen. When I see an injury and make a diagnosis, I tend to be more optimistic because I see horses working with problems all the time. I do a lot of pre-purchase work, and I tend to be flexible because I think I've seen so many horses working at a high level with similar issue, which I think is great—I'm really glad about it."
Puchalski views herself as an information gathering point because she communicates daily with so many different veterinarians, and she can easily pass along suggestions to address horse issues around the world. "I can get a lot of opinions easily, so I kind of view it as my job to pass on that information," she explained.
When it comes to Lucia, Puchalski is a minimalist. "I was raised on 'hay and water,'" she said. "I do believe in joint preventative stuff, like like Adequan and Legend, and I really believe in horses being fit for their jobs."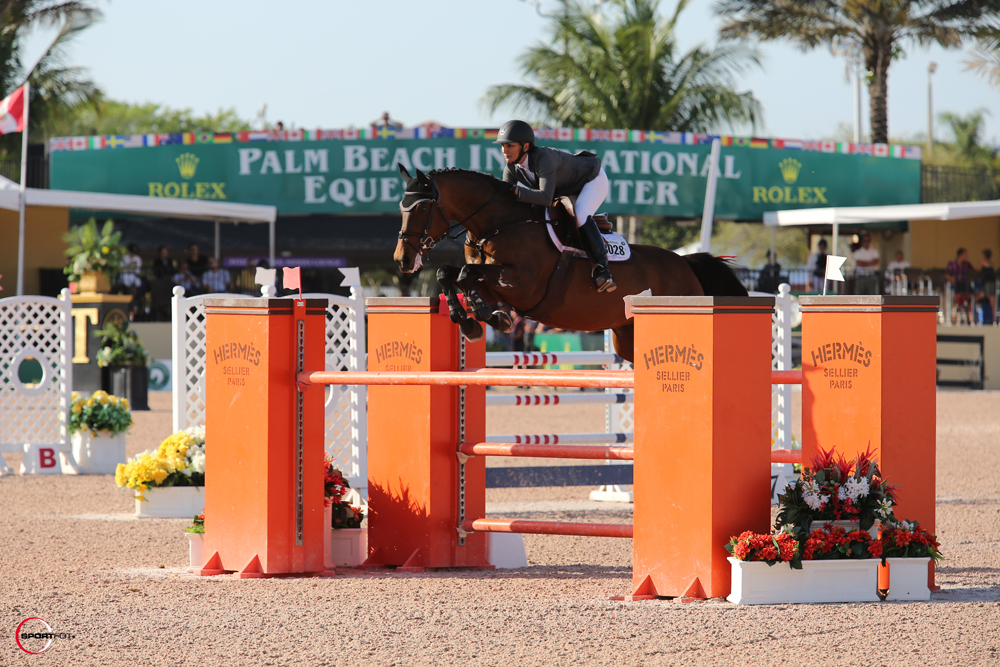 Sarah Puchalski and Lucia de Luxe showing in the medium amateur-owner jumper division at the Winter Equestrian Festival. Photo by Sportfot
All things considered, Puchalski also remains a realist and knows she may need to find a younger mount to ultimately achieve her goal of finding show ring success at the 1.40-meter and 1.45-meter heights. And in terms of her career, she plans to continue to grow her business and to cement her role as a radiology specialist. "I have been very lucky—I've had a really good career so far, and I'd like to stay relevant and at the forefront in the elite sport horse world," Puchalski said.
And her last words of wisdom: "keep it simple"—the exact mantra she'll be using the next time she steps into the warm-up ring before a grand prix class.