Maureen Blackstone grew up looking at the Devon Horse Show (Pa.) from afar. It was a show of superlatives—too far, too expensive, too competitive. But in 2016, the stars aligned, and Blackstone found herself trotting into the jumper ring at Devon on her spunky, pint-sized Craigslist mare. And rather than focusing on the task at hand, Blackstone was entirely preoccupied with the lights.
"It was my first class at Devon, and my first class ever riding under the lights—it was just so cool! I rode into the ring completely distracted like, 'I can't believe I'm here!' " she said.
Wait, back up, she took a Craigslist mare to Devon?
Yes, she did.
Blackstone grew up riding in the Cleveland, Ohio, area and, at age 12, began taking lessons with Jeff and Keeley Gogul at Maypine Farm in Willoughby Hills, Ohio. After becoming frustrated with her lack of competitiveness in equitation classes despite the hard work she put into her training, Blackstone leased a jumper for her last junior year and got totally hooked.
"I got a jumper that I would put in the same hard work with, and I would go for it [in the show ring] and realized I could win sometimes," she said.
Fast forward to 2012, and the Goguls were browsing Craigslist while competing horses at Devon when they came across a 15.1-hand off-the-track Thoroughbred mare. After a mediocre racing career under the name Home Grown Lass (North Light—Brac Drifter, Carson City), it was time for her to find a new job.
The mare wasn't far from the showgrounds, so they decided to look at her.
"I think one of the main reasons they decided to get her was that she was really pretty," Blackstone said.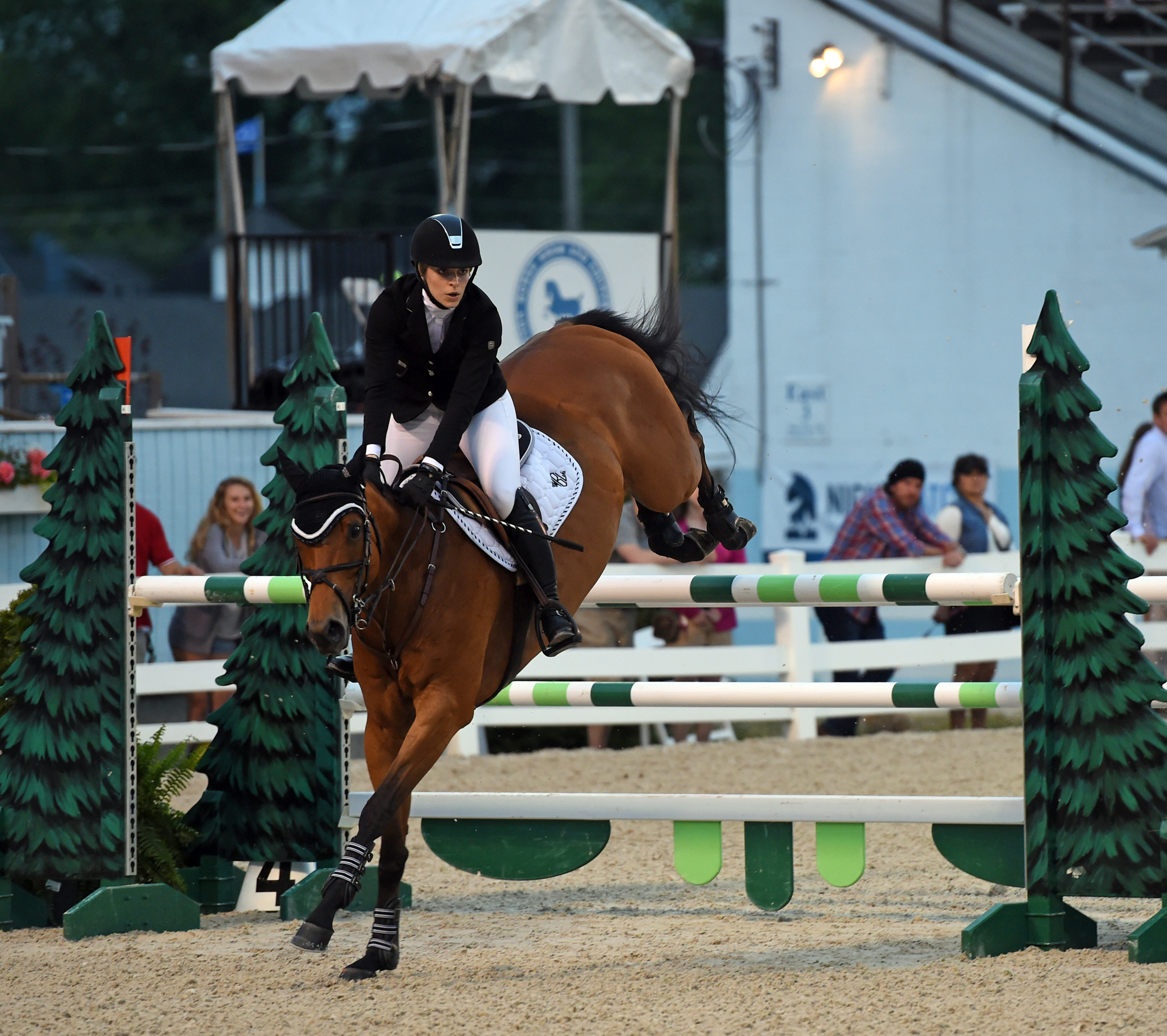 The Goguls thought the mare could be a cute hunter or a nice school horse. They decided to call her Devon after the prestigious show grounds that were so close to her humble racing beginnings and settled on the show name CL Debutante—CL for Craigslist—as a tongue-in-cheek nod to how they found her.
After some downtime, Keeley began working with Devon, focusing on basic flatwork. But when the Goguls took their show string to Florida for the winter season, Devon stayed behind.
Blackstone was about to graduate with her masters in nurse anesthesia and was anxious to get back in the saddle. Horses had been on the back-burner during grad school, but with start of a high-stress job as a pediatric nurse anesthetist, Blackstone was ready for some routine barn therapy.
"But I didn't have any money yet since I had just graduated!" Blackstone said with a laugh.
Knowing how Blackstone likes a project, Keeley left Devon with her for the winter. But the first time she pulled the mare out of her stall, Blackstone was unimpressed.
"She was little, had a club foot, and, yeah, she was cute, but she's mean," she said. "She's a biter—her nickname is Jaws! She basically doesn't like to be touched."
After a few weeks of work, interspersed with lots of treats to buy her affection, Blackstone thought Devon had the potential to be a cute 3' hunter with resale value. But as Blackstone continued to work with her, she was constantly impressed with how quickly Devon learned new things.
"That's what I loved about her," she said. "This was the first mare I'd ever had. And so, it was a bit of a learning curve for me, especially since she's not just a mare, she's like the spiciest mare you'll ever meet! So I had to learn to negotiate very carefully."
As they moved along, every question Blackstone asked of the mare was answered with a, "What's next?" mentality.
When the Goguls returned from Florida, they were impressed at how Devon had progressed. So much so that they decided to go ahead and sell her. Blackstone knew she liked the mare but didn't realized she couldn't live without her until the idea of her selling became a real possibility.
Blackstone panicked and asked the Goguls to give her some time to pull together the money to buy her herself. They worked out a deal, and Devon never left Blackstone.
The pair began testing the show ring waters. They started in the hunters, and while Devon didn't do badly, she made it clear it wasn't the best fit for her.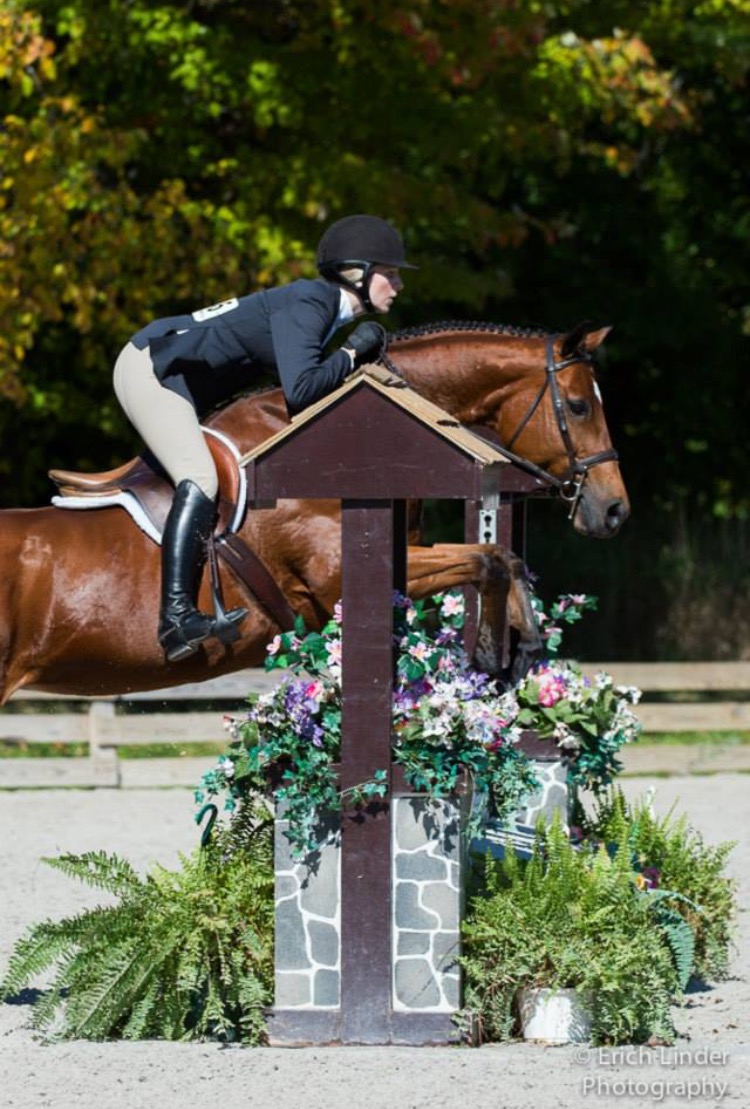 Blackstone decided to try a puddle jumper class. The mare came alive.
The pair climbed up the levels, and by 2015 they were doing the low adult jumpers. As their partnership matured, their mutual love for speed became obvious.
"I'm not sure who is the worse influence when it comes to turning tight or leaving a stride out," said Blackstone. "But now that she's broke, and she knows her job, that's what makes her so fun. She wants it just as bad as I want it. And I've never had that in a horse. I've had very obedient, very good horses. But she's not obedient. She just fiercely wants it for herself."
Blackstone kept raising the jumps, and Devon kept enjoying it. In December of 2015, they moved up to adult jumpers, with an eye on the Devon Horse Show.
Since Devon had always been a dream for Blackstone, her 2016 goal was to qualify for and attend the show—and achieve respectable results there.
So when she found herself qualified to go, that dream-turned-reality induced a bit of panic. The pair had never shown in a lot of atmosphere or in a big indoor arena. They had also never competed under the lights. Blackstone hastily added the Kentucky Spring Classic to her schedule to put some pressure on their shoulders.
They not only rose to the occasion but came away with a win, in a downpour, against a new caliber of competition. In that moment, Blackstone knew her little bay mare was up for the challenge.
Balancing the show schedule leading up to Devon with work was made infinitely easier by her support crew. Blackstone credits her husband and biggest cheerleader, Jeremy Blackstone, and her longtime trainers the Goguls, as well as an amazing group of work colleagues at the pediatric department of the Cleveland Clinic with helping her balance her high-stress job with her riding.
"They are very flexible with scheduling, and we really take care of each other," she said of her co-workers. "They don't understand horses, but they understand that it's really important to me."
And so, life came full circle. The Thoroughbred mare found near the Devon showgrounds and the rider who looked at Devon from afar found themselves jumping under the lights last May.
They exceeded their own expectations and ribboned in every class at Devon, including a third place in the $7,500 NAL/WIHS Adult Amateur Jumper Classic.
"I was on cloud nine the whole time," Maureen said. "I was the total tourist. I rode the Ferris wheel, and I took pictures of everything."
The pair also earned a 10th-placed finish at the $10,000 NAL Adult Jumper Final at the Pennsylvania National Horse Show in October, while Maureen was 12 weeks pregnant.
"She's definitely a once-in-a-lifetime horse," Maureen said. "She may be known for being mean, but I think she has as much of a soft spot for me as I do for her."
Maureen has a new goal of tackling 4' jumper classes, but she will have to be patient; she and her husband are preparing to become first-time parents this spring.
In the meantime, Devon has gone from being the student to teaching the ropes of the jumpers to a young rider, Rosie Fahey, at the barn.
While it's fulfilling to watch Devon as a teacher, Maureen can't wait to be back at it.  And Devon will be waiting for her when she is ready to get back in the saddle—ready to run faster, jump higher and dream bigger.