Nikki and I are about halfway through our show season this summer, and we have a new mantra. It's called "less is more," and features trusting your instincts, something that I've struggled with a bit this year.
Less is more means not overthinking and overanalyzing. It means turning off the scientist part of my brain while I'm riding, which is tough because as I approach starting vet and grad school, I've been working that part pretty hard. Less is more means riding off my feel, not getting married to a number of strides.
Less is more does not mean the ever-contentious rubber hackabit is gone, because although less of that would mean more pace and probably a happier Nikki because she's pretty sure my input is unnecessary anyway, it also might be hazardous to my health. I might need my fingers to be operational, given the timeframe I have to complete the PhD portion of the dual DVM/PhD program that I start in August
I Can't Count Past Seven, And That's Okay.
I have 10 fingers and 10 toes, so I actually can count past seven, for anyone who might be concerned that someone who can't count would be admitted into vet school.
Less is more means that when there's a bending line and it's longer than seven strides, I don't walk the line to plan a number. I might walk it to get an idea of whether a number is right on, but more often, I don't because I get too fixated on the number instead of riding what I see and feel. I have a good eye and I need to trust it. When I try to pretend that I actually can count well, I get in the way, and I mess things up.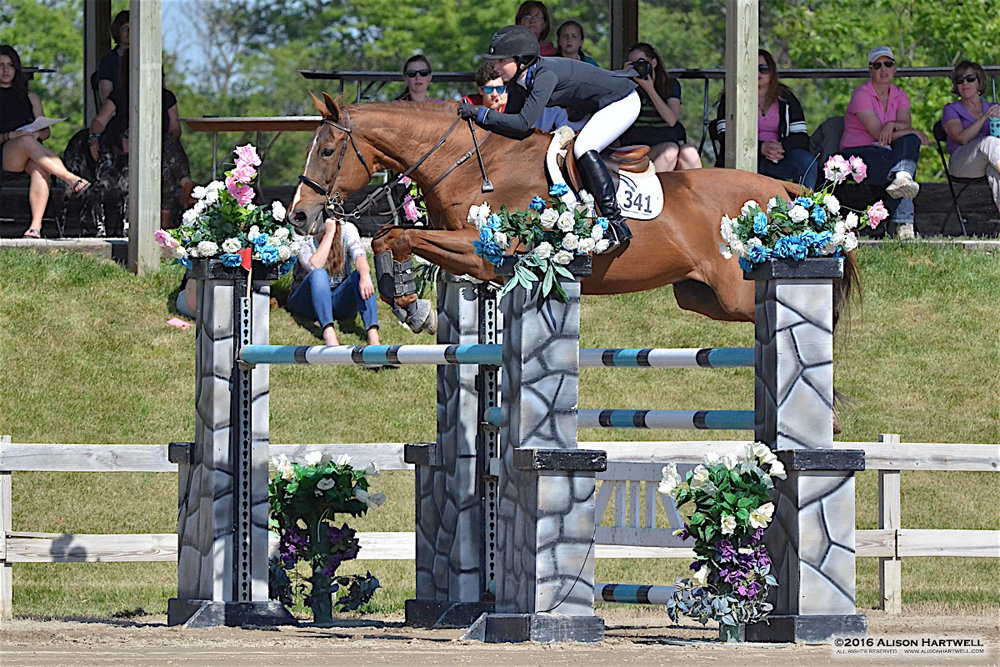 Left the cymbal-smashing monkey at home this day. Photo by Alison Hartwell
I've been really in my head at the horse shows this year, and I finally got my act together at our most recent one and rode like I'm trained to, not like the little cymbal-smashing monkey in my brain sometimes makes me. You know the one I'm talking about, it's a wind-up toy that smashes cymbals together, waddles around, and you set it up at the edge of a table to watch it fall off and lie on its face still smashing the cymbals because you have a twisted sense of humor. Or maybe that's just me.
When I'm riding cymbal-monkey-style, I do things like jump into a bending line that walked in a 10 or 11 (10! Who walks that many strides? Not this kid!), get there in nine, and then sit there like the cymbal-monkey trying to figure out why I didn't consider nine as an option. Then on stride eight, I realize I probably should have made a decision whether to go forward in nine or steady in 10, instead of trying to figure out if I counted wrong. Usually this is followed by an apology to Nikki for being a moron.
So that happened. It was a kick in the bum, and I needed it. I took a minimalist approach to walking the courses after that, and jumped double clear in the welcome stake the following week, as well as having a good ride over a very, very technical grand prix track.
Stick To The Plan!
The plan is simple: stick to the plan. At the beginning of this year, I was focusing too much on what other people were planning and changing my plan if it was really different.
That was dumb. I know my horse best, I know what works for her, and if my idea for a line is not the same as someone else's—even my trainer's!—that doesn't mean that anyone is wrong.
In our most recent prix, the track was technical. The track also featured a ton of bending lines on a half stride. I walked the course without my trainer to get an idea of what my plan was before discussing it with her. When we did discuss, I was a bit surprised to learn that my plan was totally different from hers.
Nikki is super catty in combinations, and I've learned over the years that we're better off coming into the combinations a little hot, rather than coming in a little dead. If we come in hot, she can always work it out as long as I keep my shoulders back. If we come in dead and it's an oxer out, she has to work pretty hard, and then she gets annoyed with me.
I like to think that I don't suck, but when I try to do Nikki's job for her, I definitely rank pretty high on her scale of suckitude, and Nikki makes sure I know that.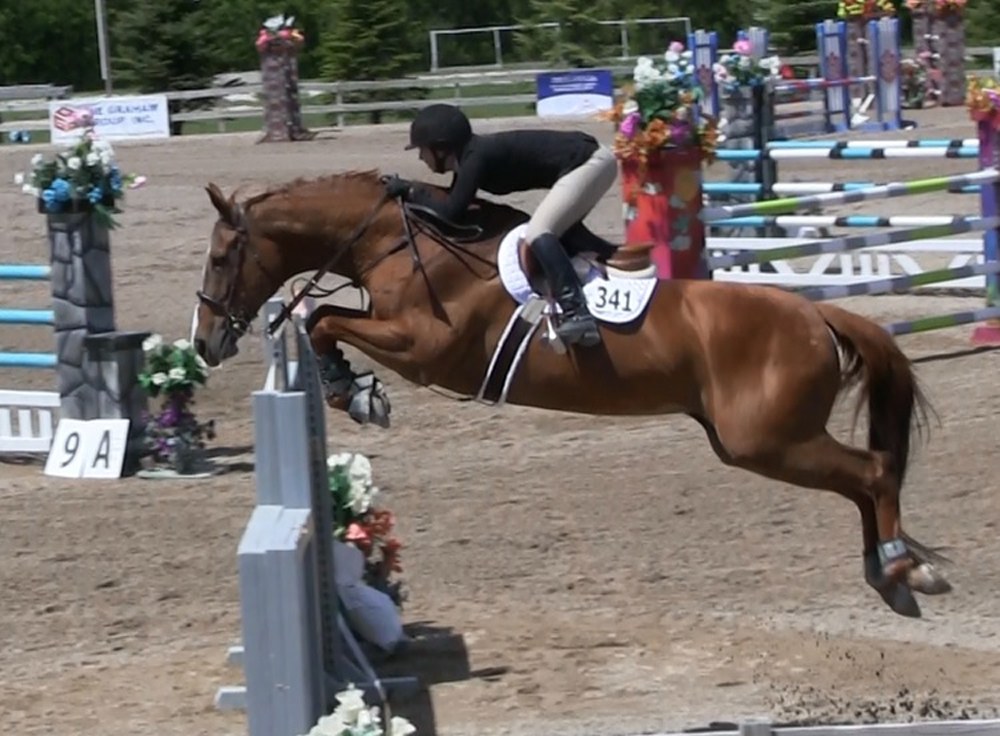 When in doubt, leave it out?
With that in mind, I was planning on the more forward options in the half-stride lines; leaving out from fence 3 to 4A in five strides, leaving out from fence 9 to 10A in seven strides, and I didn't have much of a plan for the final bending line. It was a triple bar bending to an oxer-vertical combination, and I'd seen people do anywhere from six to eight strides. My tentative plan was seven strides, but I thought it was possible that we'd jump hard to the left over the triple bar and get there in six.
Sometimes, I have an ideal number (the seven, in this case) but I also have a plan B for when things don't go according to plan A. That's okay. I'm good with that.
When Heidi and I talked about the course and I learned that she was planning on the adds with her horse in the tricky bending lines, I spent a lot of time wandering around second-guessing what I was going to do. Heidi is super good, and I want to be as good as she is, and my plan wasn't her plan. And I started going around in circles questioning my numbers. I thought about it for a while, and decided to stick with my original plan because my gut was telling me that the adds would come back to haunt me. Nikki appreciated my decision, and jumped around like a happy little jumping bean.
Less Is More Means More Hacks On Loose Rein (And Sometimes Means More Exciting Hacks)
I found at the most recent show that Nikki felt better when I hacked her out on a totally loose rein for a while in the morning. If I got on early enough that no one was in the schooling ring, I let her canter on a loopy rein and in as big of a step as she wanted, which was pretty big.
I think it really made her body feel better; I use some carrot bribery to help her stretch before classes, and she was more flexible than when I flat her normally. I previously didn't do this to the extent I did at the show (hacking on the buckle of the reins) because she would get quick and not let me adjust her pace with my seat, but she was really good about it for those two weeks.
So I adjusted her routine to allow for hacking on a loose rein until I felt like she was ready to work—or until she'd exercised enough for the day.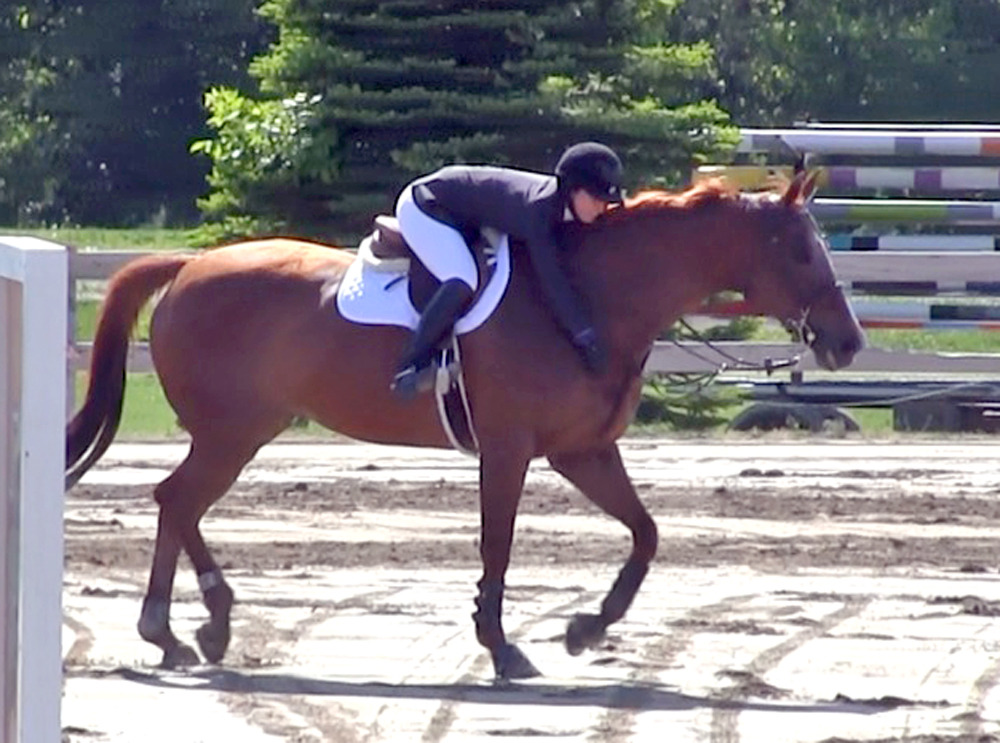 Love her.
This is all well and good until it's Tuesday and Nikki had Monday off. Then, it turns out not to be a good plan, although the theatrics from Nikki entertain a lot of other people. She's considerate enough that if she's going to get spicy, she pushes it just to the point where I start to be concerned that I'm going to have an out-of-saddle experience, and then holds off on that last little bit.
But when she's had a day off and it's windy, and we canter on a loose rein, I find I'm riding a porpoise instead of a horse. Sometimes, she squeals while she's porpoising, or swaps her leads, or generally acts like a nut, and I laugh at her. I'm glad she feels so good at her age. Nikki's antics provide me with giggles that I'm even more appreciative of now that I'm experiencing the true working amateur life. While we were showing in Iowa, I was juggling conference calls, paperwork I needed to do for vet school, coordinating care for some of the mice in my research, and riding and caring for Nikki.
Shortly after we got back from the show, I started working on writing a portion of a grant proposal with one of my mentors—the first scientific writing I've done, and something I was driving myself a little insane over (OK, my husband might say more than a little. It's not that insane to be writing in the wee hours in the morning and changing lyrics from "I'll Make a Man Out of You" to "I'll Make a Grant Out of You," right? And yes, I listen to Disney soundtracks when I'm working. This blog is a judgment-free zone, stop laughing.) because I was so determined to do it really well.
Nikki is the rock that keeps me grounded when everything seems overwhelming, and she's taught me how to take that nervous energy, that stress, and channel it into whatever I'm doing.
She's also given me an excuse to put the "pro" in procrastination; as I wrote this blog, I should have been packing the truck for our next show. If we're going to be honest though, I didn't fully unpack it from the last one because I didn't see any reason to totally repack it when I didn't need most of the things in it for our day-to-day life.
So… onward! We're headed to Mason City for 2 ½ weeks, and hopefully we'll be able to keep it simple and stick to the plan!
Emily Pope, 24, started her relationship with Seize The Moment, an off-the-track Thoroughbred and a chestnut mare, in 2006 and they began in the junior hunters. Emily quickly realized "Nikki's" talents lay in the jumper ranks, and they worked their way from the junior jumpers to the grand prix.
Emily graduated from the University of Minnesota in 2013 with a B.S. in animal science, spent a semester studying aboard in Madagascar, and now works in cancer research. Read Emily's introductory blog, "Taming My Inner Gecko."