Somewhere in most amateurs' minds is a dream to hit the big time and compete at some of the biggest shows in the country, but Lauren Mauldin, an amateur hunter/jumper rider based in Texas, is just fine with staying right where she is.
The Austin, Texas, rider and her off-the-track Thoroughbred, Something So Right, or "Simon," are doing things their own way, tackling one goal at a time and documenting their adventures at on Mauldin's blog, She Moved To Texas.
Mauldin boasts a background like many amateurs—through weekly lessons as a child in North Carolina, she not only learned riding but also the basics of caring for horses on the ground. "I was so horse crazy that mucking stalls was pretty much a delight!" Mauldin said.
Mauldin's first horse, an OTTB mare named Lady Astaire, taught the then-14-year-old rider the art of backing out gracefully when faced with too much horse. "Unfortunately, she was a little bit of a hot horse that truly needed a program," Mauldin explained. "I certainly was not a good enough rider to set her up for success."
With a good lesson learned and no worse for the wear, Mauldin traded the fiery mare for a Quarter Horse named Elvis who took Mauldin through her early 20s and did everything from fox hunting to local hunter/jumper shows.
Mauldin's first significant introduction to the show arena came in the form of her Intercollegiate Horse Shows Association team at North Carolina State University. There, she began to realize the much bigger hunter/jumper world around her. "The shows I had been doing were basically an exercise in survival. Did you do all the jumps in the right order? Go you!" Mauldin quipped. "Competing in IHSA showed me just how much I really had to learn."
But with life progressing—as so often does for those exiting college and settling into a career and marriage—Mauldin found herself horseless and moving to Massachusetts with her husband, Tim. "We lived there for almost two years, but honestly were two Southern people who never got a good grip on the climate or life in the North," she explained. They started exploring different options, and Mauldin realized that Austin would provide not only continual sunshine but a lower cost of living, thereby opening the door to her getting another horse.
It was in Texas that Mauldin hit her stride as a blogger, rider and proud new owner of another OTTB, Simon, a now-8-year-old who was originally registered as Williebered (Earth Colony—Derby Diva, Dee Lance).
"At first, I wrote about anything and everything I felt like on my blog. This included topics like 'why hand stenciling your bathroom may or may not be a great idea' and 'the time I was convinced my completely healthy dog had mouth cancer and read too much scary info on Pet WebMD,'" she said.
But then Simon entered her life, completely changing her perspective, focus and goals. "When I realized Simon was going to be a really important horse for me I decided to specialize. Focusing my blog entirely on horses felt really organic," she said.
On She Moved To Texas, Mauldin writes about a mix of her journey and issues in the equine world, including everything from equipment reviews to hot-button topics. "I'm certainly no authority or expert, but I like to use my blog as a place to share knowledge and discussion throughout the equestrian community. In addition to spamming everyone with pictures of the horse I love so much," Mauldin joked.
A Texas-Sized Challenge
Simon came into Mauldin's life after a string of bad luck with other horses she owned, and she readily admits they didn't immediately hit it off. "I wasn't a fan. He had a horrible head tossing problem, was super strung out and just had no clue what he was supposed to do in life," she said."At the time, I had this 'just say no to green horses' philosophy and went off to lease another horse in the barn for several months."
But when that lease ended, she catch-rode Simon a few times, and Mauldin found herself on a different horse. "He had been ridden by an empathetic teenager with soft hands for the last several months. With her patience and consistency, this little shimmer of promise started to emerge. I looked at him a lot differently, and felt like there was a really good horse hiding somewhere in there.
"If I were to write down what I wanted with my next horse, it wouldn't have been Simon at all, but I leased him for a month and enjoyed my rides so much. My trainer at the time, Kathy Slack, witnessed all this, and gave him to me—which I will always be grateful for."
With a full-time job in content marketing and user interface for a gaming company, husband, three dogs and a still-green horse, Mauldin's goals with Simon focus on working from where they are right now instead of aiming for 10 steps down the road.
They've been competing locally in 2'6"-2'9" hunter and jumper classes, and she'd like to do Take2 Second Career Thoroughbred Program classes, which help promote OTTBs, at local shows. But Mauldin is also realistic about the time and commitment it takes to successfully campaign a horse.
"Honestly, if he stays happy and sound showing at our current level, that would be totally OK with me," she said. "I really just want us to be happy and successful as a team."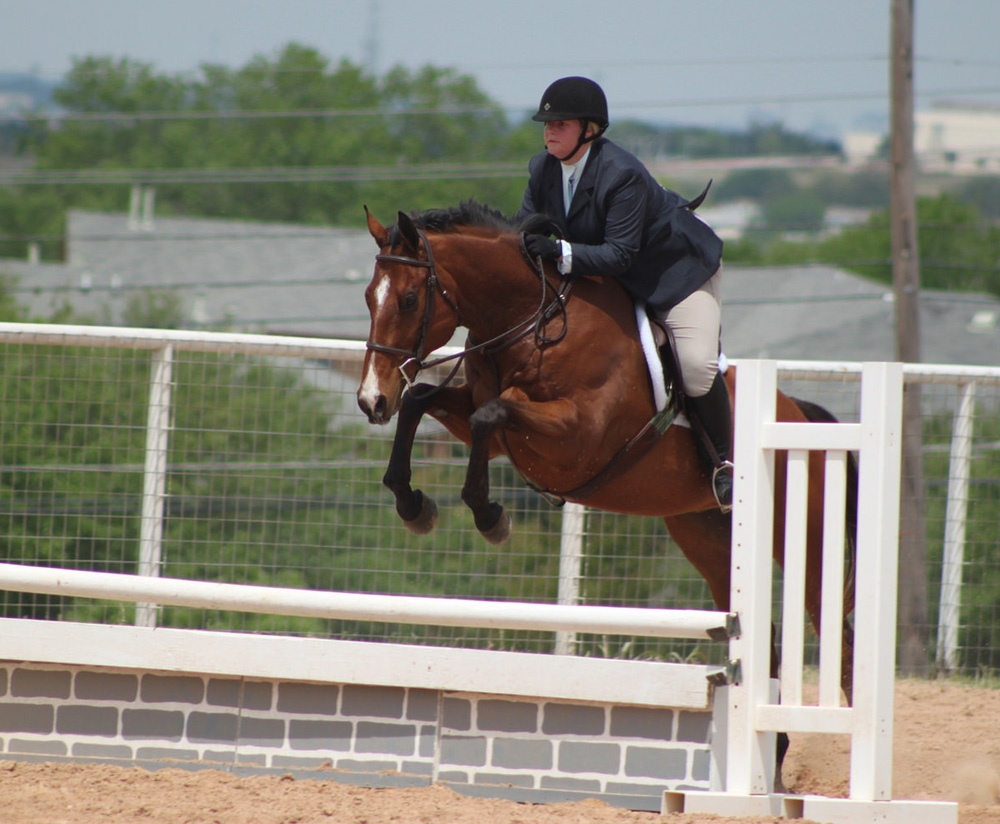 Lauren Mauldin and Something So Right. Photo by Ally Bradley
Although Mauldin describes Simon as a bit of a worrier, he's also the first horse she's had that genuinely loves to work, she said. "He's the kind of horse that just needs to know he's being good. You can't be harsh with him with discipline because the thought that he's being a 'bad horse' explodes his brain. It's been a slow process of building good experiences, and has completely changed for the better the way I ride," she said.
But when he knows he's done something well, Simon is known to show off and preen. "After the first baby jumper course we ever did, Simon literally pranced out of the ring with his head so high. 'Did you see that? I jumped all the jumps!' he seemed to tell anyone who would listen. That part of his personality makes my heart swell," Mauldin said.
Now training with Stacie Bird of Scattered Oaks Farm, Mauldin is still learning from and with Simon. She's not in a rush to get anywhere in particular. "We are not juniors; there aren't a certain number of years we have to try and cram all these accomplishments into. We have time, and if the training progress isn't linear because of a crazy week at work or my in-laws come to visit on a show weekend, it's going to be OK."

This is part of our "Amateurs Like Us" series of articles about amateur riders juggling busy careers with show ring success.
Read all the stories in the Amateurs Like Us series
Are you one of those inspiring amateurs? Do you know one? Email us and tell us more and maybe you'll be next in the series!