Veterinarian Kathy Broaddus always dreamed of someday completing the 100-mile Western States Trail Ride, better known as the Tevis Cup. But, you know, I've always dreamed of competing at the Olympic Games too, and for an amateur rider with a full-time job and no magic money tree in the backyard, the odds of doing either were about as unlikely.
However, Broaddus, of Bluemont, Va., accomplished a remarkable feat this summer when she managed to not only complete the notoriously difficult endurance ride, but also to finish in the top 10 in her first attempt on Aug. 1.
"It's always been on my unofficial bucket list to go to Tevis because everybody wants to do Tevis," she said.
Broaddus adores all things endurance. She's been a runner since high school and ran the Vermont 100-mile Endurance Race herself, although she admits that after pounding out 100 miles on her own two feet, she'd prefer to cover that distance on a horse.
But any event that combines running and riding over distance is her thing. Make no mistake, at 53 years young, Broaddus is a competitor. She radiates intensity and coiled energy, but her ready smile and quick raucous laugh put you instantly at ease. Line up next to her at the start of a race though, and you're going down.
Just Some Trail Riding?
Her partner in life and veterinary practice, Lani Newcomb, got her started in endurance riding when they met at the Virginia-Maryland Regional College of Veterinary Medicine in Blacksburg, Va., in the early '80s.
"We were polar opposites," said Broaddus. "I sit at the front of the class; she sits at the back. She was taking flying lessons and riding horses; I was studying."
Newcomb found out Broaddus liked to ride and asked if she'd help her keep her endurance horses fit on the weekends.
"Her dad was really sick, and she was going home to the farm here in Vienna [Va.]—Potomac Vegetable Farms—to help out," recalled Broaddus. "And she was like, 'I need someone to keep my horses fit because I want to go to an endurance ride.' And I was like, 'Oh shoot, I don't mind trail riding.' So I would ride them in the mountains and then during the week she'd take back over."
When Newcomb invited Broaddus to come to a ride, she was hooked. "It uses the skills as a vet with strategy and physiology," Broaddus said. "It just brings everything together."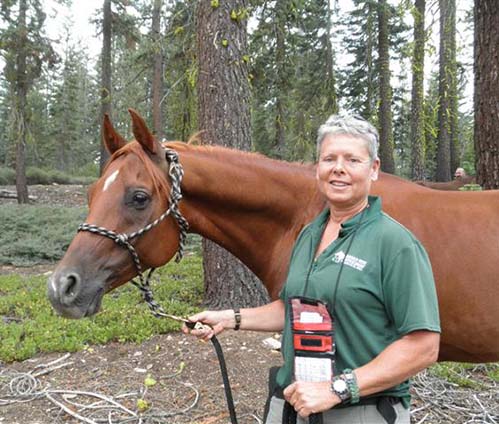 Kathy Broaddus with Cowbboy Bob, her Tevis Cup ride.
Since then the two have partnered on innumerable adventures. While they regularly compete in ride-and-tie, they've also done things like adventure racing, which is a grueling 100-mile race that includes running, swimming, biking, canoeing and orienteering, and can take as long as 30 hours to complete.
"After 24 hours you see things," said Broaddus. "I've seen a beautiful woman with a cooler full of drinks standing there. I've seen trains. I've seen all these gloves all over the ground. Who would leave like 30 gloves all over the ground? I reached down, and it was leaves."
Together they operate Broad Run Veterinary Services, an equine veterinary practice based in Bluemont. Broaddus and Newcomb moved the veterinary clinic there from Herndon, Va., in 2006, and the property came with a little country store in disrepair.
"I walked in there with Newcomb, and I was like, 'You know, God it's a shame this thing can't open back up,' " recalled Broaddus. "And then a bunch of people in the community said, 'Can you open the store back up?' Well that's the easiest way to lose a lot of money, the easiest way on earth. So we opened it."
The store's become a popular local landmark where you can pick up anything from fresh eggs from Newcomb's chickens and Angus beef raised by her brother, to diapers, baking powder and Amish-made goods. You won't find booze, cigarettes or lottery tickets though.
"We sell things that we believe in, and we don't sell alcohol," Broaddus said. "We don't want that to be the reason somebody comes into the store."
The Big One
So when it comes to stretch goals and big challenges, Broaddus is an expert. But even she blanched a little when Terry Reed suggested she ride her Cowbboy Bob at Tevis this year.
"I said, 'Well Terry, I have a lot of respect for the Tevis. I think I should come out this year and crew and learn about the trail and see, you know, get a feel for it,'" recalled Broaddus.
The trail has a reputation for being one of the toughest and most technical endurance events in the world, and Broaddus worried about not doing her homework before attempting it.
"[Reed is] in her 60s, is a breast cancer survivor, and she's a retired schoolteacher. She goes, 'Do you want to do it or not?' " continued Broaddus.
Broaddus had hoped to ride her first Tevis with a mentor, or at least to start in the back and follow someone more experienced. But she was placed in the first pen, which meant she'd be heading out with the frontrunners.
"I decided my only chance of probably doing OK was to look at all the stats," she said. She memorized what times she should be reaching each checkpoint and researched when other finishers had reached certain points vs. those who did not finish. She also completed virtual tours of the trail to familiarize herself.
Once the ride began, she found herself amongst some of the icons of the sport—names like Potato Richardson, who won his third Tevis this year at 72, Garrett Ford, Heather Reynolds and John Crandell. While she would stay with some of these experienced riders for a while, inevitably she'd move on ahead or fall back, so for the majority of the ride she was on her own.
She found that her planning combined with her previous endurance experience left her mentally prepared for the ride.
"I never hit a low point because I ate and drank, and I took care of myself," said Broaddus. "And the horse never hit a low point. He was pretty much nuts until about 78 miles. Leaving the 85th mile point, at Francisco's [vet check] I had to be led out because he was jumping around and spinning like he was at the start of another race."
Broaddus credited her team for helping her negotiate the ride. Newcomb came along to support Broaddus, while Reed managed "Cowboy," and Reed's daughter, Shannon Constanti, coached. Broaddus also pointed to her dressage lessons with eventer Sharon White for helping her deal with the sometimes terrifying terrain.
"I played this over and over again: Right rein, left leg. Right rein, left leg. Right rein, left leg. Right rein, left leg. Drop-off, drop-off, drop-off," Broaddus said as she broke off laughing. "I felt safer on the horse than I did on my own two feet, so I never got off. The song that played in my head all day? The Bee Gees 'Stayin' Alive.' It has the perfect trot beat."
Of the 201 entries that started Tevis this year, 90 completed. Broaddus finished in 10th in a time of 11:25, the best-placed rider from the East Coast.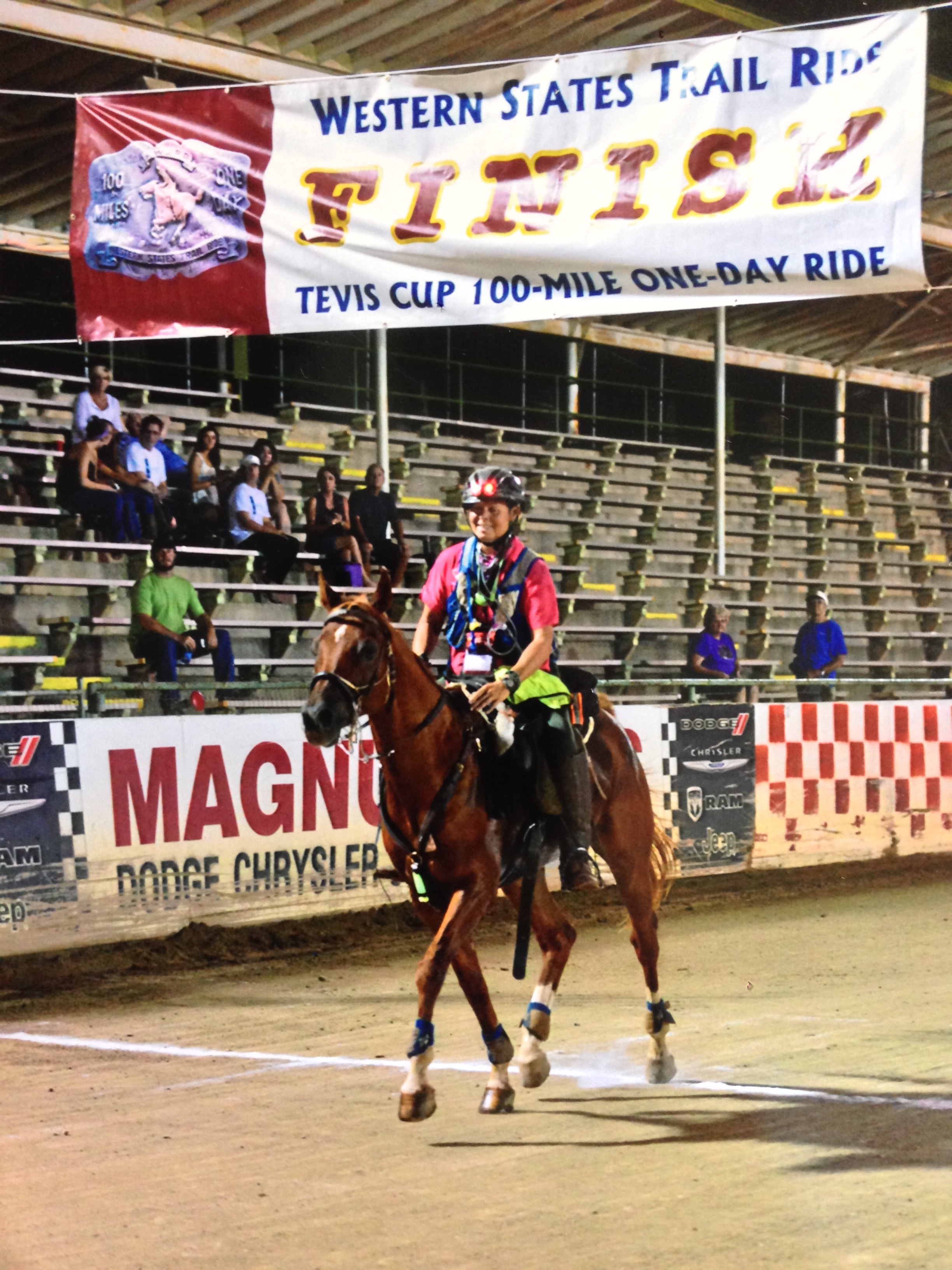 Kathy Broaddus and Cowbboy Bob crossing the Tevis finish line in 10th. Photo by Darin Pointer
Rewriting The Bucket List
Since 1984 Broaddus has logged 6,840 miles and completed 19 100-mile rides. How does she find time to do this while working full time as a veterinarian? Did I mention she also whips-in for Snickersville Hounds (Va.)?
"Once the horses get a base [of fitness] on, they're good," said Broaddus. "So when you're starting them as young horses you've got to put a lot of time into them. They need four weeks after a 100 to kind of chill out, two weeks after a 50. So you don't have to do a lot in between. It's mainly fitness, not that the dressage and the ring work isn't good for them."
Broaddus uses a four-wheeler to take her horses for trots, doing three at a time around the track at her farm.
"I'm with horses all day long, but my own personal ones, it's a weekend warrior, night-time, morning thing," she said.
Broaddus takes care of the farm chores, while Newcomb attends to the business side of the practice. She also does most of the emergency calls on nights and weekends, so Broaddus can care for the 18 horses they own (a mixture of broodmares, homebred hunt horses and endurance horses).
She sometimes will schedule mid-day riding into her farm calls so she can practice in the heat of the day.
"The hard part is for me to schedule time for the hunt horses because they need the ring work, and we need to jump, and we can't just drag them around with a four-wheeler," she said with a laugh.
Broaddus saves money by doing her own veterinary work and shoeing. She actually had a farrier practice during vet school.
Her busy schedule doesn't allow her much downtime, but she's not complaining. "I listen to books, and I do read a lot. I can sit on the beach with the best of them. But I like doing things with the horses and seeing things happen," she said.
She particularly enjoys endurance because of the strategy involved. "The endurance thing is a mature person sport," she said. "You can put a young person on and let them zip around, but it's such a strategy, thinking game, much more so than you really realize when you're 16.
"You can keep getting better," she continued. "I don't have the fastest horse, but maybe I can ride this horse, have the most accurate ride, and pulse in—that's a big thing, is figuring out how to pulse a horse quickly and go on—and everybody else is back there still putting water on them."
Will she ever go back to Tevis?
"I don't think it can get any better," Broaddus said. "Fear factors aside, I couldn't have anything go any better with any better people. I think I'm just way too lucky. So probably one and done. It would have to be different circumstances with a different goal."
So what's next?
"I have—had a bucket list, but I kind of poured it out after Tevis," said Broaddus. "I was like, 'OK, that's plenty of bucket for one person.' "
But as she paused and reconsidered, a sly smile spread across her face. "I would really like to try polo or driving in my spare time…"