When Jacquie Maggiore pulls Contina up to a walk after a good round, she leans forward, pats the mare on the neck, and smiles a bit. No matter how loud the applause or cheers from the in-gate, there's one voice missing.
Maggiore, 26, had always shared her horse shows with her mother, Evana. When her mom passed away of ovarian cancer in February of 2013, Maggiore felt as if her world had been overturned. Evana had been at every show and every riding lesson, cheering her daughter on and encouraging her to pursue her riding goals.
"My mom was always with me through everything," said Maggiore. "She was the ultimate horse-show mom; she helped me with everything to do with my riding career.
"Even when she was really sick, she was my biggest fan," she continued. "One week, I was showing down in Florida and I called her to tell her I got an 86 in the derby. She sent me a picture of her in her wheelchair with a glass of champagne and a sign with an '86' on it. It was her way of being there for me, because if she had been there we would've gone out and gotten a glass of champagne to toast my success. It was really special! Losing her was the hardest thing I've ever had to go through."
In the following months, Maggiore found that riding and competing Contina was the best way she could think of to honor Evana's memory and their memories together.
"It hits me the hardest when I go to horse shows," said Maggiore. "Everything reminds me of her because that's really where we spent all our time. Any time Sophie and I have a good show, I know that it was my mom who got me there, and I just wish I could share that moment with her. It's sad to do it without her, but I feel like it's a great way to show how much I appreciate everything she did for me."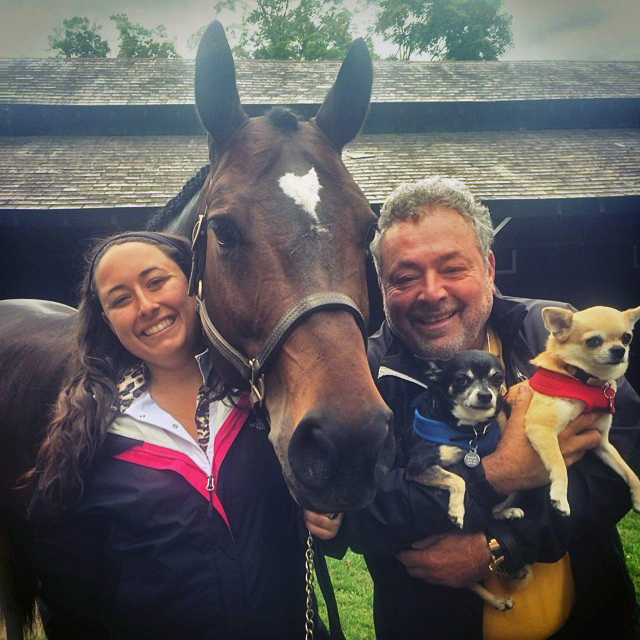 Jacquie Maggiore's father, Paul (right) has been supportive of
her riding career her whole life, even though he made her
earn money toward for the lease of her first pony at
a lemonade stand.
Maggiore's barnmates and family have stepped in to form 'Team Jacquie," and give her the support she needs to keep her equestrian dreams alive, despite her loss. "Even my dad has been coming to shows!" Maggiore said. "He's quite a character because he's just not used to it, but it's nice to have him there."
Burning Daylight
Maggiore began a career in commercial real estate after graduating from Stonehill College in Easton, Mass., with a degree in business management and economics. Every morning, Maggiore's the first to arrive to her Boston office so that she's able to leave work in the afternoons and get to the barn. She's ridden at Woodridge Farm, an equitation-based farm out of the Dana Hall School in Sherborn, Mass., with Cookie DeSimone and Greg Prince, since she was 10.
"I try to head to the barn around 3:30 p.m., because my barn is about an hour and a half from work and it's at a high school, so they try to close by about 5:30 every night," said Maggiore. "I'm always begging them to stay open and not to feed my horse before I get there. I'm always the last one at the barn!"
Last year, Maggiore and "Sophie" placed fourth in the WCHR Adult Amateur Challenge at the Capital Challenge (Md.). They now stand at the top of the 2014 USHJA Zone 1 Horse of the Year standings in the adult amateur division, and are ranked seventh nationally in the USHJA Adult Amateur Hunter standings.
"It's just so much fun," said Maggiore. "Every time I go to a show I have an amazing time, and I think that that really leads to success; when you're really loving what you're doing and you have a great partnership with your horse, you can't really go wrong."
Worth Every Moment
Maggiore soon found that it wasn't enough to simply honor Evana's memory; she wanted to carry on her legacy as well. So, on top of her busy work and show schedule, she carves out time each week to volunteer at Rosie's Place, a women's homeless shelter in Boston where Evana volunteered for as long as Maggiore can remember.
"My mom started this one event called Love Yourself Fest, where she would have hair stylists, makeup artists and just all sorts of different treatments to let the ladies enjoy one day to themselves because when you're struggling and homeless, the last thing you're thinking about is your hair or something, but it's important to feel good about yourself and put your best foot forward to find success," said Maggiore.
"So this year, my brother, [Matthew Maggiore], and I made sure that it went on again and organized the event. We also volunteer for the other events [Rosie's Place] holds, just trying to contribute as much as we possibly can and maintain our family's relationship with the shelter that meant so much to my mom."
And just when it didn't seem like she could squeeze anything more into her days, Maggiore decided to take on a second job selling sponsorships and advertisements for the New England Equitation Championships.
"It was a spur-of-the-moment decision!" said Maggiore. "[DeSimone] is on the board, so when I saw a post on Facebook about sales job, I thought, 'I love sales and business and horses, so why not combine them into this job?' It's been a lot of work, but it's a lot of fun.
"Most non-horse people I know are baffled by my willingness to do it all," said Maggiore. "I love being busy! I'm a multi-tasker; I can literally be doing 50 things at one time. If I have something to do, I need to get it done. That definitely comes from my dad."
The Start Of It All
Her father, Paul, is the one who provided Maggiore with her first horse, but he made her earn it. Maggiore had started riding at a summer pony camp at age 4 and by age 10, she wanted to lease a pony.
"My dad wanted me to have everything in the world, but he wanted me to know the value of it all," said Jacquie. "So, I put up a lemonade stand and I would sit out in my yard all day, every day with my little stand just to earn enough money to lease a pony. I don't actually think my dad actually made me pay for it once he knew I was that serious!
"According to my dad, he was 'never owning a horse,' and then he was 'never owning two horses,' and then he was 'never letting riding take over our life,'" Jacquie continued. "But he realized that it was my passion and that it was so important to me, so I think he kind of understood after a while that it wasn't going anywhere."
Jacquie was inseparable from her first pony, Highlander's Rebel, but never seriously competed in the sport until she attended the Dana Hall school and joined their riding program at Woodridge Farm.
"I was the kid who got dropped off at the barn in the morning and was there all day, all afternoon; I couldn't get enough of it," said Jacquie. "There was so much more to it than just showing for me; I just loved horses, and that was enough for me."
Jacquie Maggiore has been more successful in the
adult amateur hunters with Contina than she ever
imagined she could be.
Photo by Elizabeth Phillips
Shifting Gears
Maggiore intended to follow the usual Woodridge path of children's hunters to the 3'6" equitation ring, like her peers were doing, but by the time she was 16, DeSimone and Prince advised her to pursue another road.
"I had been trying my hand in the big equitation and to say I had a hard time is an understatement!" said Jacquie, now 26. "Something was just not clicking for me. At barely 5' tall and of an undoubtedly more 'curvy' stature than the typical equitation rider, I was not dealt the best hand from an anatomic standpoint. It got to the point where I wasn't having fun horse showing anymore because it was just so difficult for me."
So, while the rest of her barn was focusing on the equitation, Maggiore forged her own path. Soon after she began competing in the junior hunters, she found herself falling in love with horse showing all over again.
"I realized that even though I wasn't going to be able to accomplish what I had hoped, I was going to be doing something that's actually enjoyable," said Jacquie. "[The hunters] just completely clicked with me. For once, I could just ride without thinking about all the things I was doing wrong! Slowly, my disappointment turned to relief when it set in that I could say goodbye to desperately chasing points [at shows], and finally have fun."
Ten years after that fateful discussion with her trainers, Jacquie continues to ride in the hunters out of Woodridge Farm. She and her mare, Contina, have found more success in the adult amateur hunter ring than Jacquie would've ever imagined possible as a junior rider.
"I've never had a horse like her; she's just the most consistent, driven horse," Maggiore said. "My connection with Sophie is really important to me. Everyone says that we were made for each other. Sharing that bond with my horse is the most important part of the sport, I think. She's really helped me achieve more than I could have ever imagined, and sharing my success with her is what makes it all worth it.
"Every time I miss a weekend social event for a show, my friends question, when I'm going to stop riding," said Maggiore. "My response is always, 'never!' but what I really want to say is: 'if you were as bad as I was as a junior and you're finally having some success, you wouldn't want to quit either!' I'm not 'there' yet, but the process is what makes this sport so beautiful."

This is the fifth in "Amateurs Like Us," a series of articles about amateur riders juggling busy careers with show ring success.
Read all the stories in the Amateurs Like Us series
Are you one of those inspiring amateurs? Do you know one? Email us and tell us more and maybe you'll be next in the series!