The search for the perfect amateur horse can be tough—slugging through online ads, picking a few horses to try, spending hours in the car only to find out the seller left out some important details or just not clicking with the horse, then starting the process again.
So when Britt Gillis suddenly found herself looking for a new partner, she decided she'd better be specific.
Her "In Search Of" ad, titled "ISO: Eventing, Dressaging Unicorn" that she posted in the Eventing Horses For Sale Facebook group was a hit with members, and now she's well on her way to finding her next unicorn.
Here's what Gillis came up with as text for her ad:
"Adult amateur seeks fancypants unicorn in ultimate champagne on a beer budget scenario. Prefer warmblood or warmblood X gelding, at least 15.3 hands tall and between the ages of 3 and 9.

Must have great brain, preferably canine-like personality and cuddly tendencies. A forgiving nature, for those amateur moments, is an absolute requirement. Need not be able to memorize show jumping tracks, but being able to count jumps would be helpful to this occasionally ditzy eventing DQ.

Suspension and athleticism important. And by suspension, I mean that of a Porsche or Audi, not a Model T. Prospective owner seeks to be competitive in the dressage court up to 3rd level and in the eventing irons, that is, if she can remember her courses. Proven jumping ability preferred, but willing to survive training a green but willing jumper as well.

Horse will receive almost daily attention from prospective owner, be taught ridiculous tricks like smiling and bowing, and in general be spoiled rotten. As such, the horse must in turn tolerate copious amounts of picture taking, both as the subject of his new owner's photography experiments, but also on a routine basis for the purpose of bombarding the blogosphere and social media channels with their presence.

Besides being sound of mind, horse must be sound of body. While this amateur owner has become efficient at wrapping, icing, hand walking, and bonding with vets, she would like to turn her attention to other hobbies. Like riding. Lemons need not apply, and you better believe there will be a pre-purchase exam.

In return for meeting these lengthy and lofty requirements, any future horse will be held on a pedestal above all others, if not in the judges' eyes, then in his owner's. He will receive the best of care at a top-notch facility, have his legs and feeding regimen obsessed over at length, and be stuffed full of cookies at every horse show. Oh, let's be serious—he'll be stuffed full of cookies on the daily. And with all hope, he will be a lifelong partner.

Willing to travel up or down the east coast to find this rare creature! Photos for attention of former, now retired unicorn. Thanks in advance for any responses!"
Gillis' journey to find her next horse began recently, when her 8-year-old Oldenburg-Paint-Thoroughbred cross Foster was diagnosed with a bone chip.
After Foster went through some on-again-off-again lameness issues, Gillis "went down the rabbit hole" searching for the cause, which included bone scans, corrective shoeing, and finally surgery to remove the bone chip.
"We literally tried everything to keep him going," she said. "The prognosis [after the surgery] was not excellent. We did what we could and brought him through rehab. I think the atrophy from being on stall rest just showed up all these other little problems. My vet ended up having a heart-to-heart with me, and said he really can't do much more than trail riding at this point in time."
Discouraged about losing such a promising partner, Gillis found a happy trail riding home for Foster, who she'd brought along since he was 3.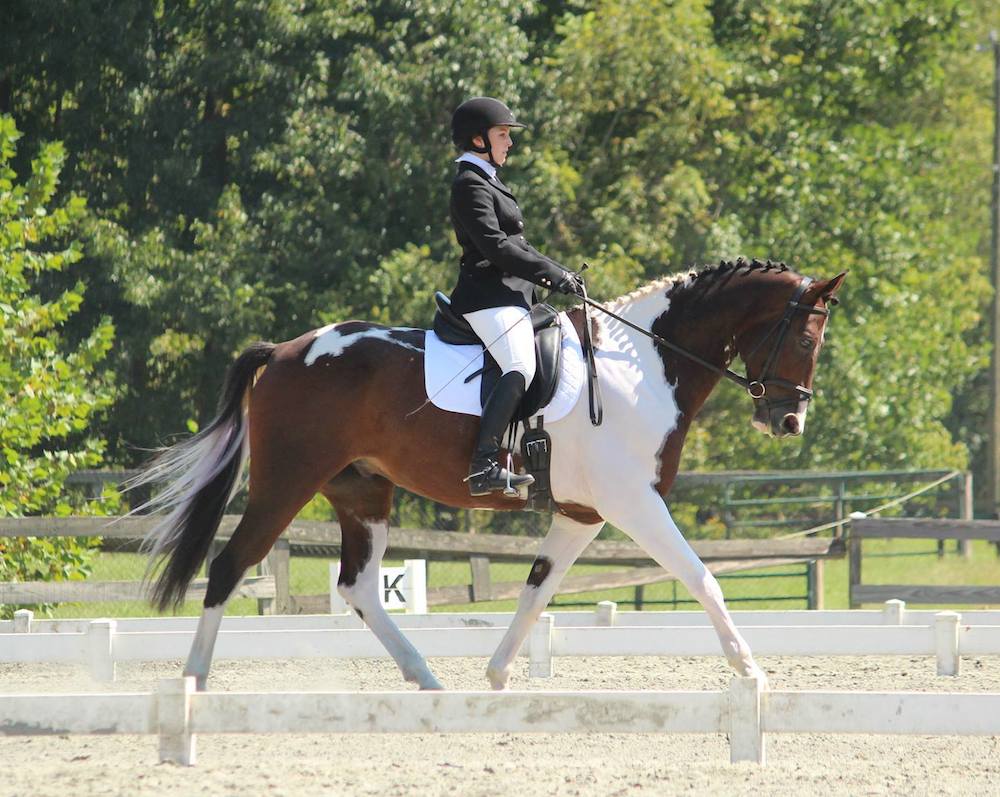 Britt Gillis and her former horse, Foster, competing in dressage.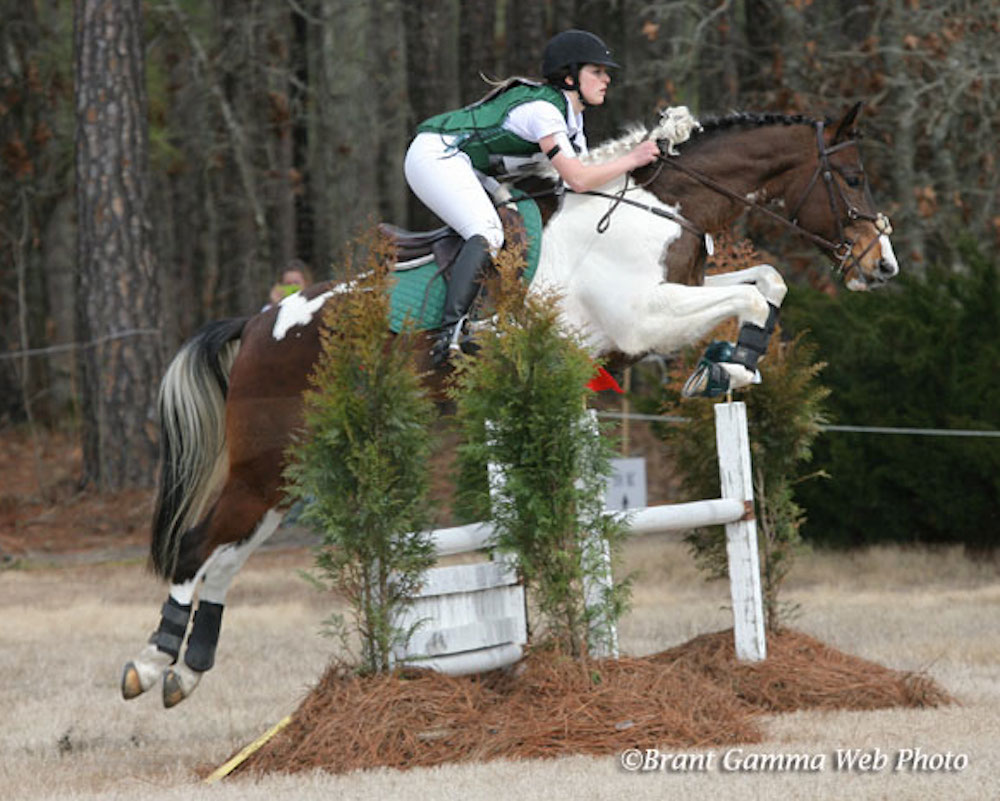 Britt Gillis showing Foster in his competing days. Photo by Brant Gamma
"He'll always be my baby, but he's going to be a tough one to replace," she said.
Gillis, 28, Raleigh, N.C., wrote her ad, and was originally going to post it just on her blog.
"That post was, if I'm going to be completely honest, exactly what I'm looking for," she said. "It was meant to be a blog post, and I showed it to a couple of friends who said I should put it on Facebook. They talked me into it, and I did, and I'm so glad I did because of the outpouring of people just finding it funny. I've been sent a lot of horses because of it. It's been neat to see the response."
A web designer who dabbles in photography on the side, Gillis hasn't quite found her match yet, but since posting the ad, she's looked at five horses, from an unstarted 3-year-old to a 10-year-old Thoroughbred ready for training level.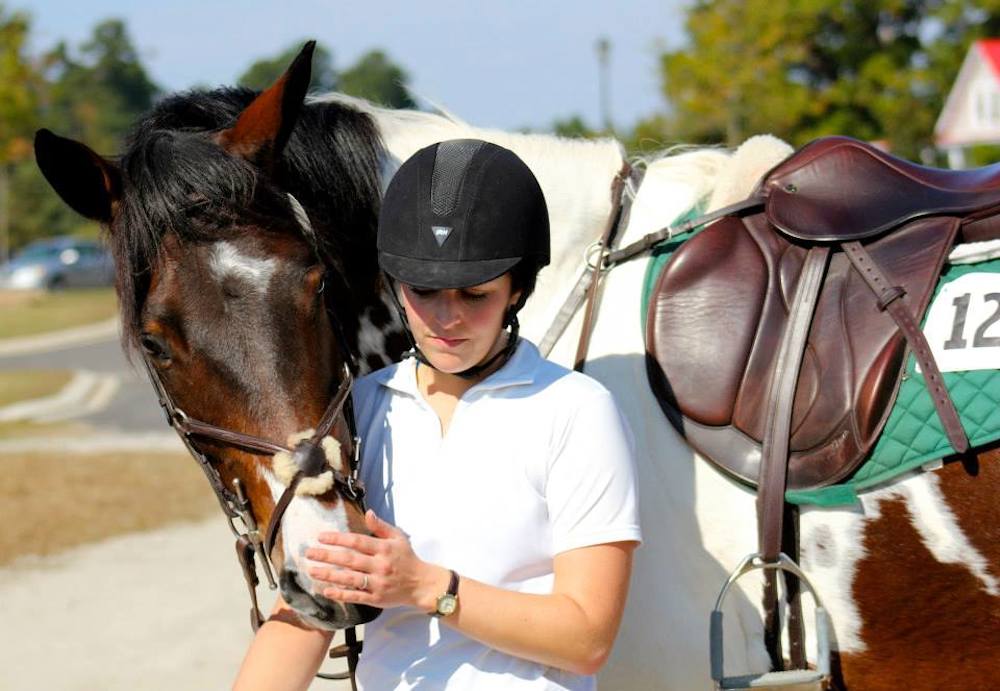 Having fallen in love with Foster, Britt Gillis is on the hunt for her next unicorn.
"It's such a weird process because it's so emotional, but you try to be logical at the same time," she said.
An eventer and self-proclaimed "dressage queen," Gillis hopes to find a horse she can do both disciplines with.
"I'm an eventer, but I'm an eventer who absolutely adores dressage, so I joke with my friends. They like to pick on me for being the DQ who likes to event," she said with a laugh. "Hence my description! My last event I was having one of the best cross-country courses of my life and just blew by this insignificant vertical on course.
"For whatever reason, I get so caught up in the excitement of cross-country that a couple of times I've almost forgotten to go through the finish flags! I do love eventing, but dressage is exciting for me too. I'm hoping to find a horse that satisfies both needs for me."