Holly Breaux has never been one to take it easy. Perhaps her approach to a meters-per-minute clinic best mimics her full-speed approach to life.
"My trainer at the time was like, 'OK canter around at novice speed [with no watches,] and we'll see how close you get.' We take about five strides, and then we just gallop. We gallop the whole way and came back and she said, 'That's not novice speed,' and I'm like, 'I know,' " Breaux recounts, self-satisfaction creeping into her tone.
"She was like, 'Do it again, and do it at novice speed.' We just galloped around again," Breaux said. "You can't do that in the hunter ring." And so Breaux has found her niche galloping cross-country, combining her love of eventing on her Appaloosa horses with her thriving career.
As an equine chiropractor, Breaux's used to always being on the go—she spends a lot of time in the car driving from client to client. In fact, when setting up this interview her first choice was a time she knew she'd be in the car for a long period.
Breaux graduated from the University of Georgia College of Veterinary Medicine in 2005. She was inspired to go the veterinary route after helping a vet save a choking horse during undergrad. While she thought equine medicine was for her, her solo practitioner friends warned her that she'd easily get burnt out and wouldn't want to spend time with her own horses.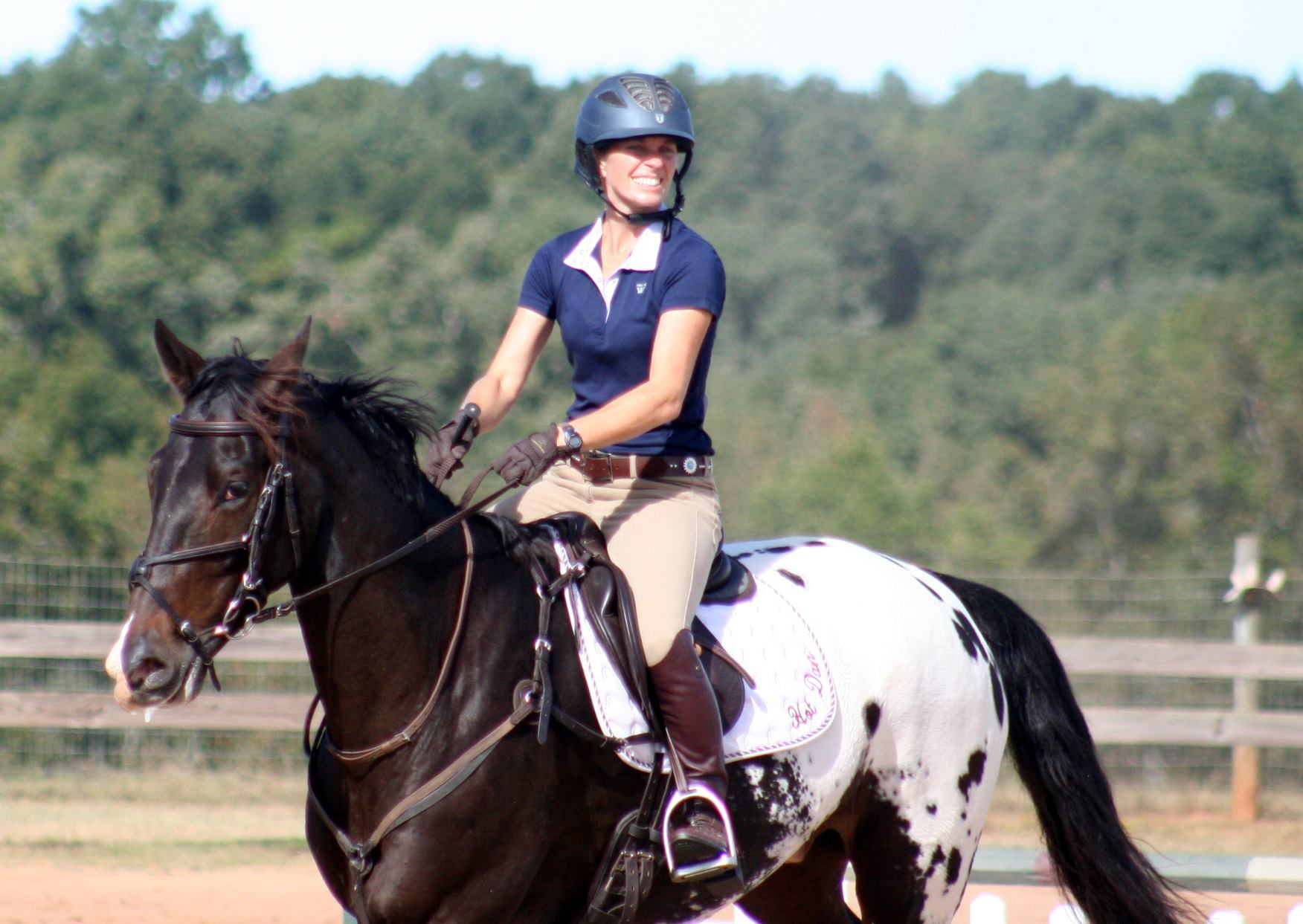 Holly Breaux on her Wapz Hot Dan.
Not wanting that, she pursued small animal emergency medicine. The schedule was intense, and she worked one week on before having a week off. The on weeks were hard, and she only managed to get in a ride or two during the week, but the schedule afforded her every other weekend to do as she desired.
"The first three years were a little tough," she said. "I nearly switched because I couldn't ride nearly as much as I wanted, but I made it work when I could."
For 10 years overnight shifts ran Breaux's life, but then she decided she was ready for a change. As she builds her animal chiropractic business, she's back to labor-intensive weeks but once she's established she's hoping for a regular schedule. She laughed at the idea of having a typical workday—she does some work with lasers and wants to get certified in acupuncture. But running her own business meant she could leave a slot or two open during the week to ensure that she got her saddle time.
Though equines are her primary clients, Breaux also adjusts dogs and has a show cow on her list.
"I always wanted to be a vet—ever since I was tiny little kid—mostly because I wanted a dog, and it was working with animals," she said. "As I got older, I really liked the science. I like that it's a puzzle. You've got to fit all the pieces together and figure out what's going on. It's different every day."
Horse Crazy From The Start
Breaux, 38, grew up in a very non-horsey family, but convinced her parents to let her to start taking lessons in grade school.
"I had to keep my room clean for a whole year just to get my dog, so I'm amazed that I got the horse in the first place. I don't know [where the interest in animals] came from. My sister has five kids, and I have way more than five animals," she said with a laugh.
She got her start in the hunter ring, but found her way to eventing in college. The barn in Athens, Ga., had an eventing trainer, so Breaux, never afraid to try something new, thought she'd give it a try.
"I took a lesson with the evening trainer, and then I was like, 'Oh never mind. This is fun—this is what I'm doing now," she said.
So she traded in her hunt cap for a skull cap and started eventing her first horse, an Appaloosa named Roany.
Her second event horse was also an Appaloosa, a now 19-year-old gelding (Te N Te—MHF Spider Lady, Chiefs Fiddling Boy), named Flecken Awesome. The gelding originally went by Flecken, which is German for stain. However Breaux always loved using wordplay when it came to "Fleck's" name, so she decided to add the suffix Awesome.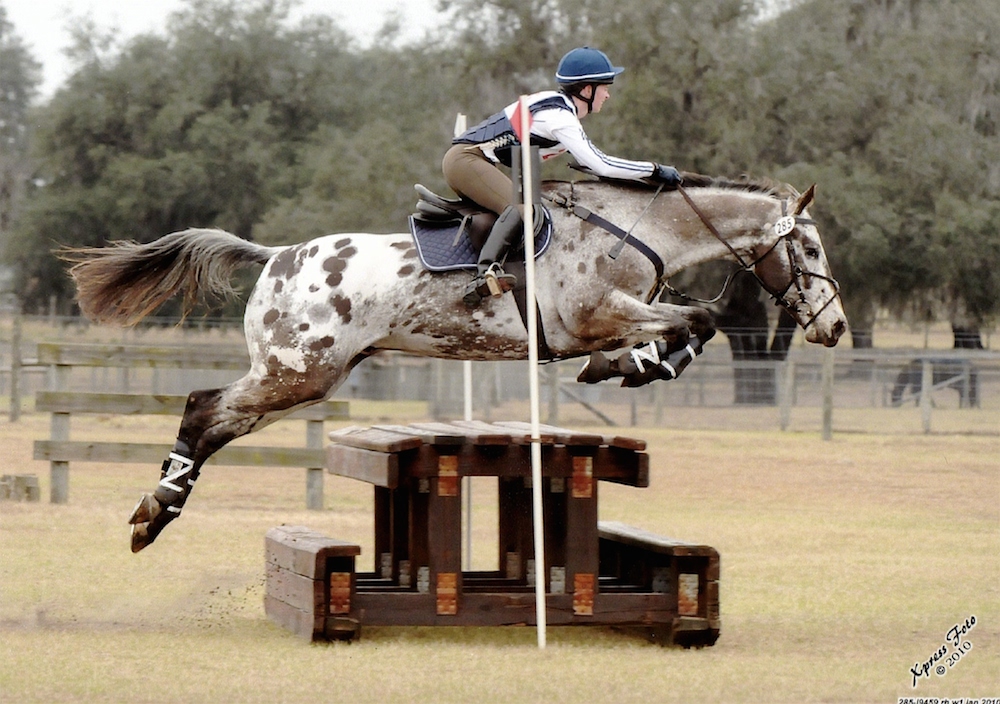 Holly Breaux and Flecken Awesome eventing in 2010. Photo by Express Foto
A friend of hers, Karen Czarick, purchased Fleck as a yearling and brought him up through novice. Breaux first threw a leg over him when her own horse was lame and was instantly smitten, but her friend wasn't immediately ready to let Fleck go. In 2004 Czarick learned she was expecting, so she finally agreed to sell him.
With Fleck, Breaux moved up the levels, and the pair contested their first preliminary at the Tryon Riding & Hunt Club Horse Trials (N.C.) in 2011. From 2011 through 2015, Breaux and Fleck competed at the training and preliminary levels, but Fleck is now taking a break from serious work.
While eventing is their first love, they also dipped their toes into a number of different activities. "We trail ride a lot. We go to the beach and ride. He's done one competitive trail ride, and he actually did really well considering he's never seen any of that before," Breaux said. "I've done half of my work towards my bronze medal [in dressage] on him. He's game to try anything, and he basically does whatever I ask."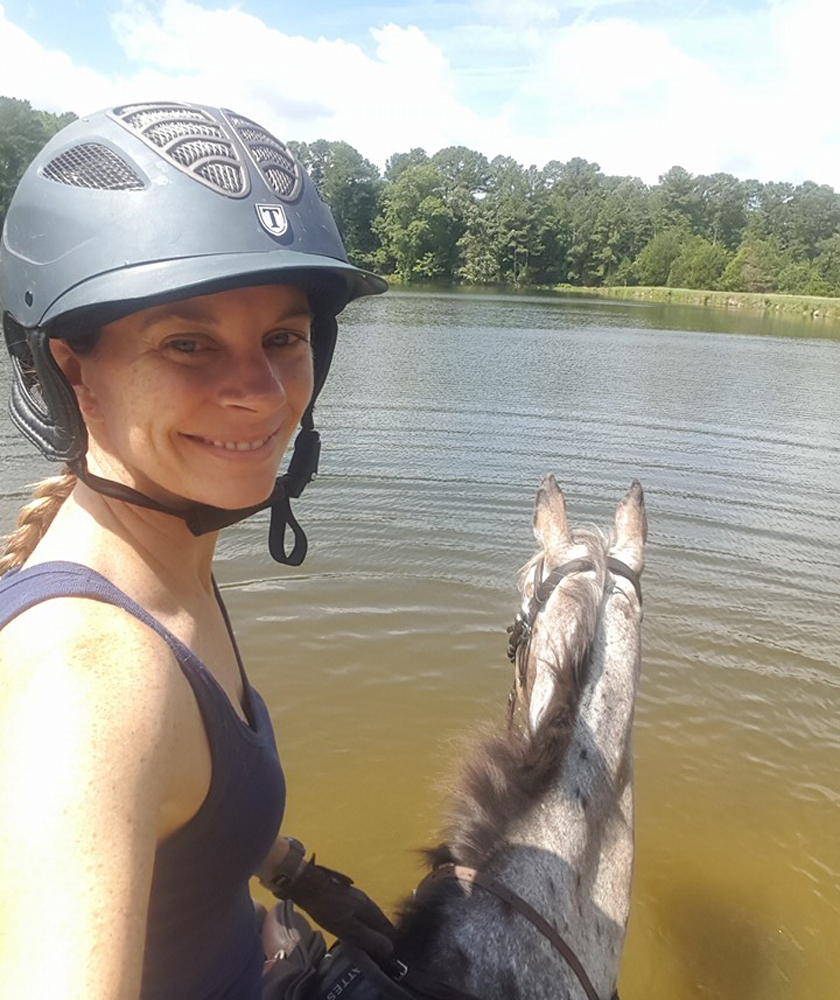 A dip in the water with Flecken Awesome.
She bought her third Appaloosa, Wapz Hot Dan—a now 5-year-old (Wapuzzan—Empey Queen, Coevers Diamond Boy)—at 10 days old. She's hoping "Dan" will be her next event horse, and he's the first young horse she's started on her own.
"I've had a lot of help lesson-wise, but I did all the breaking and stuff myself. We did lots of ponying, and then we did lots of long lining," she said. "So even as a baby he was long lining over ditches, through water. He's pretty chill and laid back. He's an easy baby too. I don't know that I could have done it on a tough baby."
Breaux showed Dan a bit on the line in the Future Event Horse classes and she's planning on his beginner novice schedule next year.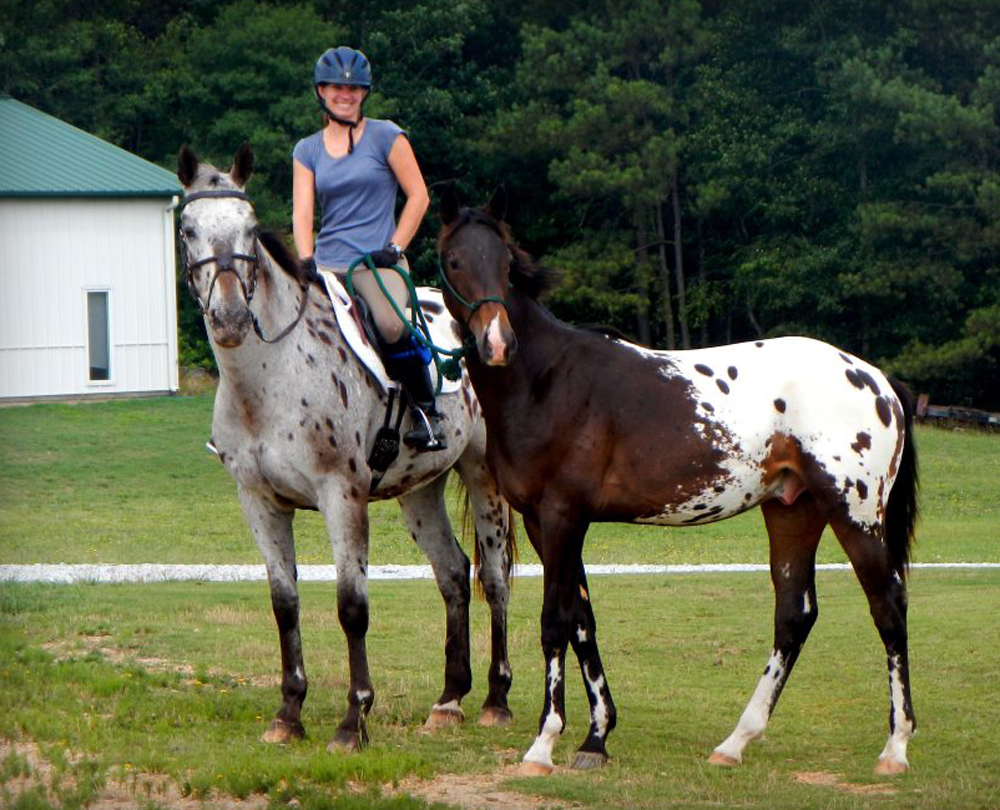 Holly Breaux riding Flecken Awesome and ponying Wapz Hot Dan.
"I really like [Appaloosa] personalities," Breaux said. "They're friendly and out-going. They're game for pretty much anything—they're an all-around horse. They're pretty sound and fit and hardy considering. And I like the color. I like to be different apparently."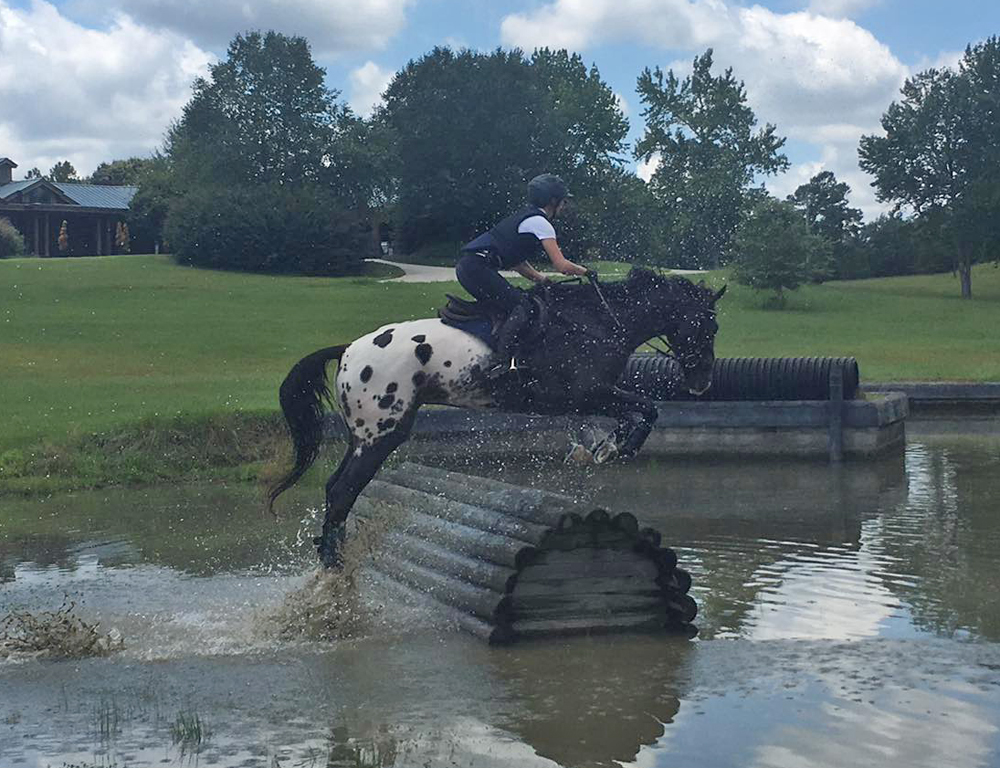 Holly Breaux and Wapz Hot Dan schooling cross-country this year.
Ten years ago she and her husband, Mike, bought a farm in Loganville, Ga., and she keeps her two riding horses, and Roany, who is enjoying her retirement, at her farm.
Since she doesn't have a good place to ride at home even an evening school requires extra effort.
"I'm very lucky in that there's a farm 10 minutes down the road from me that has a membership, and they have dressage arenas and cross-country fields, a lake, tons of trails and a jump arena," she said. "I haul down there, but by the time you load up, haul, unload repeat, it adds an extra 45 minutes to my ride. Then after I work it's tempting to take them on a trail ride because I can. It's hard to do quick rides."