Imagine this: a talented young Dutch Warmblood gelding excels in the dressage arena, but every now and then he takes a walk on the wild side by competing with his owner in mounted shooting competitions.
Yes, we said mounted shooting, as in, firing a gun. From the back of your running horse.
Take your time.
Truth be told, that's exactly what adult amateur Gretchen Walters of Sonora, Calif., does with her dressage mount, G-Force, a 5-year-old Dutch Warmblood gelding (Contester II-Ploy).
"Yes, it's very different but lots of fun!" said Walters. "It actually has huge advantages: my horse gets to do something unique and refreshing where I'm not obsessing about my body positioning or having the perfect collected trot. He really learns to trust and listen to me, and you can actually win some money!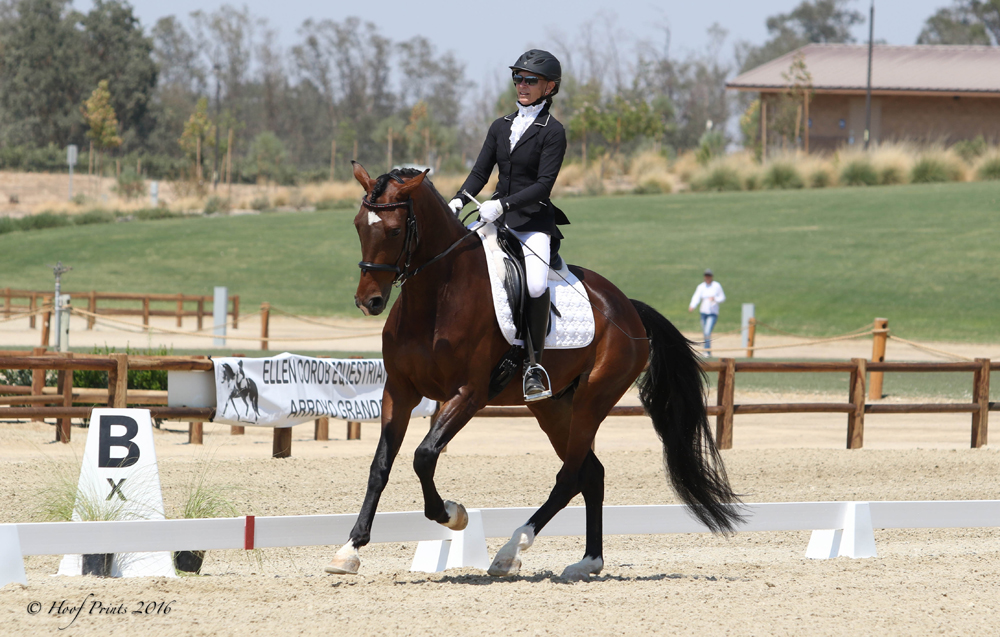 Gretchen Walters and G-Force impressing in the dressage ring. Photo by Hoof Prints Photography
"I'll never be afraid coming down center line after going to mounted shooting competitions," she continued. "It's like being in an energizing rodeo atmosphere, so after that your horse thinks that even the biggest dressage show is a piece of cake. He's super desensitized and nothing bothers him, so I never worry about everyone being quiet around the ring or going past typically scary objects. Plus, it's been great for his confidence as a young horse."
That confidence has paid off, as Walters and her mount, which she purchased from breeder and trainer Chelsey Sibley as a gawky 2-year-old, won a multitude of awards at training and first level as part of the California Dressage Society's Regional Adult Amateur Competition program this summer, and Walters has high hopes for the future. So how did she become both a dressage queen and cowboy shooter, all while working full time in the medical field?
"I was your typical horse-crazy kid, starting out on a pony who ran off with me all the time," she laughed. "Growing up I never actually owned my own horse, but I had the opportunity to ride lots of other people's horses, and it was a great way to learn a lot."
As a young adult involved in the hunter/jumper as well as the eventing disciplines, Walters moved to Southern California 25 years ago and met a friend who had Arabian horses. It would prove to be her introduction to dressage.
"I'll never forget I went to ride one of her horses in a dressage show at the Los Angeles Equestrian Center, and I got something like a 50 percent. I had no idea about dressage. I thought that anyone could ride a circle. It was my first 'a-ha moment,' realizing there was much more to this. I was intrigued, so I started riding an Arabian stallion for this owner and worked on doing more dressage. We went to Arabian Nationals and won, and it was one of the best wins of my career," she said.
"Then by middle age and with the demands of my nursing career, I transitioned full-time into dressage and found a half-Hanoverian/half-Arabian in a pasture. I never expected him to go far, but he kept moving through the ranks, and he carried me to my U.S. Dressage Federation silver medal."
Even though she now rides "semi-regularly" with Sibley, Walters describes herself as a "do-it-yourself amateur."
"I always rode and competed with non-warmbloods and crosses with a few 'real' lessons interspersed. I kind of did everything off the seat of my pants and learned by watching people," she explained. "I believe I actually learned more by doing it myself. I'm like a kid who had to learn how to fall and not have someone there to catch me every time. I like doing my own thing and have always been independent, but I will say that working recently with Chelsey I have been able to improve by leaps and bounds with my young horse.

Gretchen Walters and G-Force. Photo courtesy of Gretchen Walters
"I'm letting G-Force develop at his own pace. Even though he shows so much talent, I refuse to get greedy or push him. I believe in setting realistic goals, and I always try to see my horses for what they are and work with what they give me, just being happy with what they can do," she continued.
Descending from a family of nurses, it seemed destined for Walters to also pursue a medical career.
"I was in critical-care nursing for years, working in 12-hour shifts so I'd earn plenty of time off to ride," she noted. "But then I moved into management and everything's changed. I am now the Clinical Director of the Inpatient Unit at my hospital, and while it's technically a five-day-a-week job, in reality it's a 24/7 responsibility."
But no matter what saddle she chooses to ride in or the demands her career places upon her time, Walters is determined to never miss a minute with her horses. "I've worked hard my whole life to stay around horses. Even as a kid I had to find my own opportunities to ride. It's always been a part of me. I have to have horses in my life.
"Of course finding time to ride can be a challenge. Having the horses at home has been a lifesaver. Before when I boarded them, it was a lot harder to get out there and ride consistently," she continued. "But even though it's easier at home, there are still lots of times it's dark and you're tired, and you have to bundle up to go out there in the rain and the snow. Those are days you have to suck it up and push yourself."
Walters also makes a conscious effort to mentally refocus herself away from her demanding career before going to the barn. "You have to force yourself to put work away, be in good humor, and listen to your horse. Otherwise I've learned that you get in a fight, and no one wins," she explained. "When I come home and change into my barn clothes, I grab the dogs and head out to the barn, and that's when the transition happens, getting my brain to turn everything else off. I am also lucky to live in a beautiful area, so I look around and am reminded to be grateful."
Walters' husband Jerry is also a lifelong horseman and introduced her to the world of mounted shooting.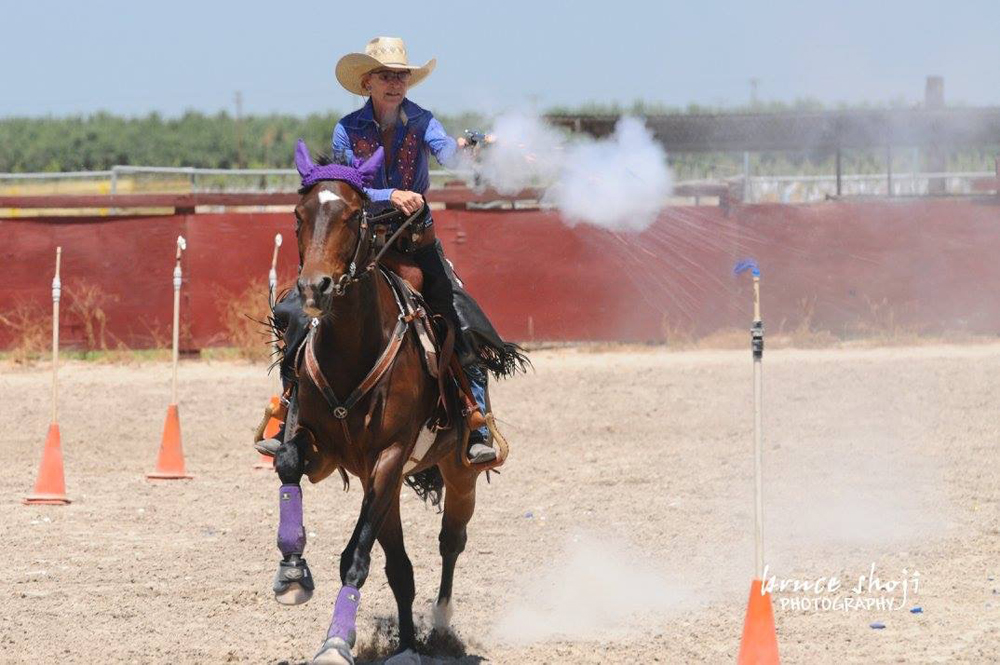 Gretchen Walters and G-Force performing in a mounted shooting competition. Photo by Bruce Shoji Photography
"Jerry is a born and bred cowboy who says he wouldn't be caught dead in breeches. But he met me and got quite an awakening to the horse show world!" she laughed. "I feel lucky that my spouse is involved in horses, so there's no haggling about spending time at the barn. Also, because we have grown children, it's easier to devote time and resources to the horses.
Jerry competed in shooting competitions and discovered mounted shooting six years ago.
"I started with my old event horse [a Thoroughbred] and never in my wildest dreams did I ever think I'd be shooting off the back of a horse," Gretchen said. "I remember that first time I had my feet out of the stirrups, one hand on the mane, my other hand on the gun, and I was ready to bail because he could be a nut. And shockingly he didn't care! So that was the start. Now we go to some of the large events across the Southwest and up and down the West Coast, and those who are involved in the sport are just a great group of people."
"Of course now I know a better way to train the horses like G-Force, which isn't so different from training for any other discipline. It involves a progressive desensitization process starting with groundwork to accustom them to the sights and sounds they'll encounter. Surprisingly most horses will go for it, but you can't rush it, because once you scare them, it's hard to go back. Like anything else, you have to put the time in to do it right," she said.