Inavale Horse Trials is only an hour from where I live—that's close in Pacific Northwest Area VII eventing terms, where events are usually more than three hours away.
As a result everyone I know in my local horse community treks to Corvallis to watch the cross-country. It's pretty much the one event that takes place on my "home turf," and I love seeing all my friends. When I first started eventing back in 2009 or so it was the event I most looked forward too.
But after a couple falls there at the trakehner in 2010 and 2012, Inavale was the horse trials that seriously made me consider quitting eventing. This year it was time to conquer the demons (or just the one known as the trakehner).
The first time I would have attempted the trakehner at Inavale with my previous horse, I fell twice—once at the water and again at a combination (it was a derby, so they let me get back on after I splattered the first time) and never even got to the trakehner.
The second time at an event there, I was frazzled and uncertain. So I stared at the trakehner like a deer in the headlights until my horse deposited me on it with a good thump.
I took some time off from eventing, regrouped, then decided I really did want to keep eventing and contacted Meika Decher, who is now my trainer, and asked her for help, and then in 2012 gave Inavale another shot.
And fell.
At the trakehner. Pretty sure I stared at the stupid thing again.
One of the things that was going on is my then-mount, a sweet off-the-track Thoroughbred, was telling me he wasn't so keen on training level and was in fact a novice kind of guy. So I found him an amazing new home and went horse shopping.
In the back of my mind was the niggling question: Do I want to do this? Risk falling again? But I also couldn't imagine not eventing.
Then I got Cairo.
Our first year Cairo and I went from starter to novice and started schooling training. The second year we did the long format Novice Three-Day at Rebecca Farm (Mont.). Meika suggested I do training as a good prep before the novice three-day but the only place I could do that was Inavale.
"No," I told her, remembering how the last time I competed there. "I don't think Inavale is a good place for our first training."
Let's put it this way, Inavale has cute little wanna-be trakehners at beginner novice and novice. I think the official name for them is "log over swale." I almost peed my pants jumping them. The actual trakehner looked like a massive, looming log rising up to greet me.
But this summer, with two trainings under our belt, I put on my big girl panties and entered Inavale at training level once again at the late June horse trials.
Fear sucks. But I was going to have to deal with it if I wanted to keep doing what I love.
Inavale!
Dressage
So I decided not to remind anyone that I had never actually successfully completed Inavale at training and just be positive, a sort of fake-it-till-you-make-it strategy.
Schooling day, Cairo was a total sweetheart. "Is she sick?" Meika asked in what has become a running joke—if Cairo is being good on the flat, something must be wrong. Nope, eating like a velociraptor and pooping up a storm, Cairo was feeling just fine.
She saved her antics for the actual show, which is part of her typical strategy.
My dressage trainer Leslie Chapman said she would come up and school me. This was great, since she's been teaching me for years but never actually seen us in the show ring. Leslie got recruited to school some other riders too and they got great scores.
And then there was Cairo.
Cairo took exception to the presence of other horses in her bubble and pretended she could not possibly do an upward transition without leaping and bounding. Gathering the reins after our stretchy trot offended her deeply. Leslie laughed at her antics and talked us through it.
On a side note, I got a little whiskey in me on a trip to Austin, Texas, recently and rode the crap out of a mechanical bull. Everyone was all, "You must do this all the time." Nope, I just used the same strategy I use to ride Cairo in dressage: Eyes up, sit back, heels down, stay in the middle. It's amazing the life skills a sassy mare can teach you.
Cairo was pretty reasonable when we finally trotted past "A" and down the centerline. And here's the thing: I rode every step of that test. I remembered to use my corners, put leg on in my downward transitions. By the time we halted I was like "YES!"
Leslie was pleased, I was pleased. Cairo was like, "Thank God this crap is over. Can we jump now?"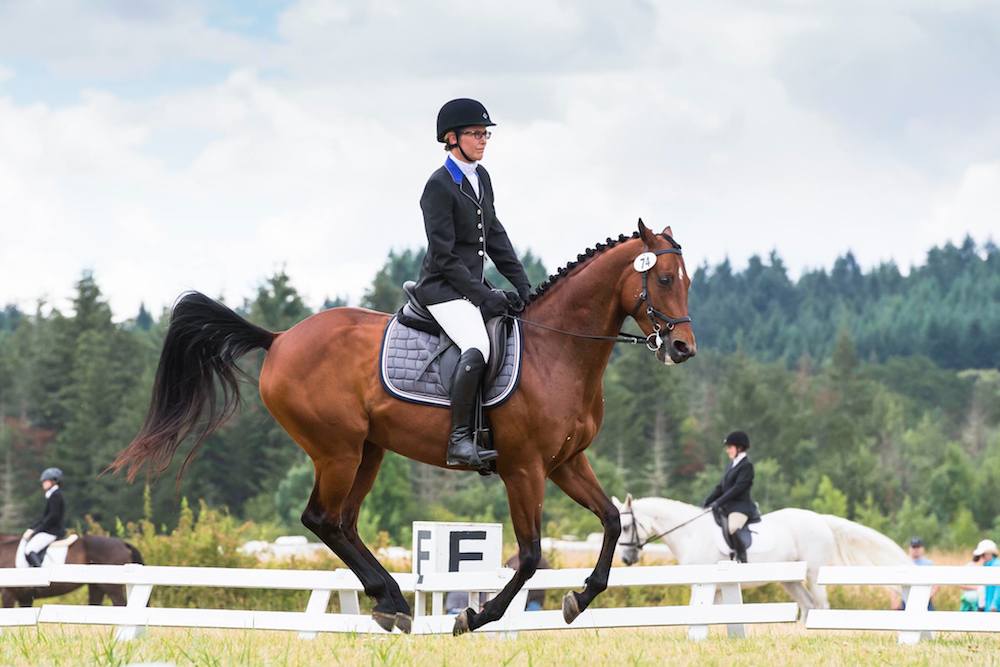 Cairo gritting her teeth and bearing it in the dressage. Photo by Irina Kuzmina
The good news is we improved our score by three points and Leslie has even better ideas about what to work with us on at home. The bad news is we were still hovering at the bottom of the pack (second to last) with our score. I looked at my comments—nothing unexpected, tense, a crooked moment or two. Then I looked at a friend's comments. Her comments were similar, but my scores were lower. Sigh. What am I missing?
Meika pointed out that as good as Cairo was (for her) the dressage judge doesn't look at my annoyed little mare and think, "I'd love to ride that," the way a judge might look at a super-chill warmblood. And she reminded me, as always, Cairo and I are in it for the long haul, not short-term glory in terms of scores.
I thought about it and realized while another horse looks calm and relaxed in its test and Cairo, though she has a lovely foamy mouth and is for the most part is really using her topline, looks like she's mildly furious and has moments were she jerks her head or swishes her tail. The chill horse gets crooked and it's a minor mistake, and doesn't create an ugly picture for the judge. Little Miss Fury on Wheels gets crooked and it looks twice as bad.
Solution. She can be very relaxed and soft at home, so we will get there at shows, with time. In the meanwhile, I need to be as correct as possible, no crooked horse, ride perfect geometry. As Leslie once told me, think of the fire as brilliance and "channel the brilliance." Have you ever seen the video of eventing legend Theodore O'Connor absolutely exploding during dressage? These things get better. Hope springs eternal!
Cross-Country
I put Cairo away with snacks and kisses (it's not her fault dressage is part of eventing) and headed off to walk my cross-country. My photographer friend Irina Kuzmina came along to check out the course.
First fence, little logs, easy. Second fence, kinda big, but Cairo won't care. Third fence, brush in the woods, we've jumped that before. The fourth fence was a sort of narrow upright slab of wood in a field out of the woods. I didn't think it looked like much but Meika told me, "Ride that one." She added, "Give it some respect."
Good advice it turns out as several riders had refusals there.
Fence 5 was a combination barn two strides to a chevron. Then a big right turn and there it was. The trakehner. They'd stained it darker since the last time I'd seen it.
"That is a big log!" Irina exclaimed.
"No," I told her, "We are going to call it the 'little log'; we are going to call it 'my new best friend, the trakehner.'"
Irina was agreeable to this strategy and asked if I might want a picture of Cairo and I jumping the "little log." I agreed and tried not to think of the frame-by-frame series of photos of my falling off over that "little log" that exists somewhere out there.
The rest of the course looked pretty reasonable. I didn't want to throw up walking it, which was an improvement. (I threaten to barf on cross-country but have never done so. Possibly because I'm too nervous to eat, or more likely because that would really piss Cairo off).
There was a log down a hill coming out of the woods that I sincerely hoped Cairo would not employ her rocket boosters over, followed by an uphill brush fence of the like I'd never seen. Meika pointed to spot well downhill of the log and said, "That's where you will land," clearly she was taking into account the rocket booster option. Then she said to get my brain together and head for the brush.
The next day in the schooling area Meika had to remind me to go forward. My happy little canter at Aspen got me time faults for going slow, so gallop a little, let Cairo do her thing. Earlier that morning I had watched Cairo's uncle Loki go intermediate with my friend Samantha Bergin and it was lovely to see a horse just gallop and jump like flowing water, so I tried to hold that thought in my mind.
Meika escorted us to the start box, which was free of antics this time, and off we went.
There is nothing more glorious than riding a horse that is in her element. The glee that courses through Cairo's body when we hit cross-country is contagious. It's like nothing else. She flew over the fences. The plank in the field, not a problem. We galloped and jumped pretending we were going prelim.
At the two-stride barn to chevron, I was well into my "let's just gallop" attitude and Cairo was game on. She is quite capable of leaving out a stride in a two-stride or doing a one-and-half, but she just checked herself, beelined the skinny and sailed on.
The trakehner at Inavale is usually early in the course, and given my penchant for splattering into that fence rather than go over it, I've never actually made it past the first five or six fences at Inavale. In other words, I've repeatedly started but never finished the training course.
But the firecracker of glee that is Cairo on cross-country didn't let me think about that. Eyes up, sit up, throw your heart over.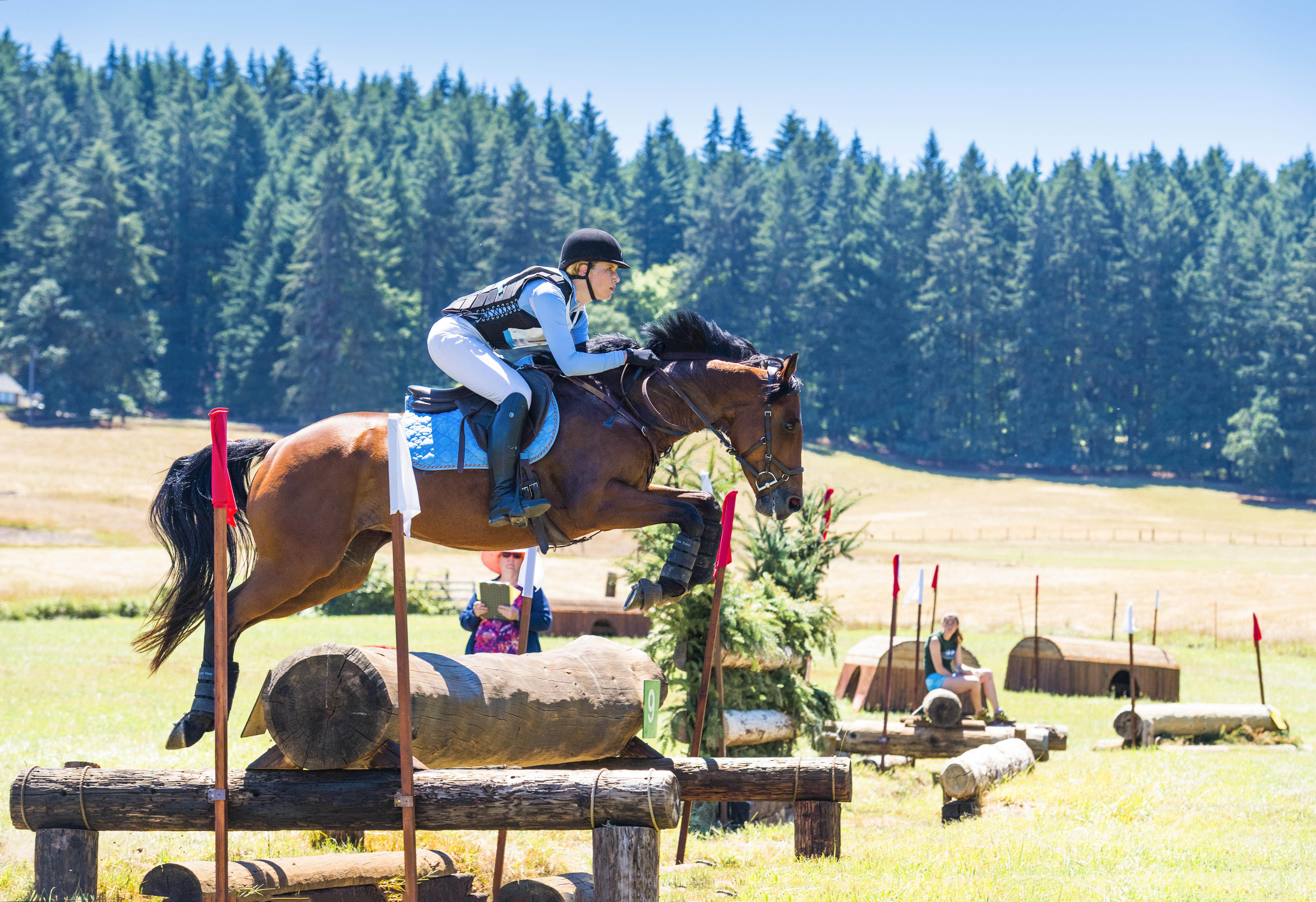 Trakehner conquered. Photo by Irina Kuzmina
The trakehner? Demons conquered. We didn't just jump it, we jumped it with style. Luckily I stopped celebrating three strides after the fence and remembered to turn her to Fence 7, an oxer with rocks underneath it in the trees cleverly known as "the rock oxer," then rolled back to the water.
The water combination was logs, three strides then logs into water. I'm always convinced Cairo is going to look at the water. She never does. Cairo is in fact convinced that the bigger the splash the better the jump into the water. Luckily, I had remembered her splashdown tendencies before my ride and switched from my glasses to contact lenses in case of water on glass lenses-induced vision problems.
I'm not sure if I was grinning because at this point we were having so much fun or because I could hear my friends cheering. I love that eventing lets spectators be right there, screaming and getting splashed.


Before the big splash! Photo by Irina Kuzmina
Through a field and back into the trees and no worries about Meika's warning that trees can slow you down because Cairo was on a roll. Down the forested hill, then a little "whoa" before we burst out of the trees and over a corner. Tiger trap, up bank combination to a log, turn to a brush then long gallop to the downhill log.
After the brush when we started the next long gallop, I checked to make sure that Cairo was actually listening—she goes cross-country in a soft rubber mullen mouth so it's really my body and voice I think she listens too, not the bit. She flicked her ears, slowed down and told me she was listening, so we galloped on.
Other riders told me that they planned to trot the downhill log, but I was sure Cairo would think that was stupid and I would piss her off for no good reason. We came out of the woods again, down the hill, I checked her and we popped over the log, galloped the uphill brush and neatly cantered downhill to the coffin, which she jumped daintily. Ditchy? Not the Queen of Cairo.
Somewhere around the last two fences a small voice in my head said, "Wow, this galloping is awesome, but, what is the optimum time?" because once again I had elected to try to feel my pace and leave my watch at home. So I downshifted from "Let's pretend we are going prelim!" to "Hey Cairo, we are still at training level."
I'm getting the hang of this feel your pace thing a little. We did not get speed faults—optimum time was somewhere around 6 minutes and we came in at 5:21. Cairo cantered through the finish flags and danced all the way back to the barns, with me grinning like an idiot.
Meika walked us back and said, "OK, so now I'm going to say something and it might make you barf."
"Oh God, did I forget a fence?"
She laughed, "No. Prelim."
It's a tribute to how high I was after cross-country that I didn't freak out. Or throw up.
My plan had been to get back to my original goal—do well at training level, get my confidence back. In order to do that the key goal was to keep the horse between me and the ground. Mission accomplished, with bells on.
And now I've got people saying the p-word.
The course felt like a breeze, it felt like novice. But it definitely wasn't easy. I went from second-to-last to seventh after several people in my group had refusals and eliminations. A quick scan of the overall training results showed Fence 4, the water, the trakehner and the coffin caused problems for riders.
Cairo? She was all, "Get me between the flags, girlfriend, I got this."
Stadium
Inavale is known for its colorful show jumping courses with everything from Scotty dogs to zebra fences to flamingos. That didn't worry me—Cairo is not particularly spooky. I just kept reminded myself I just needed to not fall off or get eliminated. Easier said than done, right?
Cairo warmed up with her usual exasperation at the fact other horses dare to be in her vicinity and we headed in.
I should have remembered that Cairo doesn't have the best reset button. At Rebecca Farm last year we schooled steeplechase before dressage and I found myself trying to trot 20-meter circles on a horse that could only scream, "Steeplechase!!!"
We picked up the canter, and headed to the first fence and Cairo went, "Yeehaw!" She grabbed the bit and attacked the fences.
Turns out that beast-mode is not the best tactic for stadium. "Thonk," went the first fence. Then there were a couple more thonks. The good news is the fences I was concerned about like the natural wood oxer one stride to a flimsy vertical rode great. Cairo merrily gave absolutely no respect to everything else. We rolled around the corner to the last fence like a kid who just stole his dad's dirt bike for a joyride.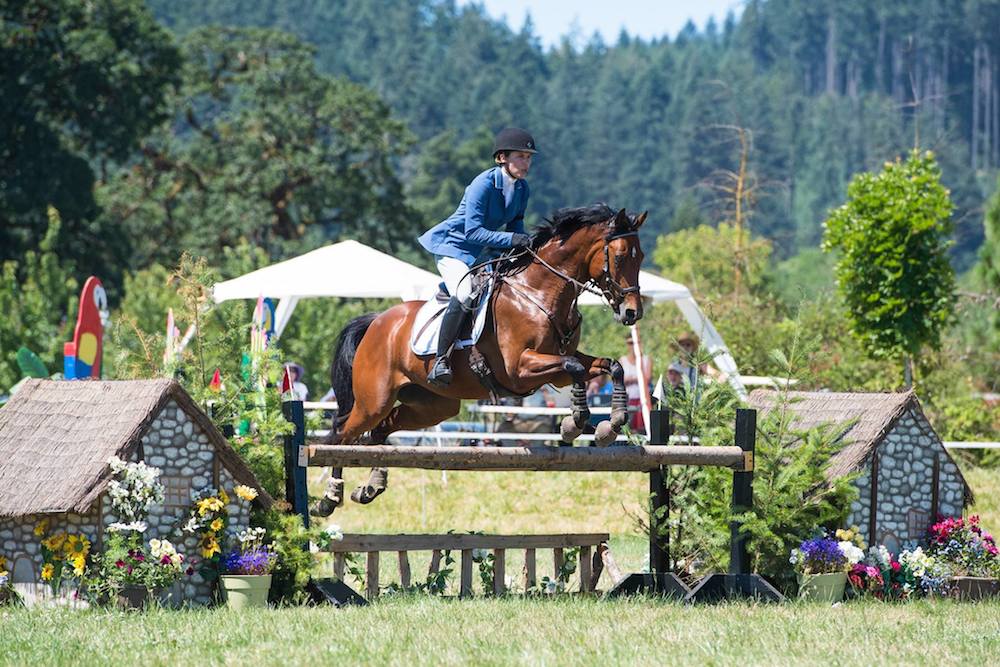 One of the fences we didn't knock down! Photo by Irina Kuzmina
Twelve faults later Cairo trotted out of the arena waving her tail like a victory flag. "Rails? Whateves, they were in the way."
I was less chill about the rail carnage. Seriously Cairo, we got 12 faults? Meika pulled me aside for the debrief and praised my riding, saying I rode well, was good with my body but maybe we needed to look at another bit. You know, one Cairo would actually listen to.
To poor Meika's horror, I promptly teared up. Honestly, I have no idea if I got sniffly because we had rails, because I have already struggled finding a bit that's mild enough to suit Miss Thing's delicate sensibilities (she's a rubber mullen girl) yet she listens to, or because I was actually super emotional about the fact that holy crap, I actually finished Inavale without falling off!
My weepy moment was interrupted by Irina frantically gesturing at me to get in the ring because they called my number for a ribbon. Despite the falling timbers, our cross-country was good enough to keep us in the top eight. We got a big brown ribbon for eighth and later a lovely yellow neck ribbon around Cairo's neck for third place with our adult team.
Aside from having to negotiate a large blowing ribbon while Cairo got her eye on the fences backwards and made bids to jump them, the victory gallop was fairly awesome.
"If your dreams do not scare you, they are not big enough." That was what someone said to me after I posted on Facebook about conquering the demon trakehner. It's one of those things that becomes a meme, but when I looked it up, it was a quote from the first woman to be elected head of state in Africa, Ellen Johnson Sirleaf. She also said, "The size of your dreams must always exceed your current capacity to achieve them."
I love that. Maybe that's part of why we do cross-country. It wouldn't be so exhilarating if it didn't push our boundaries. Am I going to go prelim? Could Cairo and I ever do a one star? I don't know, but I will go ahead and scare myself with my dreams.
Camilla Mortensen is an amateur eventer from Eugene, Ore., who started blogging for the Chronicle when she made the trek to compete in the novice level three-day at Rebecca Farm in Montana. Camilla works as a newspaper reporter by day and fits training and competing Cairo into her days.