Hello there. Remember me?
I said I was going to take the winter to mull over whether I wanted to keep blogging or not after I had a bit of an issue with someone apparently stalking me over my choice of bit. I needed a break to figure out what I wanted to do, as that was rather alarming. But I like blogging and sharing my riding life with people, so after the winter off, I think it's time for another shot.
So let's begin with a disclaimer: I don't like being threatened, and I don't like hate mail. I'm happy to engage in educated, civil discussion. If you are a first-time visitor to one of my blog posts, please know that with my spicy little 20-year-old Thoroughbred mare, I use a somewhat unconventional bit. It's a rubber hackabit. My mare likes this bit and has gone beautifully in it for eight years. I am happy to explain why I use this bit and how we came about to it (I actually wrote a post about it).
If you do not like the bit, please feel free to tell me that; I read every comment on these posts. My only request is that if you really hate my choice of bit, please don't express that by actually tracking me down and sending me threats. That's just not necessary, and yes, that actually happened.
I promise I read all the comments, even the ones that tell me I'm the worst rider ever and my horse would be better off if I were to be crippled in a tragic accident. You get bonus points if you express your criticism through modified song lyrics, although you cannot use "Baby Got Back" to say "I like big bits 'cause I cannot ride," because someone has already done that. Please be original if you choose to go this route.
Ch-ch-ch-ch-changes
All bitterness and joking about bitterness aside, this coming year is a big year for me. There are some major changes coming to my life, hence the Monty Python reference of a title, and as a result, the plans for this summer have changed.
You might recall from some of my earlier posts that I said I was applying to veterinary school while I was competing last summer. You can probably guess where I'm going with this—I'm thrilled to share that I was accepted at my top choice school for the DVM/PhD program, an eight-year program that will train me as a veterinary scientist. I'm over the moon with excitement to be a part of this program, and I'm really looking forward to starting classes in August.
Being a part of this program means that, if I'm being realistic, this is my last summer being on the circuit like this for a long time. It probably means that this is the last summer of playing in the grand prix classes with Nikki, which is a hard thought to swallow because we've had such an amazing time together. I'd be lying if I said that I wrote this part of the blog without tearing up, because I don't want that part of our journey to be over.
A Cinderella Story
When I look back on the 11 years that I've spent with Nikki, I can't help but smile. There's no way not to appreciate everything that's happened between me and my little sassy firecracker. We've had some sweet victories, some bitter moments, and a lot of days where I just tried not to offend Nikki (with varying levels of success). She's such a diva, but she always comes through when it counts, and that's one of my favorite things about her. She knows when it matters, and she has never let me down.
Here I am arriving to pick her up this week…
Spending this many years with Nikki taught me all of the ins and outs of her very big personality. She's a quirky girl, and it took me a long time to figure out what to make an issue of and what to shrug off and go "well, that's Nikki."
For example, sometimes Nikki comes out of her stall in a fantastically bad mood. It's very rare—maybe once a year—but these "redhead" days mean we're not getting anything done that day. Because she always performs when the chips are down, if she comes out angry at the world, I find something that she does well (even if it's so simple as I ask her for a transition and she does it), apologize for my existence, and then just go for a long walk.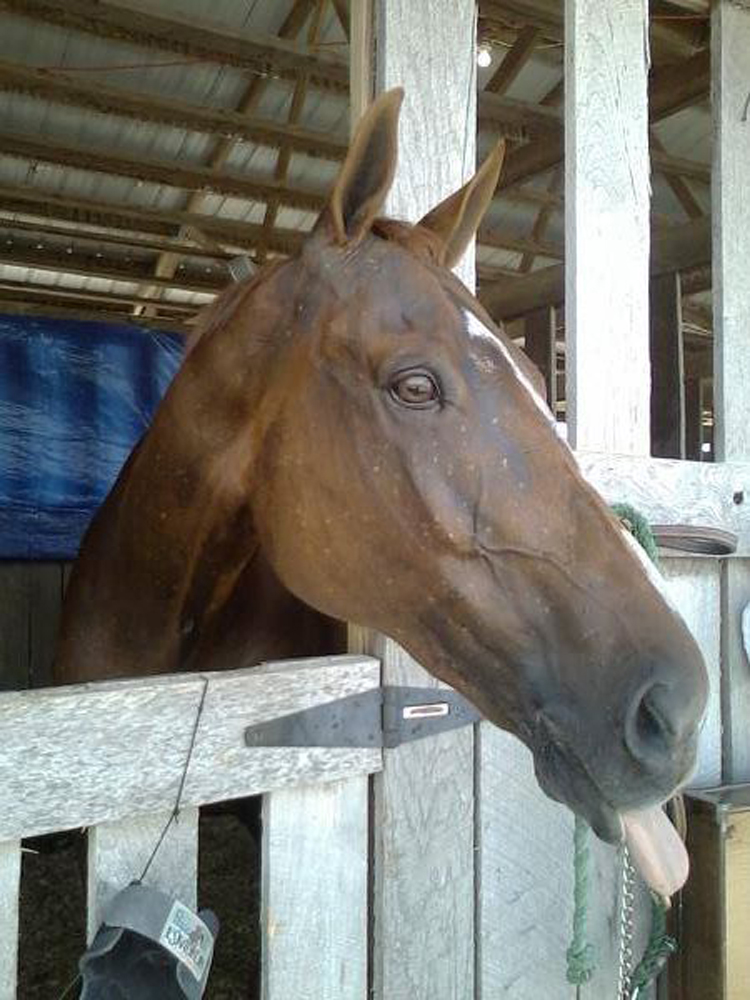 Horses need mental health days too, and I did notice over the years that when I was in a location where I could work her outside of the ring more, the redhead days decreased in frequency. So we work outside of the ring as much as possible, and we're both happier for it. We've been partners long enough to understand each other and to have that give-and-take.
I cried writing this post because I don't want this journey to end. Nikki is my fairy tale, and I still can't quite believe what we've done together. I can't believe that she showed up at Benchmark when she did—and that no one wanted her, that I happened to have a lesson on her, that my parents and grandparents were able to purchase her, or that she took me through the junior hunter classes and a few big equitation classes. That she became my first jumper, and that her first jumper classes with me were in the 1.20-meter low juniors, and that we did our first grand prix together when she was 14 and I was 18.
And, perhaps most amazingly, that she did this with an old bowed tendon, having survived EPM and colic surgery, and with no pro rides—just with her putting up with me fumbling through us being green together. She's smart enough that she knew what she could do, even when I made her job difficult or impossible. I'm so grateful for her and for all of our little moments together.
If I'd written this post while sitting on my trunk at a horse show, and I'd started tearing up, I know Nikki would have started licking my face, and if I'd tried to push her away, she'd ram her teeth into my head because she's trying to make me feel better and I'm not cooperating. Yep, that's happened before. My silly girl.
Endings Are Bittersweet
I know how lucky I am to be along for this ride, and I need to throw in a huge thank you to my parents for how much they've supported my riding and for guaranteeing that Nikki has a home for life with me, because she deserves all that and more. I so appreciate everything that she's done over the years, both in the ring and out of it, and still have to wrap my mind around the fact that at 20, she's still fit and sound enough to contest the grand prixs with me. I know it's selfish of me to be sad that this part of our career is coming to a close, but I think a lot of people have that feeling when you're approaching the end of something, either due to rider life changes or horse circumstances.
Nikki is not at all ready to retire. I swear she's aging in reverse! We'll have this summer together playing over the bigger sticks, and then she'll stay in work as long as she wants to. She might not go to horse shows again, or she might. I really don't know at this point.
I do know that she will not be leaving my family's care—I won't lease her out or do anything like that—because I owe it to her to keep her in the situation that I know is best for her, and I don't think putting up with someone new trying to figure her out is the right choice for her. She and my mom have a great time together, and I'm lucky to be able to rely on my mom for keeping Nikki in work and happy while I'm not there.
With all of that on my mind, I really want to just have fun with Nikki this summer. I'm looking forward to having her back with me for a few months before I start school, and we have a few shows on our calendar to look forward to. Perhaps toward the end of the summer, I'll do a post looking back on our 11 years (so far) together, with lots of pictures, and try not to cry too much while I'm writing it.
I don't want to think of this summer as a swan song; that will make it too sad and will make me put too much pressure on myself to really nail it. And thanks to my mom, I can watch hundreds of rounds that we've had over the years, from our debut in the junior hunters all the way up through our most recent grand prixs, and smile at the changes that I see in both of us.
I can't believe what this little mare has done, and that she chose to do it with me. It's been quite a journey, and I know this summer with Wondermare will be great no matter what—because it's impossible not to enjoy the ride.
Emily Pope, 24, started her relationship with Seize The Moment, an off-the-track Thoroughbred and a chestnut mare, in 2006 and they began in the junior hunters. Emily quickly realized "Nikki's" talents lay in the jumper ranks, and they worked their way from the junior jumpers to the grand prix.
Emily graduated from the University of Minnesota in 2013 with a B.S. in animal science, spent a semester studying aboard in Madagascar, and now works in cancer research. Read Emily's introductory blog, "Taming My Inner Gecko."