"There's something about developing a relationship with a horse that really fulfills me," amateur Sarah Murawski said.
And this fall, she was able to fulfill her bucket list goal of competing at the Waredaca Horse Trials Novice Classic Three-Day Event in Laytonsville, Md., Oct. 20-23, with a very special horse.
Murawski is a small animal veterinarian with her own business, Randolph Regional Veterinary Hospital in central Vermont, and balances her eventing goals with the demands of her practice and family life—she's married with three children.
"Horses are an integral part of who I am," she said. "Women my age, in the second half of our 40s, we are not going to Olympics. It's not the fancy horse that gets you where you need to go. It's the reliable gentleman that's fun and safe."
Kelly Carolina, or "Bijou," a 17-year-old Selle Français gelding, was the gentleman who helped Murawski with her adult amateur bucket list.
She got into eventing as a kid through Pony Club in New Hampshire, and made it all the way to preliminary and a long format three-day in 1984 with a borrowed horse from her instructor Kim Meier.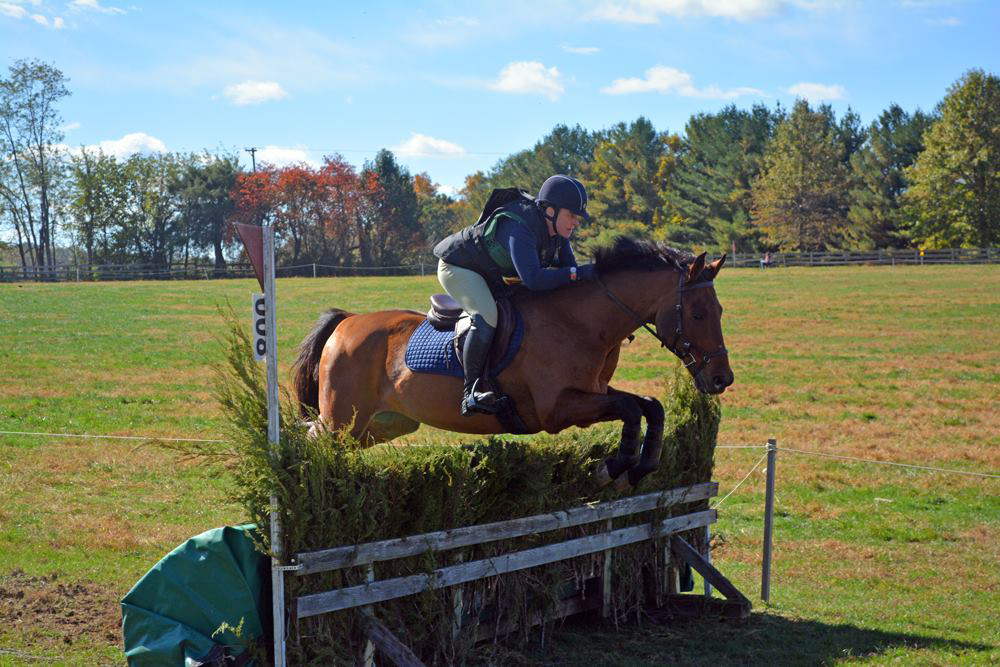 Sarah Murawski and Bijou. Photo by Molly Sorge
But a tragic accident turned Murawski's world around during college. Her roommate and closest friend was hit by and car and killed. The tragedy of her death sent Murawski "off the deep end."
The one thing that kept her together and employed was horses, she admitted. From riding polo ponies in Sun Valley, Idaho, to spontaneously moving to England to work at a fox hunting barn after striking up a random conversation with a man at a wedding.
After her wanderings, she found herself in her mid to late 20s living at home, and realizing she needed to figure out a way forward.
Capitalizing on her love of animals, and needing a fulfilling career, Murawski decided to become a veterinarian, and that meant making up almost two years of college that she had taken pass-fail in the wake of her friend's death. From Colorado State University, where she took classes and rode on the equestrian team, she moved to Texas for vet school, where she rode for fun.
Upon graduation, her next move was to Vermont to work at a general practice. She was convinced she had found the horse that would take her to the top—despite the fact that Mighty Elvis, a Selle Français gelding, was more than 17 hands and difficult, and she was a 5'2″ amateur.
"You know how people have this, 'This will be the horse of my lifetime horse?'" she asked. "That was this horse.
"Everyone is going to go to the Olympics when they are growing up," she mused. But to get there, you have to have "irrational confidence, sheer talent, and financial backing. And I didn't have any of those things."
Instead she had a career as a small animal vet, and the realization that she was "just an amateur rider." Despite the challenges, Murawski did well at the novice level with Mighty Elvis.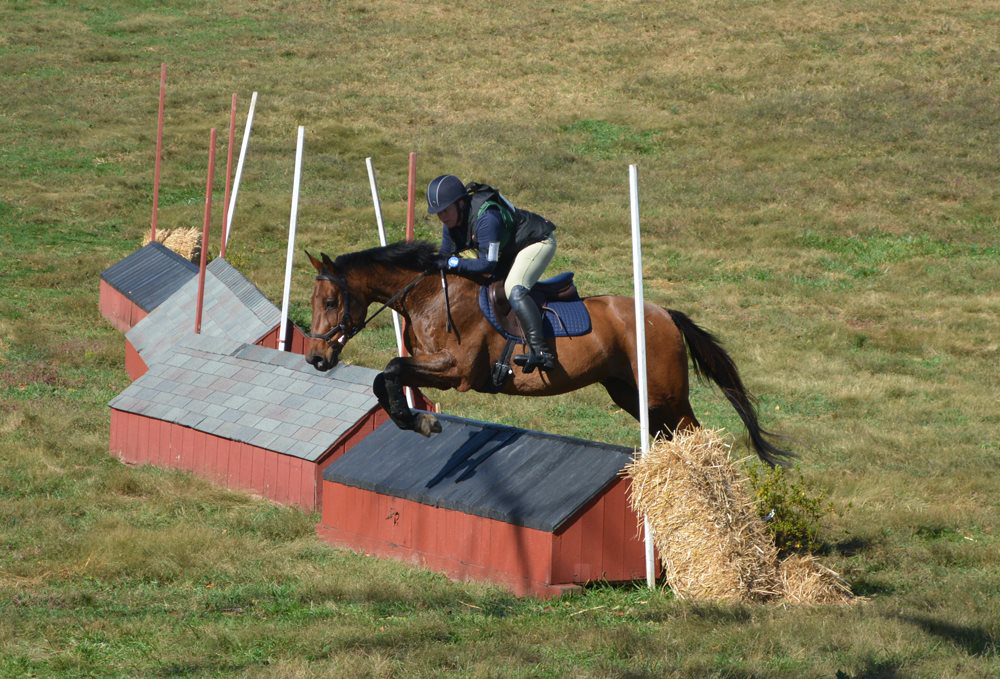 Sarah Murawski and Bijou compete at the Waredaca Novice Three-Day Event. Photo by Molly Sorge
The pair qualified to go the Wellpride/USEA American Eventing Championships (Ill.) in 2007. At the time she qualified, Murawski had two 4-year-old children and found out she was pregnant again. She and her husband Matt were overwhelmed, she said, but "I'm thinking, I can definitely do this."
Although she was five months pregnant, Sarah was determined to compete. Despite a big spook that put them in second to last place in their division, by the end of the weekend they'd moved into 46th place.
Sarah sold the gelding after that and focused on building her own practice and raising her children, but was lft feeling like she had sold her shot at achieving her goals.
For the next five years she rode, but not consistently, and struggled with depression. "Any time I don't have a horse, I wind up in a therapist's chair and on medication," she said. Her therapist at the time was the one to tell her, "You need to go buy a horse before you open this vet hospital."
So two weeks before opening Randolph Regional Veterinary Hospital, she bought a horse off Craigslist.
"I've never had a horse that cost more than $3,000 in my life," Sarah said. "My mom would say, 'If you can ride these horses you can ride any horse.'
"She was cute," Sarah said of her Craigslist find, and distantly related to the Irish Draught Sport Horse and top eventing sire Flagmount's Freedom.
After a quick walk and trot under saddle, Sarah decided to buy the mare, named Briette. She said she should have known when the seller offered to drive four hours to deliver the mare "and barely stopped to throw her out of the trailer," that something was up.
The mare was really cute, but a handful. Still Sarah kept riding her for two more years, pursuing her amateur dreams. Then Laurie Hudson at Hitching Post Farm in Vermont offered to broker a trade: the hot mare for an older, gentleman horse.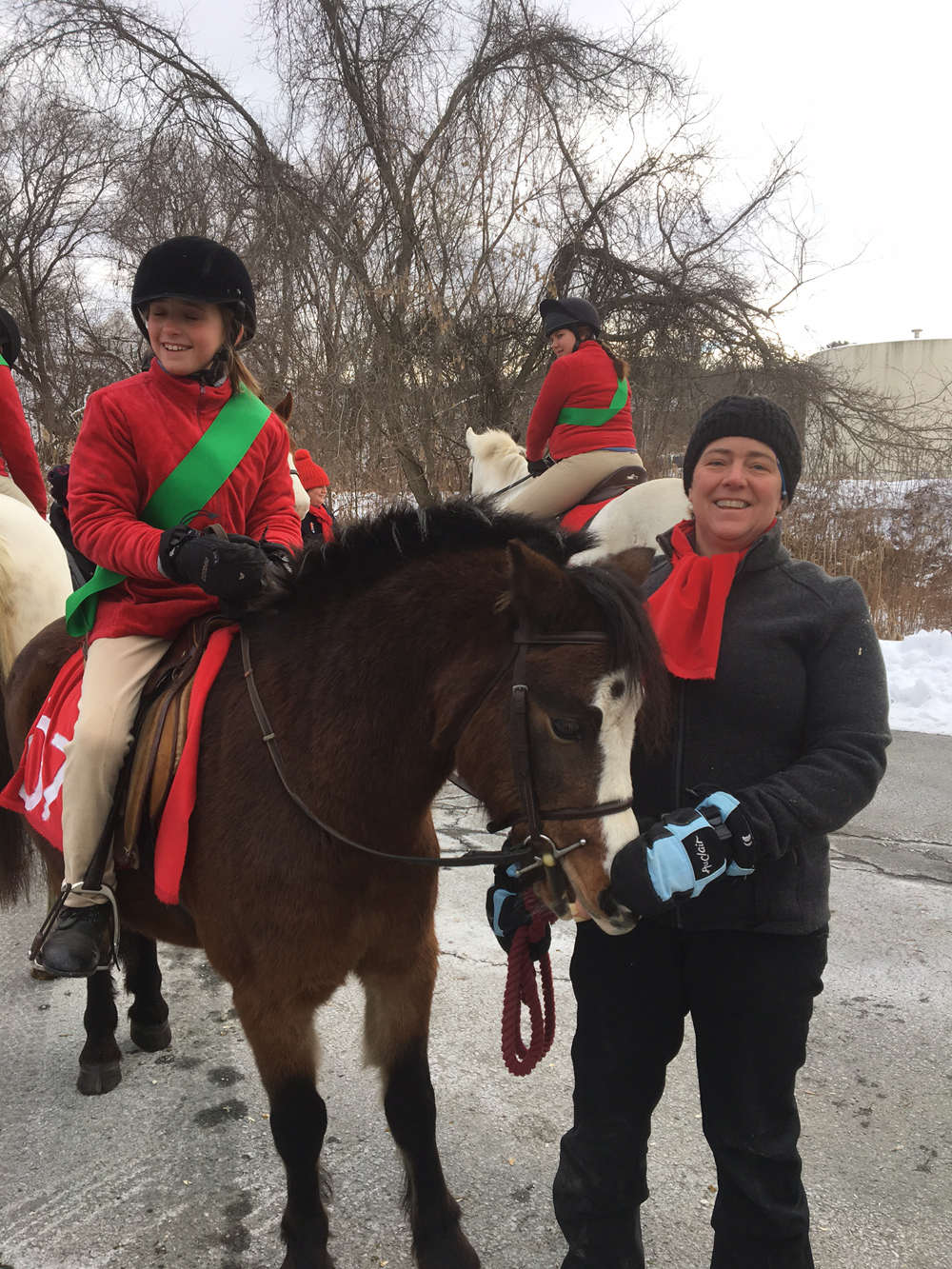 Sarah Murawski and her daughter Evelyn. Photo courtesy of Sarah Murawski
That's when Bijou stepped into Sarah's life.
It wasn't perfect at first—the pair had to learn to communicate. Sarah was used to getting ditched at the fences and rode defensively. But he put up with it, and Sarah began believing Bijou really did want to jump, and so put on her bucket list her goal to compete at Waredaca on her birthday weekend and get a dressage score under 30.
Bijou has his quirks—he doesn't like to be doted on and sometimes flies backwards and runs away putting the bridle on. But at the same time he is a "nice little guy," and riding him fits into her busy schedule. A bay, he doesn't need much bathing, and Sarah has learned to let go on some of details, like cleaning tack.
Sarah and Bijou spent the winter getting to know each other, and her summer goal was to do one event a month. Then there was the bucket list. She needed the numerical scores at four events at novice and above to qualify, to find a relief vet for her practice, the money to do it and then get a ride for Bijou—Sarah doesn't have a truck and trailer and Waredaca is a more-than-10-hour trip from her home in Randolph, Vt.
Bijou and Sarah moved up to training level before Waredaca and won their second event at that level.
"We can actually be competitive! Which is not normal for me," she laughed.
After a short time with baited breath on the wait list, Sarah was set to go to. She found a ride for Bijou and with no trainer but a support crew of her mom, 8-year-old daughter Evelyn and an old childhood friend from Pony Club, and she was on her way.
"It was the greatest weekend!" she said.
Sarah learned a lot that weekend during the competition, but also in her preparation. She remembered the prep for her three-day more than 20 years before and found the fitter Bijou got, the better his dressage became.
She focused on trot sets with the older horse, who can be kind of stiff. She has no plans for another long format with the gelding but plans to keep up the fitness work.
"I enjoyed the time the two of us spent on the roads, just trotting and hanging out," she said.
Another bucket list item was to do better on her collective marks in dressage than her horse, who usually scores higher. When she got her test and sent the marks to her coach Laurie Hudson, she jokingly asked, "Did you sleep with the judge?" Her dressage score was a 26.9.
Arriving at a big show with no coach or fellow riders might be intimidating but Sarah said she forged a bond with the woman who trailered her horse and she got encouragement from Eric Smiley, with whom she'd recently taken a clinic.
"Going down by myself, not really knowing anybody, it could have been a disaster," she said. But instead she felt supported and enjoyed the dinners, talks and raffles Waredaca put on for the competitors.
Bijou attempted to create a little excitement by letting himself out for a cruise Saturday night, but all was well, and he got one of his first baths in a long time for the event.
The jogs were the most stressful part of the event for Sarah. Bijou is narrow and steps with one foot in front of the other behind. "We call him the sidewinder," she said. At the first barn check the vets had her jog twice. "To get all the way down there and not even go dressage, that brought the stress level up!" she said.
Asked what she found most challenging on the cross-country course, Sarah confessed it was the drop.
And Sarah, who turned 48 at the show, said when walking the course, the youngest riders were standing at the top and jumping down the drop, but she had to walk around. The drop was on the last third of the course and "at that point you are kind of on a roll."
But the pair tackled the course and finished double-clear. Sarah said the process of roads and tracks helped with the nervousness, with steeplechase getting her heart rate up a little.
With only 4 faults in stadium, Sarah and Bijou came home from their bucket list show with a pink fifth place ribbon.
"The whole weekend; it was perfect," she said. She was surrounded by family and friends both old and new. "The three-day was my personal goal, that said, 'You can still do this.' It was a gift to myself."