I remember a championship I won in 2016 on my leased horse Andy. It was a one-day county show, and I competed in the 2'3" green rider division. From the get-go I was sick with nerves.
Oftentimes when I'm nervous, I'm better after getting on and flatting, and totally fine after the first jump. Not this time. At every jump I had a mental battle with myself. I desperately wanted to pull out, pull up, pack it up, go home, curl up in bed and never ride again. Even in my flat classes, which are usually my strong suit, I was convinced Andy was going to spook, and I was going to die.
Despite his rider being on the verge of mental collapse, Andy piloted himself to several blue ribbons. (I'm not being modest here; I'm more than willing to acknowledge when I rode well. This was not one of those times.) Then they announced me as division champion, and my trainer and friends cheered and congratulated me.
But I didn't feel like a champion. I felt like an imposter.
Fast forward to just recently, the last show of 2017, and I entered the Ariat Adult Medal, a long-time goal of mine, on my horse Kingston. I was confident and feeling positive despite it being our first time showing at 3'. However, Kingston woke up on the wrong side of the stall and began snorting at everything as we trotted in. Then he didn't like the first distance—which was fine, thank you very much—or the second, which was a little close, but his 18.2-hand self could have easily cantered us out in the requisite six strides, had he not been tensing every muscle in his body. I circled out of that line and ultimately tipped my helmet and excused myself.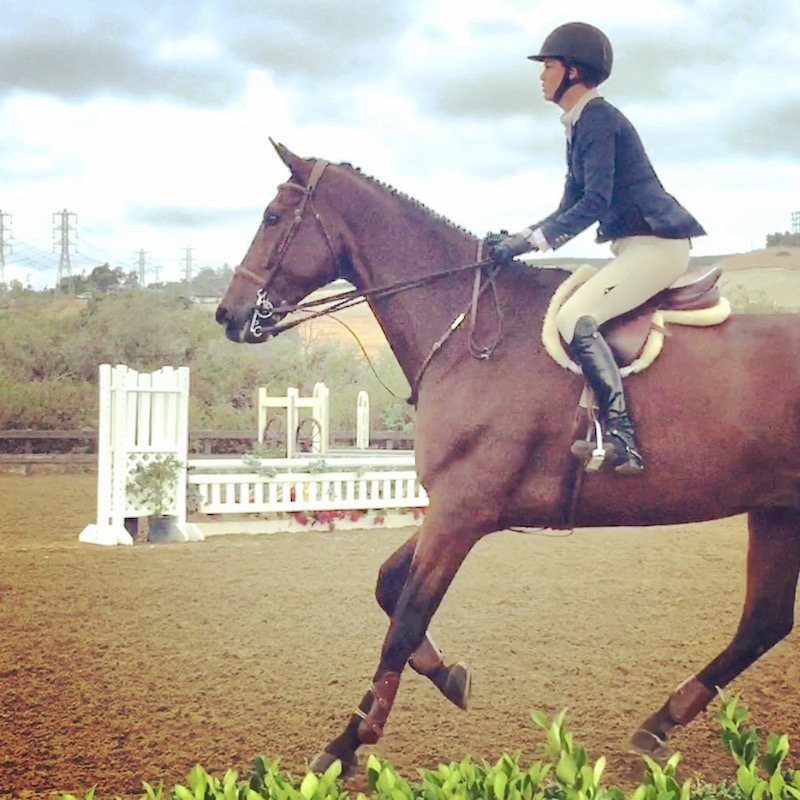 The class was a total fail from the perspective of any onlooker, and certainly from the judge's booth. But I felt a tremendous sense of accomplishment, a feeling that I had just done something I never could have done before.
Historically, my internal dialogue would have gone something like this: "Oh God he's snorting why is he snorting shorten up the reins there's the long distance oh for heavens sake there's no way I'm taking the long one he'll kill me oh crap we took the long one and now he's really gonna be mad why is my face so hot feels like fire next fence coming up so close no chance we can get out of this line without dying circle circle circle can't see everything is blurry we are making a mess out of this we do not deserve to be here I'll never be a real three foot rider I cannot even handle this horse why didn't I sell him last year I'm gonna sell him now for sure I don't care how handsome he is."
This time? My internal dialogue had much better punctuation and far fewer curse words:
"He's snorting and tense, something must be bothering him. That's OK, just keep it steady. First fence a little long, you know that amps him up when he's already high. Hmm, that was better but a little short into the line I can either move him up, or add a stride. Let's circle instead; if I keep it forward and positive maybe he'll relax. Talk to him, tell him he's OK, then ask for the oxer. Good, good, he did that nicely. Well, he's still not relaxed, but I know I can execute this two-stride, I'll just sit way up on landing in case he gets goofy after. He did it, but he's still not focused or relaxed. Let's pull up and retire before he has a real meltdown. Just pat him on the neck and meet trainer back in the warm-up area to regroup."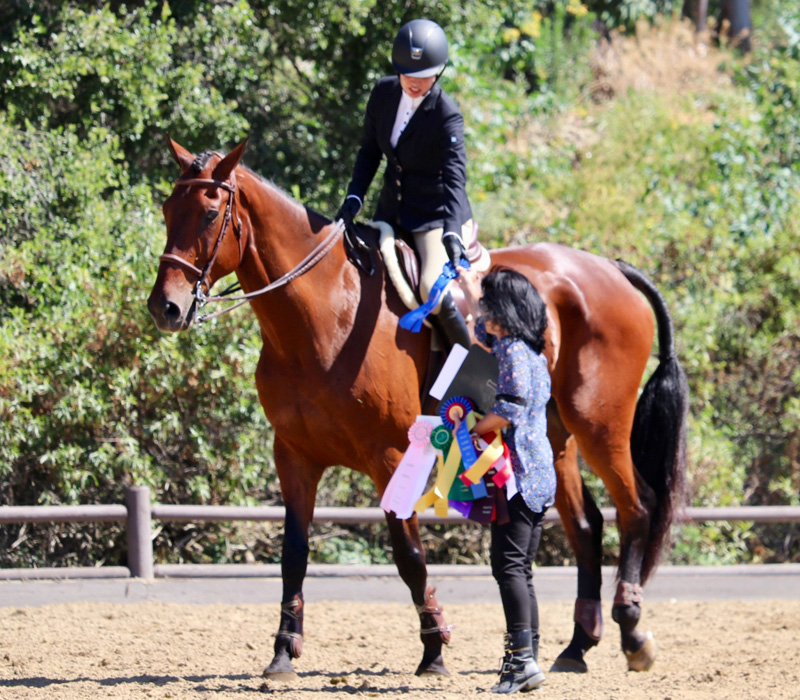 There's no doubt that walking out of the ring after falling, being eliminated or retiring is never a good feeling. You feel like you wasted the judge's time, you're nervous about what your trainer is going to say, and you know people are looking at you with pity, at best, and with disdain at worst.
But this time all those things seemed inconsequential compared to the fact that I wasn't mentally panicking. My face felt like a normal temperature. I didn't even get nervous-sweaty. And that, ladies and gentlemen, felt like a win.
When I look back on 2017, what I'm most proud of isn't winning a class or moving up in height. Rather, it's the time Kingston was a wild turkey, and I continued on anyway and finished because I knew I could. It's also the time he was a feral moose, and I pulled up not out of panic, but because it was the smart decision. It's the time my mare Aria unexpectedly stopped on course in a class I'd been looking forward to for months, and I put my brain to work figuring out how to give her a better ride, instead of giving in to disappointment. It's the time I fell off in the warm-up ring but got focused enough to ride respectable rounds minutes later.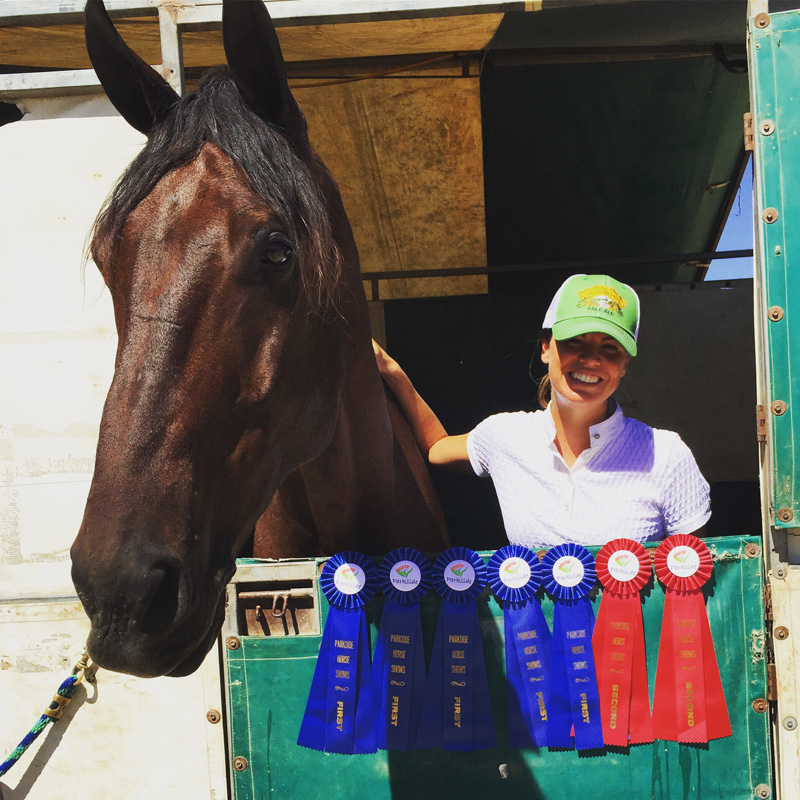 I'm naturally competitive; I love winning. I never leave a horse show without collecting my ribbons, and I especially covet tricolors and ribbons with extra long tails or extra fancy rosettes. But I've noticed they just don't shine as brightly if they feel undeserved. And sometimes, the feeling you get for accomplishing something they don't give ribbons for is the best prize of all.
---
Lindsey Long lives in Southern California with her one tabby cat, two Great Danes, two hunter-jumpers, and a husband. She recently returned to riding after a 15-year hiatus and is desperately trying to make up for lost time while balancing a full-time job rife with deadlines. Her goals include winning pretty ribbons, finding appropriate distances with some degree of consistency, and not losing her breakfast at the mere thought of a hunter derby course. Read all of Lindsey's blogs.