This winter, there were some nights I didn't go to the barn. It was a little chilly but not snowing, and I wasn't sick. I stayed snuggled up under a fleece writing, and I cooked dinner. After years of having my horse on partial care (which meant I would clean the stall and feed every evening), it still feels odd not to bundle up against the wind and fumble around in the dark with the muck basket while futilely trying not to smear mud or horse poo on my sleeves before going out to dinner.
I switched to full care a few months ago during a busy period at work when I realized it was more expensive to pay a day rate on nights I was out of town plus extra for hay and shavings. I assumed I would switch back at the start of the year when things were quieter. And then winter came. It seemed silly to change arrangements just so I could slip and slide down the barn driveway and lose feeling in my fingers. So I stayed a full boarder and kept all my toes.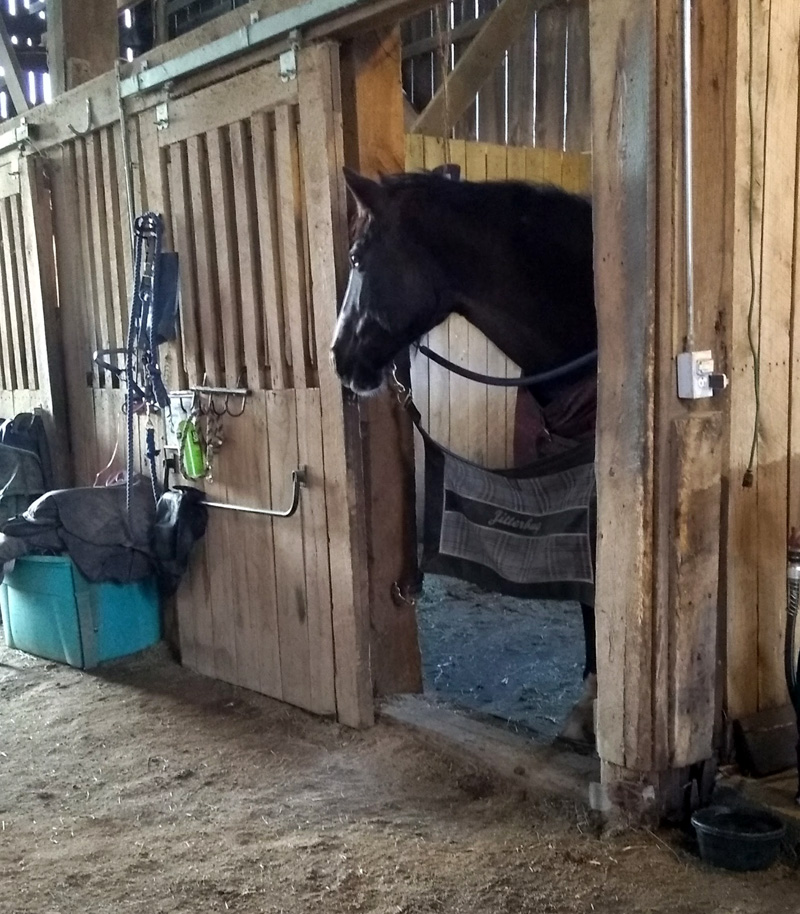 While I was away, I realized something unsettling. I am not what people commonly refer to as "a horse addict." If I go a couple of days without getting a horse hair stuck in my mouth or sitting in the saddle I do not get an ache in the pit of my stomach. I enjoy my mare (even if she does remind me a little of a cross between Scarlett O'Hara and Norma Desmond), but I also enjoy being a normal person. It is sometimes nice to spend the evening in the kitchen or at the movies instead of the barn. My house is a little tidier. I can keep nail polish on a day or two longer than I used to.
What happened to me? I was once the horse-crazy little girl who would stay for hours at the lesson barn, struggling with a stack of feed buckets taller than myself and untangling nests of lead ropes in hopes of a free trail ride on one of the green ponies. To me, the boarders were alien creatures who showed up once or twice a week for a lesson and disappeared. How could they stay away? I was thrilled when, as a teenager, I was allowed to free lease a draft cross mare. I didn't understand how her owner could stand to sacrifice weekend rides with her, but I was glad I had a saddle to clean and a horse to fuss over.
In the early part of my years with Jitterbug I was broke and sleep-deprived in my quest to afford her, and I developed a strange sense of pride about my bedraggled state. "Yes, I may have hay in my hair," I'd think. "But I have biceps, damnit. Financial planners may cry at the state of my savings account, but I know how to solve almost any other problem with baling twine."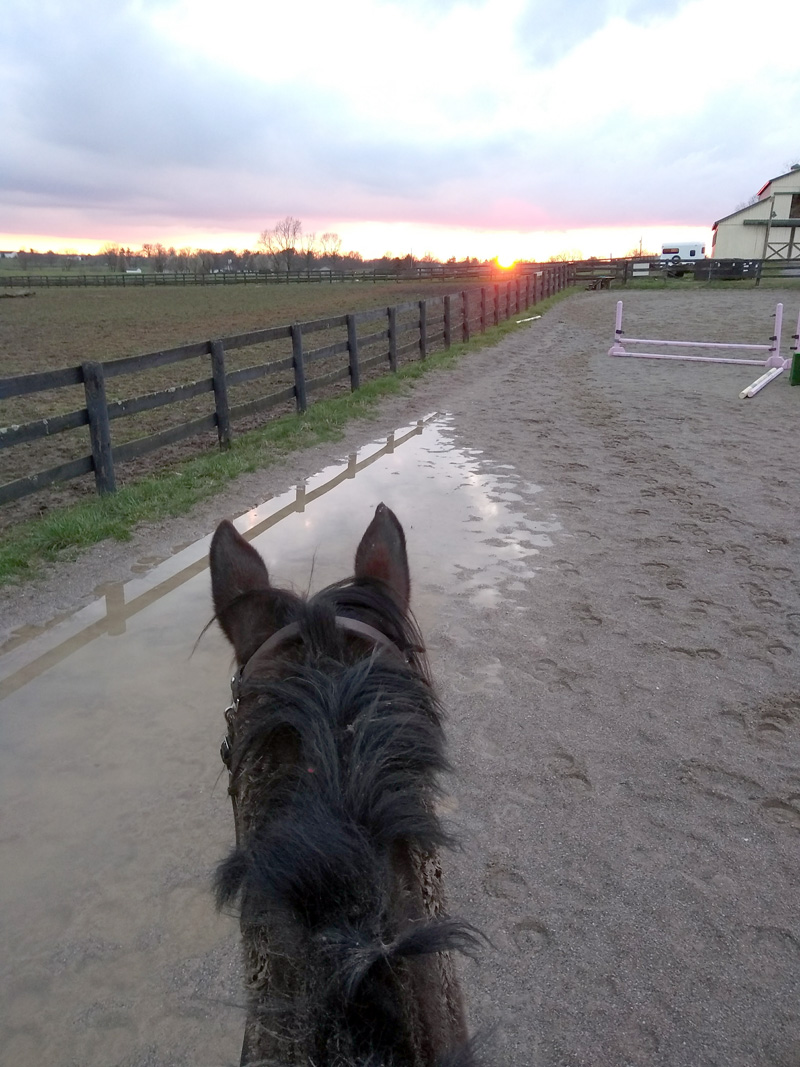 Now, I'm a grown-up who's equally happy giving Jitter a good curry as I am digging around in the garden on the weekend. Sometimes my biceps are bigger than others. I am officially a Full Care Boarder who hides inside when it snows, fretting about whether Jitter is dressed warmly enough, while she no doubt is laughing at me from her pile of hay and a bed of shavings fluffier than my own.
We have a resident horse-crazy girl at our barn. She is thrilled for the chance to groom Jitterbug, clean stalls, throw hay—anything she can find to be closer to horses. She cleans tack to save money for a horse of her very own. She asks questions and learns as much as she can about everything equine. All of us who board at the farm remember being 11 and buzzing with the joy of horses, so we happily answer her questions and think up chores she could help us with. She has taken a few lessons on Jitterbug and is thoroughly smitten.
"I wish I could ride her to school every day," she said with a sigh last week while combing Jitterbug's tail. "She's my best friend."
"Well you know, you're welcome to groom or graze her whenever you like," I said. "She loves the attention."
You'd think the kid had just won the lottery. She went skipping off at the end of Jitter's lead rope that afternoon, grinning ear to ear and chattering away to the big mare. My heart has never been so full as when I watch a kid take such joy in a horse who has given me so much.
(Jitter herself could not have looked more smug. She loves children because she believes they are the only ones who know how to properly worship her.)
Through our horse-crazy girl's eyes, I've realized something: Life with horses is cyclical. I still eat, sleep and breathe horses, but now I do most of that in an office instead of a barn. I'll spend plenty of hours covered in dust every week, and I'll enjoy it a little more. The hours I've put into her mean I can share my mare with others. I haven't lost my identity as a horse person, I've just found a new one. I have a new place in the cycle, and it's a nice place to be.
---
You've gotten to know Jitterbug, the Chronicle's Quadruped Correspondent, over her years of posting hilarious columns from a cantankerous draft-cross mare's point of view. And now her "Human," Natalie Voss, has joined our roster of bloggers to share her adventures as a hunter-rider-turned-eventer mounted on the ever-opinionated Jitterbug.