Oh, hi! I used to ride horses or something, although it's hard to believe from my snow den in the vet school library here in Minnesota, where I haven't sat on a horse in months (but do seem to have a habit of acquiring disabled kittens). I do get to spend some time watching videos of Nikki and reminiscing, though. Speaking of reminiscing…
I remember as a kid not wanting to lease or sell my two ponies, Duckie and Sly, when it was clear that I was outgrowing them and needed to move on to horses. Back then, my mom always reassured me that she would be watching out for them, and if they got into a bad situation, she'd make sure they were taken care of.
"We sold the ponies originally because they were bred, raised and trained to have a job," Mom said when I asked her about it. "I wanted them to be able to teach other little kids and bring them the joy they brought to our family and then be able to provide them with the retirement they deserved at the end."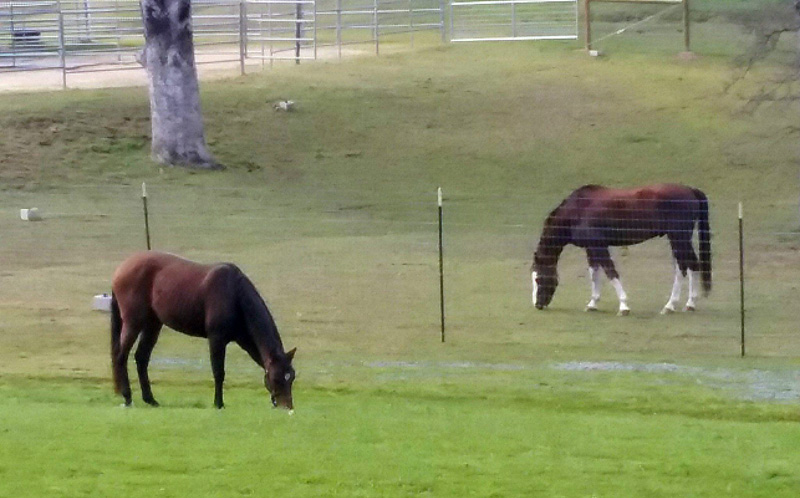 What happens to the equine members of the Pope family when they finish their careers? Answer to follow.
Fast forward a bunch of years. I'm finishing up my final summer of showing Nikki in the grand prix classes before heading off to vet school. My parents are looking to move to California for their retirement; for some reason, they seemed OK with getting out of the snowy, cold, New York winters (what weirdos, says the one living in Minnesota).
Nikki's retirement with my folks is guaranteed; after all she's done during her career, it's only fitting that she live out her days being spoiled rotten and treated like the Princess she knows she is.
My parents find a small farm in Northern California that is what they dreamed of—private, quiet, barn in the backyard, and space to put a ring in. Through a twist of circumstances, Duckie ends up back with my parents to end up being Nikki's companion and bicker-mate (they're the equine versions of Statler and Waldorf from the Muppets, and are mainly united through their judgment of everyone else).
Mom's Pony Came Home, Too
Of the three hooved members of the family, Nikki was obviously the easiest to keep track of, as she never left our custody. Duckie was with a trusted trainer in Minnesota after spending many years on the East Coast as a short-stirrup pony. But there was always the question of where my large pony, Sly, had ended up and what he was doing.
After leaving our care in 2006, Sly was owned by a family in New Jersey for some time before he was sold to a family in California, where he became a SoCal boy. My mom and I would occasionally get updates and pictures of him with whatever little kid he was teaching the ropes, including an update when he qualified for Pony Finals one year, but we didn't know if, or when, he'd be coming home to my mom.
When my mom started looking into getting Sly back to retire him, she learned that he was at a therapeutic riding center called Special Spirit down outside of Los Angeles. He was well loved and well cared-for, and still happily helping people in whatever ways he could, from being a good cuddler on the ground to being a fun, educated pony to ride (my mom put all of his flatwork on him as a baby, so you could pretty much ride him in the flat phase of the USET finals).
Sly was always my mom's pony; she knew him since the day he was born, broke him, and put all his training on him. I think it probably frustrated her watching me flub around on him as a kid; I never rode him as well as she did and don't think I ever will. I can only imagine how much it means to her to finally have him at home.
Whinnying But No Whomping
My mom and dad drove down to L.A. a week ago to pick up Sly, who is somehow already 20 years old. He's always going to be the baby of the family in my mind, so I have a little trouble comprehending that he's actually a senior citizen! Sly and Duckie are half-siblings (same dam) and lived together for the entire time that we owned both of them, so I asked my mom what their reunion was like. Duckie can be pretty snarky with other horses—she's definitely the boss mare, (all 12.3 hands of her)—and she hadn't seen Sly in at least 10 years.
"It was wonderful and just so awesome seeing him with Duckie," Mom said. "Seeing how excited they were to see each other and how they just wanted to be next to each other. I mean, you know Duckie, she's not exactly touchy feely with other horses, but the first half hour that Sly was out in his dry lot, she was right next to him on the other side of the fence for an entire half hour with no snarking or trying to bite or anything like that. They just wanted to be next to each other."
The way my mom has the barn set up, Nikki is on one side in a double-sized stall that opens into a turn-out, and the ponies are on the other side of the barn with their stalls that open into a dry lot, which can be separated into two small dry lots or one big one. There's also an irrigated pasture that everyone gets turned out on (in rotations), but it's not attached to anyone's stall. When my folks got home with Sly, the dry lot was separated into the two smaller ones, so the ponies could see and touch each other across the fence, but Duckie couldn't whomp Sly if she felt he deserved it (and she would—little brothers can always use a whomping).
But there was no whomping! Sly whinnied when he got off the trailer, Duckie whinnied back, and then the two of them spent half an hour standing as close as they could and sniffing noses with no snarking or squabbling.
Nikki was also happy to see Sly, but she doesn't have the bond with him that Duckie does. She sees him as a toy sometimes and as a nuisance the rest of the time, so while she sniffed noses with him and put her ears up for a photo (rare), she wasn't as interested in hanging out with him. Not surprising. She does her own thing, and while she'll deign to say hello to him, that's about all she's interested in.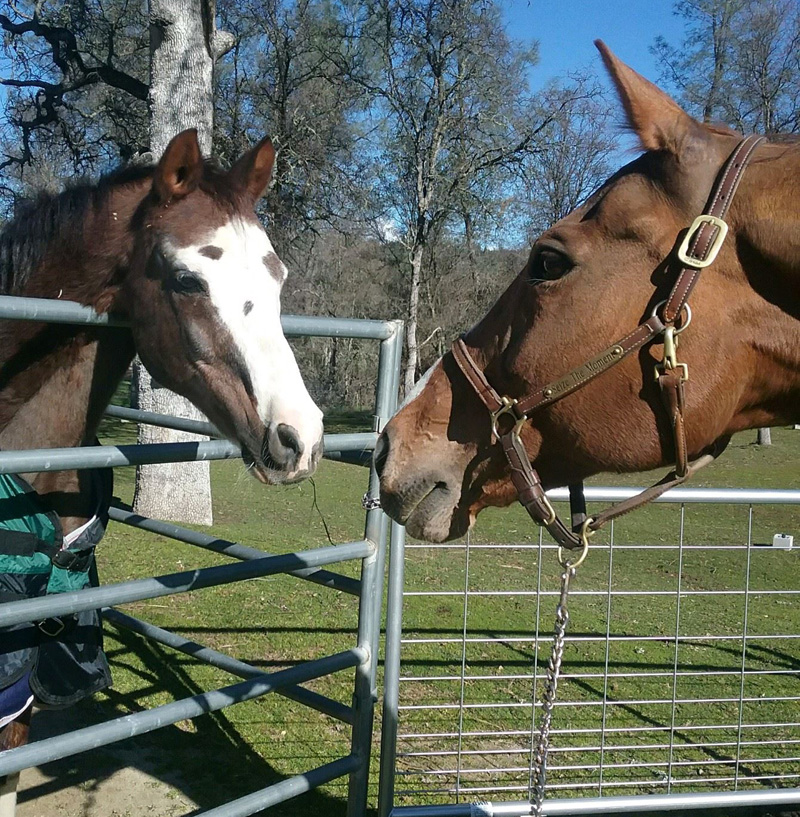 What Happens Now?
The kids are all home. Duckie hangs out and gets spoiled, Nikki goes on trail rides and works in the ring sometimes still, and Sly will probably end up going on some trail rides if he seems like he's happier still working a little. I can't express enough how incredibly grateful I am to my parents.
When I asked my mom about it, her reply was pretty simple. "Because my parents retired all of my animals, I felt that was the way to and that was the right thing to do," she said. "I knew I would always follow them and provide a soft landing for them when they were ready to retire."
This outcome for all my guys is such a dream come true—for them to have long careers making people happy and then come home to the softest landing I could hope for. I know not everyone is able to get a horse place and bring their retirees home to live in the backyard, but I'm so, so thrilled that my parents were able to and that they're so happy having the horses at home.
Duckie, Sly and Nikki all made so many dreams of mine a reality during my pre-vet-school riding career. I'm not sure there's a better feeling than knowing that the three of them are safe, sound, and getting loved and spoiled as much as humanly possible for the rest of their lives.
---
Emily Pope, 24, started her relationship with Seize The Moment, an off-the-track Thoroughbred and a chestnut mare, in 2006 and they began in the junior hunters. Emily quickly realized "Nikki's" talents lay in the jumper ranks, and they worked their way from the junior jumpers to the grand prix.  
Emily graduated from the University of Minnesota in 2013 with a B.S. in animal science, spent a semester studying aboard in Madagascar, and now works in cancer research. She's currently in graduate school in pursuit of her DVM/PhD. Read Emily's introductory blog, "Taming My Inner Gecko" and catch up on all of Emily's COTH blogs.