Dr. Kathleen Herbig goes to work, comes home to her small farm and does chores with her husband, Patrick Hutchins, and their not-so-helpful dogs. She rides her horses and competes when she can. But underneath her seemingly calm surface is a skydiving, bungee-jumping, scuba-diving, reconstructive microvascular plastic surgeon who spends her days putting sick or severely injured patients back together—over the course of sometimes 20-hour surgeries—and her weekends seeking the rush of the countdown in the start box.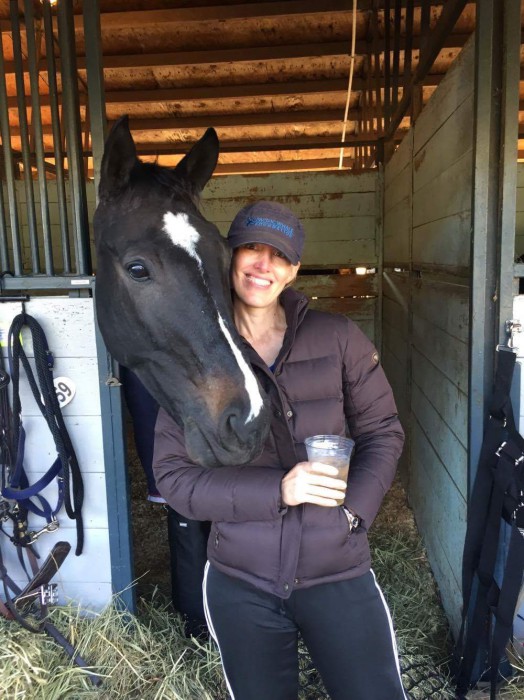 Herbig got her first taste of eventing as a brave 10-year-old on the back of a bossy quarter horse named Cool Hand Lynx, under the watchful eye of a young Amy Barrington in Scottsdale, Ariz.
"I had no control, but he was just a go get 'em little pony that would jump anything," said Herbig. "I just loved the thrill of going out there and [running] cross-country. He would take off with me, and I would scream and hold on and point him at a fence, and he would jump it, and it was fantastic!"
A few years later, the family moved to the Dallas area, and though Herbig kept riding, it would be nearly two decades before she would get back into eventing. But not only would horses find their way back to her, they would inadvertently help her on her path to becoming a plastic surgeon.
After finishing her undergraduate degree at Colorado State, Herbig moved back to Texas where she began medical school at the University of Texas Southwestern. There, in her free time, she started riding off-the-track Thoroughbreds starting their new careers.
In her third year of med school, Herbig was hand-walking one of the OTTBs at the farm when it spooked, pulled away from her and bucked.
"The next thing I saw was two hooves coming toward my head, and they completely connected with my forehead and sent me back about eight feet. I just remember seeing blue sky—and then the next thing I saw was red," Herbig said.
Herbig's face was bleeding profusely, and she knew she was in trouble. "When I reached up to touch my forehead, my hand went into my head," she said.
"I've fallen many times, but this was the most scared I've ever been from a horse injury. This was the first time I thought, 'This could be the last moment of my life,' " Herbig continued.
She was rushed to the hospital where an initial CT scan didn't reveal a skull fracture or any bleeding in her brain. The ER doctor told Herbig he was calling in a plastic surgeon to stitch up her.
As the plastic surgeon injected numbing medication into her forehead, he asked if she was handling the pain OK. Herbig commented that while it didn't hurt all that badly, the drug tasted terrible. This was bad news—she shouldn't have been tasting medication being injected into her forehead.
"His face went blank, and he said, 'I'll be right back!' " Herbig said. The doctor immediately ordered another CT scan with different settings where it was determined that Herbig did indeed have a skull fracture.
The fracture didn't require surgery, and the plastic surgeon was able to stabilize it and sew up the injury. During her recovery, Herbig spent a lot of time talking to him about plastic surgery. She knew she wanted to do some kind of surgery in her own career but hadn't figured out which field yet. Through that surgeon, she learned there was more to plastic surgery than cosmetic enhancements.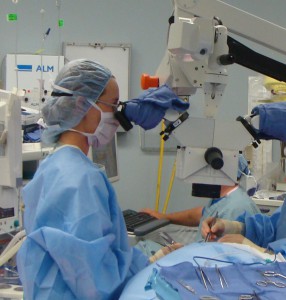 She was drawn to how "you can put fingers back on people, and rebuild breasts [damaged/removed due to cancer], you can take bone from different places in the body to rebuild jaws."
"That was what was amazing to me about plastic surgery—there was some artistry involved in that, and there was some creativity and thinking, 'How am I going to put this back together?' " said Herbig.
Thanks to her own injury, Herbig had found her calling.
As she entered her third year of residency, Herbig couldn't take it anymore–she needed a horse of her own. She admits the timing was awful–being in her third year of residency at a top program. But she found a dark bay Shire-Thoroughbred yearling with a blaze and four white socks named Mayhem. She and her husband drove to pick him up, and she was smitten.
Mayhem and Herbig competed through the one-star level, and he also helped her earn her USDF bronze medal. He moved with Herbig and Hutchins when they relocated to Knoxville, Tenn., for Herbig's current job at the University Of Tennessee Medical Center.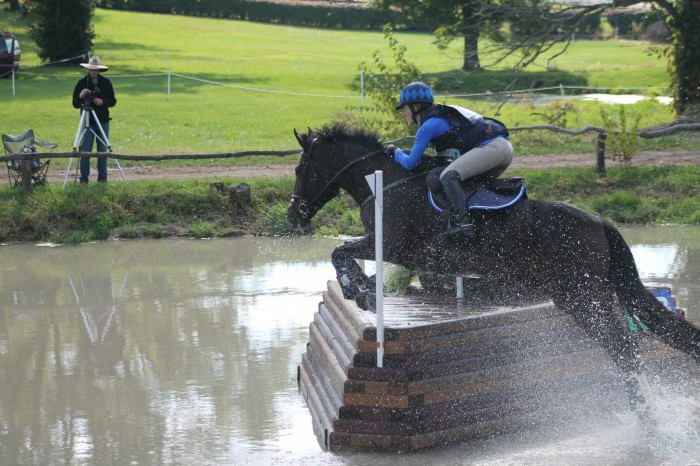 Now he's semi-retired at her farm, and she's turned her competitive focus to Sirius Contender, a 5-year-old OTTB with the Jockey Club name Brown Jack (Mambo King—The Good Dutchess, Flying Baron).
Herbig and "Sirius" moved up to training level late last year with a goal of competing at a training three-day this year. The pair recently placed third in a training level division at the Chattahoochee Hills Horse Trials (Ga.).
But Herbig's schedule isn't exactly normal, and she has very little flexibility. If she's on call, she can't be more than 30 minutes from the hospital. Any cross-country schoolings must be planned well in advance. Lessons have to be timed around her surgery cases. Her show schedule must be ironed out at least three months in advance. How far of a drive is the show? And are those shows Friday/Saturday or Saturday/Sunday?
"I can't do a big flap case [taking tissue with its own blood supply and moving it to a new location on the body] or a big 12-hour surgery and then leave two days later," said Herbig. "I've got to have some time to make sure the patient is well taken care of and is hopefully discharged from the hospital."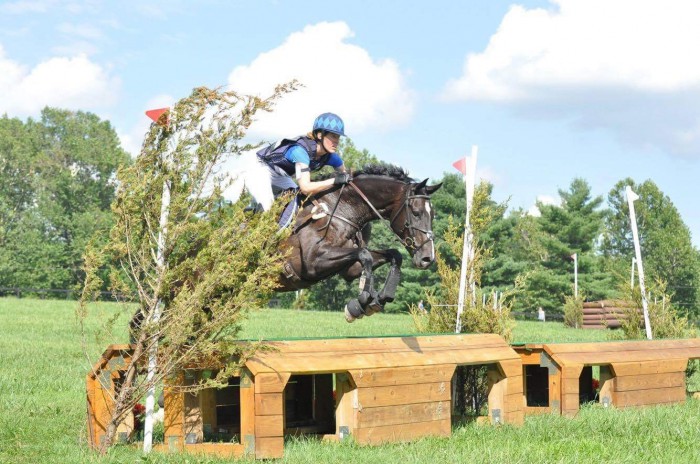 With 12-hour surgeries on a routine basis and some that reach the 20-hour mark, Herbig is quick to shine a light on Hutchins.
"He's a soccer referee, but he would also call himself 'Executive Ranch Manager,' and I really couldn't do all of this without him," said Herbig. Whether it's changing blankets mid-day or mending fences, Hutchins makes sure the horses are happy and the farm looks good.
She's also aided by the supportive community of riders in Knoxville–something she struggled to find in her past due to moving frequently and having a time-consuming career. She currently rides dressage with Jim Koford, and jumps with and travels to events with Erika Adams and the Road Less Traveled Event Team.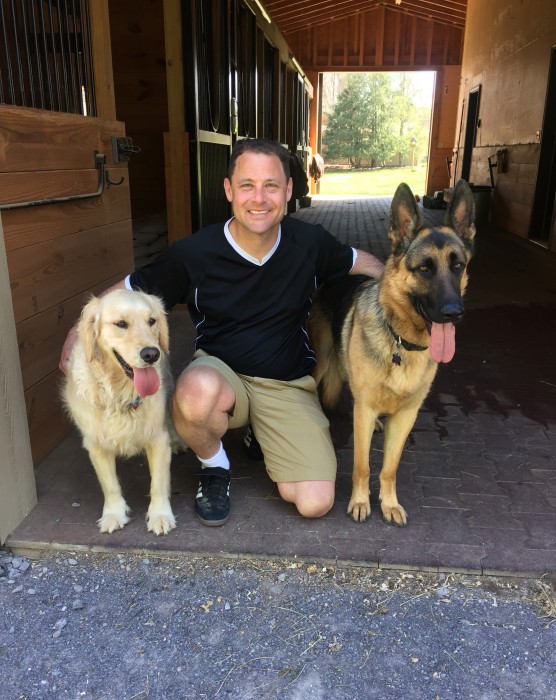 But another challenge for Herbig is acknowledging the dangers of eventing and how a serious injury could affect her work as a plastic surgeon; she does some of her surgical work through a microscope, tying the smallest blood vessels back together, and it requires dexterity in her hands. Even an injury to one of her fingers could be detrimental.
"If anything physically happened to me, I'm a little bit toast!" she said. "It's hard because I'm so competitive, and I want to keep improving, and I want to keep moving up the levels—but there's always a risk that something could happen, which could end my [surgical] career. But I'm also not going to stop living my life and doing what I love. I just try to be as safe as I can be."