This winter circuit, I was granted a second shot at the goals that eluded me last year: a handful of blue ribbons and a championship cooler.
I returned to HITS Coachella, Week 8, with my still-pretty-green mare, Aria, and also with Kingston. My only division on him was the 2'6 adult equitation, the same division I competed in last year on my lease horse Andy. (You may recall that I leased Andy to help me gain the confidence I'd lost on Kingston after a bad fall, and I sent Kingston to a more advanced rider for the duration.)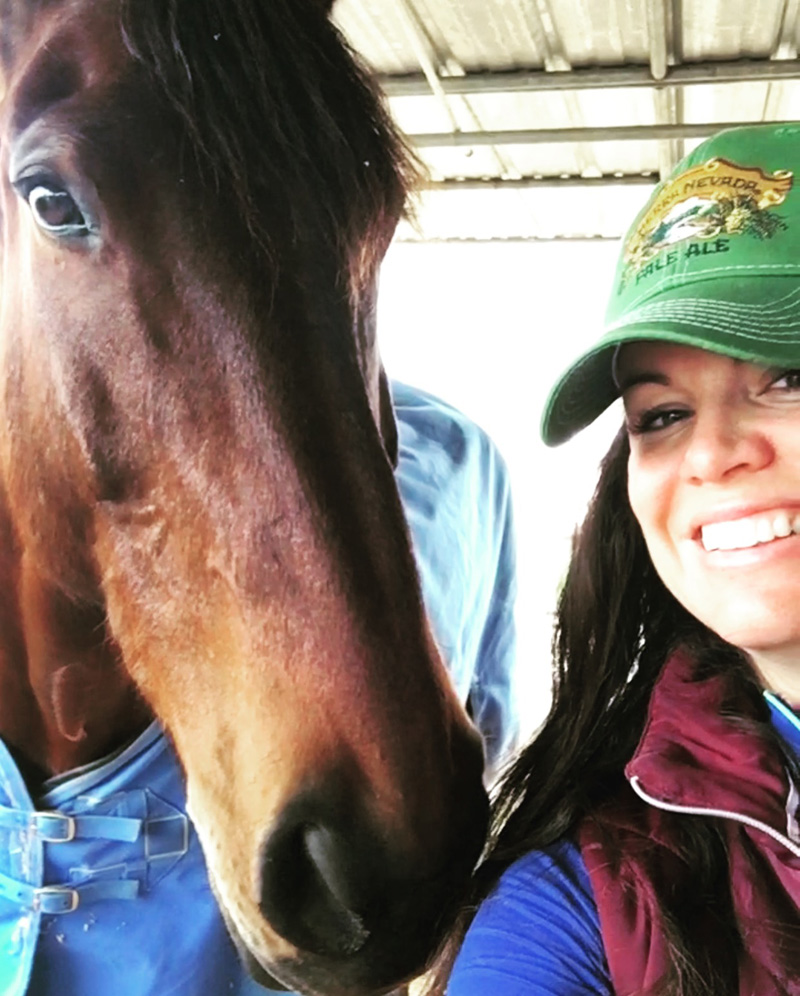 Last year, I was a hot mess. The .80-meter looked huge and I almost bailed on doing it. I lost a stirrup in one of my equitation rounds—and I never lose my stirrups, knock on wood. Andy is one of the safest, sweetest, slowest animals God has ever created, and yet I was basically petrified. It took a critical mass of champagne to even get me into the ring, and even more to recover afterwards.
This year would be different, I told myself. Kingston and I had come a long way as a team. After months of barely getting over crossrails, I was now back to comfortably (and soberly) coursing 2'6″.
My warm-up days at HITS went well. Kingston is a true show horse; he thrives on the audience and the extra attention. He perks his ears forward and points his toes, even in the warm-up ring. Kingston has a half-leaser who rides him in the 3′ equitation, and he was foot-perfect for her, which definitely added to my confidence despite our checkered past.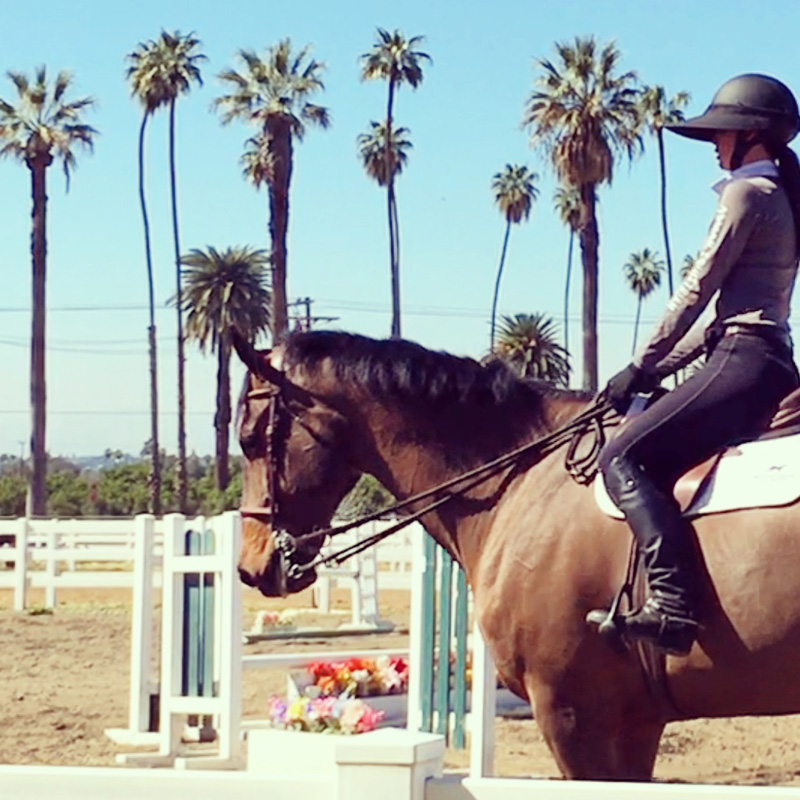 I had a few butterflies on our show day but nothing major. I cheered on my teammates and watched the show until it was time for me to get ready. About a half hour before my class time, as I was changing into my show boots, my trainer uttered the worst five words in the history of horse ownership: your horse needs the vet. It wasn't Kingston; it was Aria, my sweet young mare who had tried her heart out for me all week at her first big show.
I have more experience with sick animals than I would wish upon anyone, and I immediately switched into crisis mode. Called the show office, found the on-site vet, rushed her over, signed the paperwork, handed over the credit card, listened intently to the diagnosis of "probably mild colic but we are obligated to warn you that the nearest hospital is 2.5 hours away" and "we can't give her oil because surgeons hate oil."
By this time, it was 10 minutes before my class on Kingston. Most of me wanted to scratch and stay with Aria. The other part of me knew how significant this was for my partnership with Kingston, as well as for me on a personal growth level, and I also knew there was not much that staying with Aria would accomplish. I literally ran back to the barn, finished getting dressed, and climbed aboard Kingston.
On the walk to the ring, I told him that I was worried about Aria, but that I was committed to completing our rounds as best I could. I told him I was going to need a lot of help from him but that he was such a professional I knew he was up for it.
It wasn't just lip service; it was the truth. I trusted him. I sincerely felt that in a crunch he would not let me down. And having a sick animal weighing on my mind is, for me, the absolute crunchiest of mental situations.
Psychologist John Gottman has been studying relationships for over four decades, and he says that the key to a lasting marriage is that there must be five positive interactions for every one negative interaction. A negative interaction can be an argument, a snarky comment, or even just an eye roll. It takes five times as many positive interactions to balance that out.
Dr. Gottman's findings resonate with me, and I've spent some time thinking about how they translate into the saddle. How many positive vs. negative interactions does it take for a rider to feel like she has a great riding partnership with her horse? I think five to one sounds reasonable. For example, I'd feel pretty good about my ride if I had one sloppy transition followed by five seamless ones, one bad distance but five good ones, one time in which my horse didn't listen followed by five times that he did. I'll take that ratio any day.
But an incident that scares you is something else entirely, and I don't think that ratio is five to one. If your horse makes a move—a buck, a rear, a spin, a bolt—that releases adrenaline and sends you into survival mode, that fear memory isn't easy to overcome. And if that move seriously hurts you, even if it's not entirely his fault, now you have an even more intense fear memory, one laced with pain memories. How many positive interactions does it take to get over that? It's more than five. I'd bet the number is somewhere between 50 and 100.
It's been the overarching theme of my relationship with Kingston: he threw me off, my pelvis broke, and I became afraid of him. But it's time to move on. He's got a little bit of sass and a few of his own opinions, and probably always will, but he's easily given me over 100 good rides since then.
On that day at Thermal, he came through when I needed him most. I piloted us into a few chips, but he was perfect, even earning a blue ribbon for our one chip-free round.
I'd like to talk to Dr. Gottman and ask him about the inverse of his relationship math: what's the formula when you get through something extremely challenging together? Does one we-went-to-battle-together-and-won moment make up for another old, tired, negative memory?
I'm gonna go out on a limb and say yes. I'm ready to finish this chapter and start a new one, with a brand new attitude and a brand new theme. Kingston is my best buddy and a solid, trusted partner. I have a whole lot more to learn from him, and, with any luck, some championships to earn.
The HITS championship cooler eluded me yet again this year, but the reserve champion ribbon that Kingston and I took home represents something much bigger than second place. Most importantly, after a week of seeing some of the most beautiful and talented horses around, I left with more love and appreciation for my own equines than ever before.
P.S. Aria needed some professional TLC but is now fine and ready for her next adventure! She says she is proud of her big brother Kingston for stepping up.
Lindsey Long lives in Southern California with her one tabby cat, two Great Danes, two hunter-jumpers, and a husband. She recently returned to riding after a 15-year hiatus and is desperately trying to make up for lost time while balancing a full-time job rife with deadlines. Her goals include winning pretty ribbons, finding appropriate distances with some degree of consistency, and not losing her breakfast at the mere thought of a hunter derby course. Read all of Lindsey's blogs.