"It really wasn't until I came up to Alaska that I started showing," Rebecca Kissee said. "Of all places, I never would have imagined Alaska, with the snow and tundra and dark winters, that I would fall into this amazing horse community here."
Not many people would think of Alaska as a place to discover a love of hunter/jumper showing, but moving to Anchorage five years ago opened up a whole new world for Kissee. "There are some very nice horses and some excellent riders. It blows my mind that I found this up here, but it's been so much fun," she said.
Kissee grew up in a Western saddle in Montana; her family always had Quarter Horses for pleasure riding and hunting trips in the mountains. As a teenager, she got Charlie, a yearling Quarter Horse. "I did everything with him, Western and English, team penning and jumping, lots of trail riding," she said. "Growing up in Montana, there wasn't a lot of hunter/jumper stuff. There was a Quarter Horse show series, but it was pretty expensive, and my parents had limited funds, so I didn't get too involved with that."
But Kissee met her husband, Zachary, who grew up in Alaska, while attending Montana State University. "We had the same friends and started dating. He worked up here on the slope, and I never saw him half the time. He said, 'If you come up here and live..' so I said I'd give him a year up here. That was five years ago, so here we are!" Kissee works as a nurse, first at an ER outside Anchorage and now in a cardiology cath lab in an Anchorage hospital.
In 2012, Kisse shipped Charlie up to Alaska. He spent two weeks on a trailer from Montana to Alasaka. "I had no idea people flew horses on planes!" Kissee said.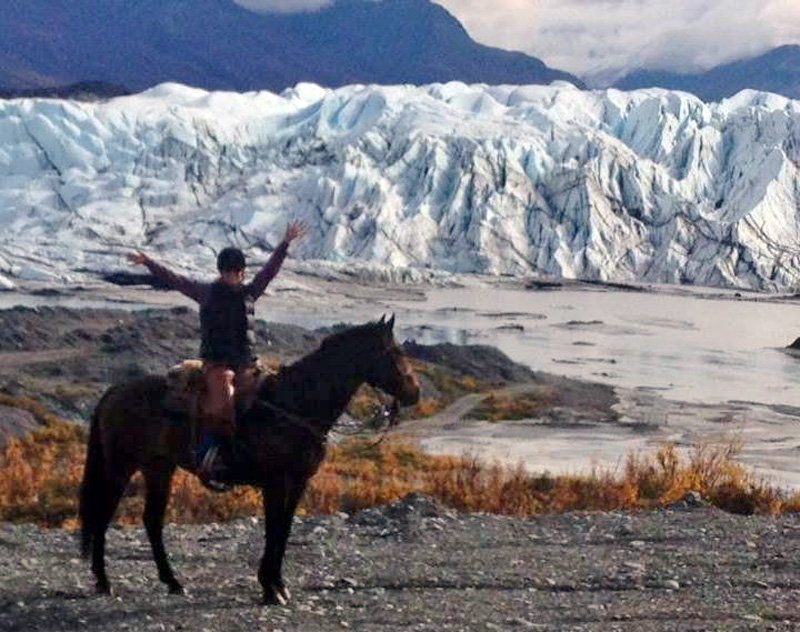 And that summer, she signed up for a jumping clinic at an Anchorage barn and met Jaimie Thurman, with whom she trains now. "I took some lessons and then the next year showed a bit. I'd never done hunter/jumper shows, so that was a big eye-opener," she said. "Charlie didn't jump very big, so we did some 2'6″ stuff, but that was plenty big for me! At the end of that show season, part of me wanted a younger horse, and I wanted to jump bigger. I was like, 'I want a warmblood, I want to do it all.' I got bitten by the bug."
So Kissee faced the tough decision to sell Charlie. "When horses come into our family, they're there forever. So I didn't know what to do; I'd had him since he was a yearling," Kissee said. "He's dead broke and super solid. It was one of the hardest decisions I'd ever made, but in talking to Jaimie, I decided to sell him. In like two weeks, we found a great home for him with a little girl with a great trainer. I get to see him whenever I want, and they also do a therapy riding program, and he's one of their main horses for that. So it's really the best home; there are always kids around him brushing him and loving on him. I was so happy to find him the home that we did."
With Charlie settled in a new home, Kissee started saving for a new horse. "I waited a whole year, saved literally every penny," she said. By the fall of 2015, she was ready to go shopping, so Thurman booked a trip for them to the lower 48.
"I'd never been on a horse-shopping trip before—I didn't even know people did that!" she said. "As a kid, I would have dreamed of something like that. You mean to tell me you can spend five days and a lot of money just shopping for horses, talking about horses non-stop and riding all kinds of nice horses? The trip itself was one of the best things ever. We flew down to Washington State and went to British Columbia and had all these horses lined up. I tried like 25 horses in five days. Then you have to pick one, and hopefully you pick one that works for you."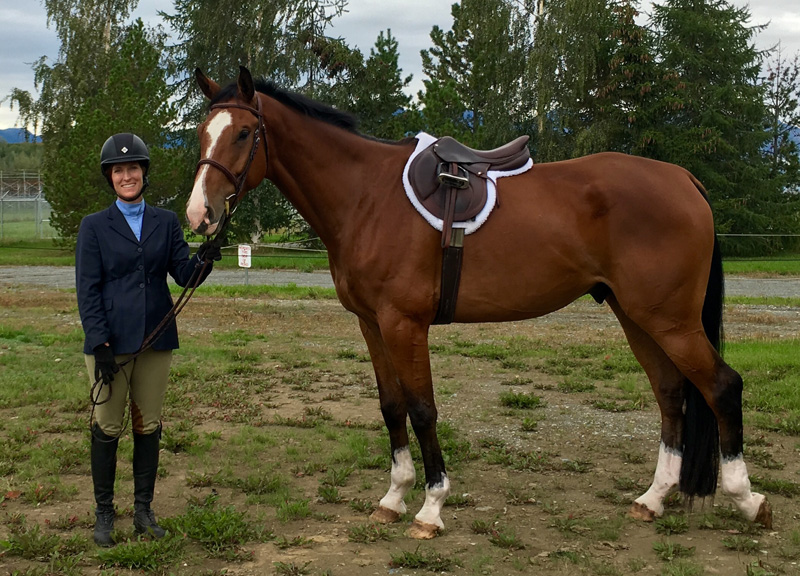 Kissee vividly remembers trying Linus, a then-4-year-old Holsteiner gelding, at his breeders' farm. "We were standing there in the middle of the ring,and she brought him out. He was the youngest of the horses we were seeing there, and he was super-leggy, 16.3 hands, very skinny and slab-sided, big head, and all this white," Kissee said. "Jaimie grabbed my arm and said, 'Rebecca, that is an awesome horse—that is an athlete! He needs some groceries, but he's built so well.' I was like, 'Really? This is why I brought you along, because I liked the one I just rode with the nice mane and tail.'
"I got on him, and the first time I trotted him, I was like , 'This is amazing.' Later on, people told me, 'Yes, that's what suspension feels like.' I had never felt that before in my life," she said. Then she jumped him over a few small jumps. "I remember when I landed I had the biggest grin on my face. I looked at Jaimie, and she just started laughing. If we had had room in the mini-van I would have tried to take him home that day. I just had this feeling about him. I'd ridden probably 15 horses before him, and it was like, 'I'll never forget this ride.' "
Linus (show name Captivating) shipped down to Oakland, Calif., and got on a plane to Alaska. He was very green, but that's what fit Kissee's budget. She settled him into a friend's farm close to her house. "She had lots of space, and he was in a herd setting for the winter. I rode him a little bit, but didn't do a whole lot that winter," Kissee said.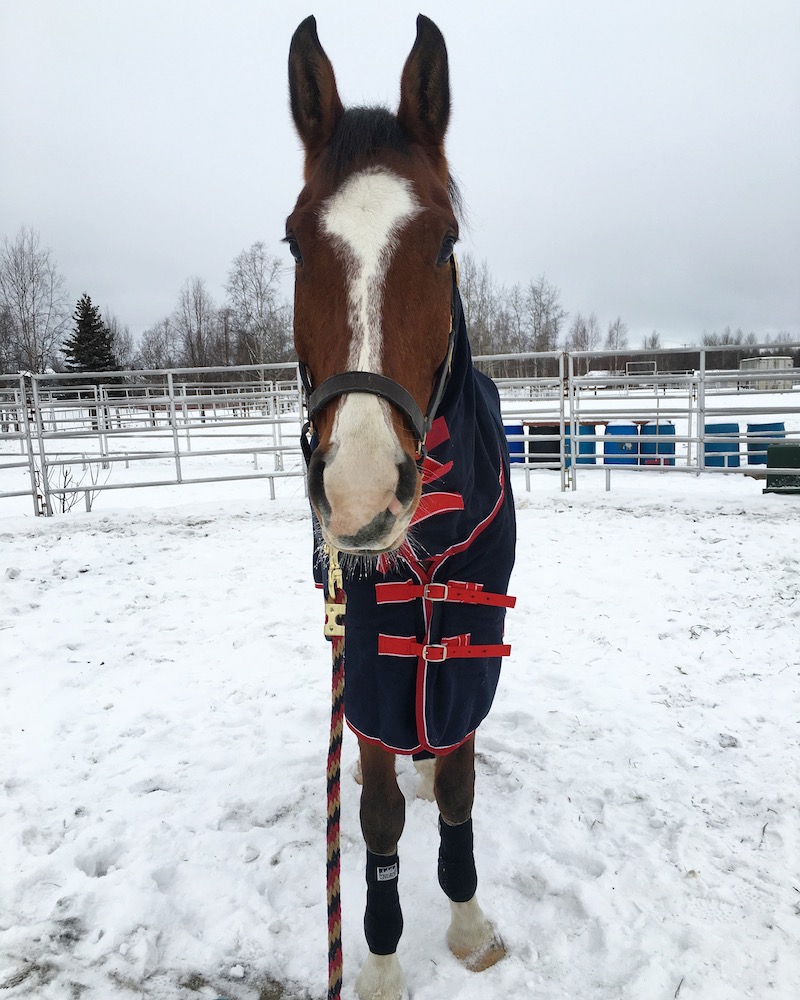 "I would haul him a few times to an indoor for a lesson with Jaimie, but it was basically just a lot of trotting and getting him used to jumps. We did show last year, just baby jumpers, .75-meter. At the very last show we did a 2'6" hunter derby. There was brush and flowers, and he just went over everything; he was a total champ.
"He's super bold, he tells me, 'Are you going, because I'm going! Let's do this.' That's one of the best things about him."
Kissee enjoyed being part of the thriving horse show community around Anchorage. "It's not as dark as everyone thinks it is, nor is it as cold. I think they had more snow in Pennsylvania this winter than we did. November to January, it's only light about five hours, but in March the sun comes back. Everyone just rides indoors and rides year-round," she said.
"By April is when the ground is thawing, and we can start getting the courses and jumps set up outside. Our show season starts in the end of May, and we have a five-show series, once a month. The last show is over Labor Day weekend, and we'll have two or three clinics in the summer. There are also some dressage shows and some dressage clinicians come up and teach."
She said that there are a handful of lesson/show farms around Anchorage, and that riders come from the Yukon Territory in Canada and the Fairbanks, Alaska, area to show.
As winter approached again, Kissee decided to make some changes. She moved Linus to a barn in Anchorage with an indoor so she could have lessons with Thurman regularly. And she started job-hunting for a position in Anchorage to allow her more riding time and less commuting from her home in Chugiak. "I found a job last spring in town at the hospital. Now he's 15 minutes away from where I work, so I change into my breeches and head to the barn," she said. "It's been nice to continue his training. Jessica Wisdom comes up here and teaches clinics, and we've done two of those. He's so cool on the flat that I'm open to doing whatever with him. I'm game to do anything with him that he wants to do."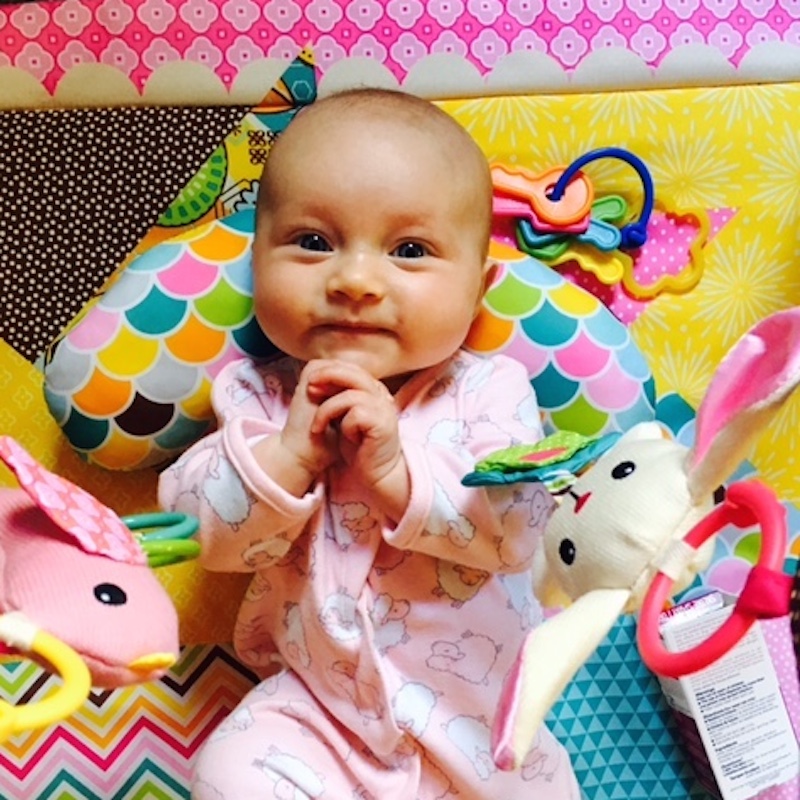 Kissee's plans took a turn with the birth of her daughter, Cora, in February. She rode up until her eighth month and got back in the saddle by the end of March. "Safe to say I haven't looked back since!" she said. "Linus and I just finished a three-day clinic in May and have our first show coming up. It's definitely been a challenge trying to juggle work, riding, and baby.
"I make every minute count when I'm with Linus," she said. "I have this amazing horse who acts so wise beyond his years. He hasn't batted an eye at the stroller or the crying bundle that is so frequently strapped to my chest while at the barn. I think I've lost track of how many times Cora has 'helped' me lunge Linus or clean his stall.
"We make it work, and I wouldn't change it for anything. I look forward to teaching Cora all about horses and waiting for the day she takes her first ride!"