Shannon Popp knows all about overcoming challenges. The 30-year-old pharmacist started riding at age 6 following an accident with a piece of furniture: A desk fell on her hand and severed her middle finger at the knuckle. "My fingertip was literally hanging by a bunch of nerves, and that's it!" Popp remembered. Doctors used two pins and several stitches to reattach it.
Following the surgery, a young Popp became fearful and anxious about engaging in everyday activities. In an effort to help her daughter regain confidence, Popp's mother, Theresa, capitalized on her daughter's love of horses and signed her up for western riding lessons.
By age 10, Shannon switched her tack and began jumping and showing, always working off her bills through grooming, mucking and braiding. However, at 14, Shannon faced another test: Her horse slipped and fell while she was riding out in a field, and the accident left her in a coma for nearly a week, despite having worn a helmet during the fall.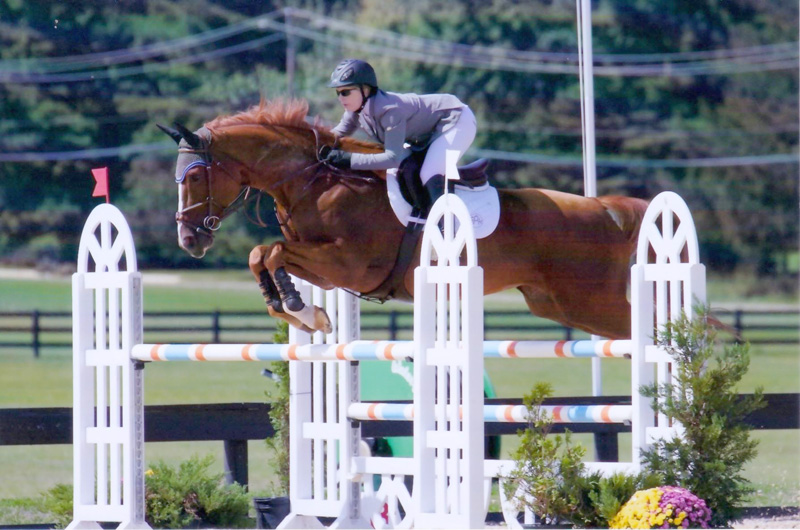 Shannon had an impressive recovery. After a two-week hospital stay and some rehabilitation she was back in the saddle in only three months. Just four months after the accident, she was showing and winning again aboard her stalwart equitation horse.
Today Shannon's love for horses and riding remains strong, and while her career as a retail pharmacist poses its own challenges, such as 12-hour work days, it doesn't prevent her from operating Top Flight Equine Retirement and caring for, riding and showing her two horses, Fidonna and Garbanzo R. While her schedule prevents her from showing in Florida, she competes in the amateur-owner hunters and the 1.20-meter jumpers at venues around the Northeast.
Both her pharmaceutical career and her retirement facility align with some of Shannon's treasured values: helping others and providing them with peace of mind. While her father, Karl Popp, was also a pharmacist who worked primarily in research, he was not the only inspiration behind Shannon's choice of career. "[When I was] a young teen competing at a local Skidmore [New York] horse show, I met Holly [Dill], a woman who was in pharmacy school and was studying feverishly while manning the in-gate," Shannon said.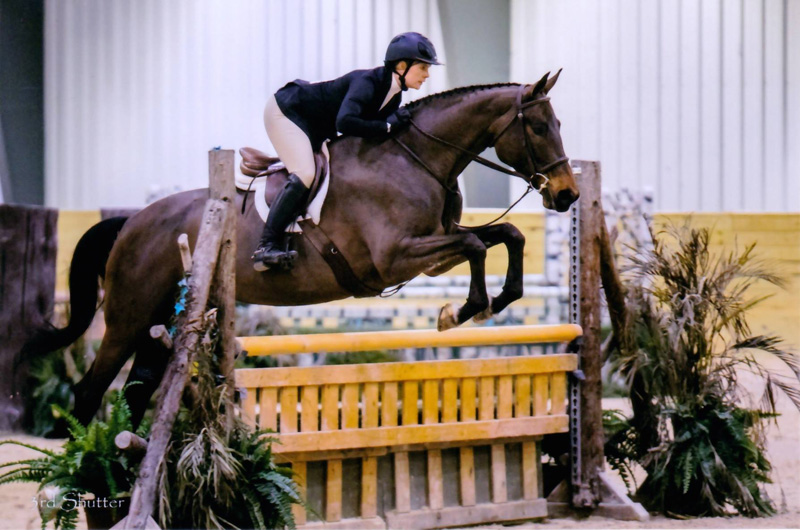 Later on, the young women would ride together with Betsy Worthington, where their friendship would develop, and Dill would become a key mentor to Shannon as she contemplated a future in which she could support her passion for horses and riding. "Holly and I had many conversations regarding how she came to decide on her career path, and it became evident that this career would allow me the finances and time to keep horses an active part of my life," said Shannon.
As she pursued her studies, Shannon, of Valatie, New York, discovered a niche working in retail pharmacy, where she appreciates the opportunity to work closely with patients. "Being that forefront medical person that my patients can come to is what I most enjoy," she said. "Knowing that my patients trust me and oftentimes talk to me before calling their physician proves to me the value of my place in the industry."
Trust and service are also integral in Shannon's other professional pursuit, Top Flight Equine Retirement. When Shannon retired her first horse, Top Flight, or "Jiggy," she found a small local barn with good quality care that afforded her great peace of mind.
"I was in pharmacy school at the time, with another riding horse, and was just so relieved with the care [the barn] gave my old guy," she said. "I did not need to even worry about him."
Years later, Shannon began thinking it was time to realize a childhood dream of owning a small barn of her own, and she thought back to the wonderful experience she had retiring Jiggy.
Check out Shannon Popp and Fidonna in action.
In a similar vein to her love for helping her patients at the pharmacy, Shannon wanted to provide owners of retired horses with the same peace of mind she had experienced, and the horses themselves with a high quality retirement. "I suppose I have always just wanted to help patients, two- or four-legged!"  she said.
Top Flight is still a small operation for now, but Shannon hopes to see it grow in the future. "I know many people send their horses south to retire, but I also know there are people out there like me who would still want to see their retiree whenever they wanted, and it is too inconvenient [for them] to travel to Kentucky or Virginia," she said. "It really is just a seed of a dream for now, but in reality, every dream has to start from somewhere, and I guess this is where mine began."
If Shannon gets tired from her long days at work, which include rising at 4 a.m. to ride her horses and complete barn chores, you'd never know it. She always has a smile on her face and a positive attitude. "It's all for the love of the horses," Shannon said. "Being able to juggle horses, work, barn, dogs and a relationship is a lot to handle, but the satisfaction of happy horses and dogs is really all the reward I need."
So what does this balancing act look like for Shannon, who arranges her schedule around a five-day work week at the Price Chopper Pharmacy in Hudson, New York? She's on her first mount by 4:45. Following her rides, she completes the morning feeding at Top Flight, cares for her three dogs, and heads to the pharmacy.
When she hangs up her white coat in the evening, her day is still not done. "I like doing night check and doing up any of the horses' legs or blanket changes that need to happen," she explained.
Check out Shannon Popp and Garbanzo R in action.

Shannon also acknowledges that it's a team effort. "I am very lucky that my boyfriend, Andrew Koch, is so supportive of the barn and horses and puts in a lot of time in helping with the care of the animals and the property," she said.
On her days off, Shannon switches into full-on horse mode. "I set my schedule around horse shows I can make it to, lessons, vet appointments, etc.," she said. "I like to do all the barn chores on my days off. It's relaxing and reminds me of why I do what I do—for the love of the horses!"
Shannon also tries to fit in some cross training with a run or other type of workout.
In the future, Shannon hopes to one day harvest embryos from her mare Fidonna and have a handful of foals. "I have done a lot of breaking of babies and working with young horses, but I want to be able to experience the entire process," she said.
A shorter term goal is to qualify Fidonna for the USHJA International Hunter  Derby Championship (Kentucky); the pair recently completed their first international derby at the Skidmore College Saratoga Classic (New York).
Reflecting on her riding career thus far, Shannon appreciates the little victories. "I may not be able to have the best horses or the most successful show record, but I'm proud of what I have been able to accomplish in my life," she said. "That feeling of celebrating the 'little wins' is something I don't know if I'd truly understand if I was a professional. It's not about the wins or the ribbons; it's about what my horses and I are able to accomplish or improve on each time we step into the ring."
Her own best advice is to keep it all in perspective. "Don't crucify yourself for not getting it all done every day," she said. "Sure there are some days that my alarm goes off at 4 a.m. in the middle of January, and I just cannot force myself to tack up horses and ride before work, and that's OK! All we can do is the best we can do, and we should be happy with ourselves for what we can do with our time."