Uncertainty filled the air as Nicolas "Nick" Hinze picked at his breakfast. The plan—one he'd executed many times before—was to make the six-hour trek from the home he shares with wife Tracy Hinze in Bedford, Virginia, to Aiken, South Carolina, for the week to train and compete. With his trusted mount of six years, Dakota Blues, or "Patch," Nick would ride in the training level division at the March Stable View Horse Trials. But in the days leading up to their journey, Nick's health took a nasty turn as the medication he takes for melanoma left him feeling wiped out and incapacitated.
"The symptoms come very slowly and build up, and by the time I realize I should do something, then I'm going to crash," said Nick, 37. "And then it takes me two or three days to recover."
Nick had a cancerous mole removed from his leg in the summer of 2014, and he hoped that would be the end of it. But the melanoma came back stronger in the form of a large tumor on Thanksgiving in 2017. After surgery to remove the tumor and affected lymph nodes, he started a new yearlong treatment in the hopes of preventing it from appearing a third time. But the medication leaves him vulnerable to huge energy swings and serious side effects.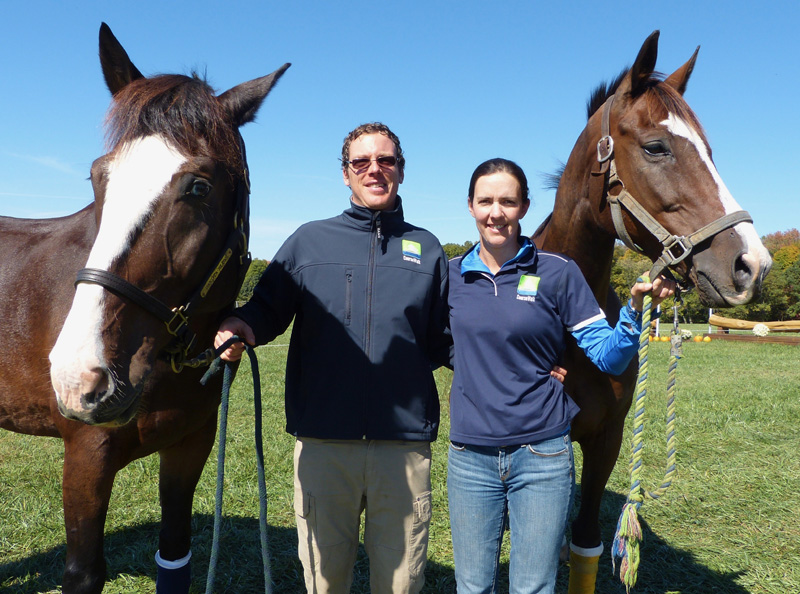 "When we got there, even that morning at breakfast we were still discussing whether he would be riding, or if I would be going to the secretary to see if I could ride," said Tracy. "One of the things we had talked about was, especially cross-country, if he wasn't feeling strong enough, when he might pull up or what he might do. We had that in the back of our mind, but we were also focused on getting the best ride."
But Nick's energy perked up in time to start his dressage test, and it remained throughout the show jumping and cross-country. Not only did he complete his event and finish on his dressage score—he won.
"I didn't feel good before or after the event," Nick admitted. "Regardless of the treatment or anything else that's been going on, it was one of the better riding if not the best riding I've done just in general. I guess I'm still kind of processing it, how finally I got that going. It was really nice to have this positive experience while I was feeling poopy—kind of unexpected and happened to work out just great."
"The winning part was just a complete shock," said Tracy. "I certainly hadn't been paying attention, and I think it wasn't until we were done that we even realized where he was. We're taking all this day-by-day, and that horse show was kind of a moment-by-moment kind of thing. It was get through one day, OK get through the next, and always trying to ride like normal but also having a plan."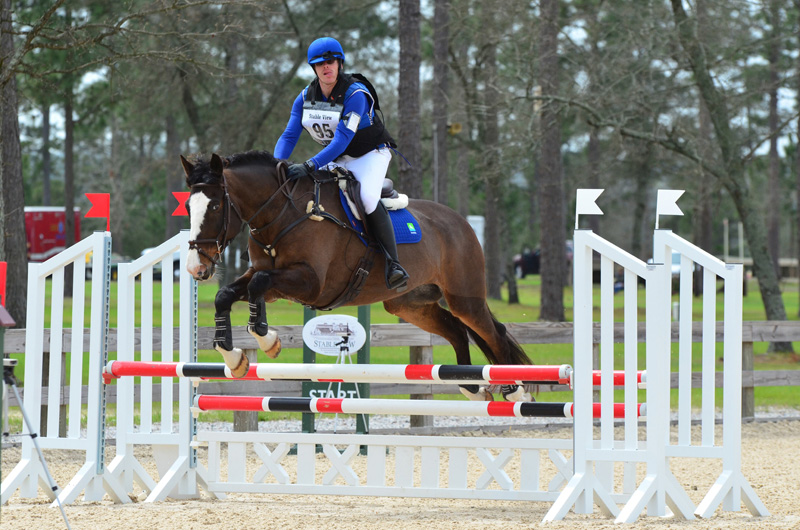 But horses weren't always the plan. The son of a German father and French mother, Nick grew up along the border between the two countries in Strasbourg, France. He took dressage and show jumping lessons as a child at a local lesson barn. While he attended biweekly lessons for close to 10 years and even competed, it fizzled out when he entered high school. Then a desire to learn English brought him to Blacksburg to attend Virginia Tech.
"The reason I applied to the U.S. was to force myself to learn English. I was terrible," said Nick, who speaks German and French fluently. "Good thing I liked engineering because at least all the math is the same."
After completing his bachelor's degree in 2002 and his master's in 2005 in civil engineering, he started work at the Air Transportation Systems Laboratory.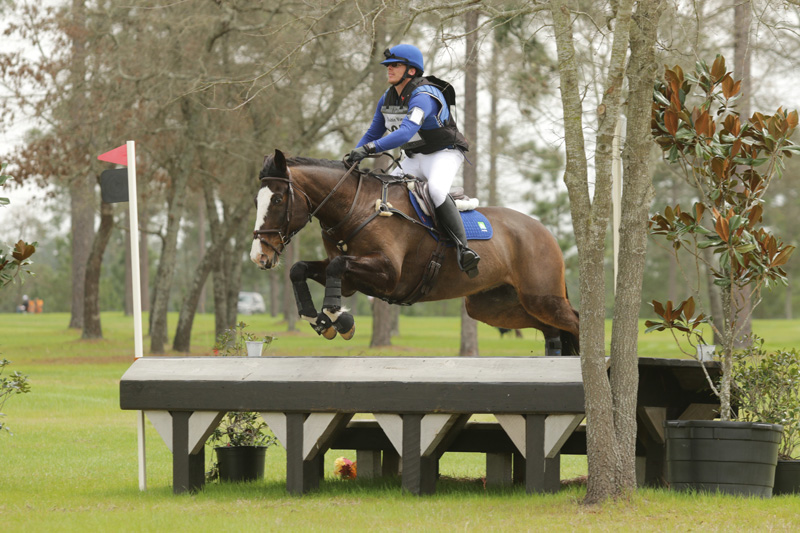 "So we do modeling, like airspace modeling," explained Nick. "We model the flights in the U.S. or across the Atlantic or [work with the Federal Aviation Administration] or things like that. The FAA tries to find new ways to put more planes in the same spans. So we test out their ideas and the benefits of them to see if it's worth it or even possible."
Nick settled into his life in the USA sans horses, but he found his way back in 2009 through two other passions: hiking and Tracy. Nick became involved with a hiking club in Roanoke, Virginia, called the Roanoke Outdoor and Social Club.
"I was organizing many hikes, and she was on one hike," said Nick. "That's how it started. She didn't believe me that I liked horses. She thought it was like everybody else—I'd done like one trail ride somewhere."
Tracy—an avid amateur event rider and engineer and operations unit manager by day—owns her own farm in Bedford. When they started dating, Nick insisted on getting back in the saddle.
"I think I never actually lost the interest of getting back on the horse," said Nick. "But the whole process of doing it all by myself was too much. Maybe it wasn't quite there enough for me to really seek it, but the desire was always still there. Tracy still didn't believe me for a while. She was like, 'You don't need to do horses.' "
But he persisted, and before their marriage in 2010, Nick bought Picasso, a pinto draft cross.
"I always liked drafts," said Nick. "I didn't even know what I wanted to do. Tracy was doing eventing, and I didn't even know yet that I wanted to jump or anything like that. But for me, I enjoy just trail riding a lot. I'll take my horse on a trail ride, and he's on a loose rein, and then we'll just go walk around, and I'm perfectly fine with that. So I didn't know anything about the types of horses."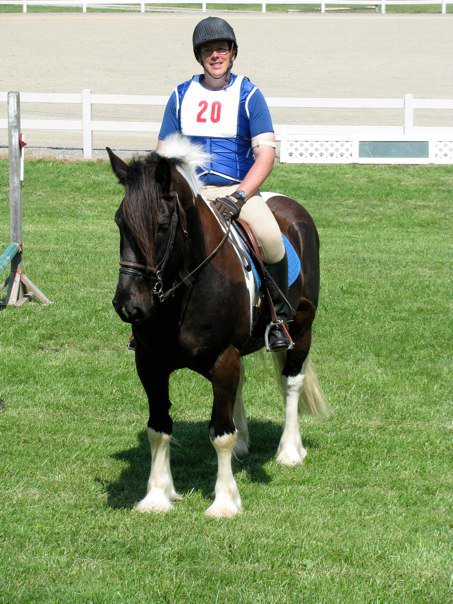 But eventually with Tracy's encouragement, Nick wanted to try eventing. So Picasso and Nick put their trail experience to use and learned the ropes of eventing together, eventually competing at beginner novice. When Picasso reached the extent of his capabilities, they parted ways to make room for Patch in 2012, a green Thoroughbred-Paint-Percheron cross with more potential for jumping and galloping.
And as he was designing a system for feeding the horses in the morning, working remotely from home, riding in the evenings and competing on the weekends with Tracy, Nick took his involvement in the eventing community one step further. He started creating programs and apps for the sport.
Inspired by his hiking days, Nick created the CourseWalk App in 2011. Using GPS, the app gives competitors a way to virtually "wheel" their courses, as well as take notes and photos to help them remember the details of the track. Then he helped create EventingVolunteers.com. Following the vision of Seema Sonnad, Nick built a hub to allow volunteers to organize shifts and duties as well as log their hours. Eventing Volunteers debuted in Area II with the guidance of Maryland Horse Trials organizer Carolyn Mackintosh, and then the U.S. Eventing Association expanded it into its Volunteer Incentive Program.
"Now people know who I am at the USEA, so when they hear something they're like, 'OK, let's ask Nick'—waves of opportunities," joked Nick, who admitted his schedule is pretty full.
But he prefers staying busy. In the midst of medication-induced illness and stress about his long-term health, his routine with the horses and his relationships through the eventing world bring normalcy and comfort.
"It's certainly nice to keep the same theme," said Nick. "I do everything I was doing before besides when I'm sick. But it's certainly nice to be able to keep doing what I've been doing instead of sitting on my butt and thinking about what's going on with me."
After his Stable View victory, Nick is hoping to move up to preliminary and one day complete a CCI*. But eventing—and horses—mean far more than competitive goals for him.
"In the short time he's been riding, he's certainly gotten more into the nuts and bolts of what makes eventing work than I have," said Tracy. "I'm really driven by the riding. I enjoy the riding and the horse. And he certainly enjoys the riding, but it's the whole experience I think for him. It's the whole sport for him. Where I maybe have my sights on competitions and moving up levels and things, and while those are goals for Nick, I think he just really likes being involved on a whole other level with this sport."