Two years ago, Jenny McCann reached the same point many adult amateurs do eventually; she'd dealt with hot horses, green horses and tricky horses, and she was ready for something easy. McCann, 45, has spent most of her riding life restarting off-track Thoroughbreds and young horses to sell and had a couple of bad experiences.
"I was funding my horse habit restarting horses, which is pretty rare actually. I had to know all good things would come into an end," she said. "Then I got a few projects I had to give away because I couldn't turn them around. Then I got a big Oldenburg youngster. I could afford a 2 ½-year-old but not a 5-year-old. I should have been suspicious that he was branded, inspected, tall and gray and reasonably-priced. I went for it. What could go wrong?
"A lot went wrong," she continued. "When he wouldn't go forward, the next thing he would do is he'd go up repeatedly. You couldn't even get off because he'd go up, come down. I've had bad riding accidents in my past—I have a giant metal bar in my leg. I gave it a little over a year, and I realized nothing was worth my back or my life."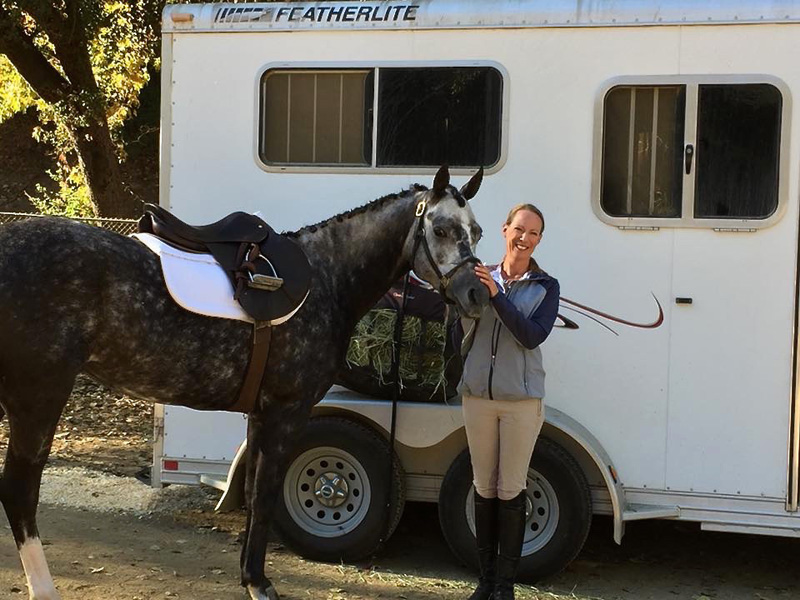 She decided she was ready to return to her roots. As a child, she took lessons and eventually convinced her parents (using a detailed presentation) that she was responsible enough to own a horse. At 14, she bought a 4-year-old off-track Thoroughbred (who in hindsight she admits, was "pretty dangerous, actually") and moved him to a hunter/jumper barn full of Arabian sport horses. Fellow boarders allowed her to show their horses in the junior classes before their own rides in the adult amateur classes, and she fell in love with the breed. The sport horses are bred to be physically bigger and heavier than halter type Arabians and are intended to have a very docile, brave personality.
McCann had heard about the breeding program at Michigan State University turning out nicely bred Arabian sport horses and purchased a 3-year-old filly. The striking gray was expected to mature at around 15.3-hands and had 12 rides under her belt when she arrived at McCann's Orange County, California, base.
McCann realized quickly that there was something different about this Arabian, who she named Adelia. The first hint came when she swung a leg over, and Adelia spent most of the ride trying to bite her leg. When McCann asked Adelia (Bremervale Andronicus—AM Miss Missile, AM Power Raid) to walk forward, the mare would spin in circles quickly. She often got stuck in a gear, whether at the halt, walk or trot, and refused to move. Sometimes Adelia would spice things up by running backwards, leaving McCann sitting in midair and staring sideways at her accusingly.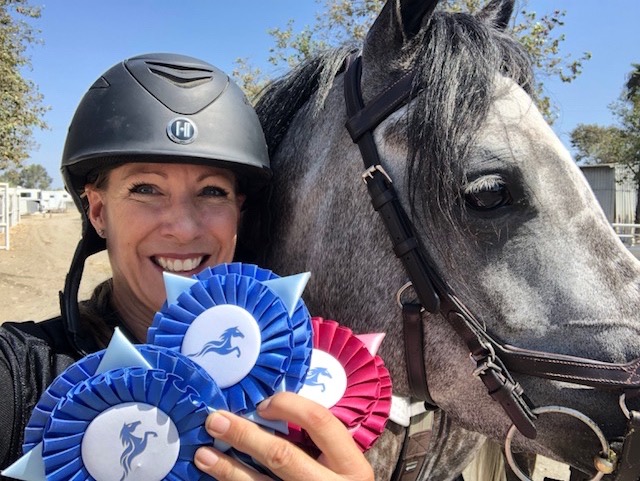 "This mare really wants to try as little as she possibly can, in all settings. And she's sometimes really offended that I persist at things that aren't her idea," she said. "If she were a human teenager she'd be watching TV and eating chips on the couch. And I'm totally A-type, so I don't get this. I think a good word for her is 'humbling.' "
McCann put some of this down to green horse shenanigans, but she knew very quickly this mare wasn't going to be easy. Did she ever consider cutting her losses and looking for another partner?
"Oh my gosh. At least three times a week. I've had so many crossroads," she said. "The highs with her, because they're so hard-won, are such elated feelings. And the lows are so devastating. How can this adorable, 14.2-hand My Little Pony make me feel so inept? I really thought I knew something about training horses, and I can't canter."
Two years later, McCann says she and Adelia have come a long way. After two months of daily 20-minute sessions, they can finally load onto the trailer, which was something she couldn't imagine before. And impressively, while simple tasks have been challenging with Adelia, McCann found more complicated ones like jumping, trail riding and foxhunting came easily because Adelia is quiet. She's also very cuddly and sweet on the ground, which often leads people to assume she's an easy ride who just needs some encouragement. On the contrary, McCann said. Adelia requires both instruction and confidence with every step, which can sometimes be a challenge.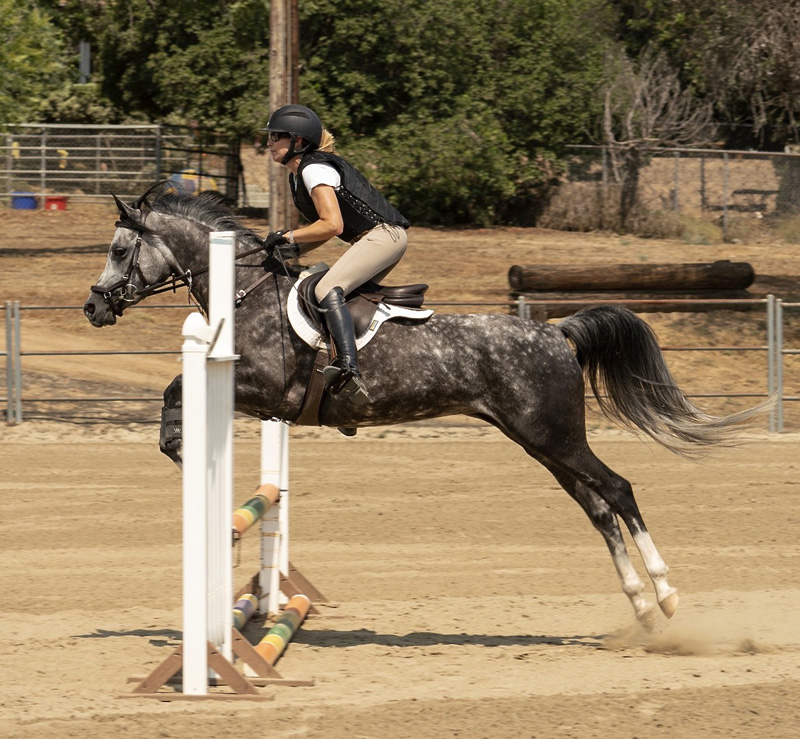 "I had a lot of fear around bucking because eight years ago I was training a Haflinger, and he propelled me off, and I ended up in the hospital for a week," she said. "So bucking and a horse that won't go forward, that's my fear monster. When I started getting after her a little bit, she would buck, and then I didn't want to make it worse because I didn't want to go back to the hospital, so I kind of let her train me a little bit to back down. I had to get to that point where I was frustrated enough where I forgot that made me nervous and powered through. I realized, 'Oh, your buck may be very irritating, but it's not going to get me off, and we're going to go.' "
McCann juggles her riding time with a demanding job as program specialist at Fountain Valley School District, where she oversees special education for kindergarten through eighth grade. For other horses, she has found some degree of crossover between her work life and her equine life.
"When I went into administration and learned more about behavior modification, especially with autism, I'll be honest with you that helped me a lot with my horse training," she said. "The basics of reinforcing behaviors and shaping behaviors with small approximations of the goal and operant conditioning, that can get you quite a ways in both fields."
Of course, Adelia didn't read any of the same books as McCann on behavior (or equine physiology; she seems to have decided growing is too much work and remains 14.2 hands high). McCann has found herself revising a few of her long-held beliefs about the best way to train green horses, but she believes she is better for it.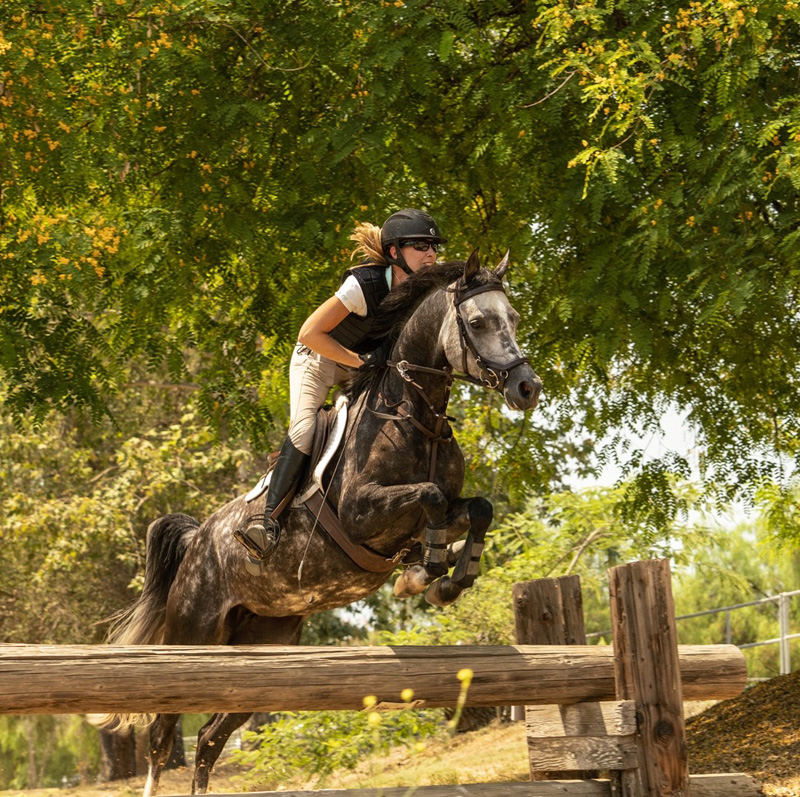 "She has definitely made me a much more versatile and effective trainer than I even knew I needed to be," McCann said. "And she has helped me get over almost all of that residual fear from the naughty horse because I had to learn how to get tough to teach her, and I couldn't be tough and afraid at the same time. In general, I think it's a good principle—don't bring emotion into your training and don't get mad. But in my case I had to get a little bit mad, so I could let go of my fear and ride instinctively. It's not that I was mad at her. I was mad at the situation, mad I was feeling ineffective. Then I realized, 'I can do this. Not every horse that gives you a little fuss is going to send you to the hospital.' "
McCann has sold many of her retraining projects to become eventers and is hoping that given Adelia's interest in cross-country, they will be able to complete their first beginner novice trial later this year. The pair have completed a hunter pace, several cross-country clinics, a cross-country derby and a schooling show.
While Adelia was at one time a possible sale project, McCann is thinking she may be a keeper. After the work they've both put in, she's curious to see where the two of them go next.