As Mary Sunahara approached her 50th birthday, her husband began brainstorming options for a really big, meaningful gift.
"He said, 'Let's go look at some jewelry,' and I said, 'No. I want a horse,' " recalled Sunahara. "I'd already been looking at adopting a Thoroughbred, but you always think, 'Oh I'm just not financially ready yet.' Finally I just said, 'I'm going to take the big jump,' and he said, 'That's fine.'"
Sunahara had grown up showing on Washington's 'A' hunter circuit in the 1980s, back when the hunter/jumper world was dominated by Thoroughbreds. She stopped riding when she entered college and between work and family had struggled to get back into the saddle prior to the big 5-0. When she was ready to come back, she knew she wanted a Thoroughbred. In her hometown of Parker, Colorado, however, that made her a standout.
While Sunahara knows there are some off-track horses at the 'B' level in the state, she doesn't see many.
"I think the trainers just push to warmbloods, and I think when people move up to bigger barns, those are the horses that are there," she said.
Sunahara monitored New Vocations Racehorse Adoption Program's website in search of her next partner and settled on Ampersand, then a 6-year-old New York-based runner who had started 27 times and won three races. At the start, Sunahara expected she and "Amp" were embarking on a long, slow journey of trail rides and flat work, but as her trainer began to work with him, it became clear he did not want a semi-retired life. He wanted another job.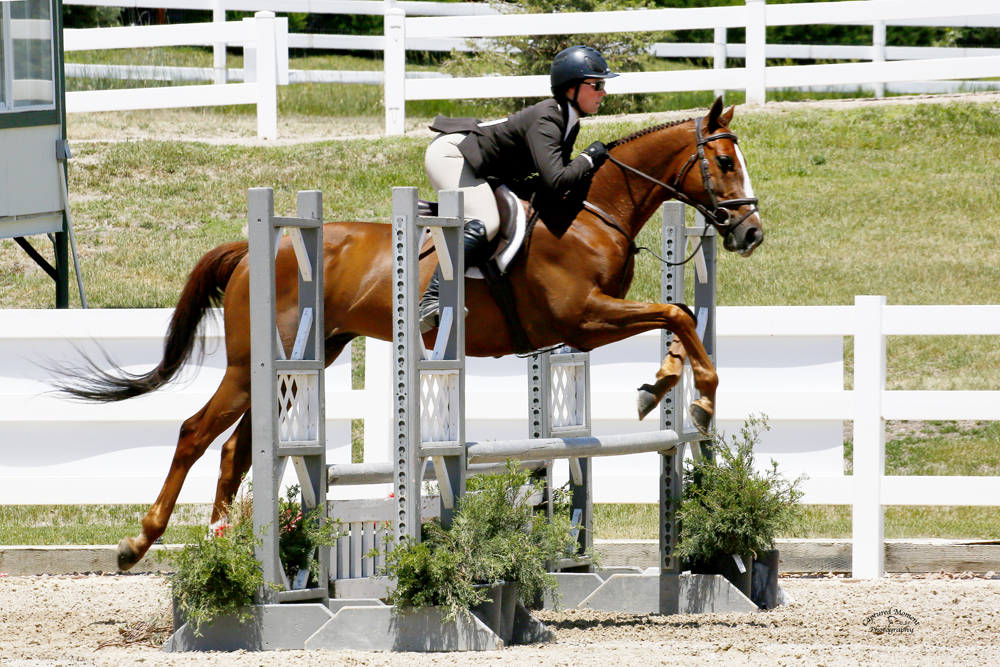 "About four weeks into it, it was very obvious he was bored," said Sunahara. "So, she tried jumping him, and he just loved it."
Sunahara put Amp into training with Tess Harris at Wells Bridge Farm with a "Let's see how far we get" sort of philosophy. Amp continued to voice his opinion, loudly and clearly: crossrails were not enough. Two-foot verticals were not enough. Two and a half years after Sunahara started with her would-be pleasure horse, Amp is jumping 2'9" with Harris and may move to 3' this year because he's starting to look for more of a challenge.
For her part, Sunahara is still catching up to her quick-witted, fancy-footed OTTB. Amp is a challenging ride, not because he's wicked, but because he's almost too smart.
"If we're working on a grid, he figures out the grid right away," she said. "The other day we were doing one and turning left afterwards, then right the next time, alternating. I went to turn right, and he went left—he knew I had it wrong. He's cocky and arrogant. I know that even though learning to ride him has been a little difficult, I would trust him 100 percent."
Their early rides together were a challenge, because Sunahara had learned early that Amp is the type of horse that picks up on tension and rather than become tense himself, takes joy in becoming a wise guy, trying to mentally out-maneuver his rider at every opportunity. As a result, Amp has taught her to be more clear and technical with her aids. Their current focus is the approach to the jump—keeping leg on without rushing, which Sunahara finds difficult if she lets herself get nervous.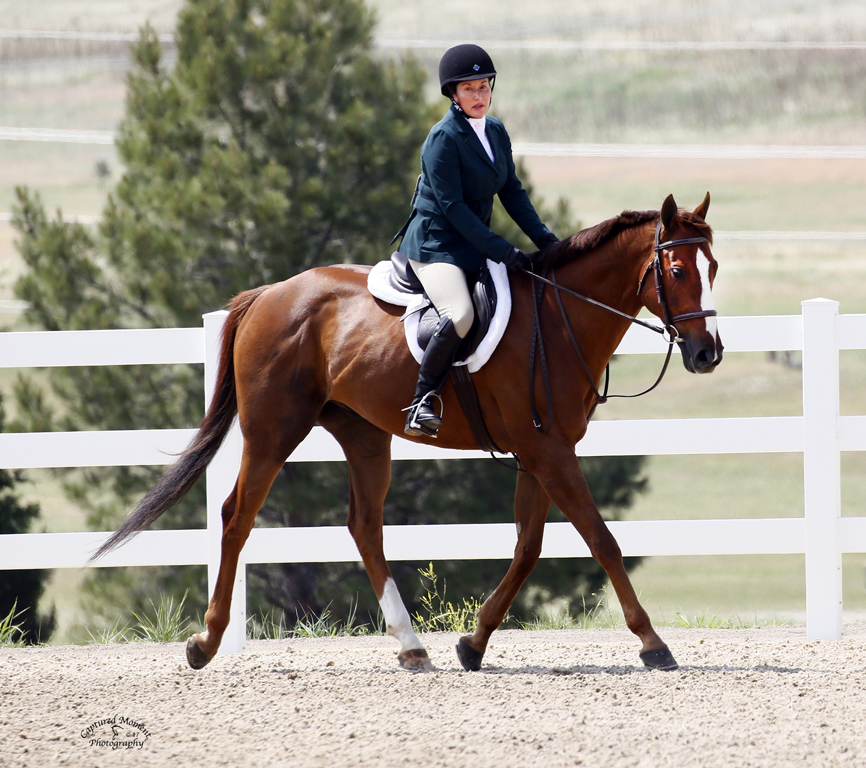 "I knew that if I could get him to the jump, he was going to jump anything. It was figuring out how to stay relaxed on him and just enjoy the ride," she said. "If I get nervous he's pretty much like, 'Lady, sit up in that saddle, grab mane, and let me do this.' It's been fun to learn what to do with his energy."
Sunahara began showing Amp at the Colorado Horse Park this year in the crossrails division and won a flat class, while Harris exhibited him in the 2'9" hunters. At the Summer In The Rockies series in June, the pair won champion twice and reserve champion once in the crossrails division. Under Harris, Amp picked up third in his debut in the USHJA 2'9" hunters. A few months later, he won the T.I.P. Championship for beginning hunters at the Gold Crest Summerfest, also with Harris.
As Sunahara continues her journey with Amp, she has started a new one with a second OTTB. In January 2016, she adopted Anglers Reef, a veteran of 76 starts who was 10 years old when he left the track. She had looked into adopting the gelding before, but had just missed out. By the time she signed the papers, he had been adopted and returned four times.
Anglers Reef has since had his name changed to Tiburón (Spanish for shark) or Tibs for short.
"My husband kept calling him 'Reefer' and I said, 'Honey, you cannot call him that. Especially in Colorado,'" she joked.
Tibs is something of an opposite challenge from Amp. Where Amp is confident, Tibs looks to his rider for bravery. While Amp thinks his way out of a problem, Tibs snaps into racetrack mode and looks for a way to evade and flee something new and uncomfortable.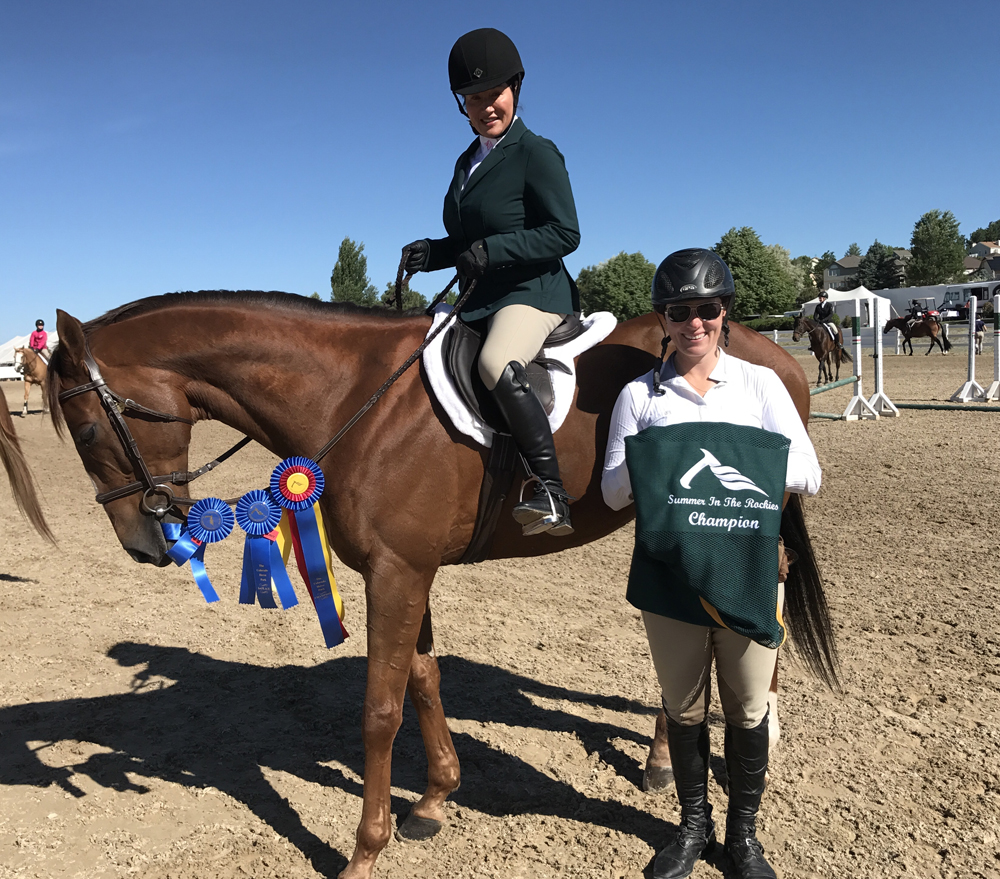 "For him, that's where his brain tends to go—when things are new and they make him uncomfortable, he moves into that racing mindset. But he's a super sweet horse. I couldn't have asked for a sweeter horse," she said.
However different the two may be, they briefly found common ground in their racetrack instincts. Amp and Tibs were once turned out side by side in adjoining paddocks until they developed a habit of racing a little too enthusiastically. Amp would usually win, but of course he has age on his side.
"Tibs would stop before the gate, but Amp would go flying up to it, do a sliding stop and rear, just to be a show-off," she said.
Tibs' progress has been slow and steady under Harris' guidance, and Sunahara hopes to jump him for the first time herself this month.
Of course, two horses are a lot to manage with a full-time job. Sunahara takes three to four lessons a week, two or three on Amp and one on Tibs. As system director for SCL Health, she is able to work from home several days a week but it still takes some juggling, and sometimes late nights at the barn.
"I get so mad when someone schedules a conference call for 4 p.m. because that's my riding time," she said.
Besides continued education with Amp and Tibs, Sunahara admits there might be even more on the horizon for 2018: she's thinking about a third horse.
"My husband said it's fine with him, as long as I can find time for all three," she said.