Dr. Lenora Evans Hollmann, 34, has had her fair share of heartache over horses. Almost five years ago, she got a call from her boarding barn that Mac, her Appaloosa, was hobbling around with a seriously injured front leg.
"I was in residency, and I'm an intern in residency an hour away, and my trainer calls, and she goes, 'You need to get out here. We need to decide if we have to put this horse down,' " she recalled. "His leg was literally dangling, and they thought he fractured his shoulder."
It turned out Mac had not broken his shoulder but injured his brachial plexus, the nerve group under his shoulder—not a fatal injury, but one that meant his riding days were over, and he required a move to Hollmann's house for extra care. Then, she took Pontiac, her rescued draft cross to one of their first events several states away, and he returned with a case of Potomac Horse Fever, despite having been vaccinated.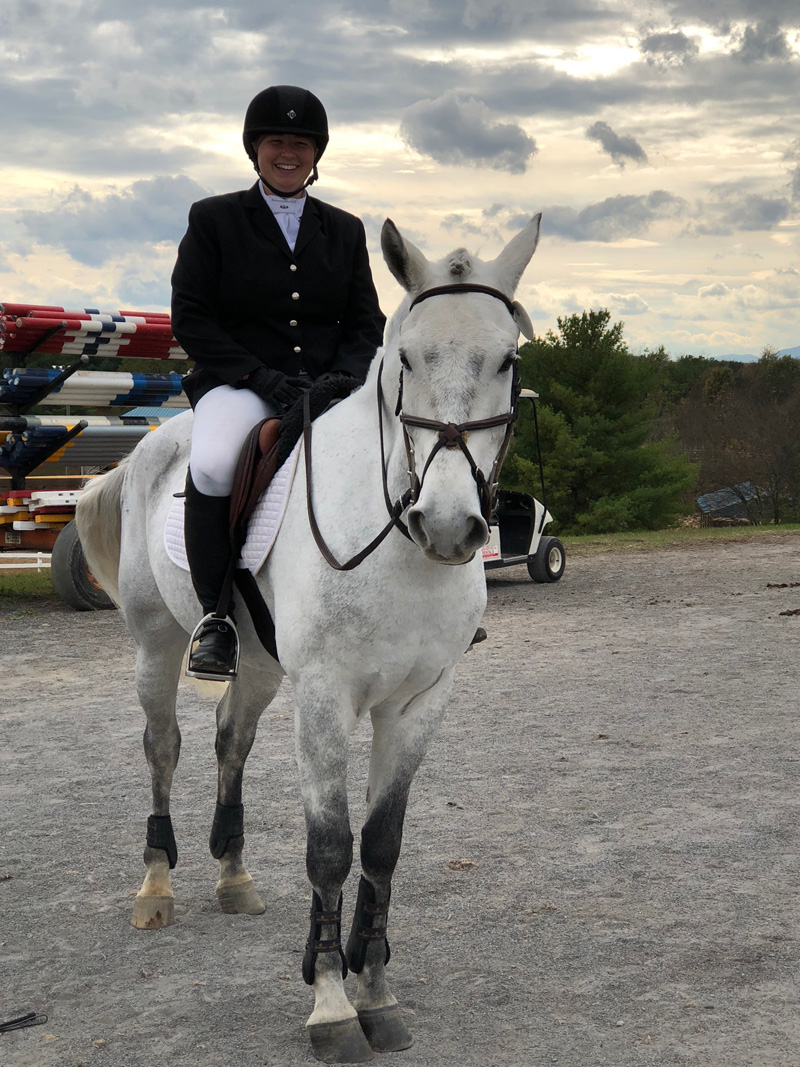 "We got home on Sunday, he had a huge, high fever on Thursday, and Tuesday we euthanized him," she said. "Now I'm horseless—one is dead, and the other is a three-legged horse."
Hollmann wasn't totally over the shock when she got a call from Last Chance Corral, a nurse mare foal rescue operation in Athens, Ohio, that had helped her find Pontiac.
When Pontiac began eventing, the organization used him as a poster child to help spread the word about their foals, and the owner wanted Hollmann to know she had another horse with potential. Hollmann was hesitant, as getting a foal meant waiting another three years to return to riding, but she went to the farm to take a look. When she saw Ice, she couldn't say no and loaded him onto her trailer.
But while she was there, another horse caught her eye. A 3-year-old Percheron-Quarter Horse gelding had been returned to the facility and was also looking for a home. He'd been started under saddle, but as Hollmann recalls, he could "walk, trot, run into a canter, and that was it."
Apparently he'd done parades and suffered a head injury as a baby, and that was all the background anyone knew. He was on the small side—under 16 hands—and Hollman was staring at a hefty vet bill, but the owner offered to let her take the gelding on trial.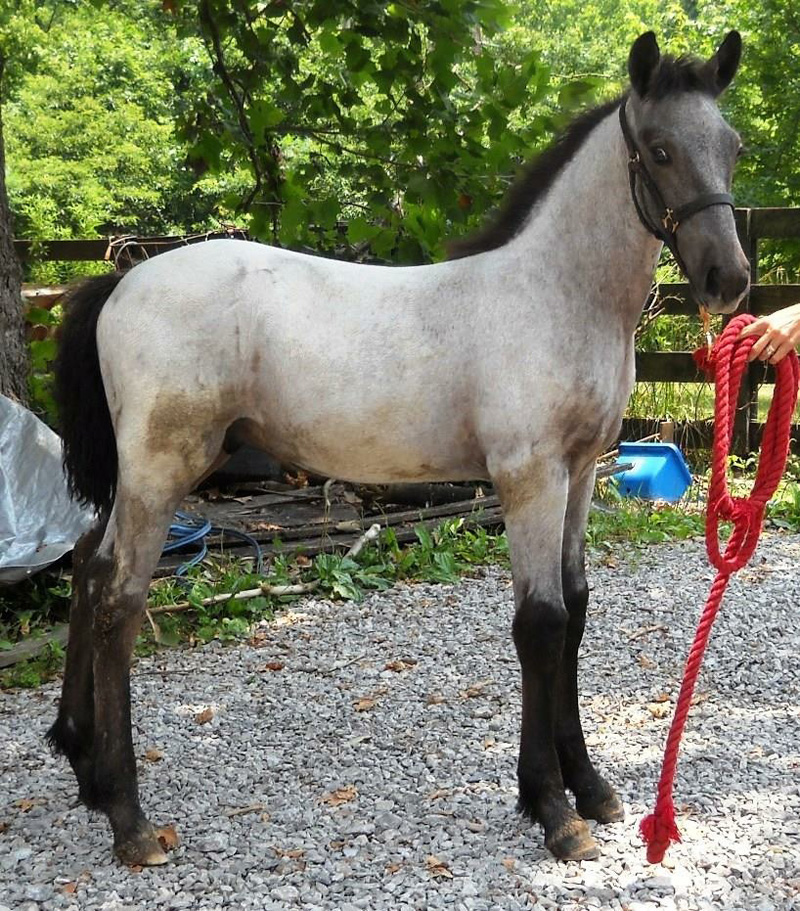 "I called Susannah [Lansdale, Hollmann's trainer] and said, 'Talk me off the ledge. I'm about to do something really stupid,' " Hollmann said with a laugh. "She said, 'Oh just take him. We'll see. Worst thing that could happen is we'll take him back.' So I load him up, take him home, and the rest is history."
The 3-year-old gelding, dubbed Christian Grey, took about three months to win over Hollmann. After her emotional roller coaster, she was hesitant to get too attached to a new horse, but 'Christian's' Steady-Eddie personality won her over.
He has thrived in his job as an eventer. Now 8, the striking gray's sense of calm has been an asset on the cross-country course, where the pair has never had a stop. She was also pleased to discover that despite his small stature (he's often mistaken for a Connemara), Christian has a sizable stride and covers the ground well—a benefit since they currently run novice with an eye to move up.
"I watch a lot of people in my barn struggle, and we've had our struggles too, but I never, ever go into the start box thinking, 'Will we finish?' " Hollmann said. "It's always, 'How will we get there? Will my riding support what he's giving me?'
"I guess that's everybody's fear as a rider, of not living up to your 50 percent in the partnership," she continued.
Hollmann credits Christian's development to Lansdale, who has helped with all three of the rescue horses she's adopted. For Hollmann, who is a family medicine doctor at a practice in Newburgh, Indiana, Lansdale's help is key.
"Christian isn't the way he is because of me," she said. "He's the way he is because we have a good home base and a good trainer. I'm a big believer in having a professional ride your horse every once in a while. I don't know what I'm doing sometimes, and I think it's important for a professional to ask him to do things the correct way and give him the confidence for when I ride him to know what I'm asking him for. Susannah has broke all three of my horses, and all three have done amazing things. Her gift is starting these horses right."
Hollmann works four days a week with weekends off for training or showing, and Lansdale rides Christian and now-4-year-old Ice twice a week to help keep them fit.
Hollmann and Christian won novice rider divisions at the Virginia Horse Trials, Richland Park (Michigan) and May-Daze At The Park (Kentucky) in 2017. They also placed second in the novice rider division at the USEA American Eventing Championships (North Carolina), finishing on their dressage score of 27.3.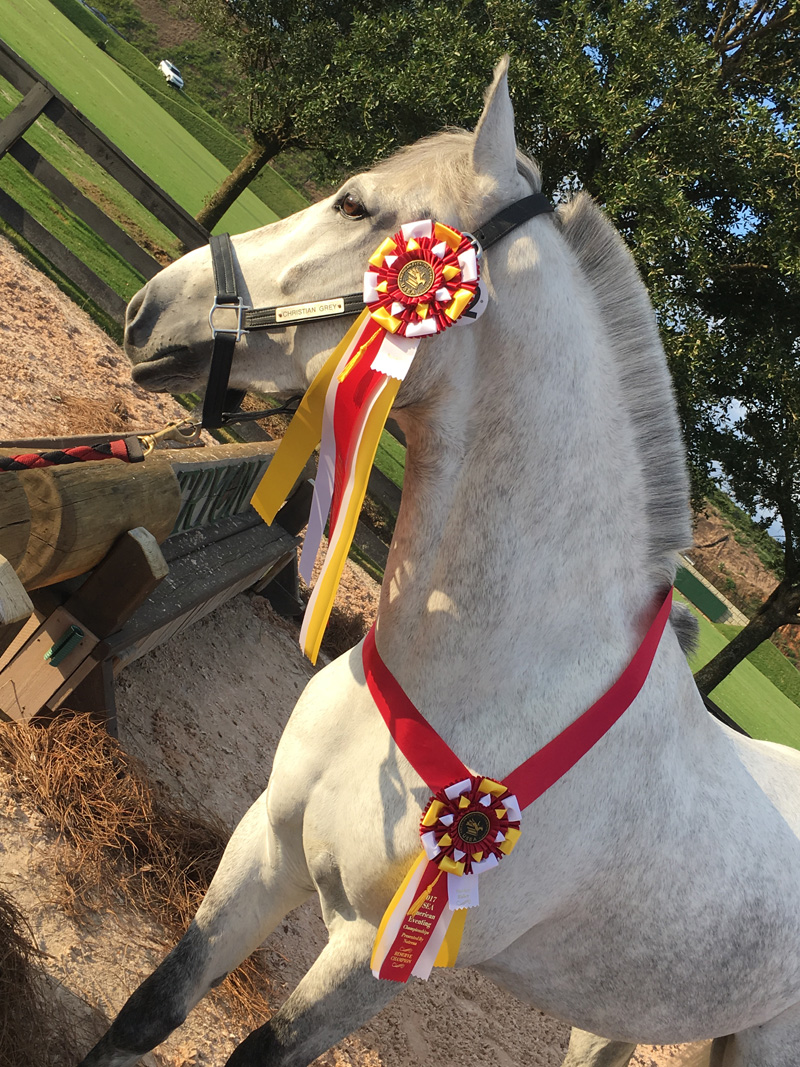 Hollmann had to make the trip without Lansdale (though she hooked up with a different trainer, who helped her walk the course and prepare for the jumping phases), and she admits it was a little intimidating to be on her own. She started riding in earnest as a teenager and didn't begin eventing until she was completing undergraduate studies at Otterbein University (Ohio). After that, she had to step away from riding during medical school and didn't resume until she'd moved on to her residency.
"You get off the trailer, and it's like, I'm here with my $500 rescue horse, and there's a $100,000 horse, and there's a $50,000 horse, and it's like, 'Gosh I am not supposed to be here,' " she said. "But we earned our right to be here. To do as well as we did was crazy. We were all alone, and we'd never been to a place like that. It was just me, my mom and Christian."
At the end of the season, Hollmann tied for first in the national novice standings for adult riders and was the leading adult amateur rider at that level, while Christian was tied for ninth-ranked novice horse in the country.
"It was crazy. It's amazing when you think there are so many horses and riders; I'm Joe Schmo on a $500 horse," she said. "I'm so proud of him because even though my name's on that award, it's his award.
"I kind of feel bad for my 4-year-old, because I hate to say, 'I like Christian best,' but I do. He's amazing," Hollmann added.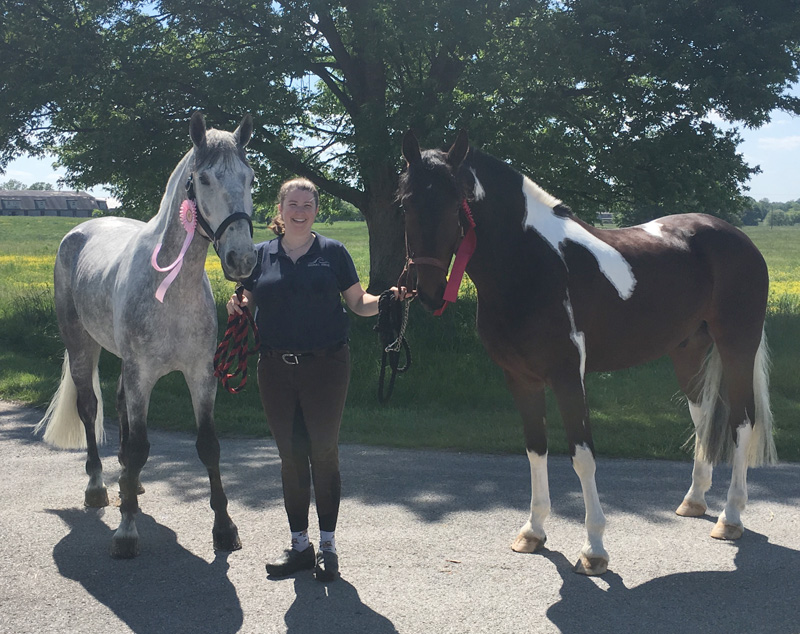 Hollmann is looking forward to eventing Christian this season and taking Ice to his first starter horse trials. Her experience has made her an advocate for draft crosses and young rescues, as she believes knowing her horses from relatively young ages has helped cement their trust in each other.
"It's rough waiting for the three years [between adopting a foal and riding], but it's so easy when you get there because you've done everything with them," she said. "I load them on the trailer; I've hosed them; we've played with fly spray, with clippers, with umbrellas, with traps. You think of all these things you can do when they're little because you can't ride them. They aren't super spooky like other horses are, because they've never really been with their moms to learn, 'I should spook at stuff.' "
Looking back over the past five years, Hollmann believes she ended up exactly where she was meant to be.
"Things have a way of working out, though maybe not always the way you planned," she said.