When they trot down centerline at a dressage show, Johnny and Michael Amtmann look like a picture perfect pair, but it's taken years, and miles of riding across the West, to get there.
A self-taught rider, Amtmann worked on ranches during college but started refining his riding when he found trainer Jim Hicks.
Hicks encouraged him to try the Mountain Valley Extreme Mustang Makeover (Utah) in 2009, where he drew Johnny.
Since then, through time and patience, Amtmann and Johnny have become partners. Dressage was never on Amtmann's radar until a move to New Jersey in 2015 dropped them into the thick of it.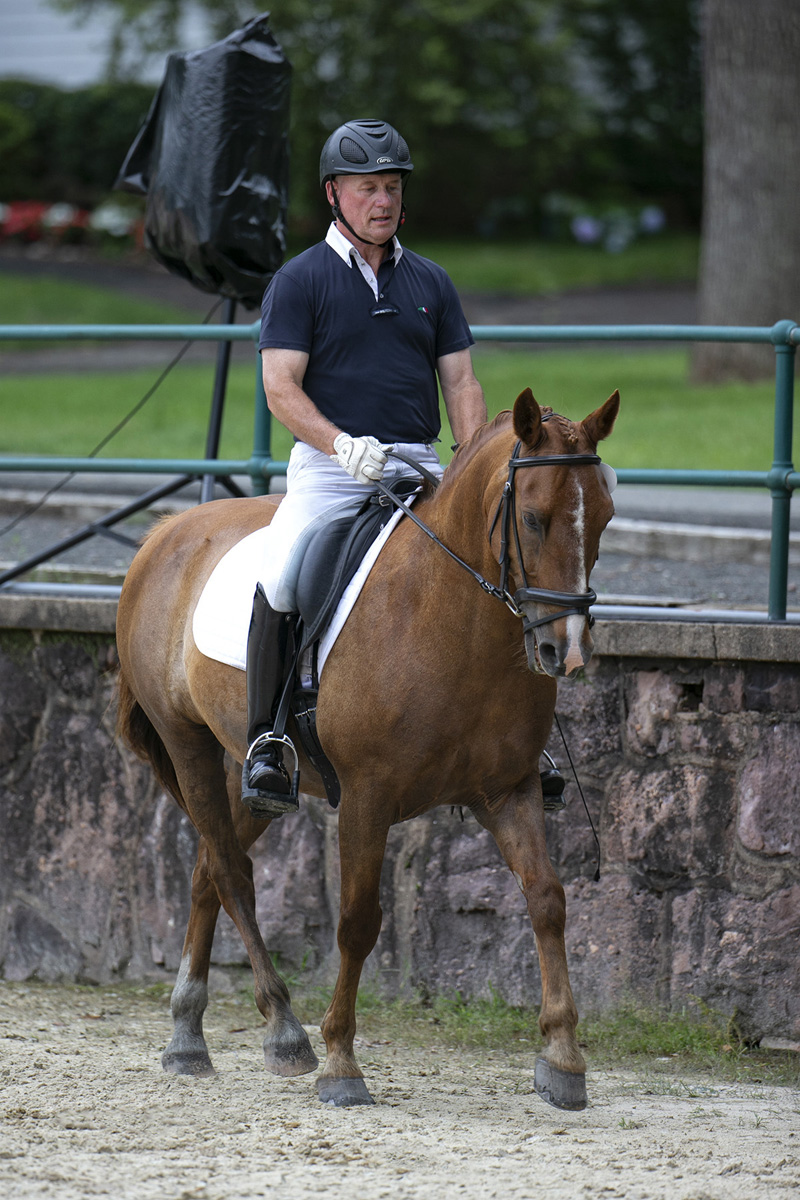 "He's taught me a lot," said Amtmann. "He has a good way of keeping me humble. Just about every time I get a little over-assured of myself, he throws something at me that knocks me back down a couple of pegs. Then we get back to being honest with one another again. It's a continuous learning process."
Born and raised in northern Illinois, Amtmann lived in Minnesota, Idaho, South Dakota and Utah before making his way east.
He attended Sul Ross State University (Texas) and majored in animal science but had to work too hard to get good grades, so he decided against a career as a veterinarian.
Amtmann was a professional ski instructor for 15 years. After he met and married his wife, Sally Amtmann, they moved to Utah where Michael got interested in riding again.
The couple started riding with Hicks and his wife, Donnette Hicks, at their Sage Creek Equestrian. Michael wanted to improve his horsemanship skills, and he wasn't sure he was qualified to do the Mustang Makeover, but Jim encouraged him.
Johnny had come from Jackies Butte in Harney County, Oregon, and was 2 ½. Michael had 90 days to work with Johnny before the competition.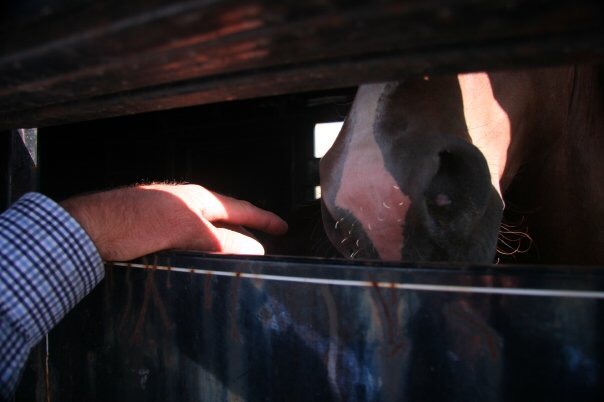 "I was excited. It was intimidating," he said. "The unknown is always intimidating. He was very defensive and unsure of what was going on. I started to develop a rapport with him, and he really became pretty selective in me being his handler. My wife would come up to him, and he enjoyed smelling the odor of shampoo in her hair. Whenever somebody new came around, he wouldn't let them approach him unless I was there, then he was fine with them. He's one of the smarter horses in our barn. It was interesting in that I could put my feel into that horse."
Michael and Johnny finished middle of the pack at the Makeover. It was Michael's first ever horse show, and he got the first draw.
"I got maybe two hours of sleep the night before," he said. "I was a nervous wreck, but we did well. I was just happy to finish. All I wanted to do was do right by him."
The public is able to bid on the mustangs after the competition, and when Michael saw Sally bidding, he knew she wouldn't let anybody else win.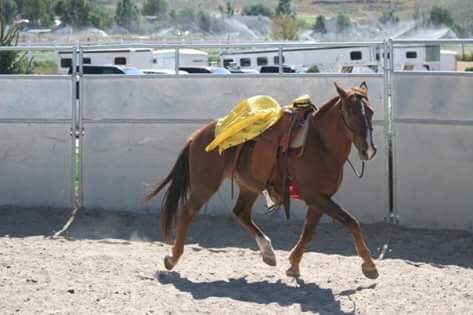 Michael spent the next few years doing ranch work and working cows. He competed in the Impact Of The Horse, a competition that brings domestic and wild born horses together followed by an adoption of mustangs and burros. They were champions in 2012 and 2014.
"When I was working on the ranches in college, it was trying to outmuscle the horse," said Michael. "I kind of wish I could go back and work on those ranches with what I know now as opposed to what I was doing then—pressure release and positive reinforcement training. Horses are amazing animals. They're very forgiving and put up with a lot. When you're able to train them, you can get a true, honest relationship with one; they'll give you their heart. That's what I liked about the mustangs. They had no other experience but you.
"I think Johnny has come along tremendously where he's very well-mannered; he's honest, and that's one thing that Jim had said to me. With mustangs, no means no," Michael continued. "They come into your space; that's a no. You've got to let them know what your bubble is, and it's OK to have them come into that bubble as long as you ask them. If they're continuously coming in and bumping that turns into an issue. Mustangs are honest that way."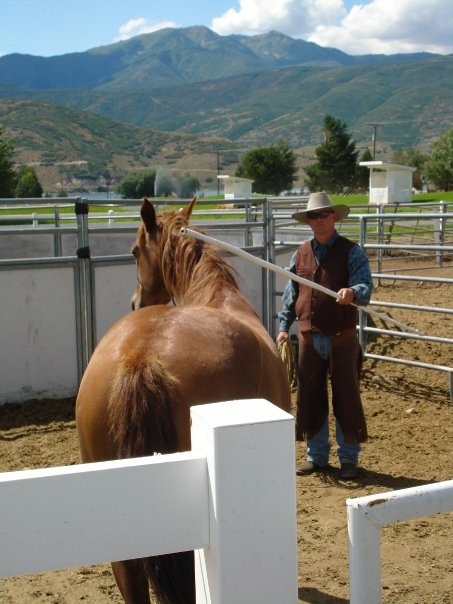 In 2015, Michael and Sally moved to Flemington, New Jersey, for Sally's job. "As they say, do as the Romans do," said Michael. "Dressage is more readily available here than working cows off horseback. Moving to New Jersey wasn't my favorite idea, but my wife's the brains of our outfit. I looked at it like skiing in the Rockies. Moving to the East Coast and taking up dressage is parallel to moving to the Rockies and skiing and teaching out there. It was a great opportunity to learn dressage and a really good foundation of horsemanship and athleticism with the horse."
Michael found Jessie Steiner on the recommendation of Jim and Gary Rockwell.
"She's been the best thing about moving to New Jersey!" said Michael. He quickly learned to enjoy the challenge of dressage, and Johnny did too.
"I think he liked it a lot better than riding 10 hours a day chasing cows!" he said. "I just liked the technicality of it. If you build a good strong foundation and are able to move the different parts of the horse, it only makes you that much better of a horseman rather than yanking and jerking or putting a tie-down on a horse to prevent him from doing something else. It teaches you feel—getting the horse supple laterally and longitudinally. Kind of like Pilates. It just gives the horse an athletic foundation. Once I started training for ski instruction I learned another foundation of good skiing skills. Dressage is the same type of foundation; you build up those skills, and it only benefits you when you go to other disciplines."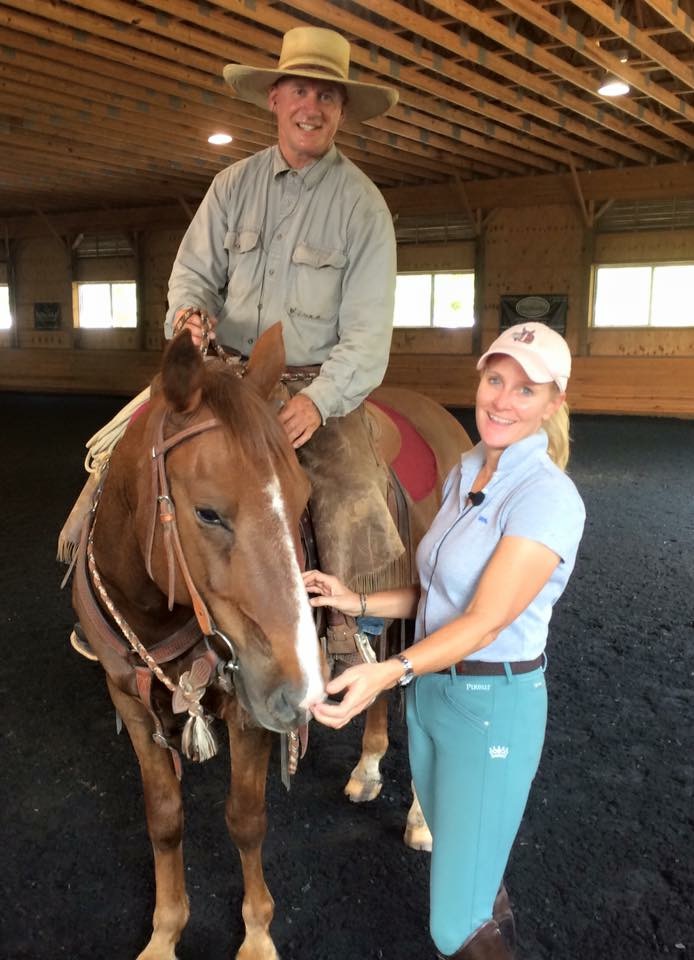 The pair have been competing at first and second level this year with scores in the mid-60s. Michael's been working on establishing a consistent performance in the show ring.
"I think the most common comment we get is that we're a good pair, and it looks like we're both working well together, and that we're well matched. They see a lot of potential," he said. "He's got an incredible trot, what I call a desert trot. When we were out working in South Dakota, all the guys would be loping along, and I'd be passing them doing this desert trot. One thing I learned was that with the desert trot he's really pulling himself along with the front end. We're trying to push that back to the hind end, so he's balanced over his hindquarters and trying to get that same lengthening. He's doing really well."
When they're not showing, Michael still throws his western saddle on Johnny for trail rides and will use him to help clear trees on his farm.
He has lofty goals of one day competing at Grand Prix, but he's taking it step by step.
"As crazy as [Grand Prix] sounds, I'd like to," he said.