For many adult amateurs, riding is both a joy and a challenge. There are the financial hardships and scheduling headaches, but for some riders, the mental game is as big a challenge as learning to reflexively keep your heels down and elbows in. In order to participate in the sport they love, many riders are constantly learning to overcome insecurity or performance anxiety, or perhaps most gut-wrenching of all, the memory of a bad fall. Ellen Forbes knows all too well how long such memories can haunt you.
Forbes, 31, started her horse journey small. Like, really small. When Forbes was about nine, her mother took her to a miniature horse farm and Forbes got ahold of a breed directory in the farm office. She wrote letters to breeders in the directory, explaining how desperate she was to learn more about horses. Then, she got an answer from a judge nearby.
"He was in 4-H as a kid, and he wanted to give me these two mini horses as a pay-it-forward type of thing," said Forbes. "I'm not really sure if my mom was aware [I was doing this]. My parents were going through a divorce and thought it was a good time for something like this to happen.
"They're such good little monkeys. We've always had them in the backyard. They've traveled with us a couple of times. They were trick-or-treat ponies, they were 4-H ponies, we just did everything with them."
She still has those two minis, named Scarlet and Griffy, who are now 21 and 28 years old. Scarlet and Griffy accompanied Forbes on trail rides throughout her childhood and occasionally took jaunts into flummoxed neighbors' yards.
From miniatures, Forbes moved on to take riding lessons at a Morgan barn and eventually got her own horse, a barely-broke mare named Rosie. Rosie came into Forbes' life when Forbes was like many young riding students, fearless and resilient—which was a good thing. Forbes said she fell off Rosie every day for a year, and always scrambled back into the tack without a second thought.
"She was how I wanted her," said Forbes. "I'd spent so many hours, tears, and sweat training her. She was perfect. I could trail ride her. I was at a point where my mom could trail ride her."
Forbes took Rosie to a dressage camp one summer and fell in love with the sport, so the two competed in Morgan-focused and open dressage shows in the New England area, riding second and third level. After 14 years together, Forbes lost Rosie to colic. Devastated, she began looking for a new equine partner, which is how she found herself aboard a Gypsy Vanner one fateful afternoon.
Forbes had ridden the 18-hand horse a couple of times and had been told he had been ridden along the road before with no problems. As someone who grew up riding Rosie bareback through the trails and along paths and roadways near her mother's farm, Forbes thought she'd take the horse out for a hack. Just as they were turning around to head home, something spooked the horse. He took off, and Forbes tried every trick in the book to stop him with no luck. The two barreled down the paved road, and she could quickly see her choices were: Gallop into the busier road at the intersection ahead, bail off and land on asphalt at a high rate of speed, veer off the road and into a parking lot (possibly leaving her in a car windshield), or hit the tractor ahead of them on the road.
The horse roared up on the tractor and dropped a shoulder, avoiding colliding with the vehicle. Forbes went flying headfirst into a mulberry bush. She thinks she must have landed on her face, because her helmet shattered and the muscle underneath her jaw was ripped away from her chin. She suffered a serious concussion and remembers little of the weeks immediately afterward.
"I don't know what it was about it, maybe that I could see it coming," she said. "I felt like it took forever. Everything slows down [ahead of a fall]. It was honestly the most terrifying thing I've ever been through. I think feeling yourself in that position is definitely a special situation, and it took a long time not having a breakdown crying just talking about it."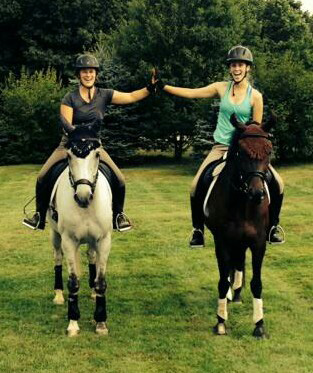 For a while, that was it; Forbes was done with horses.
"At first I didn't want another horse. I had my one horse who was perfect. I thought, 'I'm done with this crap,'" she said. "But then I thought, 'But don't you really want to half pass again? Don't you really want to do a shoulder-in? Maybe I'm not quite done. Maybe I'll try it just once more.'"
That's when she found a free lease ad for Grafton, her now 15-year-old Thoroughbred/Hanoverian gelding (Graf Z—Sheridan). He had been sitting in a field for a few years and had his quirks, but he was calm and willing. The two built up a relationship on the ground, but Forbes found she was still afraid to trust the gelding (and herself) in the saddle. Grafton stood in the field in her backyard, and each day Forbes got more frustrated with her anxiety.
So, Forbes did what many of us wouldn't even think of doing: she quit her job at age 27 and applied to be a working student for trainer Mary Howard.
"I was terrified," she said. "I was like, 'This could go one of two ways, and it could be really bad.' I knew the trainer, and I knew she was a tough cookie to work for. I was so fed up with myself, because I knew I could do it. I'd been doing it my whole life! I had the fear, and I moved into frustration of the fear, and I was angry that I was so afraid."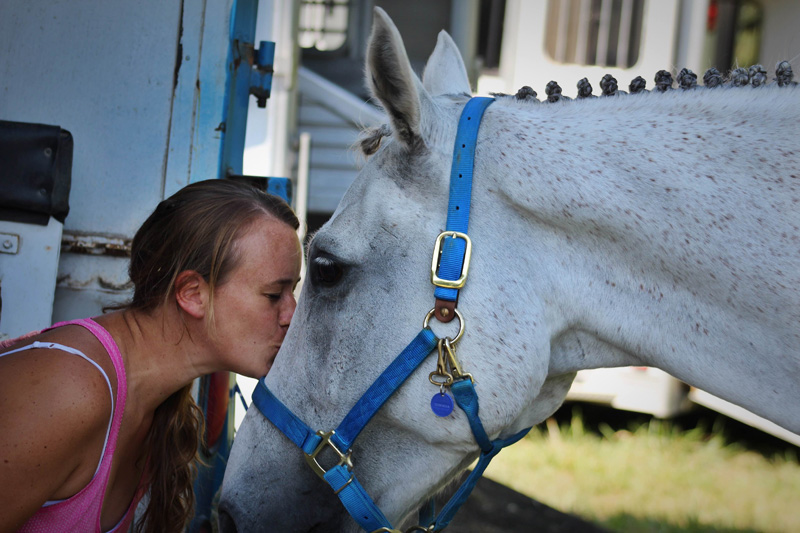 Forbes took Grafton to Howard's barn and together they grew Forbes' confidence and Grafton's dressage muscles. Maybe she'd just ride for fun, Forbes thought. Suddenly, Forbes said she understood the hesitation from non-horsey friends and family who she'd given impromptu lessons over the years. Luckily, her time out of the tack did not seem to have had a significant impact on Forbes' position, and as her physical fitness grew, so did her relationship with Grafton.
"He always does exactly what I ask. If he doesn't do what I ask, it's because he doesn't understand," she said.
To Forbes' surprise, she and Grafton found themselves back in the sandbox last year, and even made it to Region 8 Championships at Saugerties, N.Y. Forbes has dreams of getting her bronze medal but unfortunately, Grafton sliced his leg open in a pasture accident earlier this year. She's waiting to see how and when he'll recover before making firm plans for the rest of the show season or next year. Regardless of his future, Grafton (who Forbes bought at the end of her lease) has more than earned his keep.
"He is a horse that has completely changed my life," she said. "Even if he's never rideable again, he can live in my backyard forever. He has shown me when you go through an experience like that, you think, 'Maybe I'm not as good as I thought I was.' It's been a definite roller coaster of emotions but he has been great."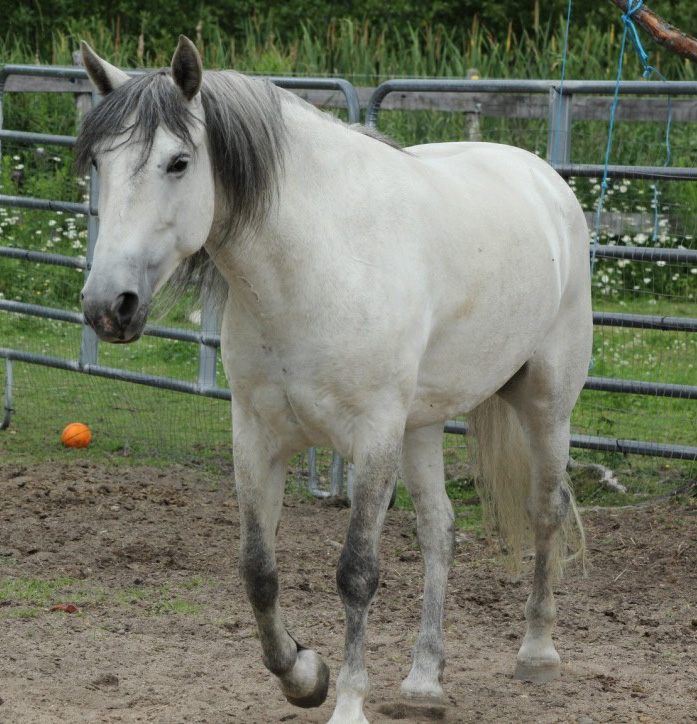 In the meantime, Grafton's stablemate, Mia, is keeping Forbes on her toes. Mia is an American Mustang she found advertised as a greenbroke, 15-hand mare. In reality, Forbes says she's more like 14 hands and was barely halter-trained, but she's confident, curious, and very social.
"I'm having way more fun with her than I thought I would. At first, I was pretty overwhelmed," she said. "I think anyone who's not a full-time trainer who gets a baby horse has a moment of 'Oh my god. What did I just do?'"
Indeed, Forbes has put hours in on Mia with a seriously challenging work schedule. Although her horses live in Maine with her mother, Forbes is now a dispatcher for a university police department in New Hampshire full-time, working nights. She puts in four ten-hour shifts through the weekend and transfers herself and her dogs back to Maine for the rest of the week, which is when she makes time for barn work and lessons.
After several weeks together, Forbes hopped aboard Mia for the first time in late July.
"It was a very positive experience and nobody died!" she laughed.
She's cautiously optimistic, and has aspirations of schooling or showing training level in the next year. After her experiences, Forbes has learned better than to place limits on what she (or her horses) are capable of.
"They have a way of really moving you forward and keeping you going – even when you're not quite sure you want to keep going," she said.