When COTH invited me to contribute to its Amateurs Like Us blogs, I had grand visions of regaling the internet world with tales of Soon and me. Soon is my intrepid and worldly off-the-track Thoroughbred gelding, who went on a tear with me this summer and accomplished some pretty incredible things.
Perhaps I would write about our summer riding with Joe Fargis and Linda Zang, or perhaps the journey of training your own OTTB on an amateur schedule, or what life is like balancing horses and the military. Perhaps I still will.
But I never imagined I would be describing to you all how he died.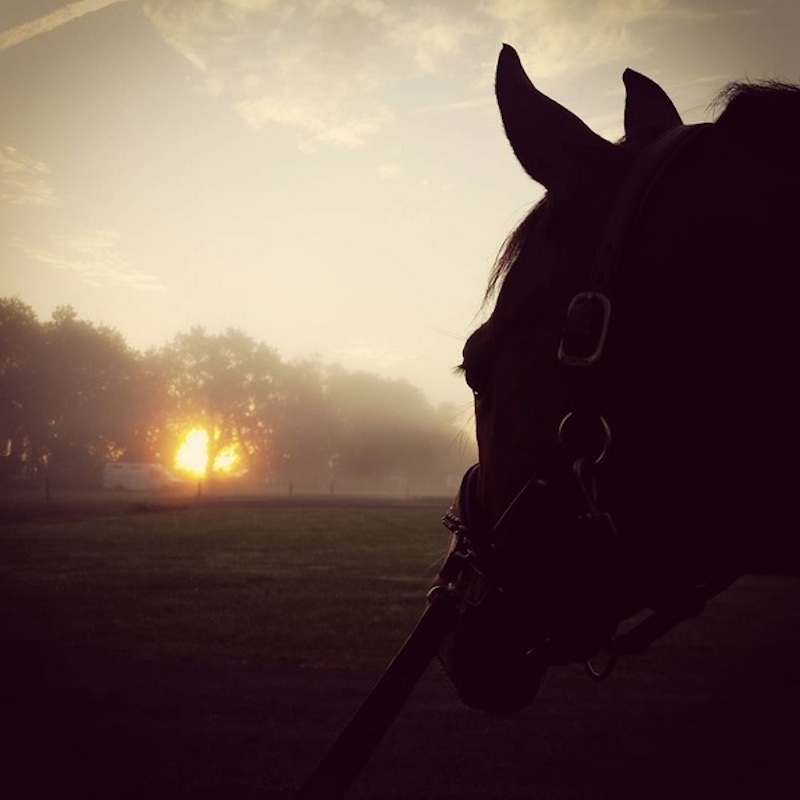 It was just after midnight on the morning of Sunday, Nov. 12, 2017. In the end, I suppose it was fitting that Soon's final day was Veterans Day.
You see, Soon was a true War Horse. He had 52 starts on the racetrack over the course of five years. He had runaway wins and wins that came down to the wire, where he dug in and showed real grit in order to run down his opponent.
I bought him off the track in 2013; he was sound as a dollar and came with a sort of old-soul wisdom that you only find in those older war horses. He was the closest thing to rational I had ever seen in a horse. He was far too polite to be anything but perfect. His work ethic and athletic ability were just icing on the cake. He loved his people, too. I have said many times that if I had the ability to custom-build a horse for my needs, I could not have done a better job than Soon. Who he was is what made him so great.
But in addition to his race record, he became a war horse in the truest sense after he retired from racing, as he accompanied me in my service in the United States Air Force. He has been with me at two duty stations, even "deployed" with me to Dover Air Force Base in 2015 to help me cope with my somber responsibilities at the Port Mortuary.
Since then, we had a legendary run in 2017, training with my idols, and setting what I believed was a successful foundation in the jumper ring. There was so much to look forward to. And then, it was just gone.
They say old soldiers never die, they simply fade away…
After Soon's brilliant display of Thoroughbred qualities at the September George H. Morris clinic, he and I followed it up with an outing at the Piedmont Jumper Classic in Upperville, Va.
Afterward, when we came home, I found myself a bit lost and lacking motivation. Our big push for 2017 was the GHM clinic, and there was a bit of an empty space to fill once we were beyond it. There was a lot of hacking; we both needed some extra downtime.
That came to an abrupt end on Saturday, Oct. 14. Soon colicked badly late that morning and did not respond to the intravenous Banamine. I called an emergency vet, who dropped everything she was doing to come out, but in the meantime, Soon grew increasingly painful. It was so great that multiple times he collapsed; twice I thought he was about to die in my arms. I could not believe what was happening. My nightmare. My nightmare was happening.
It was exactly like the ending in Phar Lap, but without the cute Australian guy.
The vet arrived, but we knew after the exam that he needed to be at a surgical center. We topped off his sedation and pain relief, and I loaded Soon up and drove him to the Marion duPont Scott Equine Medical Center in Leesburg, Va. He was in surgery shortly thereafter for a displaced large colon and some twisting of the small intestine.
The next three weeks were an up-and-down saga of immense and unhappy proportions. He suffered numerous complications. Every day I made the three-hour round trip to visit, and every day I rode that emotional rollercoaster between expecting him to go home, and expecting to have to put him down. I was in a living hell.
The surgeons and staff pulled out all the stops, and eventually got Soon stabilized to the point where they were comfortable with him going home. He would be in an equine hernia belt harness for some time, require follow-up exams and a lot of work, but he could go home to continue his recovery.
I was ecstatic. He was happy to be home, looked so bright and happy, until he had another bout of colic that afternoon. He came out of it, and the next couple of days were uneventful, but there was this overwhelming feeling of stress and dread in the back of my mind.
One Last Fight
Late on Saturday, Nov. 11, Soon colicked again. The vet arrived immediately and sedated him. We were hoping after the exam that he would be more comfortable. Perhaps all he needed was a little extra help and some IV fluids.
But after the rectal exam it was clear he had a new issue with the small intestine. We called his surgeons at Leesburg, and they discussed options. I did not want to send him back to the hospital. This horse, who had given me everything he had for four years, had been through hell. If he came out of the sedation and drugs well enough, then we would continue. If he started acting painful, based on his pain level and the palpation of the small intestine, I would put him down on the farm.
Unfortunately, once the drugs wore off he became painful again, and knowing where I stood, we all agreed that he had enough, and it was time. Soon fought bravely for a month, and he never complained. He maintained an incredible attitude through it all, but looking at him that night, with him being in that much pain, I knew.
He tried. I tried. All his medical staff had tried everything. This just was not meant to be. It is possible that there was not any amount of medicine that was going to cure him, and he certainly did not deserve to be put through any more.
It was here that I was grateful for never taking a moment for granted with this horse. I lost a great horse before, and what I would give for one more afternoon with her. I know how fragile these animals are, and how tomorrow is never guaranteed. At the end of every ride, I always kissed Soonie goodnight, told him that I loved him, and more recently this year, always said thank you. Every ride.
I had a moment alone in the stall with him to say goodbye. I pressed my forehead against his and cried; I told him he was the greatest thing that ever happened to me. I said "Thank you, Brother, for everything." I told him I loved him. Then he was ready. He practically dragged me out of the stall. He went peacefully just after 12:30 a.m. I was with him the entire time.
I want to extend my heartfelt gratitude to Dr. Brown and Dr. Dubois, and the entire staff at Marion duPont for everything they did for Soonie and me. I also want to sincerely thank Dr. Bryant of Wolf Creek Equine for her quick response and compassionate care. You are an angel. Please know that you are all my heroes.
Soon was my "heart horse." And it felt, and still feels, like my heart has been ripped from my chest, leaving a gaping, bleeding wound from which there is no recovering.
The Collateral Beauty
There is an idea, the concept of collateral beauty, which struck some raw nerves with me over the last month of this struggle. The idea that there is beauty to be admired in the face of tragedy, or even because of that tragedy, sounds poetic, but in the midst of that struggle, how do you bring yourself to appreciate it? Is it even real, or just something that people say to make you feel better?
The collateral beauty in the wake of Soon's hospitalization, and later his death, is bittersweet but obvious. It is having the extra time to say goodbye to my sweet boy. It is knowing that he was at home when he passed. I feel it in the condolences and messages of support I have received from close friends, family, even perfect strangers. It is the connection I feel to fellow horsemen who have gone through this too. It is in the comfort I have knowing we exhausted every effort to give Soon the chance to live. In knowing that he is no longer in pain, no longer suffering, no longer facing an uncertain future.
Collateral beauty is reconnecting with someone from my past, someone I never expected to hear from again, and that person supporting me through this tough time. It is in the possibility of a friendship, healing, of possibly keeping up-to-date with a kid I once loved as my own, and who is no longer in my life.
Collateral beauty is one of your friends dropping what they were doing and spending the night in a freezing cold barn with you while you sit up with a colicky horse. It is another friend being there and holding your hand in your horse's final moments, reassuring you that you did the right thing. Collateral beauty, in this instance, is me seeing the good in people.
Maybe that was Soon's final gift to me: the hope that maybe not every person is going to let me down. That maybe now, thanks to his help, I am strong enough to get through this on my own.
Collateral beauty is real. Do not let a tragedy blind you to the fact that perhaps there is some good that can come out of it. It will not bring Soon back to me, and it will never make it right. But it is there. You have to want to see it and accept it.
It is difficult to not be extremely reflective in moments like this, to not search for some higher purpose or meaning to losing the one you love. But it is impossible to ignore or deny that Soon came into my life for a reason. He picked me up when I could not rise; he gave me a reason to believe in love again. He taught me how to smile again, how to take a leap of faith, how to be courageous. This scrappy little racehorse off the backside of Fairmount Park crossed discipline lines and impressed legends like George Morris, Joe Fargis, and Linda Zang. He made me a better horseman and competitor.
And in his passing, Soon showed me I can stand on my own again. He was ready, and so was I. I just did not know it yet.
Soon was a horse of a lifetime. I often correct people when I say that I did not rescue him; he rescued me. He gave me a reason to love again. He gave me a reason to smile some days when I did not want to. We pushed each other, and he truly made my dreams come true. He wanted nothing and yet gave me everything. He was all heart, all class, all the way through the very end. I want the whole world to know who he was, and what he meant to me.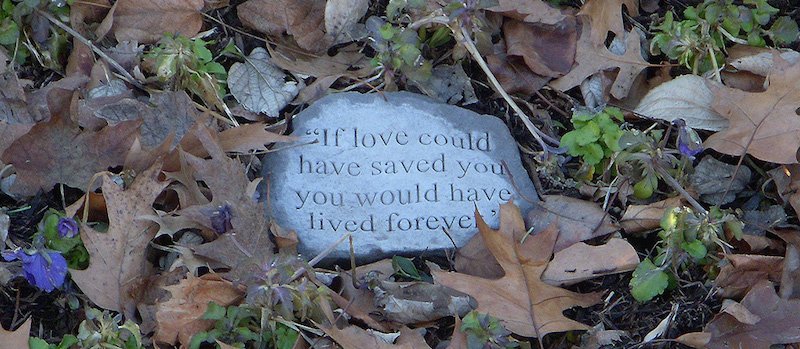 Long live all the mountains we moved
I had the time of my life fighting dragons with you
I was screaming long live that look on your face
And bring on all the pretenders
One day, we will be remembered
(Taylor Swift, "Long Live")
---
Lindsey Colburn is an active duty Air Force officer and grew up riding in the hunter and equitation divisions in the northeast during her junior years.  Following college, she rode and trained fox hunters professionally in Middleburg, Va., prior to joining the military.  Lindsey bought the Thoroughbred gelding, Soon, off the track in 2013, and spent the last four years training him herself. The pair competed in the jumper ring while Lindsey balanced an active duty military career and obligations. Read all of Lindsey's COTH blogs.